Abstract
How does an investor value the announcement of new business integration? The history of acquirer's acquisition may matter for investors. Existing research are divided to the positive or negative answer to the question. Based on the global evidence of 24,263 acquisitions across 81 countries over 19 years, this paper argues that the current contradictory views have failed to take into account the time interval between acquisitions. This is because the wavelength of merger frequency can change the investors' expectations of new business integration and so investment returns. With control of the time interval of a new merger we discover that more mergers generate lower abnormal returns. This finding extends our understanding of the value perception of investors on a merger announcement that can be affected not only by merger numbers but also by their time distribution.
Access options
Buy single article
Instant access to the full article PDF.
US$ 39.95
Tax calculation will be finalised during checkout.
Subscribe to journal
Immediate online access to all issues from 2019. Subscription will auto renew annually.
US$ 119
Tax calculation will be finalised during checkout.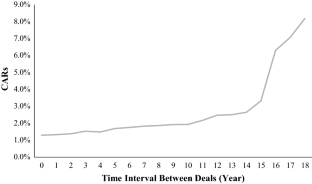 Notes
1.

We also use a larger cut-off of $50 million and the results remain intact. The results (not reported) for the sake of brevity, are available from the authors upon request.

2.

Here we cannot count time interval between deals for infrequent acquires because they only made one deal. Therefore, we use the frequent acquirers as the reference group.

3.

For robustness, all models are re-estimated on the basis of 3-day CARs. As shown in the Appendix (Table 11), our results are robust to different event day windows.
References
Agrawal A, Jaffe JF, Mandelker GN (1992) The post-merger performance of acquiring firms: a re-examination of an anomaly. J Finance 47:1605–1621

Aktas N, De Bodt E, Roll R (2011) Serial acquirer bidding: an empirical test of the learning hypothesis. J Corp Finance 17:18–32

Aktas N, Croci E, Simsir SA (2016) Corporate governance and takeover outcomes. Corp Gov Int Rev 24:242–252

Al Rahahleh N, Wei PP (2012) The performance of frequent acquirers: evidence from emerging markets. Global Finance J 23:16–33

Alexandridis G, Petmezas D, Travlos NG (2010) Gains from mergers and acquisitions around the world: new evidence. Finan Manag 39:1671–1695

Alexandridis G, Antypas N, Travlos N (2017) Value creation from m&as: new evidence. J Corp Finance 45:632–650

Amor SB, Kooli M (2016) Do acquisitions affect ipo long-run performance? Evidence from single vs. Multiple acquirers. J Int Financ Mark Inst Money 40:63–79

Anderson HD, Marshall BR (2007) Takeover motives in a weak regulatory environment surrounding a market shock: a case study of new zealand with a comparison of gondhalekar and bhagwat's (2003) us findings. Rev Quant Finance Acc 29:53–67

Ang SH, Benischke MH, Hooi AW-L (2018) Frequency of international expansion through high control market expansion modes and interlocked directorships. J World Bus 53:493–503

Antoniou A, Zhao H (2007) What drives acquisitions? A market-manager rationality framework. In: Gregoriou GN, Neuhauser KL (eds) Mergers and acquisitions. Springer, pp 5–26

Arikan AM, Stulz RM (2016) Corporate acquisitions, diversification, and the firm's life cycle. J Finance 71:139–194

Ashkenas RN, Demonaco LJ, Francis SC (1997) Making the deal real: how ge capital integrates acquisitions. Harvard Bus Rev 76:165–170

Avkiran NK (1999) The evidence on efficiency gains: the role of mergers and the benefits to the public. J Bank Finance 23:991–1013

Barkema HG, Bell JH, Pennings JM (1996) Foreign entry, cultural barriers, and learning. Strateg Manag J 17:151–166

Bena J, Li K (2014) Corporate innovations and mergers and acquisitions. J Finance 69:1923–1960

Billett MT, Qian Y (2008) Are overconfident ceos born or made? Evidence of self-attribution bias from frequent acquirers. Manag Sci 54:1037–1051

Boubakri N, Cosset JC, Saffar W (2012) The impact of political connections on firms'operating performance and financing decisions. J Financ Res 35:397–423

Brown SJ, Warner JB (1985) Using daily stock returns: The case of event studies. J Financ Econ 14:3–31

Bruton GD, Oviatt BM, White MA (1994) Performance of acquisitions of distressed firms. Acad Manag J 37:972–989

Canace TG, Mann SV (2014) The impact of technology-motivated m&a and joint ventures on the value of it and non-it firms: a new examination. Rev Quant Finance Acc 43:333–366

Cassiman B, Veugelers R (2006) search of complementarity in innovation strategy: internal R&D and external knowledge acquisition. Manag Sci 52:68–82

Castellaneta F, Conti R (2017) How does acquisition experience create value? Evidence from a regulatory change affecting the information environment. Eur Manag J 35:60–68

Chang M, Yu J, Adamson W (2018) How directors trade and learn during takeovers. Pacific-Basin Finance J 51:184–197

Chao Y-C (2018) Organizational learning and acquirer performance: How do serial acquirers learn from acquisition experience? Asia Pac Manag Rev 23:161–168

Chondrakis G (2016) Unique synergies in technology acquisitions. Res Policy 45:1873–1889

Chuang K-S (2018) Glamour versus value, market timing and firm performance: evidence from mergers and acquisitions. Rev Quant Finance Acc 51:967–1003

Conn RL, Cosh A, Guest PM, Hughes A (2005) The impact on uk acquirers of domestic, cross-border, public and private acquisitions. J Bus Finance Acc 32:815–870

Cox AJ, Portes J (1998) Mergers in regulated industries: the uses and abuses of event studies. J Regul Econ 14:281–304

Croci E, Petmezas D (2009) Why do managers make serial acquisitions? An investigation of performance predictability in serial acquisitions. https://doi.org/10.2139/ssrn.727503

Da Basuil, Datta DK (2015) Effects of industry-and region-specific acquisition experience on value creation in cross-border acquisitions: the moderating role of cultural similarity. J Manag Stud 52:766–795

Dahya J, Golubov A, Petmezas D, Travlos NG (2016) Governance mandates, outside directors, and acquirer performance. J Corp Finance 59:218–238

Degbey WY (2015) Customer retention: a source of value for serial acquirers. Ind Mark Manag 46:11–23

Dimson E, Marsh P (1986) Event study methodologies and the size effect: The case of uk press recommendations. J Financ Econ 17:113–142

Dong M, Hirshleifer D, Richardson S, Teoh SH (2006) Does investor misvaluation drive the takeover market? J Finance 61:725–762

Faccio M, Mcconnell JJ, Stolin D (2006) Returns to acquirers of listed and unlisted targets. J Financ Quant Anal 41:197–220

Faff R, Prasadh S, Shams S (2019) Merger and acquisition research in the asia-pacific region: a review of the evidence and future directions. Res Int Bus Finance 50:267–278

Fama EF, French KR (1992) The cross-section of expected stock returns. J Finance 47:427–465

Fich EM, Nguyen T, Officer M (2018) Large wealth creation in mergers and acquisitions. Financ Manag 47:953–991

Field LC, Mkrtchyan A (2017) The effect of director experience on acquisition performance. J Financ Econ 123:488–511

Fowler KL, Schmidt DR (1989) Determinants of tender offer post-acquisition financial performance. Strateg Manag J 10:339–350

Franks J, Harris R, Titman S (1991) The postmerger share-price performance of acquiring firms. J Financ Econ 29:81–96

Fuller K, Netter J, Stegemoller M (2002) What do returns to acquiring firms tell us? Evidence from firms that make many acquisitions. J Finance 57:1763–1793

Gaur AS, Malhotra S, Zhu P (2013) Acquisition announcements and stock market valuations of acquiring firms' rivals: a test of the growth probability hypothesis in China. Strateg Manag J 34:215–232

Golubov A, Yawson A, Zhang H (2015) Extraordinary acquirers. J Financ Econ 116:314–330

Gong Y, Zhang Y, Xia J (2019) Do firms learn more from small or big successes and failures? A test of the outcome-based feedback learning perspective. J Manag 45:1034–1056

Harford J, Schonlau RJ (2013) Does the director labor market offer ex post settling-up for ceos? The case of acquisitions. J Financ Econ 110:18–36

Hayward ML (2002) When do firms learn from their acquisition experience? Evidence from 1990 to 1995. Strateg Manag J 23:21–39

Heeley MB, King DR, Covin JG (2006) Effects of firm r&d investment and environment on acquisition likelihood. J Manag Stud 43:1513–1535

Hitt M, Harrison J, Ireland RD, Best A (1998) Attributes of successful and unsuccessful acquisitions of us firms. Br J Manag 9:91–114

Humphery-Jenner M (2014) Takeover defenses, innovation, and value creation: evidence from acquisition decisions. Strateg Manag J 35:668–690

Ince OS, Porter RB (2006) Individual equity return data from thomson datastream: handle with care! J Financ Res 29:463–479

Ismail A (2008) Which acquirers gain more, single or multiple? Recent evidence from the USA market. Global Finance J 19:72–84

Ismail A, Abdallah AA (2013) Acquirer's return and the choice of acquisition targets: Does acquisition experience matter? Appl Econ 45:3770–3777

Jensen MC (1986) Agency cost of free cash flow, corporate finance, and takeovers. Am Econ Rev 76:323–329

Kamien MI, Zang I (1993) Monopolization by sequential acquisition. J Law Econ Organ 9:205–229

Karolyi GA, Lee K-H, Van Dijk MA (2012) Understanding commonality in liquidity around the world. J Financ Econ 105:82–112

Klasa S, Stegemoller M (2007) Takeover activity as a response to time-varying changes in investment opportunity sets: evidence from takeover sequences. Financ Manag 36:1–25

Kusewitt JB (1985) An exploratory study of strategic acquisition factors relating to performance. Strateg Manag J 6:151–169

Laamanen T, Keil T (2008) Performance of serial acquirers: toward an acquisition program perspective. Strateg Manag J 29:663–672

Larsson R, Finkelstein S (1999) Integrating strategic, organizational, and human resource perspectives on mergers and acquisitions: a case survey of synergy realization. Organ Sci 10:1–26

Lin J-C, Wang Y (2016) The R&D premium and takeover risk. Acc Rev 91:955–971

Loughran T, Vijh AM (1997) Do long-term shareholders benefit from corporate acquisitions? J Finance 52:1765–1790

Ma J, Ja Pagan, Chu Y (2009) Abnormal returns to mergers and acquisitions in ten asian stock markets. Int J Bus 14:235

Mackinlay AC (1997) Event studies in economics and finance. J Econ Lit 35:13–39

Malmendier U, Tate G (2008) Who makes acquisitions? Ceo overconfidence and the market's reaction. J Financ Econ 89:20–43

Martin KJ (1996) The method of payment in corporate acquisitions, investment opportunities, and management ownership. J Finance 51:1227–1246

Mitchell ML, Stafford E (2000) Managerial decisions and long-term stock price performance. J Bus 73:287–329

Moeller SB, Schlingemann FP, Stulz RM (2004) Firm size and the gains from acquisitions. J Financ Econ 73:201–228

Muehlfeld K, Rao Sahib P, Van Witteloostuijn A (2012) A contextual theory of organizational learning from failures and successes: a study of acquisition completion in the global newspaper industry, 1981–2008. Strateg Manag J 33:938–964

Nadolska A, Barkema HG (2014) Good learners: how top management teams affect the success and frequency of acquisitions. Strateg Manag J 35:1483–1507

Nam C, Yang D-H, Park M-C, Oh G-H, Park J-H (2005) Stock market reaction to mergers and acquisitions in anticipation of a subsequent related significant event: evidence from the korean telecommunications industry. Rev Pac Basin Financ Mark Policies 08:185–200

Oler DK, Harrison JS, Allen MR (2008) The danger of misinterpreting short-window event study findings in strategic management research: an empirical illustration using horizontal acquisitions. Strateg Organ 6:151–184

Perkins DN, Salomon G (1992) Transfer of learning. International encyclopedia of education. Pergamon Press, Oxford, England

Rau PR, Vermaelen T (1998) Glamour, value and the post-acquisition performance of acquiring firms. J Financ Econ 49:223–253

Rhodes-Kropf M, Viswanathan S (2004) Market valuation and merger waves. J Finance 59:2685–2718

Roll R (1986) The hubris hypothesis of corporate takeovers. J Bus 59:197–216

Rovit S, Lemire C (2003) Your Best M&A strategy. Harvard Bus Rev 81:16–17

Savor PG, Lu Q (2009) Do stock mergers create value for acquirers? J Finance 64:1061–1097

Schipper K, Thompson R (1983) Evidence on the capitalized value of merger activity for acquiring firms. J Financ Econ 11:85–119

Shih Y-C, Hsu B-J (2009) Does stock misvaluation differentiate the motives for takeovers? Rev Pac Basin Financ Mark Policies 12:545–566

Shleifer A, Vishny RW (2003) Stock market driven acquisitions. J Financ Econ 70:295–311

Toxvaerd F (2008) Strategic merger waves: A theory of musical chairs. J Econ Theory 140:1–26

Trichterborn A, Knyphausen-Aufseß Z, Schweizer L (2015) How to improve acquisition performance: the role of a dedicated M&A function, m&a learning process, and M&A capability. Strateg Manag J 37:763–773

Vermaelen T, Xu M (2014) Acquisition finance and market timing. J Corp Financ Contract Govern Organ 25:73–91
Additional information
Publisher's Note
Springer Nature remains neutral with regard to jurisdictional claims in published maps and institutional affiliations.
Appendix
Appendix
See Tables 7, 8, 9, 10, 11 and 12.
About this article
Cite this article
Li, S., Liu, G.S. & Gregoriou, A. Do more mergers and acquisitions create value for shareholders?. Rev Quant Finan Acc 56, 755–787 (2021). https://doi.org/10.1007/s11156-020-00908-7
Keywords
Merger and acquisition

Frequent acquisitions

Abnormal return

Merger Announcement

Management Hubris
JEL Classification