Abstract
In this study, we develop alternative dividend stickiness measures as a proxy for managerial reluctance to cut dividends and investigate the information content of dividend stickiness. We find that firms with stickier dividend payout have greater earnings persistence, earnings growth, and pricing multiples on earnings. Further analysis shows that the signaling effect of dividend stickiness on future earnings is more pronounced for firms with less catering incentives to avoid dividend cuts. Our results suggest that dividend stickiness has incremental explanation over dividend payout for signaling future earnings.
Access options
Buy single article
Instant access to the full article PDF.
US$ 39.95
Tax calculation will be finalised during checkout.
Subscribe to journal
Immediate online access to all issues from 2019. Subscription will auto renew annually.
US$ 119
Tax calculation will be finalised during checkout.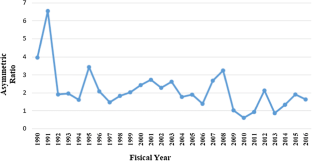 Notes
1.

A firm's financial flexibility demand depends on the firm's financial constraint and expected investment opportunities relative to expected cash flows. Blau and Fuller (2008), Lee et al. (2011), Chen et al. (2013), and Rapp et al. (2014) also show that a firm's dividend payout reflects its financial flexibility.

2.

The annaul dividends stickiness would be set as unidentified (missing) if we can't find a pair of data with one positive and one negative change in earnings within 4 years. For instance, firms without any dividend payments within 4 years will be eliminated.

3.

If managers are reluctant to pay more dividends when firms have more earnings, the dividends upward adjustment are "sticky". However, based on our measure, it will less likely fall into dividend stickiness group. The reason is that we set the measure of dividend stickiness as a proxy for managerial reluctance of dividend "cut". By the nature of setting, we focus on the dividend stickiness in terms of "downward" adjustment which has been well-documented in the literature (Brav et al. 2005).

4.

We open a four-year window to determine dividend stickiness behavior as we try to find a balance between the demand for observations and measure validity. In other words, a greater demand for observations leads to a greater probability to well define our measure, but lose more sample used in the analyses for investigating our hypotheses.

5.

As we apply adjustment factor (Compustat data item: 27) to calculate split-adjusted DPS, we also use the same factor to calculate adjusted-price in testing pricing multiples on dividend stickiness.
References
Ali A, Urcan O (2012) Dividend increases and future earnings. Asia-Pac J Acc Econ 19(1):12–25

Baker M, Wurgler J (2004) A catering theory of dividends. J Finance 59(3):1125–1165

Benartzi S, Michaely R, Thaler RH (1997) Do changes in dividends signal the future or the past?. J Finance 52(3):1007–1034

Blau BM, Fuller KP (2008) Flexibility and dividends. J Corp Finance 14:133–152

Brav A, Graham JR, Harvey CR, Michaely R (2005) Payout policy in the 21st century. J Financ Econ 77(3):483–527

Chen HY, Gupta MC, Lee AC, Lee CF (2013) Sustainable growth rate, optimal growth rate, and optimal payout ratio: a joint optimization approach. J Bank Finance 37:1205–1222

Chen LH, Folsom DM, Paek W, Sami H (2014) Accounting conservatism, earnings persistence, and pricing multiples on earnings. Acc Horiz 28(2):233–260

Cheng LW, Fung HG, Leung TY (2007) Information effects of dividends: evidence from the Hong Kong market. Rev Quant Finance Acc 28:23–54

Cheng LTW, Fung HG, Leung TY (2008) What drives the cash dividend policy of the poorly performing firms in Hong Kong? Rev Pac Basin Financ Mark Polic 11(3):347–361

Crane AD, Michenaud S, Weston JP (2016) The effect of institutional ownership on payout policy: evidence from index thresholds. Rev Financ Stud 29(6):1377–1408

DeAngelo H, DeAngelo L, Stulz RM (2006) Dividend policy and the earned/contributed capital mix: a test of the life-cycle theory. J Financ Econ 81:227–254

DeAngelo H, DeAngelo L, Skinner D (2008) Corporate payout policy. Found Trends Financ 3:95–287

Dechow PM, Ge W, Schrand C (2010) Understanding earnings quality: a review of proxies, their determinants, and their consequences. J Acc Econ 50:344–401

Floyd E, Li N, Skinner DJ (2015) Payout policy through the financial crisis: the growth of repurchases and the resilience of dividends. J Financ Econ 118(2):299–316

Grullon G, Michaely R, Benartzi S, Thaler RH (2005) Dividend changes do not signal changes in future profitability. J Bus 78(5):1659–1682

Guttman I, Kadan O, Kandel E (2010) Dividend stickiness and strategic pooling. Rev Financ Stud 23(12):4455–4495

Ham C, Kaplan Z, Leary M (2020) Do dividends convey information about future earnings? J Financ Econ 136(2):547–570

Handjinicolaou G, Kalay A (1984) Wealth redistributions or changes in firm value: an analysis of returns to bondholders and stockholders around dividend announcements. J Financ Econ 13(1):35–63

Healy PM, Palepu KG (1988) Earnings information conveyed by dividend initiations and omissions. J Financ Econ 21(2):149–175

Lambrecht BM, Myers SC (2012) A Lintner model of payout and managerial rents. J Finance 67(5):1761–1810

Leary MT, Michaely R (2011) Determinants of dividend smoothing: empirical evidence. Rev Financ Stud 24(10):3197–3249

Lee KF (2010) An empirical study of dividend payout and future earnings in Singapore. Rev Pac Basin Financ Mark Polic 13(2):267–286

Lee WJ (2011) Managerial entrenchment and the value of dividends. Rev Quant Finance Acc 36:297–322

Lee C, Gupta M, Chen H, Lee A (2011) Optimal payout ratio under uncertainty and the flexibility hypothesis: theory and empirical evidence. J Corp Finance 17:483–501

Li W, Lie E (2006) Dividend changes and catering incentives. J Financ Econ 80(2):293–308

Liljeblom E, Mollah S, Rotter P (2015) Do dividends signal future earnings in the Nordic stock markets? Rev Quant Financ Acc 44:493–511

Lintner J (1956) Distribution of incomes of corporations among dividends, retained earnings, and taxes. Am Econ Rev 46(2):97–113

Nissim D, Ziv A (2001) Dividend changes and future profitability. J Finance 56(6):2111–2133

Ofer AR, Siegel DR (1987) Corporate financial policy, information, and market expectations: an empirical investigation of dividends. J Finance 42(4):889–911

Officer MS (2011) Overinvestment, corporate governance, and dividend initiations. J Corp Finance 17(3):710–724

Ohlson JA (1995) Earnings, book values, and dividends in equity valuation. Contemp Acc Res 11(2):661–687

Ramalingegowda S, Wang C, Yu Y (2013) The role of financial reporting quality in mitigating the constraining effect of dividend policy on investment decision. Acc Rev 88(3):1007–1039

Rapp MS, Schmid T, Urban D (2014) The value of financial flexibility and corporate financial policy. J Corp Finance 29:288–302

Skinner DJ, Soltes E (2011) What do dividends tell us about earnings quality? Rev Acc Stud 16(1):1–28

Woolridge JR (1983) Dividend changes and security prices. J Finance 38(5):1607–1615

Yang DH (2009) Signaling through accounting accruals vs. financial policy: evidence from bank loan loss provisions and dividend changes. Rev Pac Basin Financ Mark Polic 12(3):377–402

Yoon PS, Starks LT (1995) Signaling, investment opportunities, and dividend announcements. Rev Financ Stud 8:995–1018

Zhou P, Ruland W (2006) Dividend payout and future earnings growth. Financial Analysts Journal 62(3):58–69
Additional information
Publisher's Note
Springer Nature remains neutral with regard to jurisdictional claims in published maps and institutional affiliations.
About this article
Cite this article
Lin, J.J., Lee, CF. Does managerial reluctance of dividend cuts signal future earnings?. Rev Quant Finan Acc 56, 453–478 (2021). https://doi.org/10.1007/s11156-020-00899-5
Keywords
Dividend stickiness

Earnings persistence

Signaling theory

Catering theory