Abstract
Growing evidence reports that obesity might play a role in erectile dysfunction (ED), but limited knowledge is available. We conducted a meta-analysis to estimate the prevalence of ED in overweight men and men with obesity. We performed a systematic review up to 01/04/2019 to investigate the associations between obesity and ED. Applying a random-effect model, we calculated the prevalence of ED, the odds ratio (OR) for the presence of ED by Body Mass Index (BMI) categories and the mean differences between ED and controls in BMI and Waist Circumference (WC). Among 3409 studies, we included 45 articles with 42,489 men (mean age = 55 years). Taking normal weight men as reference, the prevalence of ED was significantly higher in overweight (OR = 1.31; 95%CI: 1.13–1.51; I2 = 72%) and in men with obesity (OR = 1.60; 95%CI: 1.29–1.98; I2 = 79%). Adjusting our analyses for potential confounders, the results were confirmed in men with obesity (OR = 1.46; 95%CI: 1.24–1.72; I2 = 72%). ED was associated with significant higher values of BMI (MD = 0.769; 95%CI: 0.565–0.973 Kg/m2; I2 = 78%) and WC (MD = 5.251 cm; 95%CI: 1.295–9.208; I2 = 96%). Considering the high prevalence of ED among men with obesity, clinicians should screen for this clinical condition in this population. Findings from the present study suggest that reducing adiposity is a crucial approach in patients with ED who are affected by obesity.
Access options
Buy single article
Instant access to the full article PDF.
US$ 39.95
Tax calculation will be finalised during checkout.
Subscribe to journal
Immediate online access to all issues from 2019. Subscription will auto renew annually.
US$ 79
Tax calculation will be finalised during checkout.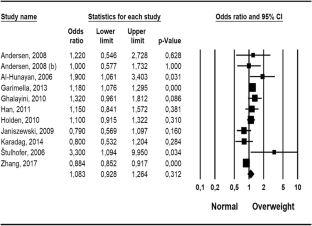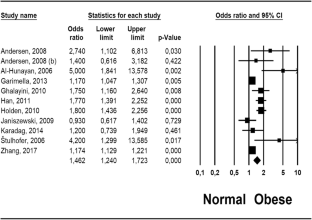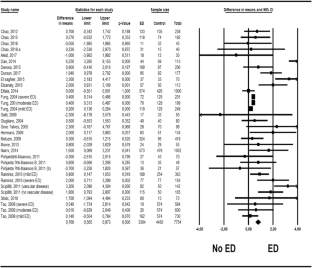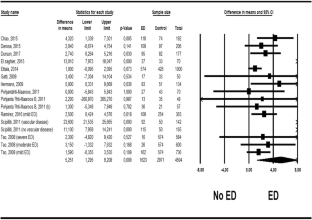 References
1.

WHO. World Health Organization obesity and overweight fact sheet. In:2016.https://www.who.int/news-room/fact-sheets/detail/obesity-and-overweight (Accessed August 2019).

2.

Graham C, Mullen A, Whelan K. Obesity and the gastrointestinal microbiota: a review of associations and mechanisms. Nutr Rev. 2015;73(6):376–85.

3.

Mazon JN, de Mello AH, Ferreira GK, Rezin GT. The impact of obesity on neurodegenerative diseases. Life Sci. 2017;182:22–8.

4.

Jung SY, Park DC, Kim SH, Yeo SG. Role of obesity in Otorhinolaryngologic diseases. Curr Allergy Asthma Rep. 2019;19(7):34.

5.

Poddar M, Chetty Y, Chetty V. How does obesity affect the endocrine system? A narrative review. Clinical obesity. 2017;7(3):136–44.

6.

Vecchié A, Dallegri F, Carbone F, Bonaventura A, Liberale L, Portincasa P, et al. Obesity phenotypes and their paradoxical association with cardiovascular diseases. European journal of internal medicine. 2018;48:6–17.

7.

Tomlinson D, Erskine R, Morse C, Winwood K, Onambélé-Pearson G. The impact of obesity on skeletal muscle strength and structure through adolescence to old age. Biogerontology. 2016;17(3):467–83.

8.

Ackerman SE, Blackburn OA, Marchildon F, Cohen P. Insights into the link between obesity and cancer. Curr Obes Rep. 2017;6(2):195–203.

9.

Moon KH, Park SY, Kim YW. Obesity and erectile dysfunction: from bench to clinical implication. The world journal of men's health. 2019;37(2):138–47.

10.

Škurla M, Rybář R. Obesity and reduced fertility of men. Ceska gynekologie. 2018;83(3):212–7.

11.

Kouidrat Y, Pizzol D, Cosco T, Thompson T, Carnaghi M, Bertoldo A, et al. High prevalence of erectile dysfunction in diabetes: a systematic review and meta-analysis of 145 studies. Diabet Med. 2017;34(9):1185–92.

12.

Fillo J, Levcikova M, Ondrusova M, Breza J, Labas P. Importance of different grades of abdominal obesity on testosterone level, erectile dysfunction, and clinical coincidence. Am J Mens Health. 2017;11(2):240–5.

13.

Nieschlag E, Swerdloff R, Behre HM, Gooren LJ, Kaufman JM, Legros JJ, et al. Investigation, treatment and monitoring of late-onset hypogonadism in males. ISA, ISSAM, and EAU recommendations. Eur Urol. 2005;48(1):1–4.

14.

Liberati A, Altman DG, Tetzlaff J, et al. The PRISMA statement for reporting systematic reviews and meta-analyses of studies that evaluate health care interventions: explanation and elaboration. PLoS Med. 2009;6(7):e1000100–0.

15.

Stroup DF, Berlin JA, Morton SC, et al. Meta-analysis of observational studies in epidemiology: a proposal for reporting. Meta-analysis of observational studies in epidemiology (MOOSE) group. JAMA : the journal of the American Medical Association. 2000;283:2008–12.

16.

Obesity: preventing and managing the global epidemic. Report of a WHO consultation. World Health Organization technical report series. 2000;894:i-xii, 1–253.

17.

Rosen RC, Cappelleri J, Smith M, Lipsky J, Pena B. Development and evaluation of an abridged, 5-item version of the international index of erectile function (IIEF-5) as a diagnostic tool for erectile dysfunction. Int J Impot Res. 1999;11(6):319–26.

18.

Wells GA, Shea B, O'Connell D, et al. The Newcastle-Ottawa Scale (NOS) for assessing the quality if nonrandomized studies in meta-analyses. (Available from: URL: http://wwwohrica/programs/clinical_epidemiology/oxfordasp). 2012:2012–2012.

19.

Luchini C, Brendon S, Solmi M, Veronese N. Assessing the quality of studies in meta-analyses: Advantages and limitations of the Newcastle Ottawa Scale. World J Meta-Anal. 2017;5:80–4.

20.

Higgins JPT, Green S. Cochrane Handbook for Systematic Reviews of. Vol Version 5.2008.

21.

Higgins JP, Altman DG, Gotzsche PC, et al. The Cochrane Collaboration's tool for assessing risk of bias in randomised trials. Bmj. 2011;343:d5928.

22.

Egger M, Davey Smith G, Schneider M, Minder C. Bias in meta-analysis detected by a simple, graphical test. BMJ (Clinical research ed). 1997;315(September):629–34.

23.

Duval S, Tweedie R. Trim and fill: a simple funnel-plot-based method of testing and adjusting for publication bias in meta-analysis. Biometrics. 2000;56:455–63.

24.

Adebusoye LA, Olapade-Olaopa OE, Ladipo MM, Owoaje ET. Prevalence and correlates of erectile dysfunction among primary care clinic attendees in Nigeria. Glob J Health Sci. 2012 Jun 8;4(4):107–17.

25.

Ahmed A, Alnaama A, Shams K, Salem M. Prevalence and risk factors of erectile dysfunction among patients attending primary health care centres in Qatar. East Mediterr Health J. 2011 Jul;17(7):587–92.

26.

Al-Hunayan A, Al-Mutar M, Kehinde EO, Thalib L, Al-Ghorory M. The prevalence and predictors of erectile dysfunction in men with newly diagnosed with type 2 diabetes mellitus. BJU Int. 2007 Jan;99(1):130–4.

27.

Al-Turki YA. Erectile dysfunction among diabetic patients in Saudi Arabia: a hospital-based primary care study. J Family Community Med. 2007 Jan;14(1):19–23.

28.

Andersen I, Heitmann BL, Wagner G. Obesity and sexual dysfunction in younger Danish men. J Sex Med. 2008 Sep;5(9):2053–60.

29.

Bhojani N, Perrotte P, Hutterer G, Suardi N, Jeldres C, Shariat SF, et al. Body mass index and its association with genitourinary disorders in men undergoing prostate cancer screening. J Sex Med. 2008 Sep;5(9):2141–51.

30.

Egan KB, Burnett AL, McVary KT, Ni X, Suh M, Wong DG, et al. The co-occurring syndrome-coexisting erectile dysfunction and benign prostatic hyperplasia and their clinical correlates in aging men: results from the National Health and nutrition examination survey. Urology. 2015 Sep;86(3):570–80.

31.

Garimella PS, Paudel ML, Ensrud KE, Marshall LM, Taylor BC. Fink HA; osteoporotic fractures in men (MrOS) research group. Association between body size and composition and erectile dysfunction in older men: osteoporotic fractures in men study. J Am Geriatr Soc. 2013 Jan;61(1):46–54.

32.

Ghalayini IF, Al-Ghazo MA, Al-Azab R, Bani-Hani I, Matani YS, Barham AE, et al. Erectile dysfunction in a Mediterranean country: results of an epidemiological survey of a representative sample of men. Int J Impot Res. 2010 May-Jun;22(3):196–203.

33.

Goyal A, Singh P, Ahuja A. Prevalence and severity of erectile dysfunction as assessed by IIEF-5 in north Indian type 2 diabetic males and its correlation with variables. J Clin Diagn Res. 2013 Dec;7(12):2936–8.

34.

Gündüz MI, Gümüs BH, Sekuri C. Relationship between metabolic syndrome and erectile dysfunction. Asian J Androl. 2004 Dec;6(4):355–8.

35.

Han TS, Tajar A, O'Neill TW, Jiang M, Bartfai G, Boonen S, et al. Impaired quality of life and sexual function in overweight and obese men: the European male ageing study. Eur J Endocrinol. 2011 Jun;164(6):1003–11.

36.

Holden CA, McLachlan RI, Pitts M, Cumming R, Wittert G, Ehsani JP, et al. Determinants of male reproductive health disorders: the men in Australia telephone survey (MATeS). BMC Public Health. 2010 Feb 24;10:96.

37.

Janiszewski PM, Janssen I, Ross R. Abdominal obesity and physical inactivity are associated with erectile dysfunction independent of body mass index. J Sex Med. 2009 Jul;6(7):1990–8.

38.

Karadag H, Oner O, Karaoglan A, Orsel S, Demir AU, Firat H, et al. Body mass index and sexual dysfunction in males and females in a population study. Klinik Psikofarmakoloji Bülteni-Bulletin of Clinical Psychopharmacology. 2014;24(1):76–83.

39.

Palmer MR, Holt SK, Sarma AV, Dunn RL, Hotaling JM, Cleary PA, et al. Longitudinal patterns of occurrence and remission of erectile dysfunction in men with type 1 diabetes. J Sex Med. 2017 Oct;14(10):1187–94.

40.

Seid A, Gerensea H, Tarko S, Zenebe Y, Mezemir R. Prevalence and determinants of erectile dysfunction among diabetic patients attending in hospitals of central and northwestern zone of Tigray, northern Ethiopia: a cross-sectional study. BMC Endocr Disord. 2017 Mar 15;17(1):16.

41.

Stulhofer A, Bajić Z. Prevalence of erectile and ejaculatory difficulties among men in Croatia. Croat Med J. 2006 Feb;47(1):114–24.

42.

Uffort EE, Jensen JC. Impact of obesity on early erectile function recovery after robotic radical prostatectomy. JSLS. 2011 Jan-Mar;15(1):32–7.

43.

Zhang X, Yang B, Li N, Li H. Prevalence and risk factors for erectile dysfunction in Chinese adult males. J Sex Med. 2017 Oct;14(10):1201–8.

44.

Aleid M, Muneer A, Renshaw S, George J, Jenkinson AD, Adamo M, et al. Early effect of bariatric surgery on urogenital function in morbidly obese men. J Sex Med. 2017 Feb;14(2):205–14.

45.

Chao JK, Ma MC, Lin YC, Chiang HS, Hwang TI. Study on alcohol dependence and factors related to erectile dysfunction among aborigines in Taiwan. Am J Mens Health. 2015 May;9(3):247–56.

46.

Chao J-K, Ma M-C, Chao I-HC. Erectile Dysfunction, Hormone Levels, Inflammation in Male Patients with Metabolic Syndrome. J Mens Health. 2018;14(4):e25–37.

47.

Chao JK, Kuo WH, Chiang HS, Hwang TI, Chao IC, Chiang SK. Association of metabolic syndrome, atherosclerosis risk factors, sex hormones in ED in aboriginal Taiwanese. Int J Impot Res. 2012;24(4):141–6.

48.

Dan A, Chakraborty K, Mondal M, Neogi R, Chatterjee S, Makhal M. Erectile dysfunction in patients with diabetes mellitus: its magnitude, predictors and their bio-psycho-social interaction: a study from a developing country. Asian J Psychiatr. 2014 Feb;7(1):58–65.

49.

Derosa G, Romano D, Tinelli C, D'Angelo A, Maffioli P. Prevalence and associations of erectile dysfunction in a sample of Italian males with type 2 diabetes. Diabetes Res Clin Pract. 2015 May;108(2):329–35.

50.

Dursun M, Besiroglu H, Cakir SS, Otunctemur A, Ozbek E. Increased visceral adiposity index associated with sexual dysfunction in men. Aging Male. 2018;21(3):187–92.

51.

El Saghier EO, Shebl SE, Fawzy OA, Eltayeb IM, Bekhet LM, Gharib A. Androgen deficiency and erectile dysfunction in patients with type 2 diabetes. Clin Med Insights Endocrinol Diabetes. 2015;8:55–62.

52.

Elzanaty S, Rezanezhad B, Willenheimer R, Borgquist R. Association between erectile function and biomarkers of subclinical atherosclerosis: a study based on middle-aged healthy men from the general population. Curr Urol. 2016;9(3):119–23.

53.

Ettala OO, Syvänen KT, Korhonen PE, Kaipia AJ, Vahlberg TJ, Boström PJ, et al. High-intensity physical activity, stable relationship, and high education level associate with decreasing risk of erectile dysfunction in 1,000 apparently healthy cardiovascular risk subjects. J Sex Med. 2014 Sep;11(9):2277–84.

54.

Fung MM, Bettencourt R, Barrett-Connor E. Heart disease risk factors predict erectile dysfunction 25 years later: the rancho Bernardo study. J Am Coll Cardiol. 2004 Apr 21;43(8):1405–11.

55.

Gatti A, Mandosi E, Fallarino M, Radicioni A, Morini E, Maiani F, et al. Metabolic syndrome and erectile dysfunction among obese non-diabetic subjects. J Endocrinol Investig. 2009 Jun;32(6):542–5.

56.

Giugliano F, Esposito K, Di Palo C, Ciotola M, Giugliano G, Marfella R, et al. Erectile dysfunction associates with endothelial dysfunction and raised proinflammatory cytokine levels in obese men. J Endocrinol Investig. 2004 Jul-Aug;27(7):665–9.

57.

Gonçalves MA, Guilleminault C, Ramos E, Palha A, Paiva T. Erectile dysfunction, obstructive sleep apnea syndrome and nasal CPAP treatment. Sleep Med. 2005 Jul;6(4):333–9.

58.

Hermans MP, Ahn SA, Rousseau MF. Erectile dysfunction, microangiopathy and UKPDS risk in type 2 diabetes. Diabetes Metab. 2009 Dec;35(6):484–9.

59.

Meluzín J, Vasků A, Kincl V, Panovský R, Srámková T. Association of coronary artery disease, erectile dysfunction, and endothelial nitric oxide synthase polymorphisms. Heart Vessel. 2009 May;24(3):157–63.

60.

Min SK, Choi K, Kim SK, Lee GI, Cho IC. Phosphorus as predictive factor for erectile dysfunction in middle aged men: a cross sectional study in Korea. Investig Clin Urol. 2016 Nov;57(6):442–8.

61.

Moore RH, Sarwer DB, Lavenberg JA, Lane IB, Evans JL, Volger S, et al. Relationship between sexual function and quality of life in obese persons seeking weight reduction. Obesity (Silver Spring). 2013 Oct;21(10):1966–74.

62.

Al Naimi A, Majzoub AA, Talib RA, Canguven O, Al AA. Erectile dysfunction in Qatar: prevalence and risk factors in 1,052 participants-a pilot study. Sex Med. 2014 Jun;2(2):91–5.

63.

Pohjantähti-Maaroos H, Palomäki A, Hartikainen J. Erectile dysfunction, physical activity and metabolic syndrome: differences in markers of atherosclerosis. BMC Cardiovasc Disord. 2011 Jun 27;11:36.

64.

Pohjantähti-Maaroos H, Palomäki A. Comparison of metabolic syndrome subjects with and without erectile dysfunction - levels of circulating oxidised LDL and arterial elasticity. Int J Clin Pract. 2011 Mar;65(3):274–80.

65.

Ramírez R, Pedro-Botet J, García M, Corbella E, Merino J, Zambón D, et al. Erectile dysfunction and cardiovascular risk factors in a Mediterranean diet cohort. Intern Med J. 2016 Jan;46(1):52–6.

66.

Schipilliti M, Caretta N, Palego P, Selice R, Ferlin A, Foresta C. Metabolic syndrome and erectile dysfunction: the ultrasound evaluation of cavernosal atherosclerosis. Diabetes Care. 2011 Aug;34(8):1875–7.

67.

Stolic RV, Bukumiric ZM. Intima-media thickness of carotid arteries and erectile dysfunction in hemodialysis patients. Hemodial Int. 2010 Oct;14(4):510–4.

68.

Tsao CW, Hsu CY, Chou YC, Wu ST, Sun GH, Yu DS, et al. Is obesity correlated with sexual function in young men? J Androl. 2009 May-Jun;30(3):275–9.

69.

Prieto D. Physiological regulation of penile arteries and veins. Int J Impot Res. 2008;20(1):17–29.

70.

Lue TF. Erectile dysfunction. N Engl J Med. 2000;342(24):1802–13.

71.

Virag R, Bouilly P, Frydman D. Is impotence an arterial disorder?: a study of arterial risk factors in 440 impotent men. Lancet. 1985;325(8422):181–4.

72.

La Vignera S, Vicari E, Condorelli RA, Di Pino L, Calogero AE. Arterial erectile dysfunction: reliability of penile Doppler evaluation integrated with serum concentrations of late endothelial progenitor cells and endothelial microparticles. J Androl. 2012;33(3):412–9.

73.

Bhasin S, Cunningham GR, Hayes FJ, et al. Testosterone therapy in men with androgen deficiency syndromes: an Endocrine Society clinical practice guideline. The Journal of Clinical Endocrinology & Metabolism. 2010;95(6):2536–59.

74.

Yassin A, Nettleship JE, Talib RA, Almehmadi Y, Doros G. Effects of testosterone replacement therapy withdrawal and re-treatment in hypogonadal elderly men upon obesity, voiding function and prostate safety parameters. The Aging Male. 2016;19(1):64–9.

75.

Traish AM, Munarriz R, O'Connell L, et al. Effects of medical or surgical castration on erectile function in an animal model. J Androl. 2003;24(3):381–7.

76.

Foresta C, Caretta N, Lana A, et al. Reduced number of circulating endothelial progenitor cells in hypogonadal men. J Clin Endocrinol Metab. 2006 Nov;91(11):4599–602.

77.

Carrageta DF, Oliveira PF, Alves MG, Monteiro MP. Obesity and male hypogonadism: Tales of a vicious cycle. Obes Rev. 2019 Aug;20(8):1148–58.

78.

Matsui H. A Sopko N, L Hannan J, J Bivalacqua T. pathophysiology of erectile dysfunction. Curr Drug Targets. 2015;16(5):411–9.

79.

Hannan JL, Maio MT, Komolova M, Adams MA. Beneficial impact of exercise and obesity interventions on erectile function and its risk factors. J Sex Med. 2009;6:254–61.

80.

La Vignera S, Condorelli RA, Cannarella R, Giacone F, Calogero AE. Arterial erectile dysfunction is an early sign of vascular damage: the importance for the prevention of cardiovascular health. Ann Transl Med. 2019;7(Suppl 3):S124.

81.

Seo DY, Lee SR, Kwak HB, Park H, Seo KW, Noh YH, et al. Exercise training causes a partial improvement through increasing testosterone and eNOS for erectile function in middle-aged rats. Exp Gerontol. 2018;108:131–8.

82.

Duca Y, Calogero AE, Cannarella R, Giacone F, Mongioi LM, Condorelli RA, et al. Erectile dysfunction, physical activity and physical exercise: recommendations for clinical practice. Andrologia. 2019;51(5):e13264.

83.

Esposito K, Ciotola M, Giugliano F, de Sio M, Giugliano G, D'armiento M, et al. Mediterranean diet improves erectile function in subjects with the metabolic syndrome. Int J Impot Res. 2006;18(4):405–10.

84.

Sato Y, Tanda H, Kato S, Onishi S, Nitta T, Koroku M. How long do patients with erectile dysfunction continue to use sildenafil citrate? Dropout rate from treatment course as outcome in real life. Int J Urol. 2007;14(4):339–42.

85.

Craig JR, Jenkins TG, Carrell DT, Hotaling JM. Obesity, male infertility, and the sperm epigenome. Fertil Steril. 2017 Apr;107(4):848–59.
Ethics declarations
Conflict of interest
All authors declare no conflict of interest.
Additional information
Publisher's note
Springer Nature remains neutral with regard to jurisdictional claims in published maps and institutional affiliations.
Electronic supplementary material
About this article
Cite this article
Pizzol, D., Smith, L., Fontana, L. et al. Associations between body mass index, waist circumference and erectile dysfunction: a systematic review and META-analysis. Rev Endocr Metab Disord 21, 657–666 (2020). https://doi.org/10.1007/s11154-020-09541-0
Keywords
Obesity

Body mass index

Waist

Erectile dysfunction

Meta-analysis