Abstract
Carfax (2018) estimates that 20% of U.S. vehicles that are on the road have outstanding recalls: they have a known defective part or design. Recalled vehicles represent future costs to manufacturers and pose safety risks to the public. Only two prior studies examine the determinants of recall completion rates—the percent of recalled vehicles that are repaired—and both use cross-sectional data from the 1980s. This paper uses panel data on 677 U.S. vehicle recall campaigns from 2006 to 2015 to identify the correlates of completion rates for the Detroit 3 and the three largest foreign vehicle manufacturers. In addition to using more recent data, we include variables that were not previously examined: multiple recalls, vehicle type, and reporting period. The analysis confirms the earlier finding that domestic manufacturers' completion rates exceed those of the foreign producers. We also observe higher completion rates on recalls for severe defects, on vehicles under multiple recalls, and on luxury vehicles. In contrast, older vehicles and trucks exhibit lower recall completion rates. The observed patterns in recall completion rates suggest that refinements in how manufacturers estimate recall costs in the litigation process and in strategies to improve completion rates are possible.
Access options
Buy single article
Instant access to the full article PDF.
US$ 39.95
Tax calculation will be finalised during checkout.
Subscribe to journal
Immediate online access to all issues from 2019. Subscription will auto renew annually.
US$ 79
Tax calculation will be finalised during checkout.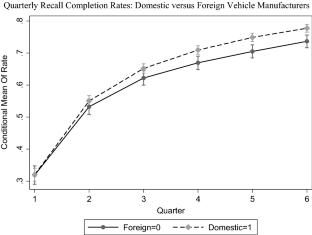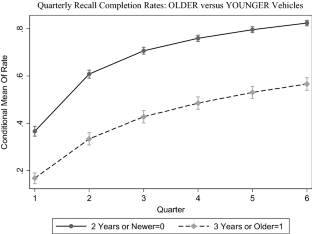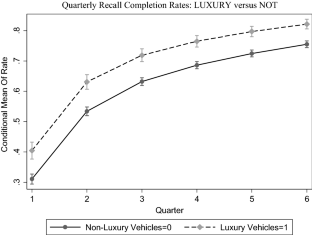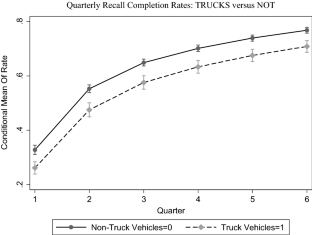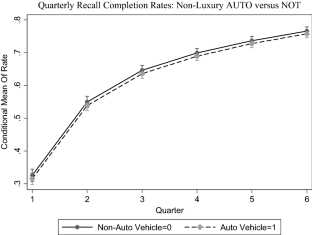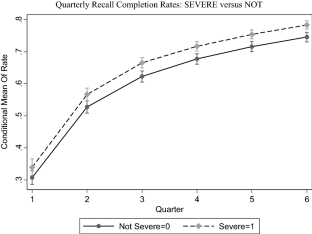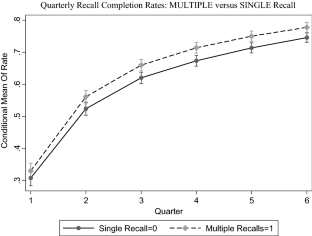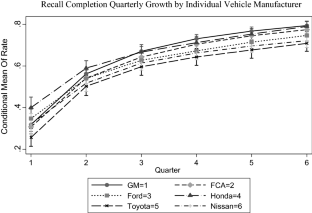 Notes
1.

The Detroit 3 are Ford Motor Company (Ford), Fiat Chrysler Automobiles N.V. (FCA), and General Motors Company (GM).

2.

The Foreign 3 are the largest foreign manufacturers ranked by total U.S. sales for the year ended December 31, 2016: Toyota Motor Corporation (Toyota), Honda Motor Company (Honda), and Nissan Motor Company, Ltd. (Nissan).

3.

The data include 10 recalls that achieved a 100% completion rate prior to reaching the sixth quarter.

4.

Commercial trucks are trucks with a gross vehicle weight rating above 10,000 lb. Commercial trucks include, for example, the Ford F350 and the Chevrolet Silverado 3500.

5.

Non-commercial, or consumer, trucks are trucks with gross vehicle weight ratings of 10,000 lb or less. Examples of non-commercial trucks include the Ford F150 and F250 and the Chevrolet Silverado 1500 and 2500.

6.

Specifications using ln(Size) produced similar results.

7.

We explored regressions that use a dummy variable to indicate the years during the Great Contraction. This required dropping the year dummy variables and using a discrete variable to track year in order to avoid multicollinearity. This also forced the relationship between year and the mean completion rate to be linear. The Great Contraction dummy variable failed to achieve statistical significance in any reporting quarter in any specification. Because we found no evidence that the recall completion rate differed during this period we do not report the specific results for these regressions.

8.

Results for AGE, SIZE, SEVERITY, MULTIPLE, and vehicle type are the same in the regressions that control for individual manufacturer as they were in the regressions that control for domestic versus foreign manufacturer.
References
Ahsan, K. (2013). Trend analysis of car recalls: Evidence from the U.S. market. International Journal of Managing Value and Supply Chains, 4(4), 1–16.

Bae, Y., & Benítez-Silva, H. (2011). Do vehicle recalls reduce the number of accidents? The case of the U.S. car market. Journal of Policy Analysis and Management, 30(4), 821–862.

Bae, Y., & Benítez-Silva, H. (2013). The effects of automobile recalls on the severity of accidents. Economic Inquiry, 51(2), 1232–1250.

Barber, B., & Darrough, M. (1996). Product reliability and firm value: The experience of American and Japanese automakers, 1973–1992. Journal of Political Economy, 104(5), 1084–1099.

Barry, K. (2019). How to make sure you get recall notices for your used car. Consumer reports. Retrieved from January 7, 2021. www.consumerreports.org/car-recalls-defects/how-to-get-recall-notices-for-a-used-car

Borah, A., & Tellis, G. (2016). Halo (spillover) effects in social media: Do product recalls of one brand hurt or help rival brands? Journal of Marketing Research, 53(2), 143–160.

Carfax. (2018). 57 million vehicles on U.S. roads have open recalls. www.carfax.com/press/carfax-57-million-vehicles-on-u-s-roads-have-openrecalls. Accessed July 23, 2018.

Fan, D., Geddes, D., & Flory, F. (2013). The Toyota recall crisis: Media impact on Toyota's corporate brand reputation. Corporate Reputation Review, 16(2), 99–117.

Gao, H., Xie, J., Wang, Q., & Wilber, K. (2015). Should ad spending increase or decrease before a recall announcement? The marketing–finance interface in product-harm crisis management. Journal of Marketing, 79(5), 80–99.

Glinton, S. (2016). Vehicle blamed for 'Star Trek' actor's death was subject of recall. National Public Radio, June 21, 2016. Retrieved from July 23, 2018. www.npr.org/sections/thetwoway/2016/06/21/482878750/vehicle-blamed-for-actors-death-was-subject-of-recall

Govindaraj, S., & Jaggi, B. (2004). Market overreaction to a product recall revisited—The case of Firestone tires and the Ford Explorer. Review of Quantitative Finance and Accounting, 23(1), 31–54.

Held, M., Marian, A. & Reeves, J. (2018). The auto industry's growing recall problem—and what to do about it," Alix Partners. Retrieved June 11, 2018 at www.alixpartners.com/insights-impact/insights/the-auto-industrys-growing-recall-problem-and-how-to-fix-it.

Hoffer, G., Pruitt, S., & Reilly, R. (1988). The impact of product recalls on the wealth of sellers: A reexamination. Journal of Political Economy, 96(3), 663–670.

Hoffer, G., Pruitt, S., & Reilly, R. (1994). When recalls matter: Factors affecting owner response to automotive recalls. The Journal of Consumer Affairs, 28(1), 96–106.

Jarrell, G., & Peltzman, S. (1985). The impact of product recalls on the wealth of sellers. Journal of Political Economy, 93(3), 512–536.

Kulisch, E. (2017). Recall process still waiting for repair. Automotive News. Retrieved from July 24, 2018. www.autonews.com/article/20171204/OEM11/171209989/?template=print.

Maidenburg, M. (2017). Takata expands recall again, citing new airbag hazard. New York Times, July 12, 2017: B5.

NHTSA. (2017). Report to congress: Vehicle safety recall completion rates report. Retrieved from October 12, 2020. https://www.nhtsa.gov/sites/nhtsa.dot.gov/files/documents/13376-recall_completion_rates_rtc-tag_final.pdf.

NHTSA. (2019). All recalls by year. Retrieved from January 10, 2020. www.nhtsa.gov/sites/nhtsa.dot.gov/files/documents/2018_recall_annual_reportupdated_041219.pdf.

Reilly, R., & Hoffer, G. (1983). Will retarding the information flow on automobile recalls affect consumer demand? Economic Inquiry, 21(3), 444–447.

Rhee, M., & Haunschild, P. (2006). The liability of good reputation: A study of product recalls in the U.S. automobile industry. Organization Science, 17(1), 101–117.

Rupp, N. (2001). Are government initiated recalls more damaging for shareholders? Evidence from automotive recalls, 1973–1998. Economics Letters, 71, 265–270.

Rupp, N. (2004). The attributes of a costly recall: Evidence from the automotive industry. Review of Industrial Organization, 25(1), 21–44.

Rupp, N., & Taylor, C. (2002). Who initiates recalls and who cares? Evidence from the automobile industry. The Journal of Industrial Economics, 50(2), 123–149.

Sanchanta, M., & Takahashi, Y. (2010). Toyota's recall could top $15 billion. Wall Street Journal (Eastern Edition), 255(56), B2.

Shin, H., Richardson, R., & Soluade, O. (2012). Assessing sales loss from automobile recalls through event study: A Toyota case study. Communications of the IIMA, 12(4), 71–80.

Souiden, N., & Pons, F. (2009). Product recall crisis management: The impact on manufacturer's image, consumer loyalty and purchase intention. Journal of Product and Brand Management, 18(2), 106–114.
Additional information
Publisher's Note
Springer Nature remains neutral with regard to jurisdictional claims in published maps and institutional affiliations.
About this article
Cite this article
Malec, A.M., Smith, P.K. & Smuts, A.E. Recall and Vehicle Characteristics Associated with Vehicle Repair Rates. Rev Ind Organ (2021). https://doi.org/10.1007/s11151-021-09811-4
Keywords
Automotive recall completion rates

Safety

Litigation
JEL Classification
K14 (Litigation Process)

D12 (Consumer Economics: Empirical Analysis; Economics)