Abstract
Two recent enforcement actions highlight important aspects of the economic analyses that have been performed at the Antitrust Division of the U.S. Department of Justice over this past year: The Novelis-Aleris merger illustrates how the decision-making tools that are used by market participants can reveal market characteristics that are key to merger analysis. The acquisition of Aetna by CVS raised several novel issues. A complex regulatory framework affected optimal bidding behavior among insurers and injected unique considerations into the analysis of a horizontal consolidation. Analysis of vertical aspects of the merger required accounting for variation in the mode of competition across a supply chain.
This is a preview of subscription content, log in to check access.
Access options
Buy single article
Instant access to the full article PDF.
US$ 39.95
Tax calculation will be finalised during checkout.
Subscribe to journal
Immediate online access to all issues from 2019. Subscription will auto renew annually.
US$ 99
Tax calculation will be finalised during checkout.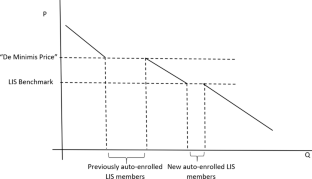 Notes
1.

See Plaintiff United States' Explanation of Plan to Refer this Matter to Arbitration, United States v. Novelis Inc., No.: 1:19-cv-02033, ECF No. 11 (N.D. Ohio Sept. 9, 2019).

2.

The problems that can arise without an estimate of the aggregate elasticity are well known. See, for example, Katz and Shapiro (2003).

3.

For example, because a hood is basically a rectangle with very little scrap waste, it is very efficiently made from aluminum. Doors are less efficient because cutting out the space for the window results in expensive waste.

4.

See Competitive Impact Statement, Case 1:18-cv-02340, Document 3, Filed 10/10/2018.

5.

6.

7.

The Division conducted analyses, similar to those in the Aetna/Humana merger investigation (including switching analyses and a SSNIP test), to determine that individual PDPs were a properly defined product market. CMS regulation was again determinative for geographic market. See Gerstle et al (2017).

8.

9.

10.

The subsidy may be applied only to the basic portion of a plan's premium. There are also enhanced plans; but a LIS enrollee would be required to pay any premium that is associated with the enhanced benefit. Therefore, the LIS auto-enrollees (discussed later) are not assigned to enhanced plans, and the discussion below applies only to basic plans.

11.

Each insurer with a premium at or below the benchmark will receive the same number of LIS auto-enrollees.

12.

The de minimis amount is generally $2, and insurers are required to waive any premium above the benchmark for previously auto-enrolled individuals in order to maintain that enrollment. The "de minimis price" will be the LIS benchmark for the region plus $2. For instance, if the LIS benchmark was $20, the de minimis price will be $22.

13.

One simplification is that Fig. 1 assumes that the bid premium that is submitted for this PDP has no impact on the LIS benchmark.

14.

In a given year, LIS enrollment may increase by only a few percentage points. See footnote 9 for a link to data on LIS enrollment.

15.

Not every PDP insurer has LIS enrollment. Some insurers seem uninterested in bidding low enough to earn LIS auto-enrollment. These insurers consistently bid well above the benchmark. The analysis here focuses on the strategy of insurers that had been bidding below (or near) the LIS benchmark prior to the merger, as CVS and Aetna had in most regions.

16.

An insurer's preference for being at the benchmark will depend on various factors, which include the number of new LIS auto-enrollees at stake in the bid and the amount of incumbent LIS members that previously auto-enrolled in the plan.

17.

The same cannot be said for its likelihood of exceeding the LIS benchmark itself: Consider a simple example of two bidders A and B that simultaneously submit bids. Suppose that bidder A has a weight of 1/3 in the calculation of a benchmark and bidder B has a weight of 2/3. If each bidder perceives the other firm's bid to be uniformly distributed between 0 and $10, then each firm would perceive the same probability of bidding below the benchmark, despite the difference in their weights. However, firm B's greater weight reduces the probability that submitting a bid of $5 would be more than $2 above the benchmark relative to firm A's perceived probability in exceeding this de minimis threshold when submitting a bid in the same amount.

18.

There are additional considerations beyond those presented here: For example, an increased influence over the benchmark may also lead insurers to give greater consideration to how their bids influence the LIS eligibility of rival plans.

19.

The divested assets were purchased by WellCare Health Plans, Inc.

20.

The additional theories of harm included vertical effects that involved CVS's various pharmacy businesses.

21.

Their methodology embeds a measure of the degree to which the normal relationship between costs and bidding strategy in a second-price auction is altered by the incentives that are induced by a vertical merger and how this tends to affect downstream prices.
References
Brannman, L., & Froeb, L. (2000). Mergers, cartels, set-asides, and bidding preferences in asymmetric oral auctions. Review of Economics and Statistics, 82(2), 283–290.

Gerstle, A. D., Knudsen, H. C., Lee, J. K., Majure, W. R., & Williamson, D. V. (2017). Economics at the antitrust division 2016–2017: Healthcare, nuclear waste, and agriculture. Review of Industrial Organization, 51(4), 515–528.

Katz, M. L., & Shapiro, C. (2003). Critical loss: Let's tell the whole story. Antitrust, 17(2), 49–56.

Miller, N. (2014). Modeling the effects of mergers in procurement. International Journal of Industrial Organization, 37, 201–208.

Podwol, J. & Raskovich, A. (2021). Analyzing vertical mergers with auctions upstream. EAG Working Paper Series, forthcoming

Waehrer, K., & Perry, M. K. (2003). The effects of mergers in open-auction markets. RAND Journal of Economics, 34(2), 287–304.
Additional information
Publisher's Note
Springer Nature remains neutral with regard to jurisdictional claims in published maps and institutional affiliations.
The views expressed do not purport to reflect those of the U.S. Department of Justice, and nothing in this document may be cited in any enforcement proceeding against the Department of Justice.
About this article
Cite this article
Drennan, R., Knudsen, H.C., Whalen, W.T. et al. The Year in Review: Economics at the Antitrust Division 2019–2020. Rev Ind Organ 57, 815–825 (2020). https://doi.org/10.1007/s11151-020-09793-9
Accepted:

Published:

Issue Date:
Keywords
Antitrust

Merger

Vertical merger

Health insurance

Critical loss

Market definition