Abstract
We discuss three important cases that the Competition and Markets Authority (CMA) has completed over the past year: The first two cases—the Experian/ClearScore merger and the Hotel Online Booking enforcement case—demonstrate our recent work on digital industries. We provide an overview of developments in this area and the CMA's evolving approach to addressing such cases. The third case was a proposed merger between two of the UK's largest grocery chains: Sainsbury's and Asda. This proposed merger was ultimately prohibited by the CMA.
Access options
Buy single article
Instant access to the full article PDF.
USD 39.95
Price includes VAT (USA)
Tax calculation will be finalised during checkout.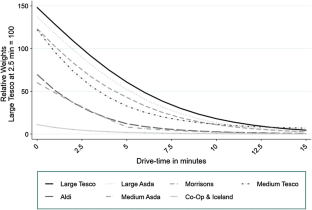 Notes
1.

The CMA also considered a vertical theory of harm with respect to potential foreclosure in the supply by Experian of 'pre-qualification services' to other CCPs. The CMA did not provisionally find an SLC in this respect, and we do not address it further here.

2.

The CMA's merger guidelines set out that to be considered a competitive constraint, entry or expansion should be of sufficient scope to deter or defeat any attempt by the merged firm to exploit any lessening of competition that results from the merger.

3.

4.

The Stigler Report (2019, pp. 34–37) discusses the potential for big data and machine learning to enhance firms' ability to 'understand and manipulate individual preferences at a scale that goes far beyond what is possible in traditional markets'.

5.

The CMA is the main consumer protection agency in the UK, in addition to its role as a competition enforcer. The key relevant piece of legislation in this case is the Consumer Protection from Unfair Trading Regulations 2008 (CPRs), which prohibits unfair commercial practices, such as: misleading actions; misleading omissions; and aggressive commercial practices.

6.

In consumer cases, the CMA does not make findings on whether practices breach consumer law; the court decides whether a practice infringes the law. Further details of the CMA's enforcement action and the undertakings made by the relevant platforms can be found on its press release (CMA 2019a) and case page: https://www.gov.uk/cma-cases/online-hotel-booking

7.

The undertakings made by online hotel booking platforms are specific to their websites—including mobile and app-based formats—which are directed to UK consumers.

8.

Following this investigation, the CMA has published the principles for businesses offering online accommodation booking services for consumer protection law compliance. See CMA (2019b).

9.

It is common for online platforms to use 'A/B testing' to assess the impact of certain features or information on customer conversion. In a simple A/B test, a platform displays two different versions of a site ('A' and 'B') to two random groups of users and assesses which version would be more effective in converting customers (e.g., by inducing customers to click on a link or to make a purchase).

10.

They include online hotel booking platforms that are owned by Expedia Group (Expedia, Hotels.com, ebookers, and trivago) and Booking Holding (Booking.com, Agoda).

11.

12.

See Fletcher (2018) for a discussion of the importance of consumer engagement for competition.

13.

Even when the bases of these comparators are explained—e.g., in hover-over boxes or in terms and conditions—the CMA found that consumers rarely access these explanations.

14.

15.

For example, mandatory resort fees are frequently charged by hotels in Las Vegas, United States. See Sullivan (2017).

16.

In practice, hidden charges and discount claims can be used in conjunction.

17.

See OFT (2010) for a discussion of the psychology literature that underpins this effect.

18.

See Fletcher (2018), which discusses saliency bias and its impact on competition generally.

19.

20.

21.

Imagine, hypothetically, that a doctor prescribes medicines to patients that are based not only on the medicines' effectiveness, but also on the commission rate that the doctor receives from a pharmaceutical company. If patients are aware of the doctor's incentives, they will raise questions about the basis of the prescription or potentially switch to another doctor.

22.

There should be no assumption that a firm's commercial interest and the consumers' interest are aligned.

23.

Research shows that only a small proportion of consumers re-order the default search results. See CMA (2017).

24.

25.

Sainsbury's/Asda Final Report, paragraph 15: 'It has been estimated that grocery sales account for just over half of all retail sales in the UK'. The CMA estimated also that the Parties have a 29% share of these grocery sales.

26.

The CMA classified all grocery stores with more than 280 square metres in area as supermarkets. Following established practice, smaller grocery stores were classified as convenience stores.

27.

Symbol groups are collections of stores that are affiliated with a wholesale symbol group provider; they usually operate under a common brand. The retailer is independent from the wholesale provider, but generally commits to minimum purchases from it.

28.

In addition to the business areas listed in this section, the Parties also both sold general merchandise: non-consumable, non-food items such as toys, electrical goods, homeware, entertainment, clothing, stationery, and furniture. The CMA's investigation here focused on children's wear, certain categories of electrical products, and toys, where one or both of the Parties had a relatively high share of supply. While the number and size of competitors varied across these segments, each segment featured several major competitors in addition to the other supermarkets.

29.

The exception here is general merchandise. The CMA found that where it concerned aspects of the Parties' competitive offering that were specific to GM, both Sainsbury's and Asda set their offerings uniformly on a national basis. Given this, and accounting for the CMA's discretion to prioritise the use of its resources, the CMA did not conduct an area-by-area local analysis.

30.

Each Party's online grocery product prices were set to be equal to their supermarket prices. Asda's convenience store prices were also the same as the prices in its supermarkets. This meant that the finding of reduced competition in supermarket groceries also meant that the merger would affect prices in online groceries and in Asda's convenience stores.

31.

"Delivery passes" are subscription services whereby customers pay a fee and receive reduced-cost or zero-cost deliveries for a period.

32.

The CMA did not find a similar incentive in respect of Sainsbury's supply points. This is predominantly because Sainsbury's faces different constraints from Asda—for example, Ocado and Waitrose were considered closer competitors to Sainsbury's than to Asda.

33.

While not discussed further in this paper, the CMA found local market-power concerns in fuel (127 local areas) and convenience stores (18 local areas).

34.

Typically, online grocers charge different prices for different delivery'slots', where a slot is a one or 2 h window where the delivery is scheduled (and hence delivery prices will vary depending on the day of the week and the time of the day). The average slot price is the average delivery price charged across all slots.

35.

The CMA also investigated the potential negative impacts on consumer outcomes that could arise from buyer power. The CMA's remit does not include preventing harm to suppliers that arise from mergers, except where such harm would ultimately lead to a substantial lessening of competition and harm to consumers. The CMA considered possible impacts of increased buyer power on innovation by suppliers, as well as on the prices that are charged by suppliers to rivals and any impact on rival retailers' ability to compete. The CMA did not find that competition would be reduced through buyer power.

36.

Discounter stores also lacked other amenities, including the retailing of general merchandise and fuel.

37.

Lidl was found to exercise a weaker constraint than did Aldi: The CMA applied a weight to Lidl that was around one-fifth of the weight that it applied to large Tesco supermarkets.

38.

Specifically, the diversion ratio from Store A to Store B is the proportion of customers that would switch to Store B in response to a worsening of Store A's competitive offering, as a proportion of all customers that would switch away from Store A. For example, if Store A raises its price and 100 customers switch away from Store A and, of those 100 customers, 20 choose Store B, the diversion ratio from Store A to Store B would be 20%.

39.

The CMA considered two size categories of supermarket: 'large' supermarkets, which were larger than 1400 square metres; and 'medium' supermarkets, which were smaller than 1400 square metres (but larger than a convenience store).

40.

Brand serves as a proxy for those aspects that are common to all stores of a given brand (including things such as price level and overall brand positioning). Size of store is associated with various factors, such as product range and the offering of amenities such as car parks, toilets, ATMs, and so on, which are more common in larger stores.

41.

The benefit of the fractional response estimate was that it achieved a better fit for the data than a quadratic ordinary least squares (OLS) regression. A quadratic OLS regression would not take into account that diversion ratios are bounded by zero.

42.

The data were analysed at a 4-week level to smooth some of the random variation that occurred week-to-week.

43.

In particular, the CMA adjusted the curves in those intervals (e.g. 0–5 min, 5–10 min) where it found there was a statistically significant coefficient in the entry-exit analysis. In these cases, the CMA shifted each point in the relevant interval up by (1 − x%) * d, where d is the change necessary to make the new weighting equal to the average of the survey weightings and the statistically significant entry-exit weightings, and x% was a smoothing factor equal to 100% at the drive-time distance furthest extreme from any unadjusted interval, declining linearly with each minute of drive-time distance such that the smoothing factor was 0% at the drive-time distance adjacent to the next unadjusted interval. This smoothing factor eliminated sharp discontinuities in the weighting curves, which the CMA considered would be counterintuitive. In a minority of cases, the CMA did not make an adjustment where the result would have been counterintuitive (in particular by causing the weight to increase with distance).

44.

An equivalent set of weightings was also generated for Asda but this is not presented here.

45.

For example, if there were four stores in a local area (A, B, C and D), and the weightings were, respectively, 100, 100, 60, and 40, the diversion ratio from A to be would be 100/(100 + 60 + 40) = 50%. This is before the diversion ratios would be adjusted for out-of-market diversion. This is explained in footnote 40.

46.

The CMA allocated 75% of all diversion to supermarkets located within 15 min drive-time. The remaining 25% of diversion was allocated to 'out-of-market constraints', which included bargain stores, specialist retailers such as butchers and bakeries, convenience stores, supermarkets run by regional brands, online grocery retailers and supermarkets located more than 15 min away.

47.

Examples include Ladbrokes/Coral and Celesio/Sainsbury's.

48.

The downward pressure in the GUPPI was calculated by dividing the £500 million amount by the total revenue of the relevant segment: in this case groceries and general merchandise.

49.

The CMA also assessed other types of synergies that were proposed by the Parties, but found that these were relatively small compared with the purchasing synergies and were either (1) unquantified, or (2) fixed cost savings and therefore unlikely to offset a pricing pressure increase in the relevant markets. Therefore, the GUPPI figures were not adjusted for these efficiencies.

50.

In some previous merger cases, the CMA has taken a different approach: In particular, the CMA has used a filtering approach whereby it ruled out some competitive local markets on the basis that an SLC is prima facie unlikely. By then narrowing attention to a smaller number of remaining local markets, it was feasible for the CMA to carry out individual and specific assessments of each of those markets. In this case, it was likely that—even after ruling out certain areas initially with the use of a filtering rule—hundreds of local areas would have remained; therefore, the CMA applied a decision rule to the Parties' full set of supermarkets.

51.

The CMA did this by assigning a GUPPI to the newly entering supermarket competitor (based on the weighting that they were given in the WSS analysis). This allowed these entry events to be compared to the (reverse of) removing one of the Parties as a competitor by merging.
References
Competition and Markets Authority. (2017). Online search: Consumer and firm behaviour, A review of the existing literature. Retrieved August 16, 2019 from Competition and Markets Authority website. https://assets.publishing.service.gov.uk/government/uploads/system/uploads/attachment_data/file/607077/online-search-literature-review-7-april-2017.pdf.

Competition and Markets Authority. (2019a). Hotel booking sites to make major changes after CMA probe. Retrieved August 16, 2019 from Competition and Markets Authority website. https://www.gov.uk/government/news/hotel-booking-sites-to-make-major-changes-after-cma-probe.

Competition and Markets Authority. (2019b). Consumer protection law compliance: Principles for businesses offering online accommodation booking services. Retrieved August 16, 2019 from Competition and Markets Authority website. https://assets.publishing.service.gov.uk/government/uploads/system/uploads/attachment_data/file/781624/webteam_online_booking_services_principles.pdf.

Erta, K., Iscenko, Z., Hunt, S., & Brambley, W. (2013). Applying behavioural economics at the Financial Conduct Authority. Financial Conduct Authority Occasional Paper No. 1. Retrieved August 16, 2019 from the FCA website. https://www.fca.org.uk/publication/occasional-papers/occasional-paper-1.pdf.

Fletcher, A. (2018). Disclosure and other tools for enhancing consumer engagement and competition. CCP Working Paper 18–13. Retrieved August 16, 2019 from Norwich Business School, University of East Anglia website. http://competitionpolicy.ac.uk/documents/8158338/24898393/CCP+WP+18-13+complete.pdf.

HM Treasury. (2019). Unlocking digital competition: Report of the digital competition expert panel. Retrieved August 16, 2019 from the HM Treasury website. https://www.gov.uk/government/publications/unlocking-digital-competition-report-of-the-digital-competition-expert-panel.

Lear. (2019). Ex-post assessment of merger control decisions in digital markets: Final report. Retrieved August 16, 2019 from the Lear website. http://www.learlab.com/wp-content/uploads/2019/06/CMA_past_digital_mergers_GOV.UK_version-1.pdf.

Office of Fair Trading. (2010). Advertising of Prices. Retrieved August 16, 2019 from the National Archives website: https://webarchive.nationalarchives.gov.uk/20140402173016 http://oft.gov.uk/shared_oft/market-studies/AoP/OFT1291.pdf.

Office of Fair Trading. (2013). Partitioned pricing research: The economics of partitioned pricing. Retrieved August 16, 2019 from the National Archives website: https://webarchive.nationalarchives.gov.uk/20140402165051 http://oft.gov.uk/shared_oft/economic_research/OFT1501B.pdf.

Stigler Center. (2019). Draft report of the market structure and antitrust subcommittee, committee for the study of digital platforms. Retrieved August 16, 2019 from the Senate website: https://www.judiciary.senate.gov/imo/media/doc/market-structure-report%20-15-may-2019.pdf.

Sullivan, M. (2017). Economics analysis of hotel resort fees. Retrieved August 16, 2019 from the Federal Trade Commission website: https://www.ftc.gov/system/files/documents/reports/economic-analysis-hotel-resort-fees/p115503_hotel_resort_fees_economic_issues_paper.pdf.

Walker, M. (2017). Behavioural economics: The lessons for regulators. European Competition Journal,13(1), 1–27.
Acknowledgements
We thank Julie Bon, Tom Kitchen and Carolina Policarpo-Garcia for helpful input. The views that are expressed in this article are those of the authors and do not necessarily reflect those of the CMA.
Additional information
Publisher's Note
Springer Nature remains neutral with regard to jurisdictional claims in published maps and institutional affiliations.
About this article
Cite this article
Fung, S.S., Haydock, J., Moore, A. et al. Recent Developments at the CMA: 2018–2019. Rev Ind Organ 55, 579–605 (2019). https://doi.org/10.1007/s11151-019-09730-5
Keywords
CMA

Competition policy

Digital markets

Platforms

Mergers