Abstract
This paper investigates the determinants and competitive effects of legacy carriers' outsourcing decision with independent regional airlines. Legacy carriers allocate a larger share of their operations to an independent regional airline partner compared to their own fleet or a wholly owned regional airline on routes that experience stronger competition, particularly from low-cost carriers. Moreover, legacy carriers' airfares are lower on routes that they outsource more prominently to an independent regional airline. The results suggest that increased route competition is a motivation for the growing use of independent regional airlines by legacy carriers.
Access options
Buy single article
Instant access to the full article PDF.
USD 39.95
Price includes VAT (USA)
Tax calculation will be finalised during checkout.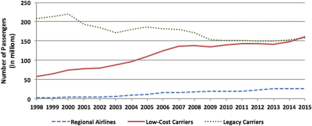 Notes
1.

Legacy carriers are major airlines that existed prior to industry deregulation in 1978. The "Big Six" legacy carriers studied in this paper are American Airlines, Continental Airlines, Delta Air Lines, Northwest Airlines, United Airlines, and US Airways.

2.

The key distinction between the ticketing carrier and the operating carrier is that the ticketing carrier is the airline that the passenger purchased the ticket from, whereas the operating carrier is the airline that is in charge of the aircrew and fleet that are used on the flight.

3.

Market fare is calculated by the U.S. Bureau of Transportation Statistics as the itinerary yield multiplied by the number of miles flown. Ancillary fees—such as baggage fees, priority seating fees, and the cost of food and beverage purchased on the flight—are not accounted for in the market fare.

4.

Since this paper focuses on the legacy carriers' outsourcing decision with their independent regional airline partners, wholly owned regional airlines are not reported in Table 1.

5.

It can be the case that regional airlines are flying travelers on one leg of a one-stop or multi-stop itinerary. However, the issue with these itineraries is that a legacy carrier can be responsible for a portion of the one-stop or multi-stop itineraries as well. In other words, I focus on nonstop products in order to avoid the complication with some passengers flying on a legacy carrier plane to get them from a origin airport to a hub airport and then a regional airline from the hub airport to the final destination airport. Thus, a focus on nonstop products provides a cleaner analysis of the legacy carrier's decision to operate that particular route itself or with an independent regional airline.

6.

Following Kwoka et al. (2016), the five LCCs that are studied in this paper are: Allegiant Air, AirTran Airways, Frontier Airlines, JetBlue Airways, and Southwest Airlines.

7.

8.

I do not include panel fixed effects (e.g. carrier-route fixed effects) in Eq. (1) since Greene (2014) explains that the incidental parameters problem arises when including time-invariant fixed effects in a Tobit model, leading to a downward bias in the disturbance variance parameter and unreliable estimates of marginal effects.

9.

Regional airlines do not sell tickets independently from legacy carriers and rely exclusively on legacy carriers for passenger traffic. In fact, official websites for regional airlines will merely identify the routes that it services for legacy carriers and sometimes include links to the legacy carrier's official website for ticketing purposes.

10.

The estimated coefficient for Bankrupt is blank for Continental Airlines since it never went under bankruptcy protection during the sample time period.

11.

WN is the International Air Transport Association code for Southwest Airlines.

12.

13.
References
Beard, T., Ford, G., & Koutsky, T. (2005). Mandated access and the make-or-buy decision: The case of local telecommunications competition. The Quarterly Review of Economics and Finance, 45(1), 28–47.

Borenstein, S. (1989). Hubs and high fares: Dominance and market power in the U.S. airline industry. The RAND Journal of Economics, 20, 344–365.

Borenstein, S., & Rose, N. (1994). Competition and price dispersion in the U.S. airline industry. Journal of Political Economy, 102(4), 653–683.

Brueckner, J., Lee, D., & Singer, E. (2013). Airline competition and domestic U.S. airfares: A comprehensive reappraisal. Economics of Transportation, 2(1), 1–17.

Brueckner, J., & Pai, V. (2009). Technological innovation in the airline industry: The impact of regional jets. International Journal of Industrial Organization, 27, 110–120.

Cachon, G., & Harker, P. (2002). Competition and outsourcing with scale economies. Management Science, 48(10), 1314–1333.

Coase, R. (1937). The nature of the firm. Economica, 4, 386–405.

Coles, J., & Hesterly, W. (1998). The impact of firm-specific assets and the interaction of uncertainty: An examination of make or buy decisions in public and private hospitals. Journal of Economic Behavior & Organization, 36(3), 383–409.

Forbes, S., & Lederman, M. (2007). The role of regional airlines in the U.S. airline industry. In D. Lee (Ed.), Advances in airline economics II (pp. 193–208). Cambridge: Elsevier.

Forbes, S., & Lederman, M. (2009). Adaptation and vertical integration in the airline industry. American Economic Review, 99(5), 1831–1849.

Forbes, S., & Lederman, M. (2010). Does vertical integration affect firm performance? Evidence from the airline industry. The RAND Journal of Economics, 41(4), 765–790.

Gerardi, K., & Shapiro, A. (2009). Does competition reduce price dispersion? New evidence from the airline industry. Journal of Political Economy, 117(1), 1–37.

Greene, W. (2004). Fixed effects and the incidental parameters problem in the Tobit model. Econometric Reviews, 23(2), 125–148.

Grossman, S., & Hart, O. (1986). The costs and benefits of ownership: A theory of vertical and lateral integration. Journal of Political Economy, 94, 691–719.

Hirsch, B. (2007). Wage determination in the U.S. airline industry: The role of unions and product market competition. In D. Lee (Ed.), Advances in airline economics II (pp. 27–59). Cambridge: Elsevier.

Kwoka, J., Hearle, K., & Alepin, P. (2016). From the fringe to the forefront: Low cost carriers and airline price determination. Review of Industrial Organization, 48(3), 247–268.

Lederman, M. (2008). Are frequent-flyer programs a cause of the hub premium? Journal of Economics & Management Strategy, 17(1), 35–66.

Lee, D., & Luengo-Prado, M. J. (2005). The impact of passenger mix on reported hub premiums in the U.S. airline industry. Southern Economic Journal, 72(2), 372–394.

Morrison, S. (2001). Actual, adjacent, and potential competition: Estimating the full effect of southwest airlines. Journal of Transport Economics and Policy, 35(2), 239–256.

Rupp, N. & Liu, N. (2016). Product quality choices and competition: Evidence from the U.S. airline industry. Working paper.

Sappington, D. (2005). On the irrelevance of input prices for make-or-buy decisions. The American Economic Review, 95(5), 1631–1638.

Stavins, J. (2001). Price discrimination in the airline market: The effect of market concentration. The Review of Economics and Statistics, 83(1), 200–202.

Vowles, T. (2001). The 'Southwest Effect' in multi-airport regions. Journal of Air Transport Management, 7, 251–258.

Williamson, O. (1985). The economic institutions of capitalism. New York: The Free Press.
Acknowledgements
I would like to thank the editor, Larry White, and two anonymous referees, as well as Matthew Lewis, James Peck, Huanxing Yang, Stephen J. K. Walters, Nicholas Rupp, and seminar participants at The Ohio State University, East Carolina University, the Southern Economic Association Annual Meeting, and the International Industrial Organization Conference for helpful suggestions and comments. All errors are my own. Earlier versions were circulated under the title, "Pro-Competitive Vertical Integration: The Relationship between Legacy Carriers and Regional Airlines."
Electronic supplementary material
Below is the link to the electronic supplementary material.
About this article
Cite this article
Tan, K.M. Outsourcing and Price Competition: An Empirical Analysis of the Partnerships Between Legacy Carriers and Regional Airlines. Rev Ind Organ 53, 275–294 (2018). https://doi.org/10.1007/s11151-017-9610-z
Keywords
Outsourcing

Legacy carriers

Regional airlines

Low-cost carriers

Airfares