Abstract
The National Collegiate Athletic Association (NCAA) was originally founded to protect student athletes from the brutality of college football. The NCAA has established a number of prominent athletic programs and achieved huge commercial success. In spite of this success, the NCAA has limited the compensation of student-athletes through collusive monopsonistic restraints. Ordinarily, these restraints would be vulnerable to antitrust attack, but the NCAA has enjoyed benign neglect by the U.S. Department of Justice and the Federal Trade Commission. The root of this is the Board of Regents [National Collegiate Athletic Association v. Board of Regents of the University of Oklahoma, 468 U.S. 85 (1984)] decision, which requires rule-of-reason treatment of the NCAA's restraints. The essential role of amateurism of student athletes is used to justify the NCAA's cartel behavior. In this paper, we demonstrate that amateurism is a myth. We suggest that the NCAA will be unable to provide an evidentiary foundation for its claim that amateurism is crucial to the success of college athletic programs. In addition, we reject the possibility of an efficiency defense for the NCAA's cartel behavior.
This is a preview of subscription content, log in to check access.
Access options
Buy single article
Instant access to the full article PDF.
US$ 39.95
Price includes VAT for USA
Subscribe to journal
Immediate online access to all issues from 2019. Subscription will auto renew annually.
US$ 99
This is the net price. Taxes to be calculated in checkout.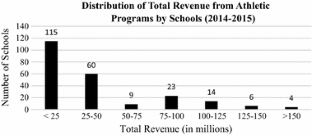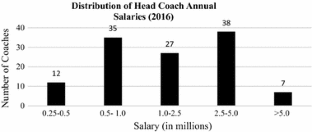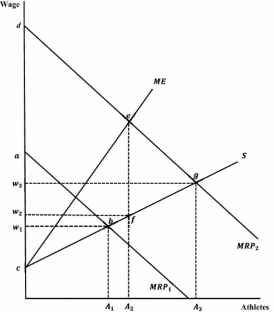 Notes
1.

This definition is provided by the American Heritage Dictionary.

2.

3.

4.

5.

6.

The benefits of the commercial success spilled over to athletic directors as well. Detailed athletic director salary data can be found in USA Today. http://sports.usatoday.com/ncaa/salaries/all/director. While they were not paid as handsomely as the head coaches, their compensation was substantial at academic institutions, where it is rare that a faculty member earns a comparable salary.

7.

To some extent, the revenue shortfalls may be due to funding the so-called non-revenue sports: almost everything other than football and men's basketball. These expenditures on all non-revenue sports may be viewed as a tax on the athletic department.

8.

Ayres (1987) summarizes the ways that cheaters can be punished. Stigler (1964) explores the ways in which deviations from expected cartel results could destabilize a cartel. A recent special issue in the Review of Industrial Organization examines the determinants of cartel stability and investigates cases in the U.S (Ghosal and Sokol 2016; Levenstein and Suslow 2016), Europe (Ghosal and Sokol 2016; Zhou 2016), and South Korea (Feinberg et al. 2016).

9.

These restrictions have resulted in large discrepancies between the estimated marginal revenue product of student athletes and their financial compensation (Brown and Jewell 2004; Brown and Jewell 2006; Brown 2010, 2012; Hunsberger and Gitter 2015; Kahane 2012; Lane et al. 2014). For example, Brown and Jewell (2004) and Brown (2010) estimated the marginal revenue product of college football players to be over $500,000, which is 10-times the value of the average grant-in-aid. Most of the existing works rely on ex post NFL draft status to estimate NCAA student athletes' marginal revenue product; Hunsberger and Gitter (2015) is the only paper that uses ex ante statistics—in particular, the high school prospect rankings—to estimate the marginal revenue product for college football quarterbacks. Their estimated marginal revenue product is about $400,000, which is still eight times the compensation that is provided for the student athletes. Sanderson and Siegfried (Sanderson and Siegfried 2017) further suggest that freshman eligibility reduced the number of scholarships, which reduces costs and improves profits.

10.

Stigler (1968) explores the consequences of non-price competition in this regard.

11.

United States v. Trenton Potteries Co., 273 U.S. 392 (1927); United States v. Addyston Pipe & Steel Co., 85 F. 271 (6th Circ. 1898); United States v. Socony-Vacuum Oil Co., Inc., 310 U.S. 150 (1940); Palmer v. BRG of Georgia, Inc., 998 U.S. 46 (1990); United States v. National Society of Professional Engineers, 435 U.S. 679 (1978), respectively.

12.

Goldfarb v. Virginia State Bar, 421 U.S. 773 (1975); Arizona v. Maricopa County Medical Society, 457 U.S. 332 (1982); Catalano Inc. v. Target Sales Inc., 446 U.S. 643 (1980).

13.

In Mandeville Island Farms, the refiners of sugar beets in northern California agreed upon a pricing formula that depressed the price of sugar beets. The colluding refiners agreed on the price that they would pay. Thus, the victims were the sugar beet farmers who sold to the cartel at the collusively depressed prices. Mandeville Island Farms v. American Crystal Sugar Co., 334 U.S. 835 (1947).

14.

For an extensive analysis of the Board of Regents case, see Porto (2012).

15.

Board of Regents at 117, 120.

16.

For a critical look at the Court's reasoning, see Hovenkamp (2017).

17.

The most comprehensive treatment of the rule of reason is provided by Areeda and Hovenkamp (2010, 1500–1512).

18.

Relatively recent examples include Cason-Merendo v. VHS of Michigan. Inc. 2015 (hospital nurses), United States v. Adobe Systems, Inc. 2011 (hardware and software engineers), United States v. Lucasfilm, Ltd. 2010 (digital animators), and Deloach v. Philip Morris Companies, Inc. 2000 (leaf tobacco), among others.

19.

Blair and Harrison (2010) examine monopsony from an antitrust law and economics perspective.

20.

Williamson (1968) introduced the argument in a merger context. We examine this defense more fully below.

21.

If a restraint is "naked", it cannot be ancillary to lawful operation of a joint venture. If it were, it would not be "naked".

22.

23.

Detailed cost-of-attendance information was obtained from individual university websites. Cost of attendance generally includes tuition and fees, room and board, as well as other personal expenses such as books and transportation. Some universities also include health insurance in their estimated cost of attendance. We restrict our attention to Division I schools because Division II schools usually rely on a partial-scholarship model. Thus some sports may receive the same scholarship limits as Division I programs while others have less. The detailed number of scholarships per sport for Division II schools can be found in http://www.ncaa.org/about/division-ii-partial-scholarship-model. Division III schools are not allowed to award any athletic scholarships.

24.

According to the open-record requests that were conducted by CBSSports.com, out of the 28 Division I universities sampled, only five schools provided about 10 percent or more of their student athletes multiyear contracts, 15 schools provided less than 1 percent of their student multiyear contracts, and five schools provided none in the 2013–2014 academic year.

25.

There have been cases that involved non-renewal of athletic scholarships due to injuries. For example, Joseph Agnew's football scholarship at Rice University was not renewed due to ankle and shoulder injuries. Similarly, Kyle Hardrick, a basketball forward at the University of Oklahoma, was not awarded a scholarship renewal due to his injury. His medical treatment, on the other hand, had led to a disastrous financial burden for his family. For an examination of the Agnew case, see Blair and Whitman (2017).

26.

Broadcast Music v. Columbia Broadcasting System, 441, U.S. 1(1979). In BMI, the Court recognized that output would be reduced in the absence of joint selling.

27.

Unlike the merger analysis that is presented by Williamson (1968), the NCAA collaboration on scheduling, championships, rules of play, and the like may well be necessary; but further collusion on the compensation of student athletes is not.

28.
References
American Heritage Online Dictionary available at https://ahdictionary.com/.

Areeda, P. E., & Hovenkamp, H. (2010). Antitrust law: An analysis of antitrust principles and their application. Aspen Publisher.

Ayres, I. (1987). How cartels punish: A structural theory of self-enforcing collusion. Colombia Law Review, 87, 295–325.

Becker, G. S. (1987). The NCAA: A cartel in sheepskin clothing. Business Week. (September 14): 24.

Blair, R. D., & Harrison, J. L. (2010). Monopsony in law and economics. New York: Cambridge University Press.

Blair, R. D., & Romano, R. E. (1990). Collusive monopsony in theory and practice: NCAA. Antitrust Bulletin, 42, 681–719.

Blair, R. D., & Whitman, J. (2017). The NCAA cartel, monopsonistic restrictions, and antitrust policy. The Antitrust Bulletin, 62(1), 3–14.

Brown, R. W. (2010). Research note: Estimate of college football rents. Journal of Sports Economics, 12, 200–212.

Brown, R. W. (2012). Do NFL player earnings compensate for monopsony exploitation in college? Journal of Sports Economics, 13, 393–405.

Brown, R. W., & Jewell, R. T. (2004). Measuring marginal revenue product of college athletics: Updated estimates. In F. Rodney & F. John (Eds.), Economics of college sports (pp. 153–162). Westport: Praeger.

Brown, R. W., & Jewell, R. T. (2006). The marginal revenue product of a women's college basketball player. Industrial Relations: A Journal of Economy and Society, 45, 96–101.

Feinberg, R. M., Kim, H., & Park, M. (2016). The determinants of cartel duration in Korea. Review of Industrial Organization, 48(4), 433–448.

Fleisher, A. A., III, Goff, B. L., & Tollison, R. D. (1992). The national collegiate athletic association: A study in cartel behavior. Chicago: The University of Chicago Press.

Ghosal, V., & Sokol, D. D. (2016). Evolution of U.S. and European cartel enforcement and prosecutions. Review of Industrial Organization, 48(4), 405–432.

Hovenkamp, H. (2017). The NCAA and the Rule of Reason. Review of Industrial Organization. https://doi.org/10.1007/s11151-017-9589-5.

Hunsberger, P. K., & Gitter, S. R. (2015). What is a blue chip recruit worth? Estimating the marginal revenue product of college football quarterbacks. Journal of Sports Economics, 16(6), 664–690.

Kahane, L. H. (2012). The estimated rents of a top-flight men's College Hockey Player. International Journal of Sport Finance, 7, 19–29.

Lane, E., Nagel, J., & Netz, J. S. (2014). Alternative approaches to measuring MRP: Are all men's college basketball players exploited? Journal of Sports Economics, 15(3), 237–262.

Levenstein, M., & Suslow, V. (2016). Price-fixing hits home: An empirical study of U.S. price fixing conspiracies. Review of Industrial Organization, 48(4), 361–379.

NCAA. (2008). The student-athlete perspective of college experience—Findings from the NCAA GOALS and SCORE studies. In 2008 NCAA Convention.

NCAA. (2011). Division I results from the NCAA GOALS study on the student-athlete experience. In FARA Annual Meeting and Symposium.

Porto, B. L. (2012). The Supreme Court and the NCAA: The case for less commercialism and more due process in college sports. Ann Arbor: The University of Michigan Press.

Sanderson, A. & Siegfried, J. (2017). The National Collegiate Athletic Association Cartel: Why it exists, how it works, and what it does. Review of Industrial Organization. https://doi.org/10.1007/s11151-017-9590-z.

Stigler, G. J. (1964). A theory of oligopoly. Journal of Political Economy, 72(1), 44–61.

Stigler, G. J. (1968). Price and non-price competition. Journal of Political Economy, 76(1), 149–154.

Williamson, O. E. (1968). Economies as an antitrust defense: The welfare trade-offs. American Economic Review, 58, 18–34.

Zhou, J. (2016). The rise and fall of cartels with multi-market colluders. Review of Industrial Organization, 48(4), 381–403.

Zimbalist, A. (2017). Whither the NCAA. Review of Industrial Organization. https://doi.org/10.1007/s11151-017-9598-4.

Zimbalist, A., & Meyer, J. (2017). Reforming college sports: The case for a limited and conditional antitrust exemption. The Antitrust Bulletin, 62(1), 31–61.
Acknowledgements
We are grateful for some useful advice provided by Debbie Garvin; and Jill Harris. Brad Humphreys, Jane Ruseski, Larry White, and other participants at the NCAA Cartel Symposium provided constructive comments that improved our exposition. We thank Bailey Fell, Jonathan Hulzebos, and Jeon Shim for research assistance.
Appendix
Appendix
See Table 2.
About this article
Cite this article
Blair, R.D., Wang, W. The NCAA Cartel and Antitrust Policy. Rev Ind Organ 52, 351–368 (2018). https://doi.org/10.1007/s11151-017-9603-y
Keywords
Sports economics

Antitrust
JEL Classification