Abstract
Each year high school football players sign letters of intent with college football programs. The NCAA governs this matching market with strict rules that are designed to protect amateurism. DuMond et al. (J Sports Econ 9(1):67–87, 2008) develop a model of athlete choice. I consider the matching puzzle from the program's perspective: What factors increase the likelihood that a school will successfully recruit an athlete? Like DuMond et al., I find that the state of play matters. However, my results suggest that football programs are willing to recruit outside their borders. In addition, the results align with prior findings about cheating in the NCAA. This extends the literature on college sport recruiting and may provide insight into other matching puzzles in academic, medical, and business job markets.
This is a preview of subscription content, log in to check access.
Access options
Buy single article
Instant access to the full article PDF.
US$ 39.95
Price includes VAT for USA
Subscribe to journal
Immediate online access to all issues from 2019. Subscription will auto renew annually.
US$ 99
This is the net price. Taxes to be calculated in checkout.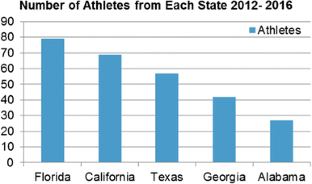 Notes
1.

2.

Perhaps the football programs care more about maximizing revenues then winning. However, Brown and Jewell (2004) suggest that a program's revenues are a function of its skill level, the quality of its opponents, market demand, and its past success. Higher-skilled teams make more revenue because they win more often. Coaches of winning teams (that go to championship games) earn bonus money based on winning. It seems reasonable to suggest that DI football organizations prefer winning to losing.

3.

These estimates have not been updated since 2006 and likely represent a lower bound of the rents earned by schools today.

4.

Initially, I chose the top 100 because of my interest in the DuMond et al. study. For comparison purposes, it seemed prudent to examine the same cross-section of athletes that they did.

5.

Summary statistics are not listed in Table 1 but are available upon request.

6.

In this study, the significance of the NCAA violation effect is largely driven by USC's program.

7.

Under Saban's leadership, Alabama was the BCS Champion in 2009, 2011, and 2012.

8.
References
Albrecht, J., & Vroman, S. (2002). A matching model with endogenous skill requirements. International Economic Review, 43, 283–305.

Berri, D. J., Brook, S., & Fenn, A. (2011). Predicting the NBA amateur player draft. Journal of Productivity Analysis, 35(1), 25–35.

Berri, D. J., & Simmons, R. (2011). Catching a draft: On the process of selecting quarterbacks in the National Football League amateur draft. Journal of Productivity Analysis, 35(1), 37–49.

Brown, R. W. (1993). An estimate of the rent generated by a premium college football player. Economic Inquiry, 31, 671–684.

Brown, R. W. (1994). Measuring cartel rents in the college basketball player recruitment market. Applied Economics, 26(1), 27–34.

Brown, R. W., & Jewell, R. T. (2004). Measuring marginal revenue product in college athletics: Updated estimates. In J. Fizel & R. Forts (Eds.), Economics of college sports (pp. 153–162). Westport, CT: Praeger.

Brown, R. W., & Jewell, R. T. (2006). The marginal revenue product of a women's college basketball player. Industrial Relations, 45(1), 96–101.

Brown, T., Farrell, K. A., & Zorn, T. (2007). Performance measurement and matching: The market for football coaches. Quarterly Journal of Business and Economics, 46(1), 21–35.

Depken, C. A., II, & Wilson, D. (2006). NCAA enforcement and competitive balance in college football. Southern Economic Journal, 72, 826–845.

DuMond, J. M., Lynch, A. K., & Platania, J. (2008). An economic model of the college football recruiting process. Journal of Sports Economics, 9(1), 67–87.

Fleisher, A. A., Goff, B. L., Shughart, W. F., & Tollison, R. D. (1988). Crime or punishment? Enforcement of the NCAA football cartel. Journal of Economic Behavior and Organization, 10, 433–451.

Fleisher, A. A., Goff, B. L., & Tollison, R. D. (1992). The National Collegiate Athletic Association: A study in cartel behavior. Chicago: University of Chicago Press.

Grier, K. B., & Tollison, R. D. (1994). The rookie draft and competitive balance: The case of professional football. Journal of Economic Behavior & Organization, 25(2), 293–298.

Harris, J. S. (2016). The demand for student-athlete labor and the supply of violations in the NCAA. Marquette Sports Law Journal, 26(2), 411–432.

Harris, J. S., & Berri, D. J. (2015). Predicting the WNBA draft: What matters most from college performance? International Journal of Sports Finance, 10, 199–216.

Hendricks, W., DeBrock, L., & Koenker, R. (2003). Uncertainty, hiring, and subsequent performance: The NFL draft. Journal of Labor Economics, 21(4), 857–886.

Humphreys, B. R., & Ruseski, J. E. (2009). Monitoring cartel behavior and stability: Evidence from NCAA football. Southern Economic Journal, 75(3), 720–735.

Kahn, L. (2007). Cartel behavior and amateurism in college sports. Journal of Economic Perspectives, 21(1), 209–226.

Roth, A. E. (1984). The evolution of the labor market for medical interns and resident: A case study in game theory. Journal of Political Economy, 92, 991–1016.

Roth, A.E. & Sotomayor, M. (1992) Two-sided matching. Handbook of Game Theory, 1, 486–541.
Acknowledgements
I thank Roger Blair for organizing the symposium on NCAA behavior and Brad Humphreys, Nathan Wozny, Tobin McKearin, and Aaron Albert for their generosity and helpful comments.
Appendix: Variable Names and Descriptions
Appendix: Variable Names and Descriptions
SHARE:

Number from 1 to 12 representing the number of athletes recruited from the top 100 in a given year

RANK:

Number from 1 to 100 assigned by Rivals.com indicating player ability

HT:

Reported height of the athlete from Rivals.com in inches

WT:

Reported weight of the athlete from Rivals.com in pounds

CHAMP:

A number from 0 to 46 representing the number of conference championships the college has won

Dchamp:

A dummy variable equal to 0 if the college program has not been a national champion in the sample period and 1 if they have been a national champion

DSEC:

A dummy variable equal to 0 if the college is not in the Southeastern Conference (SEC) and 1 if they are a member of the conference

DSTATE:

A dummy variable equal to 0 if the college-athlete match is not within the same state and 1 if the match is within the same state

DV:

A dummy variable equal to 0 if the college is not under probation or rumored to be during the sample period and 1 if they are under probation, sanctions or rumored to be

DALdb:

An interacted dummy term equal to 1 if the player is from Alabama and is a defensive back

DALrb:

An interacted dummy term equal to 1 if the player is from Alabama and is a running back

DCAlb:

An interacted dummy term equal to 1 if the player is from California and is a linebacker

DFLol:

An interacted dummy term equal to 1 if the player is from Florida and is an offensive lineman
About this article
Cite this article
Harris, J.S. State of Play: How Do College Football Programs Compete for Student Athletes?. Rev Ind Organ 52, 269–281 (2018). https://doi.org/10.1007/s11151-017-9602-z
Keywords
Football recruiting

NCAA

Matching
JEL Classification