Abstract
More than a year after a court invalidated its "net neutrality" rules on broadband Internet service providers (ISPs), the Federal Communications Commission (FCC) decided to extend public-utility (Title II) regulation on broadband services. This paper uses traditional event analysis of the movements in the values of major communications and media companies' equities at key moments in the FCC's path to this decision to estimate the financial market's assessment of the likely effects of regulation on ISPs, traditional media companies, and new digital media companies. The results are surprising: the markets penalized only three large cable companies to any extent, and even these effects appear to have been short-lived. The media companies, arguably the intended beneficiaries of the regulations, were unaffected.
Access options
Buy single article
Instant access to the full article PDF.
US$ 39.95
Tax calculation will be finalised during checkout.
Subscribe to journal
Immediate online access to all issues from 2019. Subscription will auto renew annually.
US$ 79
Tax calculation will be finalised during checkout.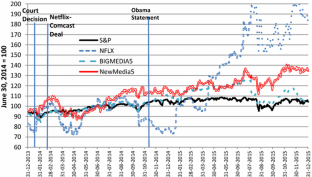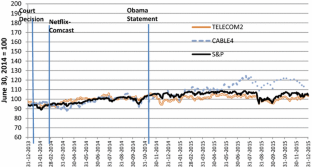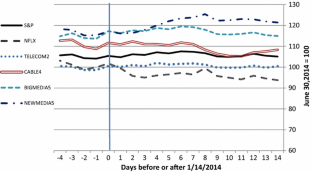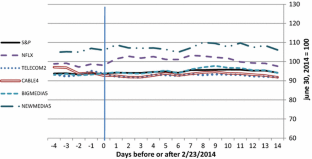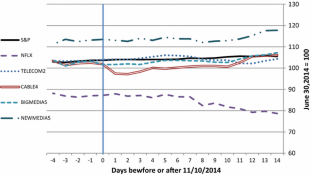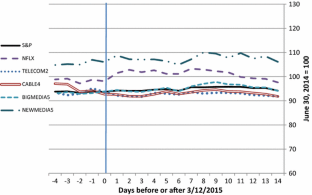 Notes
1.

Federal Communications Commission, In the Matter of Protecting and Promoting the Open Internet, Report and Order on Remand, Declaratory Ruling, and Order, GN Docket No. 14-28, March 12, 2015, available at https://apps.fcc.gov/edocs_public/attachmatch/FCC-15-24A1.pdf (Hereafter, FCC Net Neutrality Order).

2.

For a sample of early reactions see Zagrzewski and Wilhelm (2015).

3.

See, for example, Crawford (2013).

4.

Verizon Communications, Inc. v. Federal Communications Commission, 740 F.3d 623 (D.C. Cir. 2014).

5.

Federal Communications Commission, Protecting and Promoting the Open Internet, GN Docket No. 14-28, Notice of Proposed Rulemaking, 29 FCC Rcd 5561, May 15, 2014.

6.

7.

For a discussion of this issue, see Gattuso (2016).

8.

Scott Wallsten has suggested that this deleterious effect might be offset by a favorable, if anticompetitive, effect of suppressing network investment by the carriers if the equity markets look unfavorably upon such investments by these cable and telecommunications companies.

9.

Several—such as Disney, CBS, and 21st Century Fox—are subject to broadcast regulation.

10.

On occasion, Hollywood studios have formed joint ventures to distribute their products over the internet. The most prominent of these ventures is Hulu, owned by Universal (Comcast), Disney, and Fox.

11.

Verizon Communications, Inc. v. Federal Communications Commission, 740 F.3d 623 (D.C. Cir. 2014).

12.

Another traditional "Big Media" company is Sony, but audio and video entertainment comprises a minor share of its sales. As a result, it is not included in the index, although it is included in the detailed stock-price analyses below.

13.

AOL is dropped from the "New Media" index in May 2015 because it was acquired by Verizon and was therefore no longer an independent company.

14.

The weighted indexes are less volatile than their components. Nevertheless, Netflix's equity is more volatile than any of the other media stocks. This volatility affects the analysis below because of its effect on the statistical significance of the observed changes in the price of Netflix's equity shares.

15.

The decline began shortly after Robert Iger, the CEO of Walt Disney, speculated openly on CNBC in late July 2015 that video streaming and the consequent narrowing of the cable bundle might adversely affect even ESPN, the most valuable of all cable network franchises.

16.

The sample includes six telecommunications companies, four cable companies, two satellite carriers, six major media companies, and nine new digital media companies. See Table 1 and the "Appendix" for the identities of these companies. All data are from www.finance.yahoo.com.

17.

A fifth event—the collapse of the Comcast-Time Warner Cable proposed merger—was also included; its estimated coefficients will be reported separately below for reasons that will become clear after the discussion of the coefficient estimates of the four net-neutrality event variables.

18.

Each equation was estimated using the Cochrane–Orcutt correction for potential serial correlation. The estimated coefficients are reproduced in the Appendix, but—given the number of equations estimated—the goodness of fit and Durbin Watson ratios are not reported there. They may be obtained from the author.

19.

The Yahoo! Finance betas are shown in "Appendix Table 9".

20.

In addition, a positive coefficient for Apple in the 3-day window is statistically significant only at the 10% level of confidence.

21.

22.

As Fig. 4 shows, Netflix's stock rose after the announcement, but this increase was not statistically significant.

23.

Susan Crawford, in particular, had been leading the charge against "monopoly power" in an industry characterized by competition among cable companies, wired telecommunications carriers, and mobile carriers and the dangers of vertical integration between ISPs and Media companies. See Crawford (2013). In 2009, she worked in the Obama White House.

24.

25.

It is obviously too early to estimate the effect of the FCC's decision on capital expenditures, but at least one study claims that it can detect a negative effect in the first half of 2015. See Singer (2015).

26.

On June 14, 2016, a three-judge panel of the U.S. Court of Appeals for the District of Columbia rejected a legal challenge to the FCC Rules (U.S. Telecommunications Association, et.al., v. the Federal Communications Commission, #15-1063).
Acknowledgements
The author thanks Tom Lenard, Scott Wallsten, and the editor of this journal for helpful comments. Any remaining errors are the author's responsibility.
Appendix
Appendix
About this article
Cite this article
Crandall, R.W. The FCC's Net Neutrality Decision and Stock Prices. Rev Ind Organ 50, 555–582 (2017). https://doi.org/10.1007/s11151-016-9557-5
Keywords
Economic regulation

Internet

Telecommunications