Abstract
The dramatic improvement in railroad safety since the 1970s has been accompanied by a substantial increase in safety regulation and a substantial reduction in economic regulation after 1980. We assess the effects of both regulatory changes on railroad safety with the use of RegData: a new data set that was developed by one of the authors that measures the amount of regulation that is imposed by specific regulatory agencies on specific industries. We find that partial economic deregulation is associated with improved safety. Safety regulation was most closely associated with improved railroad safety during the period when economic regulation curtailed railroads' incentives to operate safely.
Access options
Buy single article
Instant access to the full article PDF.
US$ 39.95
Tax calculation will be finalised during checkout.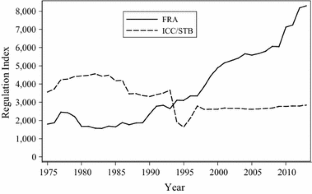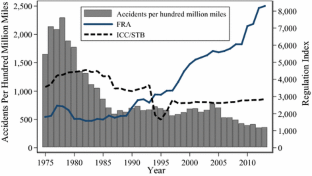 Notes
1.

Figures calculated by the authors based on the dataset used in this paper.

2.

See Fig. 1 below and accompanying text for derivation of this figure.

3.

RegData is a database that quantifies regulation by industry over time using text analysis software. It was created by Omar Al-Ubaydli and Patrick A. McLaughlin, and is broadly described in their recent journal article (Al-Ubaydli and McLaughlin 2015). It is also described and freely distributed on the website www.regdata.org.

4.

Some exclusion rules were also applied, in order to avoid false positives. See McLaughlin and Sherouse (forthcoming).

5.

Railroads are required to report accidents to the FRA if an incident (which could be a collision, derailment, or other event that causes equipment damage) causes damages to equipment in excess of the reporting threshold, or if an incident causes an injury or death. The threshold is updated from year to year. In 2002, it was $6700, while by 2010, it had been raised to $9200 (FRA 2013).

6.

Accident rate = 2487 [0.00] – 1167 × Staggers [0.000] + 666 × 1/Years since Staggers [0.007] − 12.9 × Time trend [0.034] + (Railroad dummies omitted to conserve space) (p values in brackets).

7.

Accident rate = 3700 [0.00] + 328 × Staggers [0.192] – 435 × 1/Years since Staggers [0.028] + (Railroad dummies omitted to conserve space) (p values in brackets).

8.

This is still an issue under the current regulatory system. See TRB (2015, p. 147).

9.

Cothen et al. (2005) document the history of negotiated rulemaking at the FRA.

10.

The accident rate is conventionally presented as accidents per million miles; accidents per hundred million miles is just a scaling factor that allows us to avoid superfluous decimal places in the regression coefficients.

11.

As robustness checks, we employed several phase-in variables described below; the results for our regulatory variables of interest remained unchanged.

12.

49 CFR 1201 Subpart A §1-1.

13.

Operating and financial data were supplied by the Association of American Railroads.

14.

The regression results reported below are similar when we omit Conrail.

15.

We also performed Fisher-type unit root tests on accidents per hundred million miles, including from one to five lags, and soundly rejected the null hypothesis that all panels contain unit roots in each test. Fisher-type unit root tests combine p values from augmented Dickey-Fuller tests performed separately on each individual panel.

16.

We could not include the merger variables and the railroad-specific Staggers and time trend variables in the same regression, because many variables were dropped due to collinearity.

17.

The value of 1/(Years since Staggers) is 0.03 in 2013. Thus, using figures from the regression in column 1, the calculated reduction in accidents associated with Staggers would be 1873 − 1139 × 0.03 = 1839.

18.

Regression results are omitted here to conserve space but are available from the authors.
References
Aldrich, M. (2005). A mighty rough road: The deterioration of work safety on American railroads, 1955–75. Labor History, 46(3), 307–328.

Al-Ubaydli, O., & McLaughlin, P. A. (2015). RegData: A numerical database on industry-specific regulations for all U.S. industries and federal regulations, 1997–2012. Regulation & Governance,. doi:10.111/rego.12107.

Baum, C. F., Schaffer, M. E., & Stillman, S. (2007). Ivreg2: Stata module for extended instrumental variables/2SLS, GMM and AC/HAC, LIML, and k-class regression. Boston College Department of Economics, Statistical Software Components S425401. http://ideas.repec.org/c/boc/bocode/s425401.html.

Bier, V. M., et al. (2001). Effects of deregulation on safety: Implications drawn from the aviation, rail, and United Kingdom nuclear power industries. Report prepared for the Office of Nuclear Regulatory Research, Nuclear Regulatory Commission.

Binswanger, H. P. (1974). The measurement of technical change biases with many factors of production. American Economic Review, 64(6), 964–976.

Breiman, L. (2001). Random forests. Machine Learning, 45(1), 5–32.

Burton, L., & Egan, M. J. (2011). Courting disaster: Systemic failures and reactive responses in railway safety regulation. Cornell Journal of Law and Public Policy, 20, 533–569.

Clarke, W. A., & Loeb, P. D. (2005). The determinants of train fatalities: keeping the model on track. Transportation Research Part E: Logistics and Transportation Review, 41(2), 145–158.

Coffey, B., McLaughlin, P. A., & Tollison, R. D. (2012). Regulators and redskins. Public Choice, 153, 191–204.

Cortes, C., & Vapnik, V. (1995). Support-vector networks. Machine Learning, 20(3), 273–297.

Cothen, G. C, Jr, Schulte, C. F., Horn, J. D., & Tyrell, D. C. (2005). Consensus rulemaking at the Federal Railroad Administration: all aboard for railway safety measures. TR News, 236, 8–14.

Crandall, R. W., & Ellig, J. (1997). Economic deregulation and customer choice. Fairfax, VA: Center for Market Processes.

Dennis, S. M. (2002). Changes in railroad track accident rates. Transportation Quarterly, 56(4), 161–174.

Ellig, J. (2002). Railroad deregulation and consumer welfare. Journal of Regulatory Economics, 21, 143–167.

Elvik, R. (2006). Economic deregulation and transport safety: A synthesis of evidence from evaluation studies. Accident Analysis and Prevention, 38, 678–686.

Evans, A. W. (2007). Rail safety and rail privatisation in Britain. Accident Analysis and Prevention, 39, 510–523.

Federal Railroad Administration. (2003). FRA guide for preparing accident/incident reports. http://safetydata.fra.dot.gov/OfficeofSafety/ProcessFile.aspx?doc=guidefinal050403.pdf. Accessed 14 January, 2016.

Gallamore, R. E. (1999). Regulation and innovation: Lessons from the American railroad industry. Essays in transportation economics and policy: A handbook in honor of John R. Meyer. Washington, D.C.: Brookings Institution.

General Accounting Office. (1990). Railroad regulation: Economic and financial impacts of the Staggers Rail Act of 1980. Report GAO/RCED-90-80.

Golbe, D. (1983). Product safety in a regulated industry: Evidence from railroads. Economic Inquiry, 21, 39–52.

Hale, A., Borys, D., & Adams, M. (2011). Regulatory overload: A behavioral analysis of regulatory compliance. Working paper No. 11–47, Mercatus Center at George Mason University.

Hamberger, E. J. (2015). Statement before the U.S. house of representatives. Committee on transportation and infrastructure, subcommittee on railroads, pipelines, and hazardous materials (May 13).

Keeler, T. E. (1983). Railroads, freight, and public policy. Washington, DC: Brookings Institution.

Kolko, G. (1965). Railroads and regulation, 1877–1916. Princeton, NJ: Princeton University Press.

Levin, A., Lin, C.-F., & Chu, C.-S. J. (2002). Unit root tests in panel data: Asymptotic and finite-sample properties. Journal of Econometrics, 108, 1–24.

McLaughlin, P. A. & Sherouse, O. (Forthcoming). Industry-specific classification of legal text. Working paper, Mercatus Center at George Mason University.

Newey, W. K., & West, K. D. (1987). A simple, positive semi-definite, heteroskedasticity and autocorrelation consistent covariance matrix. Econometrica, 55, 703–708.

Newey, W. K., & West, K. D. (1994). Automatic lag selection in covariance matrix estimation. Review of Economic Studies, 61, 631–653.

OECD/International Transport Forum. (2010). Safety and regulatory reform of railways. Paris: OECD, ISBN 978-92-821-0283-1, International Transport Research Documentation (ITRD) number E845975.

Pedregosa, F., Varoquaux, G., Gramfort, A., Michel, V., Thirion, B., Grisel, O., et al. (2011). Scikit-learn: machine learning in python. Journal of Machine Learning Research, 12, 2825–2830.

Peltzman, S. (1976). Toward a more general theory of regulation. Journal of Law and Economics, 19(1), 211–240.

Robertson, S. E., & Jones, K. S. (1976). Relevance weighting of search terms. Journal of the Association for Information Science and Technology, 27, 129–146.

Savage, I. (1998). The economics of railroad safety. Boston, MA: Kluwer Academic Publishers.

Squires, J. A. (2000). Regulating safety culture in the railroad industry: The time has come for broader horizons. Transportation Law Journal, 27, 93–111.

Stigler, G. J. (1971). The theory of economic regulation. Bell Journal of Economics, 2, 3–21.

Surface Transportation Board. (2016). FY 2014 Annual report.

Transportation Research Board. (2015). Special Report 318: Modernizing freight rail regulation. Washington, DC: Transportation Research Board.

Wilson, W. W. (1997). Cost savings and productivity in the railroad industry. Journal of Regulatory Economics, 11, 21–41.

Yandle, B. (1983). Bootleggers and Baptists: The education of a regulatory economist. Regulation, May–June, 12-16.
Acknowledgments
The authors would like to thank Tyler Richards for research assistance; Oliver Sherouse for steadfast development of new versions of RegData; Richard Schmalensee, Lawrence J. White, Wesley Wilson, three anonymous referees for this journal, three anonymous referees at the Mercatus Center at George Mason University, and participants at the Georgetown University's Research Colloquium on the Economics and Regulation of the Freight Rail Industry and at the Association of American Railroads brown bag lunch for helpful comments. The authors also thank Brenda Moscoso of AAR for facilitating our gathering of financial and operational data from AAR, and Andy Martin of the Federal Railroad Administration for helping find data from FRA's safety database.
About this article
Cite this article
Ellig, J., McLaughlin, P.A. The Regulatory Determinants of Railroad Safety. Rev Ind Organ 49, 371–398 (2016). https://doi.org/10.1007/s11151-016-9525-0
Keywords
Railroad

Railroad safety

Regulation

Safety regulation

Staggers Act

RegData
JEL Classification