Abstract
This paper studies the impact of women's retirement on their daughters' employment. Using SHARE and self-collected historical data on legal retirement ages in 20 European countries, I find that women's retirement leads to an increase in their daughters' employment only in countries with limited family policies and strong family ties. This positive effect can be explained by increases in in-kind transfers to daughters and grandchild care following retirement.
Access options
Buy single article
Instant access to the full article PDF.
USD 39.95
Price excludes VAT (USA)
Tax calculation will be finalised during checkout.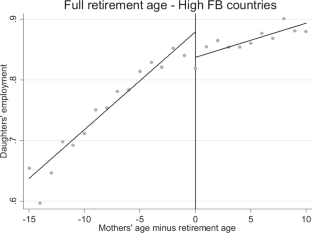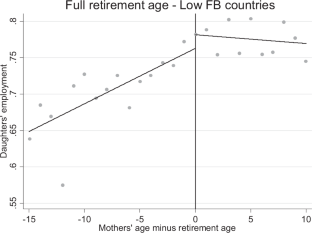 Similar content being viewed by others
Notes
I define full retirement age as the earliest age at which individuals can retire and receive full retirement benefits.

Focusing on legal retirement ages rather than including all eligibility criteria is useful because: (i) it is a well-defined and comparable criterion across countries, (ii) it is the most widely used policy variable to cope with the demographic transition and the crisis, and (iii) it is the only retirement eligibility criteria that is not manipulable. For instance, individuals may work more years or choose a specific sector to become entitled to retirement benefits, but it is unlikely that they manage to report a different birth date.

There is an additional wave available for 2009 but it is a special issue and questions are different from those in other waves.

In a report for the European Commission, Mills et al. (2014) state that: "When looking at the Mediterranean countries, where welfare state provisions are often lower than in other countries and need to be supplemented with relatively large support from kin networks (Kovacheva et al. 2011), it is surprising that prevalence rates of childcare by grandparents and other kin are not more prominent. Portugal, Greece, and Italy all have prevalence rates over 20 percent for childcare by grandparents for less than 30 h per week, but they still are markedly lower than for instance in the United Kingdom." (page 30).
References
Aasve, A., Arpino, B., & Goisis, A. (2012). Grandparenting and mothers' labour force participation: a comparative analysis using the Generations and Gender Survey. Demographic Research, 27(3), 53–84.

Albertini, M., Kohli, M., & Vogel, C. (2007). Intergenerational transfers of time and money in European families: common patterns—different regimes? Journal of European Social Policy, 17, 319–334.

Angrist, J. D., & Lavy, V. (1999). Using maimonides rule to estimate the effect of class size on scholastic achievement. Quarterly Journal of Economics, 114, 533–575.

Angrist, J., & Pischke, J.-S. (2009). Mostly harmless econometrics: an empiricistas companion. Princeton: Princeton University Press.

Aparicio-Fenoll, A., & Vidal-Fernandez, M. (2015). Working women and fertility: the role of grandmothers' labor force participation. CESifo Economic Studies, CESifo, 61(1), 123–147.

Arpino, B., Pronzato, C., & Tavares, L. (2014). The effect of grandparental support on mothers? labour market participation: an instrumental variable approach. European Journal of Population, 30, 369–390.

Battistin, E., De Nadai, M., & Padula, M. (2015). Roadblocks on the road to grandma's house: fertility consequences of delayed retirement, Queen Mary, University of London Working Paper No. 748.

Bertoni, M., & Brunello, G. (2017). Does delayed retirement affect youth employment? Evidence from Italian local labour markets. IZA Discussion Paper 10733.

Bettio, F., & Plantenga, J. (2004). Comparing care regimes in Europe. Feminist Economics, 10(1), 85–113.

Bratti, M., Frattini, T., & Scervini, F. (2018). Grandparental availability for child care and maternal labor force participation: pension reform evidence from Italy, Journal of Population Economics, Springer; European Society for Population Economics, Vol. 31(4), PP. 1239–1277, October.

Campbell, D. (1969). Reforms and experiments. American Psychologist, 24, 409–429.

Cardia, E., & Ng, S. (2003). Intergenerational time transfers and childcare. Review of Economic Dynamics, 6(2), 431–454.

Coe, N. B., & Zamarro, G. (2011). Retirement effects on health in Europe. Journal of Health Economics, 30.1, 77–86.

Compton, J., & Pollak, R. (2014). Family proximity, childcare, and women's labor force attachment. Journal of Urban Economics, 79(C), 72–90.

Del Boca, D. (2002). The effect of child care and part time opportunities on participation and fertility fecisions in Italy. Journal of Population Economics, 15, 549–573.

Del Boca, D., Locatelli, M., & Vuri, D. (2005). Child care choices by Italian households. Review of Economics of the Household, 3, 453–77.

Di Gessa, G., & Grundy, E. (2016). The dynamics of paid and unpaid activities among people aged 50–69 in Denmark, France, Italy, and England. Research on Aging, 39(9), 1013–1038.

Dimova, R., & Wolff, F. (2011). Do downward private transfers enhance maternal labor supply? evidence from around Europe. Journal of Population Economics, 24(3), 911–933.

Esping-Andersen, G. (1999). Social foundations of postindustrial economies. Oxford: Oxford University Press.

Ferrera, M. (1996). The southern model of welfare in social Europe. Journal of European Social Policy, 6(1), 17–37.

Flaquer, L. (2000). Family policy and welfare state in Southern Europe, Working Papers No. 185, Institut de Ciencies Politiques i Socials, Barcelona.

Gangl, M., & Ziefle, A. (2015). The making of a good woman: extended parental leave entitlements and mothers' work commitment in Germany. American Journal of Sociology, 121, 511–563.

Garcia-Moran, E., & Kuehn, Z. (2017). With strings attached: grandparent-provided child care and female labor market outcomes. Review of Economic Dynamics, 23, 80–98.

Gauthier, A., & Smeeding, T. M. (2003). Time use at older ages: cross-national differences. Research on Aging, 25(3), 247–278.

Gershuny, J., Harvey, A. S., & Merz, J. (2004). Editors' Introduction. Electronic International Journal of Time Use Research, 1(1), I–II.

Haberkern, K., Schmid, T., & Szydlik, M. (2015). Gender differences in intergenerational care in European welfare states. Ageing and Society, 35, 298–320.

Hank, K., & Buber, I. (2009). Grandparents caring for their grandchildren: findings from the 2004 Survey of health, ageing and retirement in Europe. Journal of Family Issues, 30, 53–73.

Hank, K., & Korbmacher, J. M. (2013). Parenthood and retirement. European Societies, 15(3), 446–461.

Jaumotte, F. (2003). Female Labour Force Participation: Past Trends and Main Determinants in OECD Countries, OECD Working Paper No. 376. Available at SSRN: https://ssrn.com/abstract=2344556.

Jurado, T., & Naldini, M. (2018). Child and Family Policy in Southern Europe. In: G. B. Eydal & T. Rostgaard (Eds), Handbook of Child and Family Policy, Edward Elgar Publisher, pp. 209–222.

Jurado, T., & Naldini, M. (1996). Is the South so Different? Italian and Spanish Families in Comparative Perspective. In: South European Society & Politics, Vol. 1, n. 3, Winter, London, Frank Cass, 1996, pp. 42–66.

Kalmijn, M., & Saraceno, C. (2008). A comparative perspective on intergenerational support. European Societies, 10, 479–508.

Karamessini (2007). The Southern European Social Model: Changes and Continuities in Recent Decades, Discussion paper of the International Institute for Labour Studies. Geneva, ZDB-ID 2190413-3. Vol. 174.

Kohli, M. E., & Albertini, M. (2008). The family as a source of support for adult children's own family projects: European varieties. In: C. Saraceno (Ed.), Families, ageing and social policies. Cheltenham: Edward Elgar, 2008 (pp. 38–58).

Kovacheva, S., Doorne-Huiskes, A., & Anttila, T. (2011). The Institutional context of the quality of life. In: M. Bäck-Wiklund, T. Van der Lippe, L. Den Dulk, & A. Van Doorne-Huiskes (Eds), Quality of life and work in Europe. Theory, practice, and policy. Houndmills: Palgrave Macmillan.

Kremer, M. (2007). How welfare states care. culture, gender, and parenting in Europe. Utrecht: Amsterdam University Press.

Lei, X. (2006). Grandchild care, financial transfers and grandma's labor market decisions. Unpublished manuscript, University of California-Los Angeles.

Leibfried, S. (1992). Towards a European welfare state? On integrating poverty regimes in the European Community. In: Ferge, Z. & Kolberg, J. E. (Eds.), Social policy in a changing Europe, Boulder: Westview Press.

Milligan, K., & David, A. W. (2012). Introduction and Summary. In: A. W. David (Ed.), Social Security Programs and Retirement around the World: Historical Trends in Mortality and Health, Employment, and Disability Insurance Participation and Reforms, National Bureau of Economic Research.

Mills, M., Präg, P., Tsang, F., Begall, K., Derbyshire, J., Kohle, L., et al. (2014). Use of childcare services in the EU member states and progress towards the Barcelona targets. Brussels: European Commission DG Justice.

Mingione, E. (2002). Labour market segmentation and informal work. In: H. Gibson (Ed.), Economic transformation, democratization and integration into the European Union. Southern Europe in Comparative Perspective, Basingstoke, Hampshire: Palgrave.

OECD. (2012). Closing the gender gap: act now. Paris: OECD Publishing.

Petmesidou, M. (1996). Social protection in Southern Europe: trends and prospects. Journal of Area Studies, 9, 95–125.

Reher, D. S. (1998). Family ties in Western Europe: persistent contrasts. Population and Development Review, 24(2), 203–234.

Rupert, P., & Zanella, G. (2018). Grandchildren and their grandparents' labor supply. Journal of Public Economics, Elsevier, 159(C), 89–103.

Saraceno, C. (2000). Gendered policies: family obligations and social policies in Europe. In: T. Boje & A. Leira (Eds), Gender, Welfare State, and the Market. Towards a new division of labour. New York: Routledge.

Stock, J. H., & Yogo, M. (2005). Testing for weak instruments in linear IV regression. In: D. W. K. Andrews & J. H. Stock (Eds), Identification and inference for econometric models: essays in honor of Thomas Rothenberg (pp. 80–108). Cambridge: Cambridge University Press.

Trifiletti, R. (1999). Southern European welfare regimes and the worsening position of women. Journal of European Social Policy, 9(1), 49–64.

Van der Klaauw, W. (2003). Estimating the effect of financial aid offers on college enrollment: a regression discontinuity approach. International Economic Review, 43, 1249–1287.

Zamarro, G. (2011). Family Labor Participation and Child Care Decisions: The Role of Grannies. Santa Monica, CA: RAND Corporation. https://www.rand.org/pubs/working_papers/WR833.html.
Acknowledgements
I thank Paola Giuliano, Esteban Jaimovich, Ignacio Monzón, Manuela Naldini, Mariacristina Rossi, Aleksey Tetenov and conference participants at the SPP 1764 Conference in Nuremberg, the SEHO conference in Paris and the Applied Lunch at Collegio Carlo Alberto for useful comments and suggestions. Financial support from the Joint Transnational Project "CIRCLE—Care and Income Redistributive Cycles in the Lives of Europeans" is gratefully acknowledged. I am grateful to Filippo Ascolani for excellent research assistance.
Ethics declarations
Conflict of interest
The author declares that she has no conflict of interest.
Additional information
Publisher's note Springer Nature remains neutral with regard to jurisdictional claims in published maps and institutional affiliations.
Appendices
Appendix A: details on the characterization of low FB countries
In this section, I provide further details about the familialistic model present in low FB countries. According to Esping-Andersen (1999), the familialistic model is characterized by: (a) the centrality of the family as caregiver and as locus of solidarity and welfare provision; and (b) a male bread-winner bias in social and employment protection. Leibfried (1992), Petmesidou (1996) and Ferrera (1996) refer to the role of the family in developing strategies to protect and augment the welfare of members: (a) pooling income from different sources, (b) mobilizing clientelistic networks to get social benefits and access to public sector jobs, (c) securing and transferring home ownership, and (d) providing income and protection to unemployed members. Jurado and Naldini (1997) list a series of behavioral and attitudinal traits common to familialistic countries: (a) several generations living together in one household, (b) high degree of institutionalization of marriage, (c) low female employment rates, (d) high continuity of female employment patterns, (e) family-oriented attitudes, (f) high valuation of children, and (g) relations between generations seen more in terms of obligations. Reher (1998) focuses on two distinctive patterns present in all familialistic countries: young adults leave their parental home at marriage and there is a high degree of solidarity for the needy and vulnerable members of the family. For Trifiletti (1999), the specificity of familialistic countries lies in the state not guaranteeing a family wage for the male breadwinners and hence the families need more income earners. Finally, Saraceno (2000) and Bratti et al. (2016) both emphasize that the familialistic model relies heavily on informal care, but formal care arrangements for children and the elderly are underdeveloped in these countries. For a complete review of the literature, see Jurado and Naldini (2018).
Appendix B: full retirement ages for women
| Country\year | 2004 | 2007 | 2011 | 2013 | 2015 |
| --- | --- | --- | --- | --- | --- |
| Austria | 60 | 60 | 60 | 60 | 60 |
| Belgium | 63 | 64 | 65 | 65 | 65 |
| Croatia | 58 | 58 | 60 | 60.9 | 61.5 |
| Czech Republic | 60 | 59 | 60.8 | 61 | 61.4 |
| Denmark | 65 | 65 | 65 | 65 | 65 |
| Estonia | 59 | 60 | 61 | 62 | 61 |
| France | 60 | 60 | 60 | 65 | 66.2 |
| Germany | 65 | 65 | 65 | 65.1 | 65.2 |
| Greece | 60 | 60 | 65 | 67 | 67 |
| Hungary | 59 | 62 | 62 | 62.6 | 62.6 |
| Ireland | 66 | 65 | 66 | 66 | 66 |
| Italy | 60 | 60 | 60 | 62 | 66.7 |
| Luxembourg | 65 | 65 | 65 | 65 | 65 |
| Netherlands | 65 | 65 | 65 | 65 | 65.2 |
| Poland | 60 | 60 | 60 | 60.2 | 60.3 |
| Portugal | 65 | 65 | 65 | 65 | 66 |
| Slovenia | 59.8 | 60.8 | 61 | 61 | 58.4 |
| Spain | 65 | 65 | 65 | 65 | 65.2 |
| Sweden | 61 | 61 | 61 | 61 | 61 |
| Switzerland | 63 | 63 | 64 | 64 | 64 |
Appendix C: countries classification by family benefits and values
| Country | Low benefits | Family | Parent to child | Love and respect | Ill parent | Child to parent |
| --- | --- | --- | --- | --- | --- | --- |
| Austria | 0 | 0 | 0 | 0 | 0 | 0 |
| Germany | 0 | 0 | 0 | 0 | 0 | 0 |
| Sweden | 0 | 1 | 1 | 0 | 0 | 0 |
| Netherlands | 1 | 0 | 1 | 0 | 0 | 0 |
| Spain | 1 | 1 | 1 | 1 | 1 | 1 |
| Italy | 1 | 1 | 1 | 1 | 1 | 1 |
| France | 0 | 0 | 0 | 1 | 1 | 0 |
| Denmark | 0 | 0 | 0 | 0 | 0 | 0 |
| Greece | 1 | 1 | 1 | 1 | 1 | 1 |
| Switzerland | 1 | 0 | 0 | 0 | 0 | 0 |
| Belgium | 0 | 0 | 0 | 0 | 1 | 0 |
| Czech Republic | 0 | 0 | 0 | 0 | 0 | 1 |
| Poland | 1 | 1 | 1 | 1 | 1 | 1 |
| Ireland | 0 | 1 | 0 | 0 | 0 | 0 |
| Luxembourg | 0 | 1 | 1 | 0 | 0 | 1 |
| Hungary | 0 | 1 | 0 | 1 | 1 | 1 |
| Portugal | 1 | 1 | 1 | 1 | 1 | 1 |
| Slovenia | 1 | 0 | 1 | 1 | 1 | 1 |
| Estonia | 1 | 0 | 0 | 1 | 0 | 0 |
| Croatia | 1 | 1 | 1 | 1 | 1 | 1 |
About this article
Cite this article
Aparicio Fenoll, A. The uneven impact of women's retirement on their daughters' employment. Rev Econ Household 18, 795–821 (2020). https://doi.org/10.1007/s11150-019-09473-y
Received:

Accepted:

Published:

Issue Date:

DOI: https://doi.org/10.1007/s11150-019-09473-y
Keywords
JEL