Abstract
Foster care is a source of significant costs to both governments and foster children. Policies that provide income support to households potentially reduce entry into foster care via reducing child maltreatment and improving child behavior. As part of the American Recovery and Reinvestment Act in 2009 (ARRA2009), the federal government expanded the earned income tax credit (EITC), which is an important income support program for low-income working households. Using state-level data, we investigate the impact of this EITC expansion on state-level foster care entry rates. Typically, states with state-level EITC match federal EITC spending at a specific rate, meaning that increases in federal EITC spending increase state-level spending as well. We find that expansion of EITC decreased foster care entry rates by 7.43% per year in states with a state-level EITC, relative to those without. In models that separately examine foster care entry rates by age of the child, we find that the ARRA2009 had different effects on foster care entry based on the child's age. We find that ARRA2009 decreased foster care entry rates for children age 11–15 by nearly 12% in states with a state EITC and it decreased foster care entry rates for children age 16–20 by roughly 17% in states with a state EITC, relative to states without a state EITC.
Access options
Buy single article
Instant access to the full article PDF.
US$ 39.95
Tax calculation will be finalised during checkout.
Subscribe to journal
Immediate online access to all issues from 2019. Subscription will auto renew annually.
US$ 79
Tax calculation will be finalised during checkout.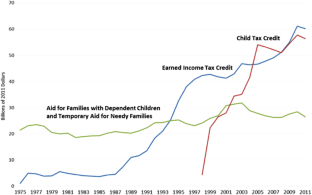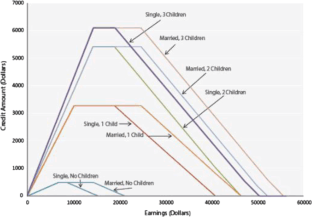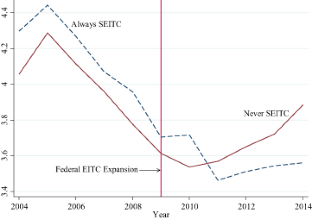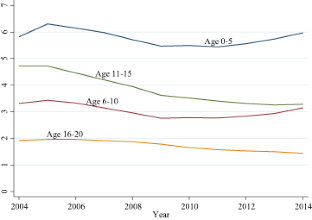 Notes
1.

2.

Widom and Michael (2001) find that being a victim of childhood maltreatment increases the likelihood of becoming a criminal.

3.

Jonson-Reid et al. (2004) find that maltreated children are more likely to require special education.

4.

These estimates are for nonfatal child maltreatment.

5.

6.

"Cost of Abuse and Neglect Rival Other Major Public Health Problems" (2014).

7.

Fang et al. (2012) estimated the present value of productivity losses in fatal maltreatment cases to be $1,258,800.

8.

9.

10.

11.

12.

13.

States with non-refundable SEITCs are included in this analysis. We estimated the models without states with non-refundable SEITCs, and we also estimated with states with non-refundable SEITCs and an indicator for a non-refundable SEITCs. Results are similar in all cases so are not included here.

14.

15.

16.

In states where foster care entry ends at age 18, the denominator should be a state's child population of all individuals from birth through age 18. Models were estimated below with this definition of entry rate and results were similar. We have also estimated models with a dummy variable for states that expanded foster care services to youth up to age 21 and results were similar so not included here.

17.

Because the panel includes only states that do not change whether they have a state EITC over the panel, the direct state EITC effects are captured in the state fixed effects.

18.

Appendix Table 1 provides a full set of results with all control variable estimates.

19.

To have a cleaner pre- and post-period, the estimating sample does not include 2009 observations. Estimates were also done including 2009 and the results are similar.

20.

We have estimated the age 16–20 models where the denominator is a state's 16–18 year old population because some states emancipate foster care youth after age 18 and the results described below are similar.

21.

All three juvenile outcome variables are aggregated to the state-level and provided by the National Kids Count Data Center, but they come from different sources. Maltreatment rates of youth age 14–17, like foster care entry rates, are collected by AFCARS but held and distributed by NDACAN. Estimates on binge drinking and illicit drug abuse of youth age 12–17 come from estimates of substance use from the National Survey on Drug Use and Health conducted by the Department of Health and Human Services.
References
Akee, R., Simeonova, E., Costello, E. J., & Copeland, W. (2015). How does household income affect child personality traits and behaviors? Cambridge, MA: National Bureau of Economic Research. http://www.nber.org/papers/w21562. NBER Working Paper 21562. Accessed 11 Nov 2015.

Berger, L. M., Font S. A., Slack K. S., & Waldfogel J. (2017) Income and child maltreatment: evidence from the earned income tax credit. Review of Economics of the Household, 15(4), 1345–1372.

Brandon, P. D. (2000). Did the aid to families with dependent children programs succeed in keeping mothers and children living together? Social Service Review, 74, 214–230.

Brandon, P. D., & Fisher, G. A. (2001). The dissolution of joint living arrangements among single parents and children: Does welfare make a difference? Social Science Quarterly, 82, 1–19.

Buckles, K. S. (2013). Adoption subsidies and placement outcomes for children in foster care. The Journal of Human Resources, 48(3), 596–627.

Center for Disease Control and Prevention. (2014). Cost of Abuse and Neglect Rival Other Major Public Health Problems. http://www.cdc.gov/violenceprevention/childmaltreatment/economiccost.html.

Dahl, G. B., & Lochner, L. (2012). The impact of family income and child achievement: Evidence from the earned income tax credit. The American Economic Review, 102(5), 1927–1956.

Doyle, J. (2007). Can't buy me love: Subsidizing the care of related children. Journal of Public Economics, 91(1), 281–304.

Falk, G., & Crandall-Hollick, M. L. (2014) The Earned Income Tax Credit (EITC): An Overview (CRS Report No. R43805). Retrieved from Congressional Research Service. https://www.fas.org/sgp/crs/misc/R43805.pdf.

Fang, X., Brown, D. S., Florence, C. S., & Mercy, J. A. (2012). The economic burden of child maltreatment in the United States and implications for prevention. Child Abuse & Neglect, 36, 156–165.

Hansen, M. E. (2007). Using subsidies to promote the adoption of children from foster care. Journal of Family and Economic Issues, 28(3), 377–393.

Jonson-Reid, M., Drake, B., Kim, J., Porterfield, S. L., & Han, L. (2004). A prospective analysis of the relationship between reported child maltreatment and special education eligibility among poor children. Child Maltreatment, 9(4), 382–394.

Ludwig, J., Duncan, G. J., & Hirschfield, P. (2001). Urban poverty and juvenile crime: Evidence from a randomized housing-mobility experiment. Quarterly Journal of Economics, 116(2), 655–679.

Michelmore, K. (2014) The Effect of Income on Educational Attainment: Evidence from State Earned Income Tax Credit Expansions. Available at SSRN: http://papers.ssrn.com/sol3/papers.cfm?abstract_id=2356444.

Paxson, C., & Waldfogel, J. (1999). Parental resources and child abuse and neglect. American Economic Review Papers and Proceedings, 89, 239–244.

Paxson, C., & Waldfogel, J. (2002). Work, welfare, and child maltreatment. Journal of Labor Economics, 20(3), 435–474.

Shook, K. (1998). Assessing the consequences of welfare reform for child welfare. Poverty research news: The quarterly newsletter of the joint center for poverty research, 2(1), 8–12.

University of Kentucky Center for Poverty Research. (2014). UKCPR National Welfare Data, 1980–2014. Lexington, KY: Gatton College of Business and Economics, University of Kentucky. http://www.ukcpr.org/data. Accessed 9 Sept 2016.

Votruba-Drzal, E. (2006). Economic disparities in middle childhood development: Does income matter? Developmental Psychology, 42(6), 1154–1167.

Widom, C. S., & Michael, G. M. (2001). An update on the 'cycle of violence' research in brief. Washington, D.C.: National Institute of Justice. https://www.ncjrs.gov/pdffiles1/nij/184894.pdf NCJ 184894.
Ethics declarations
Conflict of interest
The authors declare that they have no competing interests.
Electronic supplementary material
Appendix
Appendix
Table 11
About this article
Cite this article
Biehl, A.M., Hill, B. Foster care and the earned income tax credit. Rev Econ Household 16, 661–680 (2018). https://doi.org/10.1007/s11150-017-9381-1
Received:

Accepted:

Published:

Issue Date:
Keywords
Foster care

Earned Income Tax Credit

American Recovery and Reinvestment Act of 2009

Difference-in-difference
JEL Classification