Abstract
Most research into the division of household domestic labor focuses on couple households, treating other household members such as children/youths and other adults as independent variables affecting the domestic work of husbands and wives. We present an integrated analysis of variance/variance decomposition that summarizes the determinants of the housework contributions of, and the housework burden imposed by, all the individuals in four common household types, with a focus on the contributions of older children and youths. We demonstrate the importance of statistical interactions between the contributions of different household members (distinguished by partnership status, gender, and the ages and genders of children/youths), in particular for those households containing children/youths. We conclude that in order to analyze the contributions of all household members jointly, it is necessary to distinguish different household compositions for separate analysis.
Access options
Buy single article
Instant access to the full article PDF.
USD 39.95
Price excludes VAT (USA)
Tax calculation will be finalised during checkout.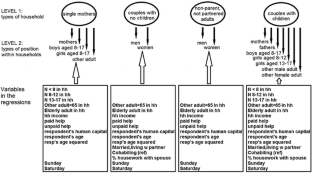 Notes
In keeping with other analyses in this area long-term sick/disabled and adults in full-time education were excluded.

Defined as routine housework (cooking, cleaning, clothes-care).

Note that none of the households of this range and ages of members included elderly dependents.

Alternatively, we could model a long and untidy regression equation, saturated with interaction terms. This approach rapidly leads to mushrooming and unwieldy numbers of hard-to-interpret coefficients. Such a model is complicated to read, requiring the summing of constants, direct and interactive effects.

This version of the data constitutes part of the Multi-national Time Use Study held at the Centre for Time Use Research, University of Oxford, and is downloadable from http://www.timeuse.org/mtus.
References
Abroms, L. C., & Goldsheider, F. K. (2002). More work for mother: How spouses, cohabiting partners and relatives affect the hours mothers work. Journal of Family and Economic Issues, 23, 147–166.

Álvarez, B., & Miles-Touya, D. (2012). Exploring the relationship between parents' and children's housework time in Spain. Review of Economics of the Household, 10, 299–318.

Bianchi, S. M., Robinson, J. P., & Milkie, M. A. (2006). Changing rhythms of American family life. New York: Russell Sage Foundation.

Bittman, M., England, P., Folbre, N., Sayer, L., & Matheson, G. (2003). When does gender trump money? Bargaining and time in household work. American Journal of Sociology, 109, 186–214.

Cheal, D. J. (2003). Children's home responsibilities: Factors predicting children's household work. Social Behavior and Personality, 31, 789–794.

Cherlin, A. J. (2010). Demographic trends in the United States: A review of research in the 2000s. Journal of Marriage and Family, 72, 403–419.

Eurostat. (2009). Harmonised European time use surveys. Eurostat Methodologies and Working Papers. Luxembourg: European Commission.

Ferree, M. M. (2010). Filling the glass: Gender perspectives on families. Journal of Marriage and Family, 72, 420–439.

Gager, C. T., Sanchez, L. A., & Demaris, A. (2009). Whose time is it? The effect of employment and work/family stress on children's housework. Journal of Family Issues, 30, 1459–1485.

Goldscheider, F. K., & Waite, L. J. (1991). New families, no families. Berkeley: University of California Press.

Gupta, S. (2007). Autonomy, dependence or display? The relationship between married women's earnings and housework. Journal of Marriage and Family, 69, 399–417.

Hofferth, Sandra L., & Sandberg, John F. (2001). How American children spend their time. Journal of Marriage and the Family, 63, 295–308.

Hook, J. (2010). Gender inequality in the Welfare State: Sex segregation in housework, 1965–2003. American Journal of Sociology, 115, 1480–1523.

Kan, M. Y. (2008). Does gender trump money? Housework hours of husbands and wives in Britain. Work, Employment & Society, 22, 45–66.

Kan, M. Y., & Gershuny, J. (2006). Infusing time diary evidence into panel data: An exercise on calibrating time-use estimates for the BHPS. Working paper of the Institute for Social and Economic Research. Paper 2006-19. Colchester, UK: University of Essex.

Killewald, A., & Gough, M. (2010). Money isn't everything: Wives' earnings and housework time. Social Sciences Research, 39, 987–1003.

Lachance-Grzela, M., & Bouchard, G. (2010). Why do women do the lion's share of housework? A decade of research. Sex Roles, 63, 767–780.

Lee, Y.-S., Schneider, B., & Waite, L. J. (2003). Children and housework: Some unanswered questions. Sociological Studies of Children and Youth, 9, 105–125.

Sevilla-Sanz, A., Gimenez-Nadal, J. I., & Fernandez, C. (2010). Gender roles and the division of unpaid work in Spanish households. Feminist Economics, 16, 137–184.

Sullivan, O. (1996). Time co-ordination, the domestic division of labor and affective relations. Sociology, 30, 79–100.

Sullivan, O. (2011). An end to gender deviance neutralization through housework? A review and reassessment of the quantitative literature using insights from the qualitative literature. Journal of Family Theory and Review, 3, 1–13.
Appendix
Appendix
See Table 4.
About this article
Cite this article
Gershuny, J., Sullivan, O. Household structure and housework: assessing the contributions of all household members, with a focus on children and youths. Rev Econ Household 12, 7–27 (2014). https://doi.org/10.1007/s11150-013-9234-5
Received:

Accepted:

Published:

Issue Date:

DOI: https://doi.org/10.1007/s11150-013-9234-5
Keywords
JEL Classifications