Abstract
This paper investigates the role of the extended parental leave in the return to work for mothers of newborn children. Exploiting the variability in policies offered by the European countries, the paper studies the influence of statutory leave characteristics—length of the job-protection and payments during the leave-period—on the hazard of returning to work at different ages of the child. Results suggest that longer periods of job-protection increase the hazard of returning to work; on the other hand, providing paid leaves increases the probability of remaining at home during the first year of life of the child.
Access options
Buy single article
Instant access to the full article PDF.
USD 39.95
Price excludes VAT (USA)
Tax calculation will be finalised during checkout.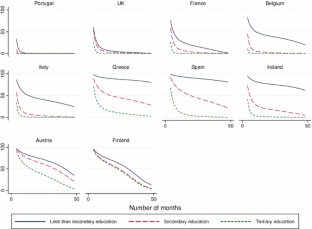 Notes
The first country to introduce the parental leave was Sweden in the mid 60s. Only mothers were eligible. Fathers were allowed to share the leave from 1974 (Gustafsson 1984).

In almost all countries women need to be employed for at least 1 year to have the right to the parental leave, in some countries with the same employer. The most restrictive requirements are in Portugal where both the parents have to be employed, while the least restrictive are in Austria, where they only need to show they are eligible for family allowances (De Henau et al. 2008).

Gutierrez-Domenech (2005) and Kenjoh (2005) use a two-step procedure for analyzing mothers' labor market participation after childbirth. They first analyze a number of countries separately and then explain different countries' performances by looking at the development of policies over time. Kenjoh (2005) plots the predicted probability of being at work for some "typical" women, with children born in the 80s and in the 90s, and comments how different average behaviors may depend on policy changes between the two decades. Gutierrez-Domenech (2005) takes the coefficients of the year dummy variables from the country regressions (which are proxies for the socio-economic environment) and regress them on a number of explanatory variables, such as female labor market participation, percentage of female part time workers, a parental leave indicator, a taxation system indicator, etc.

Women, either working the previous wave or having worked in the last 2 years, are included in the sample.

German and Danish datasets do not comprise the variable month of birth, Dutch and Luxembourgian datasets do not include the employment calendar, while the Swedish dataset is not a panel.

Income is measured in PPP (purchasing parity power), provided by Eurostat, in order to be comparable across different countries.

All women are assumed to use the basic maternity leave so that they are at risk of working from the 4th month.

Several specifications of the time dependence have been tried. One alternative way of taking into account the age of the child is including age dummy variables. However, including three dummy variables indicating the first, the second and the third year of life of the child would not fit the data as well as including the age, its square and its cube.

The interaction between transfers and second/third year of life of the child have been also included in previous analyses. Since their effects do not appear significant in any specification and do not allow the convergence in the model for highly educated women for the low number of cases, they have been excluded from the specifications shown here.
References
Baker, M., & Milligan, K. (2005). How does job-protected maternity leave affect mothers' employment and infant health? NBER Working Paper no 11135.

Baker, M., & Milligan, K. (2008). Maternal employment, breastfeeding, and health: Evidence form maternity leave mandates. Journal of Health Economics, 24, 871–887.

Baum, C. L. (2003). Does early maternal employment harm child development? An analysis of the potential benefits of leave taking. Journal of Labor Economics, 21, 409–448.

Berger, L. M., Hill, J., & Waldfogel, J. (2005). Maternity leave, early maternal employment and child health and development in the US. The Economic Journal, 115, F29–F47.

Berger, L. M., & Waldfogel, J. (2004). Maternity leave and the employment of new mothers in the United States. Journal of Population Economics, 17, 331–349.

Burdett, K., Kiefer, N. M., & Sharma, S. (1985). Layoffs and duration dependence in a model of turnover. Journal of Econometrics, 28, 51–70.

Council of the European Union. (2000). Presidency conclusions. Lisbon European council, 23–24 March 2000.

De Henau, J., Meulders, D., & O'Dorchai, S. (2008). Parents' care and career: Comparing parental leave policies. In D. Del Boca & C. Wetzels (Eds.), Social policies, labor markets and motherhood: A comparative analysis of European countries (pp. 63–106). Cambridge: Cambridge University Press.

Ermisch, J., & Francesconi, M. (2002). The effect of parents' employment on children's educational attainment. Working Paper of Institute for Social and Economic Research no 21, University of Essex.

Ermisch, J. F., & Wright, R. E. (1991). Employment dynamics among British single mothers. Oxford Bulletin of Economics and Statistics, 53, 99–122.

Gregg, P., Washbrook, E., Propper, C., & Burgess, S. (2005). The effects of a mother's return to work decision on child development in the UK. The Economic Journal, 115, F48–F80.

Gustafsson, S. (1984). Equal opportunities in Sweden. In G. Smith & R. Wetzel (Eds.), Sex discrimination and equal opportunity, the labor market and employment policy. England: Gower Publishing Company.

Gustafsson, S., Wetzels, C., Vlasblom, J. D., & Dex, S. (1996). Women's labor force transitions in connection with childbirth: A panel comparison between Germany, Sweden and Great Britain. Journal of Population Economics, 9, 223–246.

Gutierrez-Domenech, M. (2005). Employment after motherhood: A European comparison. Labor Economics, 12, 99–123.

Han, W. J., Ruhm, C., & Waldfogel, J. (2007). Parental leave policies and parents' employment and leave-taking. IZA Discussion Paper no 3244.

Hashimoto, M., Percy, R., Schoellner, T., & Weinberg, B. A. (2004). The long and the short of it: Maternity leave coverage and women's labor market outcomes. IZA Discussion Paper no 1207.

James-Burdumy, S. (2005). The effect of maternal labor force participation on child development. Journal of Labor Economics, 23, 177–211.

Jenkins, S. (2004). Survival analysis (mimeo).

Kenjoh, E. (2005). New mothers' employment and public policy in the UK, Germany, the Netherlands, Sweden, and Japan. Review of Labour Economics and Industrial Relations, 19, 5–49.

Klerman, J. A., & Leibowitz, A. (1994). The work-employment distinction among new mothers. The Journal of Human Resources, 29, 277–303.

Klerman, J. A., & Leibowitz, A. (1997). Labor supply effects of state maternity leave legislation. In F. D. Blau & R. G. Ehrenberg (Eds.), Gender and family issues in the workplace (pp. 65–91). New York: Russell Sage Foundation.

Lancaster, T. (1979). Econometric methods for the duration of unemployment. Econometrica, 47, 939–956.

Moulton, B. R. (1990). An illustration of a pitfall in estimating the effects of aggregate variables on micro units. The Review of Economics and Statistics, 33, 4–338.

Nickell, S. (1979). Estimating the probability of leaving unemployment. Econometrica, 47, 1249–1266.

Primo, D. M., Jacobsmeier, M. L., & Milyo, J. (2007). Estimating the impact of state policies and institutions with mixed-level data. State Politics & Policy Quarterly, 7, 446–459.

Ruhm, C. J. (1998). The economic consequences of parental leave mandates: Lessons from Europe. Quartely Journal of Economics, 112, 258–317.

Ruhm, C. J. (2004). Parental employment and child cognitive development. The Journal of Human Resources, 39, 155–192.

Tanaka, S. (2005). Parental leave and child health across EOCD countries. The Economic Journal, 115, F7–F28.
Acknowledgments
I thank my PhD supervisor John Ermisch, Daniela Del Boca, Emilia Del Bono, Claudio Lucifora, Carolina Ortega Masague, Silvia Pasqua, Konstantinos Tatsiramos, Mark Taylor, and Francesco Figari for their suggestions as well as participants at ISER seminar (Colchester, 2005), at IZA summer school (Ammersee, 2006), at EPUNET conference (Barcelona, 2006) and at ESPE conference (Chicago, 2007). I am very grateful to two anonymous referees, whose comments and suggestions improved my work, and to Shoshana Grossbard for invaluable advice. The financial support received by Fondazione Einaudi is gratefully acknowledged. Any error should be attributed to the author
About this article
Cite this article
Pronzato, C.D. Return to work after childbirth: does parental leave matter in Europe?. Rev Econ Household 7, 341–360 (2009). https://doi.org/10.1007/s11150-009-9059-4
Received:

Accepted:

Published:

Issue Date:

DOI: https://doi.org/10.1007/s11150-009-9059-4
Keywords
JEL Classification