Abstract
This paper investigates the channels through which maternal employment affects childhood obesity. We use time diaries and interview responses from the Child Development Supplement of the Panel Study of Income Dynamics which combines information on children's time allocation, children's BMI, and mother's labor force participation. We find some evidence that supervision and nutrition play significant but small roles in the relationship between maternal employment and childhood obesity. Although the difference in the effect of maternal employment varies by mother's education, we find few differences in the mechanisms by mother's education.
Access options
Buy single article
Instant access to the full article PDF.
USD 39.95
Price excludes VAT (USA)
Tax calculation will be finalised during checkout.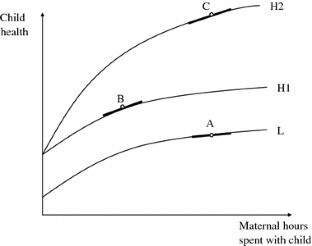 Notes
In addition, we omitted 132 observations for children with physical measures that would put them in the first tenth of the first percentile of the CDC Growth charts.

If MWH < 1, the value is bumped up to 1 so that ln MWH = 0. The results are qualitatively the same whether maternal work hours are logged or not.

The attending school result is robust to this sample restriction.
References
Anderson, P. M., & Butcher, K. F. (2006). Reading, writing, and refreshments: Are school finances contributing to children's obesity? Journal of Human Resources, 41, 467–494.

Anderson, P. M., Butcher, K. F., & Levine, P. B. (2003). Maternal employment and overweight children. Journal of Health Economics, 22(3), 477–504.

Baum, C. L., & Ruhm, C. J. (2007). Age, socioeconmic status and obesity growth. Unpublished Manuscript.

Bianchi, S. (2000). Maternal employment and time with children: Dramatic change or surprising continuity? Demography, 37, 401–414.

Cawley, J., & Liu, F. (2007). Maternal employment and childhood obesity: A search for mechanisms in time use data. NBER Working Paper 13600.

Cawley, J., Meyerhoefer, C., & Newhouse, D. (2007). The impact of state physical education requirements on youth physical activity and overweight. Health Economics, 16(12), 1287–1301.

Chia, Y. F. (2008). Maternal labor supply and childhood obesity in Canada: Evidence from the NLSCY. Canadian Journal of Economics, 41, 217–242.

Chodick, G., Kleinerman, R. A., Linet, M. S., Fears, T., Kwok, R. K., Kimlin, M. G., et al. (2008). Agreement between diary records of time spent outdoors and personal ultraviolet radiation dose measurements. Photochemistry and Photobiology, 84, 713–718.

Chou, S.-Y., Grossman, M., & Saffer, H. (2004). An economic analysis of adult obesity: Results from the behavioral risk factor surveillance system. Journal of Health Economics, 23, 565–587.

Classen, T., & Hokayem, C. (2005). Childhood influences on youth obesity. Economics and Human Biology, 3, 165–187.

Courtemanche, C. (2007). Working yourself to death? The relationship between work hours and obesity. Working paper, Washington University of St. Louis.

Cutler, D., Glaeser, E., & Shapiro, J. (2003). Why have Americans become more obese? Journal of Economics Perspectives, 17, 93–118.

Ebbling, C. B., Pawlak, D. B., & Ludwig, D. S. (2002). Childhood obesity: Public-health crisis, common sense cure. The Lancet, 360, 473–482.

Gibson, D. (2003). Food stamp program participation is positively related to obesity in low income women. Journal of Nutrition, 133, 2225–2231.

Gibson, S. A., & O'Sullivan, K. R. (1995). Breakfast cereal consumption patterns and nutrient intakes of British schoolchildren. The Journal of the Royal Society for the Promotion of Health, 115, 366–370.

Golan, M., & Crow, S. (2004). Parents are key players in the prevention and treatment of weight-related problems. Nutrition Reviews, 62(1), 39–50.

Gordon-Larsen, P., Adair, L. S., & Popkin, B. M. (2003). The relationship of ethnicity, socioeconomic factors, and overweight in U.S. adolescents. Obesity Research, 11, 121–129.

Hancox, R. J., Milne, B. J., & Poulton, R. (2004). Association between child and adolescent television viewing and adult health: A longitudinal birth cohort study. The Lancet, 364, 257–262.

Hoxby, C. M. (2000). Does competition among public schools benefit students and taxpayers? American Economic Review, 90, 1209–1238.

Klohe-Lehman, D. M., Freeland-Graves, J., Anderson, E. R., McDowell, T., Clarke, K. K., Hanss-Nuss, H., et al. (2006). Nutrition knowledge is associated with greater weight loss in obese and overweight low-income mothers. Journal of the American Dietetic Association, 106, 65–75.

Lamerz, A., Kuepper-Nybelen, J., Wehle, C., Bruning, N., Trost-Brinkhues, G., Brenner, H., et al. (2005). Social class, parental education, and obesity prevalence in a study of six-year-old children in Germany. International Journal of Obesity, 29, 373–380.

Levine, D. I., & Rothman, D. (2006). Does trade affect child health? Journal of Health Economics, 25, 538–554.

Liu, E., Hsiao, C., & Chou, S. (2005). Maternal full-time employment and childhood obesity: Parametric and semiparametric estimation. Unpublished Manuscript, Accessed via http://www-scf.usc.edu/~echuliu/jasalhc.pdf.

Lucas, A., Sarson, D. L., Blackburn, A. M., Adrian, T. E., Aynsley-Green, A., & Bloom, S. R. (1980). Breast vs. bottle: Endocrine responses are different with formula feeding. The Lancet, 1, 1267–1269.

Lucas, A., Boyes, S., Bloom, R., & Aynsley-Green, A. (1981). Metabolic and endocrine responses to a milk feed in six-day-old term infants: Differences between breast and cow's milk formula feeding. Acta Paediatr Scandinavica, 70, 195–200.

Ma, Y., Bertone, E. R., Stanek, E. J. 3rd, Reed, G. W., Hebert, J. R., Cohen, N. L., et al. (2003). Association between eating patterns and obesity in a free-living US adult population. American Journal of Epidemiology, 158, 85–92.

Morgan, K. J., Zabik, M. E., & Stampley, G. L. (1986). The role of breakfast in a diet adequacy of the U.S. adult population. Journal of the American College of Nutrition, 5, 551–563.

Nomaguchi, K. M. (2006). Maternal employment, nonparental care, mother–child interactions, and child outcomes during preschool years. Journal of Marriage and Family, 68, 1341–1369.

Ortega, R. M., Requejo, A. M., Lopez-Sobaler, A. M., Quintas, M. E., Andres, P., Redondo, M. R., et al. (1998). Difference in the breakfast habits of overweight/obese and normal weight schoolchildren. International Journal for Vitamin and Nutrition Research, 68, 125–132.

Pastore, D. R., Fisher, M., & Friedman, S. B. (1996). Abnormalities in weight status, eating attitudes, and eating behaviors among urban high school students: Correlations with self-esteem and anxiety. The Journal of Adolescent Health, 18, 312–319.

Patrick, H., & Nicklas, T. A. (2005). A review of family and social determinants of children's eating patterns and diet quality. Journal of the American College of Nutrition, 24(2), 83–92.

Philipson, T., & Posner, R. (2003). The long-run growth in obesity as a function of technological change. Perspectives in Biology and Medicine, 46(3), S87–S101.

Phipps, S. A., Lethbridge, L., & Burton, P. (2006). Long-run consequences of parental paid work hours for child overweight status in Canada. Social Science and Medicine, 62(4), 977–986.

Proctor, M. H., Moore, L. L., Gao, D., Cupples, L. A., Bradlee, M. L., Hood, M. Y., et al. (2003). Television viewing and change in body fat from preschool to early adolescence: The Framingham children's study. International Journal of Obesity and Related Metabolic Disorders, 27, 827–833.

Robinson, J. P., & Bostrum, A. (1994). The overestimated workweek? What time diary measures suggest. Monthly Labor Review, 117(8), 11–23.

Ruhm, C. J. (2008). Maternal employment and adolescent development. Labour Economics, 15(5), 958–983.

Stauton, J. L., & Keast, D. R. (1989). Serum cholesterol, fat intake and breakfast consumption in the United States adult population. Journal of the American College of Nutrition, 8, 567–572.

Summerbell, C. D., Moody, R. C., Shanks, J., Stock, M. J., & Geissler, C. (1996). Relationship between feeding pattern and BMI in 220 free-living people in four age groups. European Journal of Clinical Nutrition, 50, 513–519.

Variyam, J. N., et al. (1999). Mother's nutrition knowledge and children's dietary intakes. American Journal of Agricultural Economics, 81(2), 373–384.

von Hippel, P. T., Powell, B., Downey, D. B., & Rowland, N. (2007). Do schools make children fat? Changes in children's Body Mass Index (BMI) during the school year and during summer vacation. American Journal of Public Health, 97(4), 696–702.

Wardle, J., Parmenter, K., & Waller, J. (2000). Nutrition knowledge and food intake. Appetite, 34, 269–275.

Wolfe, W. S., Campbell, C. C., Frongillo, E. A. Jr, Haas, J. D., & Melnik, T. A. (1994). Overweight schoolchildren in New York State: Prevalence and characteristics. American Journal of Public Health, 84, 807–813.

Yaroch, A. L., Reynolds, K. D., Buller, D. B., Maloy, J. A., & Geno, C. R. (2006). Validity of a sun safety diary using UV monitors in middle school children. Health Education & Behavior, 33(3), 340–351.

Zhang, Q., & Wang, Y. (2004a). Socioeconomic inequality of obesity in the United States: Do gender, age, and ethnicity matter? Social Science and Medicine, 58, 1171–1180.

Zhang, Q., & Wang, Y. (2004b). Trends in the association between obesity and socioeconomic states in U.S. adults: 1971 to 2000. Obesity Research, 12, 1622–1632.

Ziol-Guest, K. M., De Leire, T., & Kalil, A. (2006). The allocation of food expenditure in married- and single-parent families. Journal of Consumer Affairs, 40(2), 347–371.
Acknowledgements
We thank John Cawley, Michael Grossman, Robert Kaestner, Sara Markowitz, Una Osili, Robert Sandy, Pravin Trivedi, Diane Whitmore Schanzenbach, and participants in seminars at Indiana University, IUPUI, University of Georgia, University of Arkansas, Florida State University, Southern Methodist University, University of Chicago, and the NBER Summer Institute in Health Economics for helpful comments. All the remaining errors are our own.
Appendix: detailed activities in each time use category
Appendix: detailed activities in each time use category
Sleep: Includes night sleep, "in bed" but not asleep, naps and resting.
Miscellaneous passive activities: Includes household paperwork (paying bills, balancing checkbook, getting mail), watching another person do typically female household tasks, watching another person do typically male household tasks, watching another person do household tasks, baby care, giving child care, play with household children, helping children learn, coaching/leading outdoors/non-organization activities, help with homework, giving children instructions, disciplining children, conversations within household, reading to a child, personal/private activities, babysitting, coordinating or facilitating child's social or instructional activities, other child care and travel related to child care, affection activities between household members, positive emotional affect (smiling, laughing), negative emotional affect (crying, moaning), lessons in music, singing, instruments, other lessons, hobbies (photography, working on/repairing things, collections, carpentry/woodworking), domestic crafts (preserving food, needlework, sewing, care of animals, arts and crafts), pottery, painting, drawing and sculpture, writing poetry and writing in a diary, playing an instrument, whistling, singing for fun, karaoke, acting/rehearsing for a play, and travel related to passive leisure, travel of child with adult, and waiting in car for adult.
TV watching: Includes TV watching
Attending school: Includes regular full time classes, school field trips (that are part of or not a part of regular school hours), other classes and courses of academic or nonacademic nature, being tutored, other professional classes, military training, ROTC.
Eating: Includes meals at home, including coffee, drinking, food from a restaurant eaten at home, meals away from home, meals eaten at work, eating at restaurants, meals eaten at friends/relatives, snacks at home or away from home (new code for 2002).
Playing indoor games: Includes playing dress up, playing house, playing fireman, playing pretend, getting/giving makeovers, playing card games, playing board games, playing social games, doing puzzles or word/educational games, playing trivia games, playing with toys, unspecified play indoors (getting into stuff, making a mess, play wrestling), unspecified play games.
Sports: Includes lessons in dance, sports, gymnastics, yoga, judo, body movement, practices, organized meets and games for team and non-team sports (swimming, golf, tennis, skating, football, baseball/softball, basketball, volleyball, soccer, hockey, track and running, gymnastics or dance, squash and racquetball, ice skating, bowling, wrestling, martial arts, paddleball, water sports, other seasonal sports, skiing, sledding, snow boarding, skateboarding, pool, Frisbee, weight lifting, kickball, street hockey, rock climbing, trampoline, yoga), other out of doors sport activities (hunting, shooting, fishing, boating, sailing, camping, snowmobiling, extreme sports, bicycling, horseback riding, motorcycling, "off-roading," big wheels, tricycling), non social dancing (ballet, modern dance), playing social games, unspecified play outdoors.
Socializing: Includes volunteering and organization helping activities (attending meetings for hospital volunteer groups, community groups, after-school club groups; working as administrator or representative for hospital volunteer groups, community groups, after-school club groups; fundraising for hospital volunteer groups, community groups, after-school groups; direct help to individuals or groups as a member of a volunteer organization; and other activities related to a volunteering with an organization), attending religious services or individual or small group religious practices, meetings for church groups and other religious helping groups, activities related to attending professional and union organizations, activities related to child, youth, family organizations, activities related to fraternal organizations, activities related to political party and civic participation, activities related to special interest/identity organizations, activities related to before/after school clubs (math/science club, band/choir/orchestra, drama/art club, student council/yearbook/newspaper club, debate club, honors society, foreign language club, history/social science club), other miscellaneous organization activity and travel related to these activities, attending sports events (football games, baseball games, basketball games, volleyball games, soccer games, hockey games, swimming meets, track meets, gymnastics meet), seeing a movie, attending a theater, opera, or ballet, go to a museum or art gallery, going to the zoo, miscellaneous social and entertaining activities, visiting with others, socializing with other people outside of the household, talking/chatting, paying a visit, parties, wedding receptions, at a bar, at a nightclub, at a coffee shop, dancing, attending a dance, recreational alcohol use (new code for 2002), recreational drug use (new code for 2002), other events such as holiday events and decorating for a party.
Traveling: Includes travel to and from school (including waiting for parent/bus), other school related travel, travel to and from organizational events and meetings (as a helper and including waiting time for travel), travel to sport/leisure activities (including waiting for travel) vacation travel, travel to and from social/entertainment activities, household related travel (new code for 2002), passive leisure related travel (including waiting for related travel.
Shopping: Includes obtaining goods (groceries, household goods, cars, furniture, clothing), going to hardware stores, drug stores, department stores, shopping, going to the mall, window shopping, buying gas, personal care services (beauty, barber shop, hairdresser, tanning), medical care (doctors visits, dentist, making appointments), financial services (going to the bank, paying bills, going to accountant, loan agencies, insurance offices), other government services (post office, passport, sporting licenses, marriage licenses, police station), auto services and repair, clothes repair and dry cleaning, appliance repair, household repair services, "running errands," other professional services non-specific, professional services from a lawyer, individual and group counseling or mental health services, picking up food at takeout place, other obtaining services, getting money/gift from adults (allowance, lunch money), related travel to obtaining goods and services.
Chores and work: Includes income producing activities, regular full-time paid work, work at home (activities done for pay at home), part time jobs (paper routes, babysitting), job searching (visiting work agencies, interviews, phone calls, answering want ads), other work-related activities, travel related to job search, travel to and from workplace (waiting for related travel), coffee breaks, before and after work activities, meal preparation, cooking, fixing lunches, serving food, setting table, putting groceries away, doing dishes, loading and unloading dishwasher, meal cleanup, clearing table, routine indoor cleaning and chores (dusting, making beds, washing windows, vacuuming, "housework"), laundry and clothes care, ironing, mending clothes, putting clothes away, maintenance and indoor repairs on the house (plumbing, painting, fixing), care of houseplants, repairing appliances and furniture, gardening, weeding, composting, picking, outdoor cleaning, yard work, raking leaves, mowing grass, garbage removal, cutting wood, cleaning garage, snow shoveling, outdoor repairs (fixing the roof, painting the house), home improvements (remodeling of house), improvements to grounds around the house, other outdoor and indoor household activities, pet care (including playing with pets, walking the dog), car care and necessary repairs, car maintenance (oil change, car wash, changed tires), and other household chores.
Computer/video games: Includes electronic video games, educational computer lessons, playing computer games, "surfing the net," downloading pictures and music, burning CD's, programming, computer communication, e-mail, instant messaging, chat rooms, financial computer services, online media, shopping on the computer, media activities on the computer, computer work, reading online newspapers, stock quotes, weather reports, installing hardware and software, computer library functions, non-specific computer work, computer repair/setup, computer photo processing, other PDA, "palm pilot" work, computer related travel, lessons in computers.
In child care: Includes at babysitters before or after school, child receives care if not in school, receiving child care, child is passive recipient of personal care, child being comforted by parent, daycare/nursery school for children not in school, daycare/nursery school before or after school.
Homework: Includes studying, research, reading, "went to library," reviewing homework with parent/caregiver, using the computer for homework and studying, and non-computer related homework.
Personal care of self or others: Includes waking up, going to bed, bathing, dressing, personal hygiene, going to the bathroom, medical care at home or outside home for self or others, going to the doctor, taking child to doctor, giving child medicine, non-medical care for adults in household, help and care to relatives not living in household, help and care to neighbors or friends, watching personal care activities, travel related to personal care or helping others with personal care, personal travel.
Reading/talking/listening to music: Includes listening to radio/music, reading (or looking at books, magazines, newspapers), being read to, conversations and talking on the phone or in person, arguing and fighting, relaxing (taking a break), reading or writing letters, reading mail, thinking, "doing nothing," smoking, joking, or laughing.
About this article
Cite this article
Fertig, A., Glomm, G. & Tchernis, R. The connection between maternal employment and childhood obesity: inspecting the mechanisms. Rev Econ Household 7, 227–255 (2009). https://doi.org/10.1007/s11150-009-9052-y
Received:

Accepted:

Published:

Issue Date:

DOI: https://doi.org/10.1007/s11150-009-9052-y
Keywords
Maternal employment

Childhood obesity

Time use data
JEL Classicification