Abstract
Family size is the outcome of sequential decisions influenced both by preferences and by ongoing changes in the environment where a family lives. During the last two decades, the gap between the number of children women prefer and their actual fertility has widened in Spain. The paper uses the 1985 and 1999 Spanish Fertility Surveys to study whether the tightening of the labor market and worsening of economic conditions in Spain during the last 20 years are important determinants of this change. I find that women facing high unemployment rates in their mid-twenties tend to restrict their fertility below their ideal level. Among women in the labor force, the stability of a public sector job lessens the difficulties of balancing employment and family and of achieving preferred fertility. Temporary contracts work in the opposite direction. Findings are robust to the inclusion of controls for within-couple discrepancies in either preferences or religious affiliation.
Access options
Buy single article
Instant access to the full article PDF.
USD 39.95
Price excludes VAT (USA)
Tax calculation will be finalised during checkout.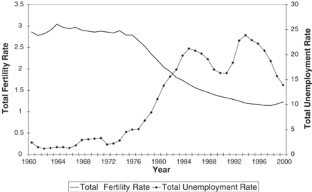 Notes
There are very few transitions from non-work to work among Spanish women during this period. Most labor market transitions occur from work into inactivity (Adam, 1996). Thus this measure may underestimate the number of women who have been in the labor force at some point. Those who have left may have either failed to find a way to combine family and work and have given up struggling to obtain this balance or have weaker preferences for a career as compared to those who decide to stay in the labor market.

Cohort specific results are available from the author.

When I estimate the model for women born between 1957 and 1962, the coefficient for the husband's temporary contract is positive and highly significant.

Freedman et al. (1980) find that women's preferences tend to adjust to reduce inter-couple difference but that final parity is more likely to adjust downward than upward to meet spouse's ideal. Interestingly, Thomson and Hoem (1998) found that Swedish couples with preference differences had lower childbearing, but both the woman and her spouse were equally likely to prevail in the face of a disagreement.

Even if family size has been shown to vary across religious denominations and to be relatively larger among those with more frequent church attendance (Adsera, 2006; Lehrer, 1996; Mosher & Hendershot, 1984; Williams & Zimmer, 1990), its variation across religious groups should be explained by differences in preferences once other relevant factors are accounted for. As a matter of fact, researchers do not find any systematic discrepancy between the desired number of children and final parity across religions in the United States (Freedman et al., 1980).

Even if the Catholic Church teachings impose a restrictive use of contraception, religious practice among Spanish Catholics has sharply decreased since the onset of democracy in 1975 (Branas-Garza & Neuman, 2004) and adherence to Church recommendations among Catholics worldwide has weakened (Goldscheider & Mosher, 1991). In Table 2, less than 2% among those with a gap between actual and desired family size in the 1999 SFS report lack of familiarity with the use of contraceptives. Widespread availability and use of family planning seems to have contributed to the widening of the gap between desires and achieved fertility in the European Union (Fahey & Speder, 2004).
References
Adsera, A. (2004). Changing fertility rates in developed markets. The impact of labor market institutions. Journal of Population Economics, 17, 17–43.

Adsera, A. (2005). Vanishing children: From high unemployment to low fertility in developed countries. American Economic Review Papers and Proceedings, 95(2), 189–193.

Adsera, A. (2006). Marital fertility and religion in Spain.Population Studies, forthcoming.

Adam, P. (1996). Mothers in an insider–outsider economy: the puzzle of Spain. Journal of Population Economics, 9, 301–323.

Ahn, N., & Mira, P. (2001). Job bust, baby bust? Evidence from Spain. Journal of Population Economics, 14, 505–521.

Becker, G. S., (1981). A treatise on the family Harvard University Press Cambridge, Mass.

Becker, G. S., Landes, E. M., & Michael, R. T. (1977). An economic analysis of marital instability. Journal of Political Economy, 85(6), 1141–1187.

Bankole, A., & Westoff, C. F. (1998). The consistency and validity of reproductive attitudes: Evidence from Morocco. Journal of Biosocial Science, 30(4), 438–455.

Bettio, F., & Villa, P. (1998). A Mediterranean perspective on the breakdown of the relationship between participation and fertility. Cambridge Journal of Economics, 22(2), 137–171.

Bongaarts, J. (1990). The measurement of wanted fertility. Population and Development Review, 16, 487–506.

Bongaarts, J. (2001). Fertility and reproductive preferences in post-transitional societies. Population and Development Review, 27, 260–281.

Branas-Garza, P., & Neuman, S. (2004). Analyzing religiosity within an economic framework: The case of spanish catholics. Review of Economics of the Household, 2(1), 5–22.

Browning, M. (1992). Children and household economic behavior. Journal of Economic Literature, 30, 1434–1475.

Bumpass, L. (1990). What's happening to the family? Interactions between demographic and institutional change. Demography, 27(4), 483–498.

Butz, W. P., & Ward, M. P. (1979). The emergence of countercyclical U.S. fertility. American Economic Review, 69(3), 318–328.

Colom, M. C., Martinez, R., & Moles, M. C. (2002). Un analisis de las decisiones de formacion de Hogar, tenencia y demanda de Servicios de Viviendas de los Jovenes Españoles. Moneda y Credito, 215, 199–223.

Del Boca, D. (2002). The effect of child care and part-time on participation and fertility of Italian women. Journal of Population Economics, 15, 549–573.

De Laat, J., & Sanz, A. S. (2005). Working women, men's home time and the positive cross-country correlation between fertility and female labor force participation, mimeo, Brown University.

Dolado, J. J., Garcia-Serrano, C., & Jimeno, J. F. (2002). Drawing lessons from the boom of temporary jobs in Spain. The Economic Journal, 112, 270–295.

Fahey, T., & Speder, Z. (2004). Fertility and family issues in an enlarged Europe. European Foundation for the Improvement of Living and Working Conditions, Dublin.

Freedman, R., Freedman, D., & Thornton, A. (1980). Changes in fertility expectations and preferences between 1962 and 1977: Their relation to final parity. Demography, 17(4), 365–378.

Gauthier, A. H., & Hatzius, J. (1997). Family benefits and fertility. An Econometric Analysis. Population Studies, 51, 295–306.

Goldscheider, F. K., & Kaufman, G. (1996). Fertility and commitment: Bringing men back in. Population and Development Review, 22(Suppl.), 87–99.

Goldscheider, C., & Mosher, W. D. (1991). Patterns of contraceptive use in the United States: The importance of religious factors. Studies in Family Planning, 22(2), 102–115.

Goldstein, J. R., Lutz, W., & Testa, M. R. (2003). The emergence of sub-replacement family size ideals in Europe. Population Research and Policy Review, 22, 479–496.

Gutierrez-Domenech, M. (2002). The impact of the labor market on the timing of marriage and births in Spain, CEP working..

Instituto Nacional de Estadistica (INE) (1985). Encuesta de Fecundidad 1985, Madrid.

Instituto Nacional de Estadistica (INE) (1999). Encuesta de Fecundidad 1999, Madrid.

Kohler, H. P., Billari, F. C., & Ortega, J. A. (2002). The emergence of lowest-low fertility in Europe during the 1990s. Population and Development Review, 28(4), 599–639.

Lehrer, E. L. (1996). Religion as a determinant of marital fertility. Journal of Population Economics, 9, 173–196.

Lehrer, E. L. (2004). Religion as a determinant of economic and demographic behavior in the United States. Population and Development Review, 30(4), 707–726.

Lehrer, E., & Nerlove, M. (1986). Female labor force behavior and fertility in the United States. Annual Review of Sociology, 12, 181–204.

Lehrer, E. L., & Chiswic, C. U. (1993). Religion as a determinant of marital stability. Demography, 30(3), 385–404.

Morgan, S. P. (1985). Individual and couple intentions for more children: A research note. Demography, 22(1), 125–132.

Mosher, W. D., & Hendershot, G. E. (1984). Religion and fertility: A replication. Demography, 21(2), 185–191.

Pampel, F. C. (2001). Institutional context of population change. Patterns of fertility and mortaliy across high-income nations. The University of Chicago Press Chicago.

Ryder, N. B. (1973). A critique of the national fertility study. Demography, 10(4), 495–506.

Schoen, R., Astone, N. M., Kim, Y. J., Nathanson, C., & Fields, J. M. (1999). Do fertility intentions affect fertility behavior? Journal of Marriage and the Family, 1999(3), 790–799.

Thomson, E. (1997). Couple childbearing desires, intentions and births. Demography, 34(3), 343–354.

Thomson, E., & Hoem, J. M. (1998). Couple childbearing plans and births in Sweden. Demography, 35(3), 315–322.

Thomson, E., McDonald, E., & Bumpass, L. L. (1990). Fertility desires and fertility: Hers, his and theirs. Demography, 27, 579–588.

Thornton, A., Freedman, R., & Freedman, D. (1984). Further reflections on changes in fertility expectations and preferences. Demography, 21(3), 423–429.

Westoff, C., & Ryder, N. B. (1977). The predictive validity of reproductive intentions. Demography, 14(4), 431–453.

Williams, L. B., & Zimmer, B. G. (1990). The changing influence of religion on US fertility: Evidence from Rhode Island. Demography, 27(3), 475–481.

Williams, R., & Thomson, E. (1985). Can spouses be trusted? A look at husband/wife proxy reports. Demography, 22(1), 115–123.
Additional information
This paper was made possible by Grant Numbers P30-HD18288 and T32-HD007302 from the NICHD. Its contents are solely the responsibility of the author and do not necessarily represent the official views of the NIH. I would like to thank Evelyn Lehrer, Robert Kaestner and two anonymous referees for their comments.
Appendices
Appendix A
Appendix B
Appendix B Number of born children (and current pregnancies) among married women in the 1985 and 1999 Spanish Fertility Surveys
 

1985

1999

Age at marriage

−0.062 (11.12)**

−0.039 (9.18)**

Aggregate conditions

Unemployment rate when wife 24 years

−0.030 (7.73)**

−0.013 (5.61)**

Wife's employment

In Labor Force after marriage

−0.068 (1.58)#

 

Years employed

−0.015 (3.22)**

 

Wife's current employment

In Labor Force

 

−0.152 (4.96)**

Temporary contract

 

−0.062 (1.37)

Public sector job

 

0.107 (2.38)**

Husband's current employment

In Labor Force

 

−0.002 (0.04)

Temporary contract

 

−0.027 (0.70)

Public sector job

 

−0.033 (0.94)

Different religion within couple

 

−0.070 (1.93)*

Constant

4.520 (25.39)**

3.590 (22.30)**

Number of observations

5220

4332

Adj-R2

0.35

0.33
About this article
Cite this article
Adsera, A. An Economic Analysis of the Gap Between Desired and Actual Fertility: The Case of Spain. Rev Econ Household 4, 75–95 (2006). https://doi.org/10.1007/s11150-005-6698-y
Received:

Accepted:

Issue Date:

DOI: https://doi.org/10.1007/s11150-005-6698-y
Keywords
JEL classifications