The minimum content of functional component (titanium borideTiB2) in cathodic refractory material that provides wetting with molten aluminum is substantiated. It is established that total cathode wetting with aluminum is observed with some minimum content of TiB2 in a powder composite (16 – 18 vol.%), when according to occurrence theory there is formation of an "infinite cluster", i.e., a bonded percolation network of titanium boride particles. The volume of wetted composite containing a fixed amount (for example, 1 kg) of TiB2 does not depend on its phase composition and porosity, but is determined by the diboride volume content. A TiB2 content in the range 18 – 20 vol.% should be considered the optimum that creates reliable continuous wetting of a composite surface.
This is a preview of subscription content, log in to check access.
Access options
Buy single article
Instant access to the full article PDF.
US$ 39.95
Price includes VAT for USA
Subscribe to journal
Immediate online access to all issues from 2019. Subscription will auto renew annually.
US$ 199
This is the net price. Taxes to be calculated in checkout.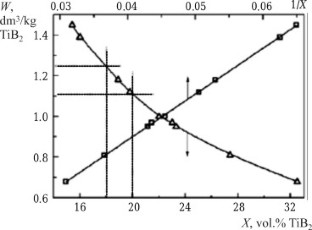 References
1.

J. Li, X.-j. Lu, Y.-q. Lai, et al., "Research progress in TiB2 wettable cathode for aluminum reduction," JOM, No. 8, 32 – 37 (2008).

2.

J. Keniry, "The economics of inert anodes and wettable cathodes for aluminum reduction cells," JOM, No. 5, 43 – 47 (2001).

3.

H. A. Øye, V. de Nora, J-J. Duruz, and G. Johnston, "Properties of colloidal alumina bonded TiB2 coating on carbon cathode materials," Light Metals, 279 – 286 (1997).

4.

L. G. Boxall, W. M. Buchta, A. V. Cooke, D. C. Nagle, and D. W. Townsend, US Patent 4466996, MPK B 05 D 5/12, C 25 C 3/06, C 25 B 11/12. Aluminum cell cathode coating method, Claim 07.22.82, Pub. 08.21.84.

5.

J. A. Sekhar, J. J. Duruz, and V. de Nora, US Patent 5753163 US, MPK B 28 B 1/26. Production of bodies of refractory borides, Claim 08.28.95, Publ. 05.19.98.

6.

M. O. Ibrahiem, T. Foosnes, and H. A. Øye, "Properties of pitch and furan-based TiB2–C cathodes," Light Metals, 1013 – 1018 (2008).

7.

V. V. Ivanov. A. V. Golounin, V. M. Denisov, et al., "Inorganic binder for material of an aluminum electrolyzer wetted cathode," Ogneupory Tekhn. Keram., No. 4/5, 17 – 24 (2010).

8.

V. V. Ivanov, S. D. Kirik, A. A. Shubin, et al., "Thermolysis of acidic aluminum chloride solution and its products," Ceram. Internat., 39, 3843 – 3848 (2013).

9.

V. V. Ivanov, A. A. Chernousov, and I. A, Blokhina, RU Patent 2518032 RU, C 25 C 3/06. Composition for material of aluminum alectrolyzer cathode wettable coating. Claim. 01.10.13, Publ. 06.10.14, Bull. No. 16.

10.

A. V. Cooke, L. G. Boxall, D. C. Nagle, and W. M. Buchta, "Carbon/TiB2 composite for aluminum reduction cells," Extd. Abstr. Program Bienn. Conf. Carbon, No. 11, 456 – 457 (1985).

11.

B. I. Shklovskii and A. L. Éfros, "Theory of occurrence and conductivity of strongly inhomogeneous media," Uspekhi. Fiz. Nauk, 117, No. 3, 401 – 434 (1975).

12.

G. N. Dul'nev and V. V. Novikov, Transfer Processes in Inhomogeneous Media [in Russian], Énergoatomizdat, Leningrad (1991).

13.

G. N. Dul'nev and V. V. Novikov, "Conductivity of inhomogeneous systems," Onzh.-Fiz. Zh. 36(5), 901 – 909 (1979).

14.

D. I. Iudin and E. V. Koposov, Fractals: From Simple to Complex [in Russian], NNGASu, N. Novgorod (2012).

15.

G. R. Ruschau and R. E. Newnham, "Critical volume fractions in conductive composites," J. Compos. Mater., 26(18), 2727 – 2735 (1992).

16.

P. M. Volovich, L. Varral'e, Z. N. Skvartsova, and V. Yu. Traskin, "Percolation model of grain boundary wetting in polycrystalline materials," Ross. Khim. Zh.(Zh. Ros. Khim. Obskck. im D. I. Mendeleeva), LII(1), 13 – 20 (2008).

17.

Yu. P. Zarichnyak, S. S. Ordan'yan, A. N. Soklov, and E. K. Stepanenko, "Dimensionaleffects in percolation processes," Poroshk. Metall., No. 7, 64 – 71 (1986).

18.

G. N. Dul'nev, V. I. Malarev, and V. V. Novikov, "Effect of particle size on critical value of conducting phase concentration in powder materials," Poroshk. Metall., No. 1, 65 – 69 (1992).

19.

C.-W. Nan, "Physics of inhomogeneous inorganic materials," Progress in Material Science, 37, 1 – 116 (1993).
Work was performed within an agreement with the Russian Ministry of Education and Science No. 02.G25.31.018 (project "development of superpower energy-effective technology for preparing aluminum RA-550").
Additional information
Translated from Novye Ogneupory, No. 7, pp. 58 – 62, July, 2017.
About this article
Cite this article
Ivanov, V.V., Polyakov, P.V., Nagibin, G.E. et al. Minimum TiB2 Content in a Composite Cathode Wetted with Aluminum. Refract Ind Ceram 58, 410–414 (2017). https://doi.org/10.1007/s11148-017-0120-1
Received:

Published:

Issue Date:
Keywords
aluminum electrolysis

wetted cathode material (WCM)

composite material

titanium diboride

"infinite cluster" (IC)

percolation