Abstract
We examine the impact of house purchases by large buy-to-rent investors on local real estate markets. First, we present micro-level evidence of positive externalities from institutional entry. We show that returns on repeat sales of properties near purchases by buy-to-rent investors are significantly greater if the repeat sale concluded after the buy-to-rent purchase rather than before. Secondly, we highlight the potential channel underlying such an externality as a supply side effect. Specifically, we show that properties outside the price range normally paid by buy-to-rent investors experienced smaller gains after nearby buy-to-rent purchases. Thus, buy-to-rent investors appear to increase the value of properties in an area by reducing the local supply. Lastly, we document mortgage market effects due to institutional purchases and related supply effects. We show that mortgage use increased after the buy-to-rent purchases of nearby properties and that the increase arises from existing lenders that operate in the market rather than new lenders entering the market.
Access options
Buy single article
Instant access to the full article PDF.
US$ 39.95
Tax calculation will be finalised during checkout.
Subscribe to journal
Immediate online access to all issues from 2019. Subscription will auto renew annually.
US$ 79
Tax calculation will be finalised during checkout.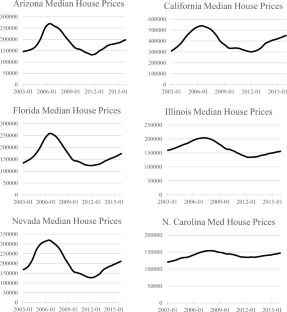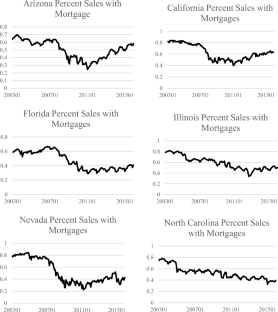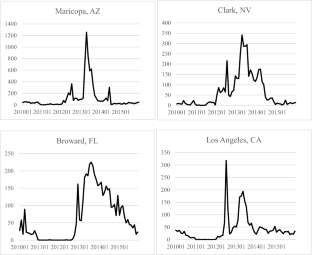 Notes
1.

2.

The algorithm matches based on the "spelling distance" between the institution name and buyer name specified in the deed transactions. The matching algorithm is not perfect and does a better job for full names rather than acronyms.

3.

These regressions are run using Stata. In Stata, when fixed effects are used, the intercept is the average fixed effect.

4.

Georgia is omitted because lender identities are seldom included in the mortgage data.
References
Adams, Z., Füss, R., & Schindler, F. (2015). The sources of risk spillovers among US REITs: Financial characteristics and regional proximity. Real Estate Economics, 43(1), 67–100.

Allen, M., Rutherford, J., Rutherford, R., & Yavas, A. (2018). Impact of investors in distressed housing markets. Journal of Real Estate Finance and Economics, 56, 622–652.

Anenberg, E., & Kung, E. (2014). Estimates of the size and source of price declines due to nearby foreclosures. American Economic Review, 104(8), 2527–2551.

Beracha, E., Feng, Z., & Hardin, W. G. (2019). REIT operational efficiency: Performance, risk, and return. The Journal of Real Estate Finance and Economics, 58(3), 408–437.

Edelman, S. (2014). Meet the new landlords: The rise of single-family investors in the housing market. Community Investment, 26(2), 26–29.

Ganduri, Rohan, Steven Xiao, and Serena Xiao, 2019, The rise of institutional investment in the residential real estate market, working paper, Emory University.

Gerardi, K., Rosenblatt, E., Willen, P., & Yao, V. (2015). Foreclosure externalities: New evidence. Journal of Urban Economics, 87, 42–56.

Henderson, J. V., & Ioannides, Y. M. (1983). A model of housing tenure choice. The American Economic Review, 73(1), 98–113.

Khater, S. (2013). The rise of institutional investors and the decline of REOs. The MarketPulse Vol, 2(3), 3–5.

Li, Q., Ling, D.C., Mori, M. and Ong, S.E., 2018, The wealth effects of REIT property acquisitions and dispositions: The creditors' perspective. The Journal of Real Estate Finance and Economics, pp.1–30.

Ling, D.C., Wang, C. and Zhou, T., 2019, The geography of real property information and investment: Firm location, Asset Location and Institutional Ownership. Real Estate Economics.

Mills, J., Molloy, R., & Zarutskie, R. (2019). Large-scale buy-to-rent investors in the single-family housing market: The emergence of a new asset class. Real Estate Economics, 47(2), 399–430.

Schnure, Calvin, 2014, Single family rentals: Demographic, structural and financial forces driving the new business model, working paper, National Association of Real Estate Investment Trusts.

Smith, Patrick, and Crocker Liu, 2017, Institutional investment, asset illiquidity and post-crash housing market dynamics, forthcoming, Real Estate Economics.

Wang, K., Grissom, T., Webb, J., & Spellman, L. (1991). The impact of rental properties on the value of single-family residences. Journal of Urban Economics, 30, 152–166.
Acknowledgements
We are grateful to Hank Bessembinder, Francois Cocquemas, Shane Corwin, Yuliya Demyanyk, David Echeverry, Paul Gao, David Hutchison, Alberto Rossi, Sophie Shive, Lin Sun and seminar participants at Arizona State University, Florida International University, Florida State University, University of Illinois-Chicago and the University of Notre Dame for comments. The authors declare that they have no conflict of interest. Data provided by Zillow through the Zillow Transaction and Assessment Dataset (ZTRAX). More information on accessing the data can be found at http://www.zillow.com/ztrax. The results and opinions are those of the authors and do not reflect the position of Zillow Group.
Ethics declarations
Conflicts of Interest/Competing Interests
The authors declare that they have no conflict of interest.
Additional information
Publisher's Note
Springer Nature remains neutral with regard to jurisdictional claims in published maps and institutional affiliations.
About this article
Cite this article
D'Lima, W., Schultz, P. Buy-to-Rent Investors and the Market for Single Family Homes. J Real Estate Finan Econ (2020). https://doi.org/10.1007/s11146-020-09790-5
Keywords
Institutional investor

Residential market

Housing supply

Mortgage market externalities
JEL Classification