Abstract
Since 1978, when China instituted economic reforms, cities throughout the country have embraced skyscraper construction. Despite their importance to the domestic economy, little is understood about what has been driving skyscraper heights and frequencies in China. This work explores the degree to which skyscraper construction patterns are the result of economic fundamentals, versus political factors and intercity competition. We find a strong economic rational across China, but we also find evidence of noneconomic factors. We show that incentives for political officials, such as career promotion, are helping to contribute to the growth in China's skylines. We also find that small cities tend to overbuild skyscrapers. Spatial autoregression results further suggest some intercity competition, especially for those within the same tier.
This is a preview of subscription content,
to check access.
Access this article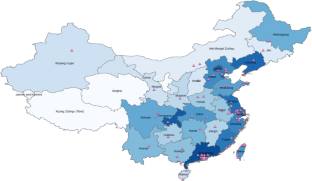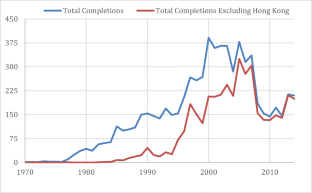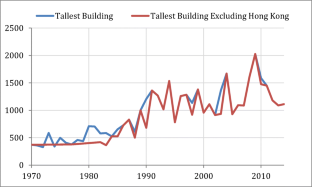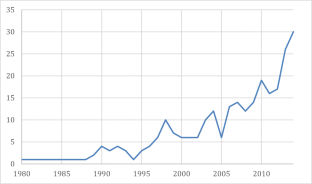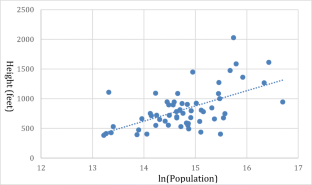 Similar content being viewed by others
Notes
Unfortunately, the sources that provide information on skyscrapers do not provide year of completion for about 10% of the buildings. Also, if a building is not reported on one of the several websites that we used to collect data, then we do not know of its existence.

This report is written in Mandarin.

For example, in 1890, the world's tallest building was 90 m; today it is 828 m (Barr et al. 2015).

Note that in several cases different websites gave different years for completion. For this paper, we use year of completion as the average of the 2 yrs. Our investigations show that using the latest year, for example, does not appreciably affect the results. In addition, we do not have data of building use and year of building start.

We choose 600 ft (183 m) as a comprise height—one that is sufficiently tall to be unusual, but not so unusual as to severely reduce the number of ones in the dependent variable.
References
Ahlfeldt, G. M., & McMillen, D. P. (2018). Tall buildings and land values: height and construction cost elasticities in Chicago, 1870–2010. Review of Economics and Statistics, 100(5), 861–875.

Anselin, Luc. (2013). Spatial econometrics: Methods and models. Vol. 4. Springer Science & Business Media.

Barr, J. (2010). Skyscrapers and the skyline: Manhattan, 1895–2004. Real Estate Economics, 38(3), 567–597.

Barr, J. (2012). Skyscraper height. The Journal of Real Estate Finance and Economics, 45(3), 723–753.

Barr, J. (2013). Skyscrapers and skylines: New York and Chicago, 1885–2007. Journal of Regional Science, 53(3), 369–391.

Barr, J., Mizrach, B., & Mundra, K. (2015). Skyscraper height and the business cycle: Separating myth from reality. Applied Economics, 47(2), 148–160.

Brook, D. (2013). Head of the dragon: The rise of new Shanghai. Places Journal. https://placesjournal.org/article/head-of-the-dragon-the-rise-of-new-shanghai/?cn-reloaded=1.

Brueckner, J. K. (2003). Strategic interaction among governments: An overview of empirical studies. International Regional Science Review, 26(2), 175–188.

Brueckner, J. K. (2011). Lectures on urban economics, MIT Press.

Brueckner, J. K., & Saavedra, L. (2001). Do local governments engage in strategic property—Tax competition? National Tax Journal, 54, 203–229.

Bulow, J. I., Geanakoplos, J. D., & Klemperer, P. D. (1985). Multimarket oligopoly: Strategic substitutes and complements. Journal of Political Economy, 93(3), 488–511.

Cai, Y. (2004). Irresponsible state: Local cadres and image-building in China. Journal of Communist Studies and Transition Politics, 20(4), 20–41.

Chen, T. and J. Kung. (2018). Busting the 'princelings': The campaign against corruption in China's primary land market. The Quarterly Journal of Economics, forthcoming.

Council on Tall Buildings and Urban Habitat (CTBUH). (2018). Skyscraper Center database. http://www.skyscrapercenter.com/.

Emporis.com (2019). "Cities with the most skyscrapers." https://www.emporis.com/statistics/most-skyscraper-cities-worldwide.

Glaeser, E., Huang, W., Ma, Y., & Shleifer, A. (2017). A real estate boom with Chinese characteristics. Journal of Economic Perspectives, 31(1), 93–116.

Guo, G. (2009). China's local political budget cycles. American Journal of Political Science, 53(3), 621–632.

Guo, R. (2015). New 'ghost cities' typify out-of-control planning, retrieved December 28, 2015, from China dialogue: https://www.chinadialogue.net/article/show/single/en/8239-New-ghost-cities-typify-out-of-control-planning.

Head, K., & Ries, J. (1996). Inter-city competition for foreign investment: Static and dynamic effects of China's incentive areas. Journal of Urban Economics, 40(1), 38–60.

Helsley, R. W., & Strange, W. (2008). A game-theoretic analysis of skyscrapers. Journal of Urban Economics, 64(1), 49–64.

Huang, C. (2019). 2019 China cities tier rankings released, Beijing trumps Shanghai once again. TheBeijinger.com. URL: https://www.thebeijinger.com/blog/2019/05/28/china-city-tier-rankings-released-beijing-trumps-shanghai

Kung, J and Chen, T. (2013). Do land revenue windfalls reduce the career incentives of county leaders? Evidence from China. working paper, The Hong Kong University of Science and Technology, Hong Kong, China.

Lee, Y., et al. (2012). The report of skyscraper construction and development in China. Research Institute of Complex Engineering & Management: Tongji University, Shanghai, China.

LeSage, J and K. Pace (2009). Introduction to spatial econometrics (Chapman and Hall/CRC).

Li, H., & Zhou, L. (2005). Political turnover and economic performance: The incentive role of personnel control in China. Journal of Public Economics, 89(9), 1743–1762.

Li, Q., & Wang, L. (2018). Is the Chinese skyscraper boom excessive? Working paper. Singapore: National University of Singapore.

Lichtenberg, E., Ding, C., & C. (2009). Local officials as land developers: Urban spatial expansion in China. Journal of Urban Economics, 66(1), 57–64.

Liuzhou Government. (2012). Opinions of the people's government of Liuzhou city on promoting the construction of super high-rise buildings in Liuzhou city. Government Announcement, Liuzhou, China. URL: http://www.liuzhou.gov.cn/lzgovpub/lzszf/szsdw/A001/201208/t20120827_548388.html

Maskin, E., Qian, Y., & Xu, C. (2000). Incentives, information, and organizational form. The Review of Economic Studies, 67(2), 359–378.

Ren, Xuefei. (2013). Urban China, John Wiley & Sons.

World Bank (2014). Urban China: Toward efficient, inclusive, and sustainable urbanization. research report, Washington D.C.

World Bank (2015). World Bank indicators: Urbanization urban population (% of total). URL: https://data.worldbank.org/indicator/SP.POP.TOTL?end=2017&locations=CN&start=2017&view=bar&year_high_desc=false

Wu, F. (2009). Globalization, the changing state, and local governance in Shanghai. In Chen, Xiangming, ed., Rising Shanghai: State Power and Local Transformations in a Global Megacity, 125-144.

Wu, J., Deng, Y., Huang, J., Morck, R., and Yeung, B. (2013). Incentives and outcomes: China's environmental policy (no. w18754). National Bureau of Economic Research.

Wuhu Government. (2010). Wuhu [2010] no. 05 state-owned construction land use right auction sale announcement. Wuhu, China. URL: http://www.cn1dc.com/index.php/dc/detailnotice/1590

Xu, C. (2011). The fundamental institutions of China's reforms and development. Journal of Economic Literature, 49(4), 1076–1151.

Yu, J., Zhou, L., & Zhu, G. (2016). Strategic interaction in political competition: Evidence from spatial effects across Chinese cities. Regional Science and Urban Economics, 57, 23–37.

Zhang, J. (2011). Interjurisdictional competition for FDI: The case of China's development zone fever. Regional Science and Urban Economics, 41(2), 145–159.

Zhao, S. X., Zhan, H., Jiang, Y., & Pan, W. (2017). How big is China's real estate bubble and why hasn't it burst yet? Land Use Policy, 64, 153–162.

Zhu, J. (2012). The shadow of the skyscrapers: Real estate corruption in China. Journal of Contemporary China, 21(74), 243–260.
Additional information
Publisher's Note
Springer Nature remains neutral with regard to jurisdictional claims in published maps and institutional affiliations.
Appendices
Appendix 1: Data Sources and Preparation
1.

Skyscraper data

2.

City-level economic data

Population in the municipal area, Year-end Population of the municipal district of one city (Population in rural area and in counties that belongs to the city is not included.).

GDP, Gross Domestic Product (2010 constant US$).

GDP per capita, Gross Domestic Product divided by population (2010 constant US$)

CPI, Consumer Price Index each city, each year.

Government expenditure, Local Government Expenditure (2010 constant US$).

Budget Deficit: dummy variable, which is one if expenditures are greater than revenues in a city-year, zero otherwise.

Government revenue, Local Government Revenue (2010 constant US$).

Employment in the service industry, Total Employment in the service industry.

The rate of contribution of the service industry to total GDP, The proportion of value-added of the service industry to GDP (municipal district).

Land area: The land area in the municipal area of a city.
All of the city-level economic data are panel data collected from the Chinese Statistical Year Book.
3.

Corruption Data
The number of corruption cases brought against city officials data is collected by Guang Zhang, Xiamen University. The data set covers all the corruption cases disclosed by major Chinese newspapers between 1995 and 2007. The data has been discussed in Zhu (2012). We appreciate Zhu and Zhang for sharing the dataset.
4.

Age of City Leader
The original dataset of the age of city leaders is from Yu et al. (2016). They include the age and the year of taking and leaving the office for mayors and Secretaries of CPC Municipal Committees of the included cities between 2000 to 2005. We extend the dataset from 1978 to 2015. The Chinese officials' data were collected manually from several related websites and the major source is www.baike.com, a large database that includes the biographies of Chinese government officials. We appreciate Yu, Zhou, and Zhu for sharing their dataset.
Appendix 2: Additional Regression Results
About this article
Cite this article
Barr, J., Luo, J. Growing Skylines: The Economic Determinants of Skyscrapers in China. J Real Estate Finan Econ 63, 210–248 (2021). https://doi.org/10.1007/s11146-020-09764-7
Published:

Issue Date:

DOI: https://doi.org/10.1007/s11146-020-09764-7
Keywords