Abstract
Information gaps and asymmetries are common in the housing market and this is frequently the case with the risks of natural processes, especially in coastal areas where the amenity dimension may dominate the risk aspect. Flood risk disclosure through maps is a policy instrument aimed at addressing this situation. We assess its effectiveness by identifying whether such maps induce a price differential for single family coastal dwellings in three Finnish cities, and by estimating the discount per square meter for various flooding probabilities (return times). The estimations indicate a significant price drop after the information disclosure for properties located in flood-prone areas as indicated by the maps. In the case of sea flooding information in Helsinki, the price effect is sensitive to the communicated probability of flooding. Overall, the discussed policy instrument appears to have functioned as intended, correcting information gaps and asymmetries related to flood risk. The identified effect is spatially selective; it caused a short-term localized shock in market prices in conjunction with some reorientation of demand from risky coastal properties towards ones that represent a similar level of coastal amenity, but are less risky in terms of flooding. This hints at the potential for incorporating the shocks associated with flood events or risk information into broader-scoped urban modelling and simulation. Similarly, the reasonable accuracy with which the housing market processes the additional information shows a potential for wider use of the disclosure of non-obvious risks in real estate markets. In the case of adapting to climate change risks, additional uncertainties may make the disclosure instrument less effective, if used as a single tool.
Access options
Buy single article
Instant access to the full article PDF.
USD 39.95
Price excludes VAT (USA)
Tax calculation will be finalised during checkout.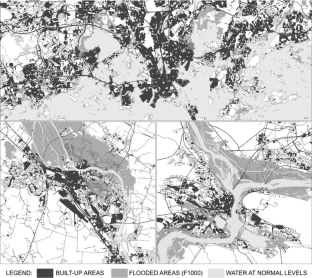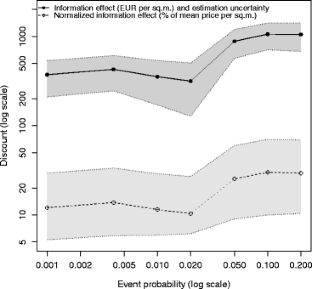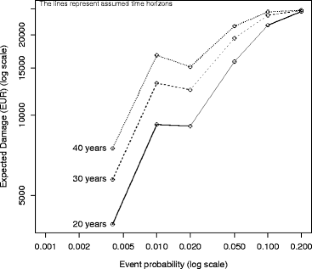 References
Angrist, J. D., & Pischke, J.-S. (2009). Mostly harmless econometrics: an Empiricist's companion. Princeton: Princeton University Press.

Anselin, L. (1988). Spatial econometrics: methods and models. Dordrecht: Kluwer Academic Publishers.

Atreya, A., Ferreira, S., & Kriesel, W. (2013). Forgetting the flood? an analysis of the flood risk discount over time. Land Economics, 89(4), 577–596.

Barneveld, H. J., Silander, J. T., Sane, M., & Malnes, E. (2008). Application of satellite data for improved flood forecasting and mapping. In 4th International Symposium on Flood Defence: Managing Flood Risk, Reliability and Vulnerability, Toronto, Ontario, Canada (pp. 77-1–77-8).

Bin, O., & Landry, C. E. (2013). Changes in implicit flood risk premiums: empirical evidence from the housing market. Journal of Environmental Economics and Management, 65(3), 361–376.

Bin, O., & Polasky, S. (2004). Effects of flood hazards on property values: evidence before and after Hurricane Floyd. Land Economics, 80(4), 490–500.

Bin, O., Crawford, T. W., Kruse, J. B., & Landry, C. E. (2008a). Viewscapes and flood hazard: coastal housing market response to amenities and risk. Land Economics, 84(3), 434–448.

Bin, O., Krusc, J. B., & Landry, C. E. (2008b). Flood hazards, insurance rates, and amenities: evidence from the coastal housing market. The Journal of Risk and Insurance, 75(1), 63–82.

Brueckner, J. K. (2011). Lectures on urban economics. Cambridge: The MIT Press.

Caldera Sánchez, A., & Andrews, D. (2011). To move or not to move: what drives residential mobility rates in the OECD? OECD economics department working papers No. 846. Paris: OECD Publishing.

Card, D., & Krueger, A. B. (2000). Minimum wages and employment: a case study of the fast-food industry in New Jersey and Pennsylvania: reply. American Economic Review, 90(5), 1397–1420.

City of Pori (2009). Pori's urban flood 12.8.2007: Final report (in Finnish).

Conroy, S. J., & Milosch, J. L. (2011). An estimation of the coastal premium for residential housing prices in San Diego County. The Journal of Real Estate Finance and Economics, 42(2), 211–228.

Daniel, V. E., Florax, R. J. G. M., & Rietveld, P. (2009). Flooding risk and housing values: an economic assessment of environmental hazard. Ecological Economics, 69(2), 355–365.

Dubin, R. A. (1988). Estimation of regression coefficients in the presence of spatially autocorrelated error terms. The Review of Economics and Statistics, 70(3), 466–474.

Dubrovin, T., Keskisarja, V., Sane, M., & Silander, J. (2007). Flood management in Finland–introduction of a new information system. In Hydroinformatics: proceedings of the 7th international conference (Vol. 1, pp. 139–146). Nice: Chennai, Research Publishing Services.

European Communities. (2000). Directive 2000/60/EC of the european parliament and of the council of 23 october 2000 establishing a framework for community action in the field of water policy. Official Journal of the European Communities, 43(L 327), 1–73.

Gerdes, J. (2012). What copenhagen can teach cities about adapting to climate change. Forbes. http://www.forbes.com/sites/justingerdes/2012/10/31/what-copenhagen-can-teach-cities-about-adapting-to-climate-change/. Accessed 27 May 2014.

Harrison, D. M., Smersh, G. T., & Schwartz, A. L. (2001). Environmental determinants of housing prices: the impact of flood zone status. Journal of Real Estate Research, 21(1), 3–20.

Himanen, S. (2011). Floods and protection in Rovaniemi (presentation slides). City of Rovaniemi.

Huttunen, K., Pirttilä, J., & Uusitalo, R. (2013). The employment effects of low-wage subsidies. Journal of Public Economics, 97, 49–60.

IPCC. (2014). Impacts, adaptation, and vulnerability. Part B: regional aspects. In V. R. Barros, C. B. Field, D. J. Dokken, M. D. Mastrandrea, K. J. Mach, T. E. Bilir, M. Chatterjee, K. L. Ebi, Y. O. Estrada, R. C. Genova, B. Girma, E. S. Kissel, A. N. Levy, S. MacCracken, P. R. Mastrandrea, & L. L. White (Eds.), Contribution of working group II to the fifth assessment report of the intergovernmental panel on climate change. Cambridge: Cambridge University Press.

Kahneman, D., & Tversky, A. (1979). Prospect theory: an analysis of decision under risk. Econometrica, 47(2), 263–292.

Kasperson, R. E., Renn, O., Slovic, P., Brown, H. S., Emel, J., Goble, R., et al. (1988). The social amplification of risk: a conceptual framework. Risk Analysis, 8(2), 177–187.

Kiel, K. A., & McClain, K. T. (1995). The effect of an incinerator siting on housing appreciation rates. Journal of Urban Economics, 37(3), 311–323.

Koskinen, M. (ed.) (2006). Pori's floods – managed risks? (in Finnish), Environmental centre of southwest Finland, finnish environment no.19-2006.

Lamond, J. E. (2008). The impact of flooding on the value of residential property in the UK. University of Wolverhampton.

Lee, B., O'Brien, J., & Sivaramakrishnan, K. (2008). An analysis of financial analysts' optimism in long-term growth forecasts. Journal of Behavioral Finance, 9(3), 171–184.

Leggett, C. G., & Bockstael, N. E. (2000). Evidence of the effects of water quality on residential land prices. Journal of Environmental Economics and Management, 39(2), 121–144.

LeSage, J. P. (2008). An introduction to spatial econometrics. Revue d'économie industrielle, 123, 19–44.

LeSage, J. P., & Pace, R. K. (2009). Introduction to spatial econometrics. Boca Raton: Chapman & Hall/CRC.

Marttila, V., Granholm, H., Laanikari, J., Yrjölä, T., Aalto, A., Heikinheimo, P., et al. (Eds.). (2005). Finland's national strategy for adaptation to climate change. Ministry of agriculture and forestry of Finland.

McCluskey, J. (1998). Environmental contamination and compensation. University of California, Berkeley.

McCluskey, J., & Rausser, G. C. (2000). Hazardous waste sites and housing appreciation rates. CUDARE working papers No. 906 department of agricultural & resource economics. Berkeley: University of California.

Michelsson, R. (2008). Tulvavahinkojen korjauskustannukset (The repair cost of flood damages) (Master's thesis). Helsinki university of technology.

Parjanne, A., & Huokuna, M. (Eds.) (2012). Flood preparedness in building – guide for determining the lowest building elevations in shore areas (in Finnish), Finnish environment institute (SYKE), Environment Guide 2014.

Peltonen, A., Haanpää, S., & Lehtonen, S. (2006). EXTREFLOOD - flood risk management in urban planning (in Finnish), the Finnish environment report 22/2006. Helsinki: Ministry of the Environment.

Perrels, A., Veijalainen, N., Jylhä, K., Aaltonen, J., Molarius, R., Porthin, M., et al. (2010). The implications of climate change for extreme weather events and their socio-economic consequences in Finland (Vol. 158). VATT (Government institute for economic research).

Pope, J. C. (2006). Limited attention, asymmetric information, and the hedonic model. University of North Carolina.

Pope, J. C. (2008a). Buyer information and the hedonic: the impact of a seller disclosure on the implicit price for airport noise. Journal of Urban Economics, 63(2), 498–516.

Pope, J. C. (2008b). Do seller disclosures affect property values? buyer information and the hedonic model. Land Economics, 84(4), 551–572.

Rosen, S. (1974). Hedonic prices and implicit markets: product differentiation in pure competition. Journal of Political Economy, 82(1), 34–55.

Sane, M., Dubrovin, T., & Huokuna, M. (2008). A GIS-based approach for flood risk mapping - extending the national flood information system. In 4th international symposium on flood defence : managing flood risk, reliability and vulnerability : Toronto, Ontario, Canada, May 6–8, 2008. London, Ontario: Institute for Catastrophic Loss Reduction.

Scherer, C. W., & Cho, H. (2003). A social network contagion theory of risk perception. Risk Analysis, 23(2), 261–267.

Sheppard, S. (1999). Chapter 41 hedonic analysis of housing markets. In Chesire, P., & Mills, E. S. (Ed.), Handbook of regional and urban economics (3rd vol., pp. 1595–1635). Amsterdam: Elsevier.

Silander, J., Vehviläinen, B., Niemi, J, Arosilta, A., Dubrovin, T., Jormola, J., Keskisarja, V., Keto, A., Lepistö, A., Mäkinen, R., Ollila, M., Pajula, H., Pitkänen, H., Sammalkorpi, I., Suomalainen, M., & Veijalainen, N. (2006). Climate change adaptation for hydrology and water resources. FINADAPT working Paper 6, Finnish environment institute mimeographs 336, Helsinki.

Tversky, A., & Kahneman, D. (1973). Availability: a heuristic for judging frequency and probability. Cognitive Psychology, 5(2), 207–232.

Tversky, A., & Kahneman, D. (1974). Judgment under uncertainty: heuristics and biases. Science, 185(4157), 1124–1131.

Tversky, A., & Kahneman, D. (1986). Rational choice and the framing of decisions. The Journal of Business, 59(4), 251–278.

Votsis, A. (2014). Ecosystems and the spatial morphology of urban residential property value: a multi-scale examination in Finland. MPRA Paper No. 53742. Munich: Munich University Library.
Acknowledgments
We are indebted to Mikko Sane at the Finnish Environment Institute (SYKE) for providing the GIS files of the flood maps and Johannes Bröcker at the University of Kiel for advice in conceptualizing the study. We also thank the anonymous referees of this journal for the valuable comments provided.
Conflict of Interest
The authors declare that they have no conflict of interest.
Funding
This study was funded by the Academy of Finland as part of the RECAST project (decision number 140797) and by Helsinki University Centre for Environment (HENVI) as part of the ENSURE project.
About this article
Cite this article
Votsis, A., Perrels, A. Housing Prices and the Public Disclosure of Flood Risk: A Difference-in-Differences Analysis in Finland. J Real Estate Finan Econ 53, 450–471 (2016). https://doi.org/10.1007/s11146-015-9530-3
Published:

Issue Date:

DOI: https://doi.org/10.1007/s11146-015-9530-3
Keywords
Flood risks

Housing market

Information effect

Information gaps