Abstract
Seminal work by Grenadier (J. Financ. Econ. 38:297–331, 1995) derived a set of hypotheses about the pricing of different lease lengths in different market conditions. Whilst there is a compelling theoretical case for and a strong intuitive expectation of differential pricing of different lease maturities, to date the empirical evidence is inconclusive. Drawing upon a substantial database of commercial lettings in central London (West End and City of London) over the last decade, we investigate the relationship between rent and lease maturity. In particular, we test whether building quality, credit risk and micro-location variables omitted in previous studies provide empirical results that are more consistent with the theoretical and intuitive a priori expectations. It is found that initial leases rates are upward sloping with the lease term and that this relationship is constant over time.
This is a preview of subscription content,
to check access.
Access this article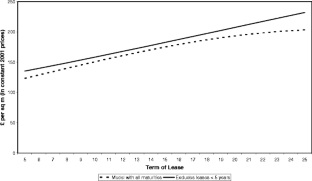 Notes
Office for the Deputy Prime Minister

Though it is noted that their model has very low explanatory power.

Information on credit ratings for a tenant are available for a subset of the sample. More details on this are provided in the next section.

Of course, it is likely that many leases contained in the Estates Gazette data will be the same of those in the CBRE data set.

The data used by Gunnelin and Soderberg is highly representative of the Stockholm market and illustrates the interesting institutional differences that exist between office markets in Europe.

The implicit price deflator of final demand is one measure of economy wide inflation that more explicitly captures price changes for corporate entities than does a measure of consumer inflation (such as the CPI). It is sourced from the UK National Accounts data.

F(10,908) = 0.773, p-value = 0.66

F(20,897) = 1.037, p-value = 0.414.

F(11,897) = 1.651, p-value = 0.08. Note that a test that all term structure variables are jointly equal to zero is rejected with F(22,897) = 5.118, p-value = 0.00

That is, we assume lease breaks are always exercised or at least used to renegotiate a new contract.

Results not reported but are available on request from the authors.

Note, we do not use SIC classification codes as we found that this did not provide a sufficient level of distinction based on anecdotal discussions with leasing agents.

Both credit worthiness variables were evaluated, and found to convey essentially the same information. The model using the detriment score had a marginally higher adjusted R2 coefficient and is included in the preferred model presented in Table 6.

The t-statistic for the coefficient of the residual term was 0.3785, which is not significantly different from zero using the standard normal tables.
References
Ambrose, B., Hendershott, P., & Klosek, M. (2002). Pricing upward-only adjusting leases. Journal of Real Estate Finance and Economics, 25, 33–49.

Booth, P., & Walsh, D. (2001a). An option pricing approach to valuing upward only rent review properties with multiple reviews. Insurance: Mathematics and Economics, 28, 151–171.

Booth, P., & Walsh, D. (2001b). The application of financial theory to the pricing of upward-only rent reviews. Journal of Property Research, 18, 69–83.

Clapham, W., & Gunnelin, A. (2003). Rental expectations and the term structure of lease rates. Real Estate Economics, 33, 647–670.

Davidson, R., & MacKinnon, J. G. (1993). Estimation and inference in econometrics. New York: Oxford University Press.

Englund, P., Gunnelin, A., Hoesli, M., & Söderberg, B. (2004). Implicit forward rents as predictors of future rents. Real Estate Economics, 32, 183–215.

Grenadier, S. R. (1995). The valuation of leasing contracts: a real options approach. Journal of Financial Economics, 38, 297–331.

Gunnelin, Å., & Söderberg, B. (2003). Term structures in the office rental market in Stockholm. Journal of Real Estate Finance and Economics, 26, 241–265.

Hendershott, P., & Ward, C. (2003). Valuing and pricing retail leases with renewal and overage options. Journal of Real Estate Finance and Economics, 26, 223–240.

Miceli, T., & Sirmans, C. F. (1995). Contracting with spatial externalities and agency problems: the case of retail leases. Regional Science and Urban Economics, 25, 355–372.

McCann, P., & Ward, C. (2003). Real estate rental payments: application of stock-inventory modelling. The Journal of Real Estate Finance and Economics, 28, 273–292.

Mooradian, R., & Yang, S. (2000). Cancellation strategies in commercial real estate leasing. Real Estate Economics, 28, 65–88.

ODPM (2004). Monitoring the code of practice for commercial leases: interim report. The University of Reading, Reading and Office of the Deputy Prime Minister, London.

Stanton, W., & Wallace, N. (2004). An empirical test of a contingent claims lease valuation model. Working Paper, Haas School of Business U.C. Berkeley.

Wheaton, W. C. (2000). Percentage rent in retail leasing: the alignment of landlord–tenant interests. Real Estate Economics, 28, 185–204.
Acknowledgements
The authors would like to thank Peter Damesick, Richard Holberton and Ian Kissane for providing helpful comments in addition to the data used in this study, and participants at the 2005 European Real Estate Society Annual Meeting, the 2005 Asian Real Estate Society Annual Meeting, the 2006 Cambridge-Maastricht-MIT Real Esate Symposium and, in particular, our discussant David Ling and an anonymous referee.
About this article
Cite this article
Bond, S.A., Loizou, P. & McAllister, P. Lease Maturity and Initial Rent: Is There a Term Structure for UK Commercial Property Leases?. J Real Estate Finan Econ 36, 451–469 (2008). https://doi.org/10.1007/s11146-007-9096-9
Received:

Accepted:

Published:

Issue Date:

DOI: https://doi.org/10.1007/s11146-007-9096-9
Keywords
JEL Classifications