Abstract
The presented investigation is focused on the analysis of Ni species formed on microporous (zeolites MFI and FAU) and mesoporous materials (Al-MCM-41 and SBA-15) and alumina supports and their catalytic behavior in the dry reforming of methane. The paper lays emphasis on the relationship between the catalytic behavior of Ni-based catalysts and their textural/structural properties. Ni-based catalysts were prepared by wet impregnation (11 wt% of Ni) followed by calcination in air and reduction in hydrogen. The properties of Ni-based catalysts were also compared prior and after the catalytic tests. The critical role was played by the high value of the specific surface area and the high strength of the interaction between the Ni species and the support, which both determined the high dispersion and stability of metal Ni0 particles. Ni–Al–MCM-41 and Ni–SBA-15 showed the values of the conversion of CO2 and CH4 above 90% (stable during 12 h). Slightly lower values of the conversion of CO2 and CH4 were observed over Ni–Al2O3 (also stable during 12 h). In contrast to these materials, Ni–MFI and Ni–FAU exhibited the worse metallic Ni0 particles dispersion and very bad catalytic behavior.
This is a preview of subscription content, log in to check access.
Access options
Buy single article
Instant access to the full article PDF.
US$ 39.95
Price includes VAT for USA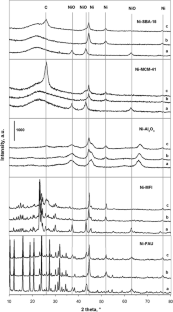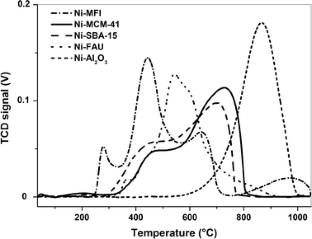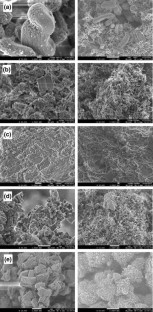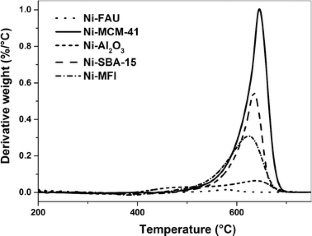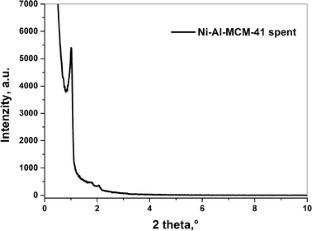 Acknowledgements
The authors gratefully thank to the European Social Fund in the Czech Republic for financial support of the project 'Router' Development of Research Teams at the University of Pardubice (Project No. CZ.1.07/2.3.00/30.0058). We also thank the Ministry of Science and Education of Spain for financial support (Projects ENE2011-24412 and CTQ2014-60524-R).
About this article
Cite this article
Drobná, H., Kout, M., Sołtysek, A. et al. Analysis of Ni species formed on zeolites, mesoporous silica and alumina supports and their catalytic behavior in the dry reforming of methane. Reac Kinet Mech Cat 121, 255–274 (2017). https://doi.org/10.1007/s11144-017-1149-3
Received:

Accepted:

Published:

Issue Date:
Keywords
Dry reforming

Methane

Nickel

Catalysis

Particle size