Abstract
Perillyl alcohol preparation by the rearrangement of β-pinene oxide was studied. Sn-MCM-41, USY and FeCl3 were used as catalysts. The solvent influence was tested using basic polar solvents—dioxane, acetonitrile, DMF, DMA, DMSO and N-methyl pyrrolidone. It was found that the solvent has significant influence on the selectivity: Sn-MCM-41 was in previous works used for β-pinene oxide rearrangement for the preparation of myrtenal or myrtenol in acetonitrile or nitromethane as solvent. When DMSO was used, a high yield of perillyl alcohol was obtained. The highest selectivity to perillyl alcohol (66 %) was obtained when Sn-MCM-41 was used as a catalyst under the following conditions: 70 °C, 10 wt% of catalyst, volume ratio β-pinene oxide : solvent = 1:8. The selectivity may be slightly increased by decrease of ratio β-pinene oxide : solvent in the case of Sn-MCM-41. Moreover, Sn-MCM-41 may be reused at least four times without any loss of selectivity or activity.
Access options
Buy single article
Instant access to the full article PDF.
US$ 39.95
Tax calculation will be finalised during checkout.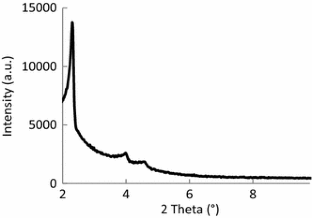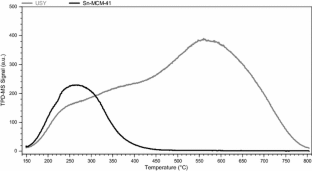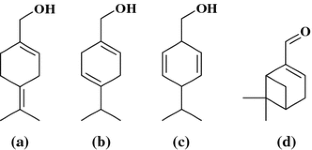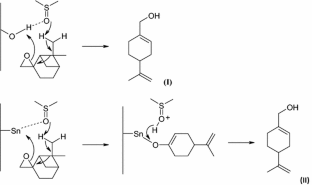 References
1.

Chastain DE, Sanders WE, Sanders CC (1992) US5110832A

2.

Corma A, Renz M, Susarte M (2009) Top Catal 52(9):1182–1189

3.

de la Torre O, Renz M, Corma A (2010) Appl Catal A 380(1–2):165–171

4.

Maki-Arvela P, Kumar N, Diaz SF, Aho A, Tenho M, Salonen J, Leino AR, Kordas K, Laukkanen P, Dahl J, Sinev I, Salmi T, Murzin DY (2013) J Mol Catal A 366:228–237

5.

Li Q, Wang X, Yin D, Xiao Y, Duan C (2002) Xiangliao Xiangjing Huazhuangpin 2:10–12

6.

Lusticka I, Jansa P, Abelova L, Vyskocilova-Leitmannova E, Cerveny L (2013) React Kinet Mech Cat 108(1):69–79

7.

Chastain DE, Mody N, Majetich G (1999) US5994598A

8.

Stekrova M, Paterova-Dudkova I, Vyskocilova-Leitmannova E, Cerveny L (2012) Res Chem Intermed 38(8):2075–2084

9.

Gutmann V (1976) Coord Chem Rev 18(2):225–255

10.

Zimmermann Y, Spange S (2002) J Phys Chem 106:12524–12530

11.

Haw JB, Nikolas JB, Xu T, Beck LW, Ferguson DB (1996) Acc Chem Res 29:259–267

12.

Haw JF, Xu T, Nicholas JB, Gohuen PW (1997) Nature 389:832–835

13.

Luo W, Deka U, Beale AM, van Eck ERH, Bruijnincx PCA, Weckhuysen BM (2013) J Catal 301:175–186

14.

Schnapperelle I, Bach T (2013) ChemCatChem 5(11):3232–3236

15.

Hronec M, Fulajtarova K, Liptaj T (2012) Appl Catal A 437–438:104–111

16.

Fajt V, Kurc L, Cerveny L (2008) Int J Chem Kinet 40(5):240–252

17.

Vrbkova E, Vyskocilova E, Cerveny L (2015) React Kinet Mech Cat 114(2):675–684

18.

Emeis CA (1993) J Catal 141:347–354

19.

Cox BG (2013) Acids and bases: solvent effects on acid-base strength. OUP, Oxford

20.

Michigan State University, Department of Chemistry: virtual textbook of organic chemistry. http://www.cem.msu.edu/~reusch/OrgPage/solvent.htm. Accessed 25 April 2015

21.

Selli E, Forni L (1999) Microporous Mesoporous Mater 31:129–140

22.

Lónyi F, Valyon J (2001) Microporous Mesoporous Mater 47:293–301

23.

Garnovskii AD, Kharisov BI (1999) Direct synthesis of coordination and organometallic compounds. Elsevier, Netherlands

24.

Cotton SA (1972) Coord Chem Rev 8:185–223
About this article
Cite this article
Vyskočilová, E., Malý, M., Aho, A. et al. The solvent effect in β-pinene oxide rearrangement. Reac Kinet Mech Cat 118, 235–246 (2016). https://doi.org/10.1007/s11144-016-0994-9
Received:

Accepted:

Published:

Issue Date:
Keywords
Sn-MCM-41

Perillyl alcohol

β-Pinene oxide

Solvent effect