Abstract
In Public Governance and the Classical Liberal Perspective, Aligica et al. (2019) highlight the importance of conducting institutional analysis and experimentation as a means toward robust, adaptable polycentric governance. For policy researchers, engaging in the practice of polycentric political economy means analyzing the role of alternative governance mechanisms at the constitutional, policy, and operational levels of social interaction. In order to demonstrate how policymakers can engage in institutional analysis at each level, we examine the case study of state regulatory reform. We find that the pursuit of marginal improvements within an existing governance framework can contribute to institutional reform if researchers are focused on long-run institutional change. This requires looking at policy research as part of a process aimed at institutional experimentation and the reimagination of governance frameworks within a polycentric environment where researchers engage in coproduction of an adaptive and sustainable governance system.
Access options
Buy single article
Instant access to the full article PDF.
USD 39.95
Price includes VAT (USA)
Tax calculation will be finalised during checkout.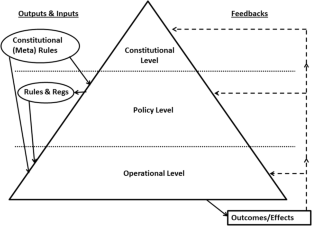 Notes
1.

Idaho Statutes Title 67 State Government and State Affairs, Chapter 52 Idaho Administrative Procedures Act Section 67–5292.

2.

Idaho Executive Order No. 2019–02

3.

Idaho Executive Order No. 2019–01

4.

Coffey, McLaughlin and Peretto find that if federal regulations remained at 1980 levels through 2012, GDP would have been $4 trillion, or 25% larger in 2012.

5.

6.

7.

Soft law processes, like their hard law counterparts, are also subject to influence by interest groups and other forms of rent-seeking
References
Adams, A. J. (2018). Transitioning pharmacy to "standard of care" regulation: Analyzing how pharmacy regulates relative to medicine and nursing. Research in Social and Administrative Pharmacy, 15(10), 1230–1235.

Aligica, P. D., Boettke, P. J., & Tarko, V. (2019). Public governance and the classical-Liberal perspective. Oxford University Press.

Aligica, P. D., & Tarko, V. (2012). Polycentricity: From Polanyi to Ostrom, and beyond. Governance, 25(2), 237–262.

Al-Ubaydli, O. A., & Patrick, M. (2014). A numerical database on industry-specific regulations for all U.S. industries and Federal Regulations, 1997–2012. Mercatus Working Paper. Mercatus Center at George Mason University.

Bailey, J., & Thomas, D. (2015). Regulating away competition: The effect of regulation on entrepreneurship and employment. Mercatus Working Paper. Mercatus Center at George Mason University.

Boettke, P. J., Coyne, C. J., & Leeson, P. T. (2006). High priests and lowly philosophers: The Battle for the soul of economics. Case Western Reserve Law Review, 56(3), 551–568.

Boettke, P. J., & Fink, A. (2011). Institutions first. Journal of Institutional Economics, 7(4), 499–504.

Broughel, J. (2019) "Idaho Repeals its Regulatory Code." The Bridge. The Mercatus Center at George Mason University, May 9.

Broughel, J., & Sherouse, O. (2016). A snapshot of Kentucky regulation in 2015. Mercatus Policy Brief., (September 2016).

Buchanan, J. M. (1990). The domain of constitutional economics. Constitutional Political Economy, 1(1), 1–18.

Chambers, D. (2018). The regressive effects of Federal Regulation and a roadmap for reform. Testimony before the Senate Committee on Homeland Security and Governmental Affairs., (September 27).

Chambers, D., McLaughlin, P. A. and Stanley, L. (forthcoming) "Regulation and Poverty: An Empirical Examination of the Relationship between the incentive of Federal Regulation and the Occurrence of Poverty across the States." Public Choice

Coffey, B., McLaughlin, P. A., & Peretto, P. (2016). "The cumulative cost of regulations" Mercatus working paper. Mercatus Center at George Mason University.

Haeffele, S., & Hobson, A. (Eds.). (2019). The need for humility in policymaking: Lessons from regulatory policy. London: Rowman & Littlefield International.

Hayek, F. A. (1945). The use of knowledge in society. American Economic Review, 35(4), 519–530.

Hagemann, R., Skees, J., & Thierer, A. D. (2018). Soft law for hard problems: The governance of emerging Technologies in an Uncertain Future. Colorado Technology Law Journal, 17(1), 37–130.

Huddleston, J. (2019) "Soft law and emerging Technology in the States." The Journal of the James Madison Institute.

Jones, L. (2015). Cutting red tape in Canada: A regulatory reform model for the United States? Mercatus Research. Mercatus Center at George Mason University.

Knight, B. (2019). How to build a good regulatory sandbox: Four principles to help policymakers get it right. The Bridge. The Mercatus Center at George Mason University.

McGinnis, M. D., & Walter, J. M. (2010). Foundations of the Ostrom workshop: Institutional analysis, Polycentricity, and self-governance of the commons. Public Choice, 143, 293–301.

North, D. C. (1990). Institutions, institutional chance and economic performance. Cambridge: Cambridge University Press.

Ostrom, E. (1990). Governing the commons: The evolution of institutions for collective action. Cambridge University Press.

Ostrom, E. (2005). Understanding institutional diversity. Princeton, NJ: Princeton University Press.

Ostrom, E. (2009). Beyond markets and states: Polycentric governance of complex economic systems. The American Economic Review, 100(3), 641–672.

Ostrom, E., Ostrom, V., Sabetti, F., & Aligica, P. D. (2014). Choice, rules and collective action: The Ostroms on the study of institutions and governance. Colchester, UK: ECPR Press.

Ostrom, V., and Allen, B. (2007) The Intellectual Crisis in American Public Administration. 3rd ed. ed. the University of Alabama press.

Runst, P., & Wagner, R. E. (2011). Choice, emergence, and constitutional process: A framework for positive analysis. Journal of Institutional Economics, 7(1), 131–145.

Sewell, C. (2019) "Gov. Little Takes First Step to Eliminate 'Excessive Regulations at All Levels of Government.'" Idaho Statesman. January 31. https://www.idahostatesman.com/news/politics-government/state-politics/article225352410.html.

Sobel, R. S. and Dove, J. A. (2012) "State Regulatory Review: A 50 State Analysis of Effectiveness." Working Paper 12–18. Mercatus Center at George Mason University.

The White House. 1997. "The framework for global electronic commerce." The Clinton Administration. https://clintonwhitehouse4.archives.gov/WH/New/Commerce/read.html.

Tullock, G. (2004) [1964] Bureaucracy, edited and with an introduction by Charles K.Rowley. Indianapolis: Liberty Fund.
Additional information
Publisher's note
Springer Nature remains neutral with regard to jurisdictional claims in published maps and institutional affiliations.
About this article
Cite this article
Hobson, A., Norcross, E. A call for institutional analysis: practicing polycentric political economy in policy research. Rev Austrian Econ 34, 347–359 (2021). https://doi.org/10.1007/s11138-019-00491-8
Keywords
Institutions

Role of economists

Public policy

Political economy
JEL codes