Abstract
This paper addresses questions raised by Storr, Haeffele-Balch and Grube in their book Community Revival in the Wake of Disaster: Lessons in Local Entrepreneurship (2015). I review the reasons why the book is timely, especially the rising number and costs of disasters globally and the shifting norms on the role of government in disaster management. Social capital serves as a critical engine for resilience to crisis, and I move to demonstrate its importance in the mitigation and recovery stages. Then, I raise a research agenda based on their writings, focusing on building quantitative evidence to match the qualitative data already gathered by the authors. Specifically, I focus on testing claims about the definition and density of entrepreneurs, the role of polycentricity, and the public policy pools that would build entrepreneurial talent in vulnerable communities.
This is a preview of subscription content, log in to check access.
Access options
Buy single article
Instant access to the full article PDF.
US$ 39.95
Price includes VAT for USA
Subscribe to journal
Immediate online access to all issues from 2019. Subscription will auto renew annually.
US$ 99
This is the net price. Taxes to be calculated in checkout.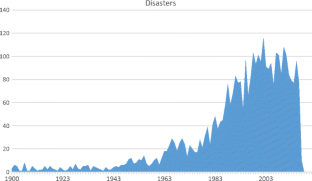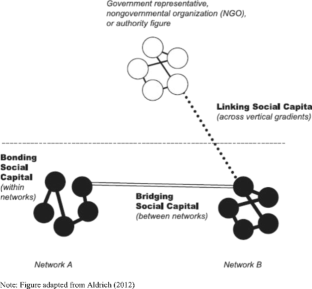 References
Aldrich, D. P. (2011). The power of people: Social capital's role in recovery from the 1995 Kobe earthquake. Natural Hazards, 56(3), 595–611.

Aldrich, D. P. (2012). Building resilience: Social Capital in Post Disaster Recovery. Chicago: University of Chicago Press.

Aldrich, D. P., & Sawada, Y. (2015). The physical and social determinants of mortality in the 3.11 tsunami. Social Science and Medicine, 124, 66–75.

Aldrich, D. P. (2016). It's who you know: Factors driving recovery from Japan's 11 march 2011 disaster. Public Administration, 94(2), 399–413.

Aldrich, D. P. (2017) Trust deficit: Japanese communities and the challenge of rebuilding Tohoku. Japan Forum, 29(1), 39–52.

Bourdieu, P. (1986). The forms of capital. In J. G. Richardson (Ed.), Handbook for the theory and research for the sociology of education (pp. 241–258). New York: Greenwood Press.

Chamlee-Wright, E. (2007). The long road back: Signal noise in the post-Katrina context. The Independent Review, 12(2), 235–259.

Chamlee-Wright, E. (2010). The cultural and political economy of recovery: Social learning in a post-disaster environment. New York: Routledge.

Granovetter, M. (1983). The strength of weak ties: A network theory revisited. Sociological Theory, 1(1), 201–233.

Hurlbert, J., Haines, V. A., & Beggs, J. (2000). Core networks and tie activation: What kinds of routine networks allocated resources in nonroutine situations? American Sociological Review, 65, 598–618.

Iwasaki, K., Sawada, Y., & Aldrich, D. P. (2016). Social capital as a shield against anxiety among displaced residents from Fukushima. Northeastern University Security and Resilience Studies Program Working Paper.

Kage, R. (2010). Civic engagement in postwar Japan: The Revival of a defeated society. London: Cambridge University Press.

Putnam, R. (1995). Bowling alone: America's declining social capital. Journal of Democracy, 6(1), 65–78.

Roberts, P. (2013). Disasters and the American state: How politicians, bureaucrats, and the public prepare for the unexpected. New York: Cambridge University Press.

Szreter, S., & Woolcock, M. (2004). Health by association? Social capital, social theory, and the political economy of public health. International Journal of Epidemiology, 33, 650–667.

Vale, L., & Campanella, T. (2005). The resilient city: How modern cities recover from disaster. Oxford: Oxford University Press.

Varshney, A. (2001). Ethnic conflict and civil society: India and beyond. World Politics, 53(3), 362–398.
About this article
Cite this article
Aldrich, D.P. A research agenda for disaster entrepreneurship. Rev Austrian Econ 31, 457–465 (2018). https://doi.org/10.1007/s11138-017-0393-0
Keywords
Social capital

Exit vs. voice

Signal to noise

Entrepreneurs

Disaster

Tohoku
JEL classification