Abstract
Determining good boundaries for governance jurisdictions is among the most difficult problems in political theory and political philosophy. But to whom the rules of a given jurisdiction applies is a problem that afflicts private as well as public governance. Clubs have boundaries no less than cities, states, or nations. This essay applies Hayek's conception of competition as a discovery procedure to boundary problems, arguing that good jurisdictional boundaries are subject to a great deal of contingent variation according to particular the conditions of time and place. Philosophical speculation, therefore, cannot fully replace a trial and error process that facilitates social learning about where good boundaries fall. I outline the features of good boundaries that make them subject to such variation, then evaluate two criteria for evaluating whether existing jurisdictional boundaries are good: one that emphasizes ex ante consent to boundaries, and one that focuses on the ability of individuals to exit from jurisdictions ex post, arguing that the exit-focused approach is underappreciated.
Access options
Buy single article
Instant access to the full article PDF.
US$ 39.95
Tax calculation will be finalised during checkout.
Subscribe to journal
Immediate online access to all issues from 2019. Subscription will auto renew annually.
US$ 79
Tax calculation will be finalised during checkout.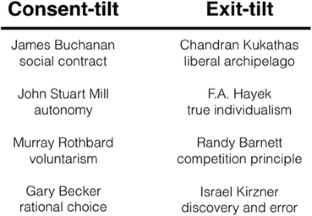 Notes
1.

Note that these two perspectives do not apply only to boundaries. They are evaluative criteria for judging all sorts of qualities of institutions.

2.

The reason I say they are similar is that an exit tilt implies, like Levy's pluralism, some minimal commitment to polycentricity, a commitment that is at best accidental in both rationalist and consent tilt liberalism. But there are several differences between our divisions. My distinction concerns the formation and dissolution of jurisdictions and movement between them, not how local they are, and so applies to centralized states and more local groups equally. Moreover, centralized states may work to empower individual exit rather than merely constrain it. Finally, the problems that Levy (2015) identifies with calcification of associations (p. 47) are actually problems of too much ex ante consent, not problems of too much exit, so the tough cases at the extremes will be different for our taxonomies.

3.

Though as Benson's (1990) work demonstrates, polycentric legal systems tend to converge on certain universal norms that take diverse local forms.

4.

This feature of exit is wholly complementary with ex ante consent, in that allowing individuals to sort into jurisdictions with rules they prefer makes widespread consent more likely.
References
Acemoglu, D., & Robinson, J. A. (2012). Why nations fail: The origins of power, prosperity, and poverty. New York: Crown Publishing Group.

Benson, B. L. (1989). The spontaneous evolution of commercial law. Southern Economic Journal, 55(3), 644–661.

Benson, B. L. (1990). The enterprise of law: Justice without the state. San Francisco: Pacific Research Institute.

Benson, B. L. (1999). To arbitrate or litigate: That is the question. European Journal of Law and Economics, 8, 91–151.

Benson, B. L. (2011). The law merchant's story: How romantic is it? In P. Zumbansen & G.-P. Calliess (Eds.), Law, economics and evolutionary theory (pp. 68–87). London: Edward Elgar.

Buchanan, J. M. (1962). Politics, policy, and the pigovian margins. Economica, 29(113), 17–28.

Buchanan, J. M. (1965). An economic theory of clubs. Economica, 32(125), 1–14.

Buchanan, J. M. (1974). Review of the machinery of freedom: Guide to a radical capitalism. Journal of Economic Literature, 12(3), 914–915.

Buchanan, J. M. (1975). The limits of liberty: Between anarchy and leviathan. Chicago: University of Chicago Press.

Buchanan, J. M., & Tullock, G. (1962). The calculus of consent: Logical foundations of constitutional democracy. Ann Arbor: University of Michigan Press.

Eichenberger, R., & Frey, B. (2006). Functional, overlapping, competing jurisdictions. In E. Ahmad & G. Brosio (Eds.), Handbook of fiscal federalism (pp. 154–181). Cheltenham UK: Edward Elgar.

Foldvary, F. E., & Klein, D. B. (2002). The half-life of policy rationales: How new technology affects old policy issues. Knowledge, Technology and Policy, 15(3), 82–92.

Freidman, D. (1973). The machinery of freedom: Guide to a radical capitalism. New York: Harper.

Hayek, F. A. (1945). The use of knowledge in society. American Economic Review, 35(4), 519–530.

Hayek, F. A. (1960). The constitution of liberty. Chicago: University of Chicago Press.

Hayek F. A. (1968). Competition as a discovery procedure. in F.A. Hayek, 1978, New studies in philosophy, politics, and economics. Chicago: University of Chicago Press.

Hayek, F. A. (1973). Law, legislation, and liberty, vol. I: Rules and order. Chicago: University of Chicago Press.

Hayek, F. A. (1988). The fatal conceit: The errors of socialism. Chicago: University of Chicago Press.

Krugman, P. (2011). Mr. Keynes and moderns. Address to the Cambridge conference commemorating the 75th anniversary of the publication of the general theory of employment, interest, and money. Accessed at https://www.princeton.edu/~pkrugman/keynes_and_the_moderns.pdf. Accessed on August 22, 2016.

Kukathas, C. (2007). The liberal archipelago: A theory of diversity and freedom. New York: Oxford University Press.

Kuran, T. (1995). Private truths, public lies: The social consequences of preference falsification. Cambridge: Harvard University Press.

Leoni, B. (1961). Freedom and the law. Los Angeles: Nash Publishing.

Levy, J. (2015). Rationalism, pluralism, and freedom. New York: Oxford University Press.

Lomasky, L. (2005). Libertarianism at twin Harvard. Social Philosophy and Policy, 22(1), 178–199.

Martin, A. (2015). Degenerate cosmopolitanism. Social Philosophy and Policy, 32(1), 74–100.

Nozick, R. (1974). Anarchy, state and utopia. New York: Basic Books.

Ostrom, E. (1976). Police consolidation and economies-of-scale: Do they go together? Police Service Study Technical Reports: Indiana University Workshop in Political Theory and Policy Analysis.

Rothbard, M. N. (1973). For a new liberty: The libertarian manifesto. London: Macmillian Publishers.

Stringham, E. P. (2015). Private governance: Creating order in economic and social life. New York: Oxford University Press.

Stringham, E. P., & Zywicki, T. J. (2011). Hayekian anarchism. Journal of Economic Behavior and Organization, 78(3), 290–301.

Tebble, A. J. (2016). Epistemic liberalism. New York: Routledge.

Wagner, R. (2007). Fiscal sociology and the theory of public finance: An exploratory essay. Cheltenham: Edward Elgar.
About this article
Cite this article
Martin, A. The limits of liberalism: Good boundaries must be discovered. Rev Austrian Econ 31, 265–276 (2018). https://doi.org/10.1007/s11138-017-0381-4
Keywords
Clubs

Competition

Governance

Jurisdictions
JEL classifications