Abstract
This paper will focus on the ambitious plan for regulation embodied in the Dominion Fisheries Act of 1868, a law passed by the Canadian federal parliament in its very first year of existence. The 1868 law was intended to bring the nation's fisheries firmly under the control of officials employed by the new federal government. The paper argues that 1868 law, which was designed to address what would today be called Tragedy of the Commons problems, was a product of the hubris identified by Hayek as "the fatal conceit." The centralized and bureaucratic approach to governing fisheries represented by the 1868 Fisheries Act did not work well because the knowledge that would have been required for successful management of fisheries was highly dispersed. Drawing on Hayek and the Bloomington School, this paper argues that the experience of Canada's fisheries sector in the generation after 1868 illustrates the problems with centralized management Common-Pool Resources. In the 1890s, the centralized approach represented by the Fisheries Act of 1868 was replaced by a more flexible and decentralized system Hayek's theory of knowledge would suggest the reversal of centralization over environmental policy in the 1890s was a positive development that helped Canadians to reconcile the goals of economic development and the protection of the environment. The Hayekian paradigm suggests that control over environmental policy should be devolved downwards to the levels of government closest to resource users.
Access options
Buy single article
Instant access to the full article PDF.
USD 39.95
Price includes VAT (USA)
Tax calculation will be finalised during checkout.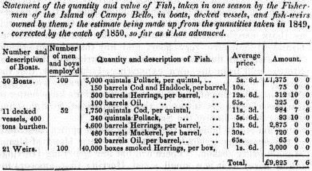 Notes
1.

This paper is focused on regulation of the freshwater, tidal, and inshore fisheries. The regulation of ocean fisheries, which was connected to thorny diplomatic issues, is outside the purview of this article. U.S. fishermen had enjoyed the right to fish in British North American waters under the terms of the 1854 Reciprocity Treaty. The end of Reciprocity in 1866 had resulted in the exclusion of American fisherman from Canada's territorial waters, a major grievance for the United States government. The Canadian government's efforts to define and then enforce its three-mile limit caused anger in fishing communities in New England. The fisheries question remained a major irritant in Anglo-American relations until the Treaty of Washington in 1871. This treaty sacrificed the perceived interests of Canadian ocean fishermen in order to achieve a comprehensive solution to outstanding disputes between Britain and the United States (Messamore, 2004).

2.

Prior to 1867, the term "Canada" only referred to the Province of Canada, which corresponds to the present-day provinces of Ontario and Quebec. Between 1867 and 1871, the "Dominion of Canada" expanded, which meant that a territory extending from the Pacific Ocean to Atlantic became subject to the authority of the federal parliament. The Canadian parliament then used this authority to impose the Dominion Fisheries Act on all regions of the new country.
References
Primary sources
Annual Report of the Department of Marine and Fisheries. Ottawa: Dept. of Marine and Fisheries. Various Years.

Bouchon-Brandely, G. (1876). Traité de pisciculture pratique et d'aquiculture en France et dans les pays voisins. Paris: A. Goin.

Canada, Dominion of. (1868). The Fishery acts Consisting of "An act for the regulation of fishing and protection of fisheries", "An act respecting fishing by foreign vessels" passed by the Parliament of Canada in 1868, applicable generally to the fisheries of Canada : also certain provincial statutes continued in force in the provinces of Nova Scotia and New Brunswick. Ottawa, M. Cameron.

Canada, Parliament of. (1872). Return to Address, Names,Origin, Creed, Position and Pay of all Employés of the Dominion Government. In Sessional Papers of the Dominion of Canada : volume 4, fifth session of the first Parliament, session 1872. Ottawa: I.B. Taylor, 1872.

Chambers, E. T. D. 1912. The Fisheries of the Province of Quebec Historical Introduction. [Québec]: Dept. of Colonization, Mines and Fisheries of the Province of Quebec.

Colonial Office. (1856). Colonial Office. Laws and Regulations Now in Force in the Undermentioned Colonies, Relative to the Fisheries. London: HMSO, 1856.

Coste, M. (1861). Voyage d'exploration sur le littoral de la France et de l'Italie. Paris [France]: Imprimerie impériale.

Judicial Committee of the Privy Council. (1898). The Attorneys General for the Provinces of Ontario, Quebec and Nova Scotia v The Attorney General for the Dominion of Canada (Canada) [1898] UKPC 31 (26 May 1898).

Morning Post. (1885). "Joint-Stock Companies". Wednesday, November 11, 1885; Issue 35379

Nettle, R. (1857). Lawrence and its Tributaries. Montreal: Printed by J. Lovell. The Salmon Fisheries of the St.

Perley, Moses Henry. (1851). Report upon the Fisheries of the Bay of Fundy. Fredericton [N.B.]: J. Simpson.

Prince, E. E. (1921). Fifty years of fishery administration in Canada. Transactions of the American Fisheries Society, 50(1), 163–186.

Quebec Department of Crown Lands. (1885). Robertson: extracts from the Federal Fishery Laws and Regulations Made Thereunder: the Quebec Fishery Laws and Regulations. Quebec: Dept. of Crown Lands. Information Concerning the Inland Fisheries of the Province of Quebec the Queen vs.
Secondary sources
Adler, J. H. (2012). Is the Common Law a Free-Market Solution to Pollution? Critical Review, 24(1), 61–85.

Aligica, P. D., & Boettke, P. J. (2009). Challenging institutional analysis and development: the Bloomington school. New York: Routledge.

Anderson, T., & Watson, L. (2011). An Economic Assessment of Environmental Federalism: The Optimal Locus of Endangered Species Authority. In K. Arha & B. H. Thompson (Eds.), (2011). The Endangered Species Act and Federalism: Effective Conservation Through Greater State Commitment. New York: Routledge.

Anderson, T. L., & Parker, D. P. (2013). Transaction costs and environmental markets: The role of entrepreneurs. Review of Environmental Economics and Policy, 7(2), 259–275.

Archives of Ontario. (2013). "Using the Ontario Land Records Index ca. 1780-ca. 1920."

Armitage, D., Berkes, F., Dale, A., Kocho-Schellenberg, E., & Patton, E. (2011). Co-management and the co-production of knowledge: Learning to adapt in Canada's Arctic. Global Environmental Change, 21(3), 995–1004.

Banzhaf, H. S., Fitzgerald, T., & Schnier, K. (2013). Nonregulatory approaches to the environment: Coasean and Pigouvian perspectives. Review of Environmental Economics and Policy, 7(2), 238–258.

Barton, G. (2002). Empire Forestry and the Origins of Environmentalism. Cambridge: Cambridge University Press.

Bate, R. (2000). Protecting English and Welsh Rivers: The Role of the Anglers' Conservation Association. In Meiners, R. E., & Morriss, A. P. (Eds.). (2000). The Common Law and the Environment: Rethinking the Statutory Basis for Modern Environmental Law. London: Rowman & Littlefield. 86–108

Bell, D. G. (1983). Early Loyalist Saint John: The Origin of New Brunswick Politics, 1783–1786. Fredericton: New Ireland Press.

Beinart, W., & Hughes, L. (2007). Environment and Empire. Oxford: Oxford University Press.

Belanger, R. (1986). Wilfrid Laurier: quand la politique devient passion. Quebec: Presses de l'Universite Laval.

Boiral, O. (2002). Tacit knowledge and environmental management. Long Range Planning, 35(3), 291–317.

Brubaker, E. (1995). Property Rights in the Defence of Nature. London: Earthscan Publications Ltd.

Burke, P. (2011). A Social History of Knowledge. From the Encyclopaedia to Wikipedia Volume II Volume II. Cambridge: Polity.

Caldwell, B. (2008). Hayek's Challenge: An Intellectual Biography of FA Hayek. Chicago: University of Chicago Press.

Curtis, B. (1994). On the local construction of statistical knowledge: making up the 1861 census of the Canadas. Journal of Historical Sociology, 7(4), 416–434.

Desrochers, P. (2001). Geographical proximity and the transmission of tacit knowledge. The Review of Austrian Economics, 14(1), 25–46.

Ellerman, A. D. (2010). Pricing Carbon: the European Union Emissions Trading Scheme. Cambridge: Cambridge University Press.

Engelhart, L. (2013). Central Planning's Computation Problem. Quarterly Journal of Austrian Economics, 16(2), 227–246.

Fredriksson, P. G., & Wollscheid, J. R. (2007). Democratic institutions versus autocratic regimes: The case of environmental policy. Public Choice, 130(3-4), 381–393.

Foss, N. J. (2007). The emerging knowledge governance approach: Challenges and characteristics. Organization, 14(1), 29–52.

Gertler, M. S. (2003). Tacit knowledge and the economic geography of context, or the undefinable tacitness of being (there). Journal of Economic Geography, 3(1), 75–99.

Grescoe, T. (2011). Bottomfeeder: How to Eat Ethically in a World of Vanishing Seafood. New York: Bloomsbury Publishing USA.

Hamilton, M. (2008). 'Anyone not on the list might as well be dead:' First Nations and Enumeration in Canada, 1851–1901. Journal of the Canadian Historical Association, 19, 57–79.

Harris, D. C. (2001). Fish, Law, and Colonialism: The legal capture of salmon in British Columbia. Toronto: University of Toronto Press.

Hayek, F. A. (1945). The use of knowledge in society. American Economic Review, 35(4):519–530.

Hayek, F. A. (1952). The Counter-Revolution of Science: Studies on the Abuse of Reason. Glencoe: Ill, Free Press.

Hayek, F. A. (1967). Studies in Philosophy, Politics and Economics. Chicago: University of Chicago Press.

Hayek, F. A. (1988). The Fatal Conceit: the Errors of Socialism. Chicago: University of Chicago Press.

Hayek, F. A. (2013). The Constitution of Liberty: The Definitive Edition. London: Routledge.

Ingram, D. (2009). "Au temps et dans les quantités qui lui plaisent": Poachers, Outlaws, and Rural Banditry in Quebec. Histoire sociale/Social history, 42(83), 1–34.

Jablonowski, M. (2011). Markets on a (Computer) Chip? New Perspectives on Economic Calculation. Science and Society, 75(3), 400–418.

Joskow, P. L., Schmalensee, R., & Bailey, E. M. (1998). The market for sulfur dioxide emissions. American Economic Review, 88(4), 669–685.

Kratz, B., & Block, W. E. (2013). Privatize to Save the Fish. World Future Review, 5(3), 256–265.

Korneski, K. (2014). Development and Diplomacy: The Lobster Controversy on Newfoundland's French Shore, 1890–1904. The International History Review, 36(1), 45–69.

Laing, T., Sato, M., Grubb, M., & Comberti, C. (2014). The effects and side effects of the EU emissions trading scheme. Wiley Interdisciplinary Reviews: Climate Change, 5(4), 509–519.

Larmour, P. (Ed.). (2013). The Governance of Common Property in the Pacific Region. Canberra: ANU E Press.

Luedee, J. (2013). "Bare rocks instead of fish": Local fishers respond to resource depletion in the Bay Bulls Inshore Fishery, 1855–1863. In R. E. Summerby-Murray and C. E. Campbell, (Eds.), Land and Sea: Environmental History in Atlantic Canada. Fredericton, New Brunswick: Acadiensis Press.

Marshall, G. R. (2008). Nesting, subsidiarity, and community-based environmental governance beyond the local level. International Journal of the Commons, 2(1), 75–97.

Meiners, R., & Yandle, B. (1998). Common law and the conceit of modern environmental policy. George Mason Law Review, 7, 923.

Messamore, B. J. (2004). Diplomacy or Duplicity? Lord Lisgar, John A. Macdonald, and the Treaty of Washington, 1871. Journal of Imperial and Commonwealth History, 32(2), 29–53.

Midlarsky, M. I. (1998). Democracy and the environment: an empirical assessment. Journal of Peace Research, 35(3), 341–361.

Millerd, Frank. (2000). The Evolution of Management Institutions for the British Columbia Salmon Fishery, 1900 to 1930. Proceedings of the Tenth Biennial Conference of the International Institute of Fisheries Economics and Trade, Corvallis, Oregon State University, July 10–13, 2000.

Mitchell, W. C. (1988). Virginia, Rochester, and Bloomington: Twenty-five years of public choice and political science. Public Choice, 56(2), 101–119.

Moore, S. A., & Moore, H. S. (1903). The History and Law of Fisheries. Brooklyn: Stevens and Haynes.

Morgan, K. (2004). The exaggerated death of geography: learning, proximity and territorial innovation systems. Journal of Economic Geography, 4(1), 3–21.

Morse, N. H. (1983). Explanatory Note for Section N: Fisheries. Canada: Historical Statistics of Canada.

Nash, C. (2010). The History of Aquaculture. New York: John Wiley & Sons.

Neary, P. (1980). The French and American Shore Questions as Factors in Newfoundland History. Toronto: University of Toronto Press.

Ostrom, E. (1990). Governing the Commons: The Evolution of Institutions for Collective action. Cambridge: Cambridge University Press.

Ostrom, E. (2005). Understanding Institutional Diversity. Princeton: Princeton University Press.

Ostrom, V. (1991). The Meaning of American Federalism: Constituting a Self-Governing Society. San Francisco: Calif, ICS Press.

Ostrom, V., Tiebout, C. M., & Warren, R. (1961). The organization of government in metropolitan areas: a theoretical inquiry. The American Political Science Review, 55(4), 831–842.

Parenteau, B. (2004). A'very determined opposition to the law': Conservation, angling leases, and social conflict in the Canadian Atlantic salmon fishery, 1867–1914. Environmental History, 9(3), 436–463.

Parsons, L. S. (1993). Management of Marine Fisheries in Canada (Vol. 225). Ottawa: NRC Research Press.

Pennington, M. (1999). Free market environmentalism and the limits of land use planning. Journal of Environmental Policy & Planning, 1(1), 43–59.

Pennington, M. (2013). Elinor Ostrom and the robust political economy of common-pool resources. Journal of Institutional Economics, 9(04), 449–468.

Pilon, D. (2006). Explaining voting system reform in Canada, 1874 to 1960. Journal of Canadian Studies/Revue d'études canadiennes, 40(3), 135–161.

Plummer, R., & Fitzgibbon, J. (2004). Co-management of natural resources: a proposed framework. Environmental Management, 33(6), 876–885.

Reiger, J. F. (1975). American Sportsmen and the Origins of Conservation. Norman: University of Oklahoma Press.

Revesz, R. L. (2001). Federalism and Environmental Regulation: A Public Choice analysis. Harvard Law Review, 115(2), 553–641.

Rydin, Y., & Pennington, M. (2001). The discourses of the prisoners' dilemma: The role of the local press in environmental policy. Environmental Politics, 10(3), 48–71.

Scott, J. C. (1998). Seeing Like a State: How Certain Schemes to Improve the Human Condition Have Failed. New Haven: Yale University Press.

Sivaramakrishnan, K. (1999). Modern Forests: Statemaking and Environmental Change in Colonial Eastern India. Redwood: Stanford University Press.

Tatalovich, R. (2013). Revisiting Post-Confederation Fiscal Policy: Liberal Dissent from Conservative Deficits. Journal of Canadian Studies/Revue d'études canadiennes, 47(2), 180–214.

Thompson, E. P. (1975). Whigs and Hunters: the Origin of the Black Act (p. 266). London: Allen Lane.

Waelti, S. (2004). How Multilevel Structures Affect Environmental Policy in Industrialized Countries. European Journal of Political Research, 43(4), 599–634.

Yandle, B. (1999). Public choice at the intersection of environmental law and economics. European Journal of Law and Economics, 8(1), 5–27.

Yin, R. K. (2009). Case study research: design and methods. Los Angeles: SAGE.
Acknowledgement
I would like to thank Mark Pennington and Pierre Desrochers for their detailed comments on an earlier draft of this paper. I also acknowledge helpful feedback received when I presented this paper at Joseph E. Rotman School of Management in Toronto. I would like to thank the Foundation for Canadian Studies in the United Kingdom for financial assistance that made this paper possible. I would also like to thank three anonymous reviewers at the RAE and the Editor for their comments.
About this article
Cite this article
Smith, A.D.A. The Use and Abuse of Environmental Knowledge: A Bloomington School Interpretation of the Canadian Fisheries Act of 1868. Rev Austrian Econ 29, 139–161 (2016). https://doi.org/10.1007/s11138-014-0296-2
Keywords
Common-Pool Resources

Free-Market Environmentalism

Fisheries

Nested Governance

Bloomington School

F.A. Hayek

Elinor Ostrom

Fatal Conceit