Abstract
The aim of this paper is twofold: firstly to discuss the foundations of Grid-Group "Cultural Theory" and highlight the compatibility with Austrian economics, and secondly to apply this framework to the context of organisational culture. My claim is that "Corporate Cultural Theory" provides a rigorous and grounded social anthropological framework to take Austrian economics beyond its traditional uses and improve upon competing explanations of corporate culture.
Access options
Buy single article
Instant access to the full article PDF.
USD 39.95
Price excludes VAT (USA)
Tax calculation will be finalised during checkout.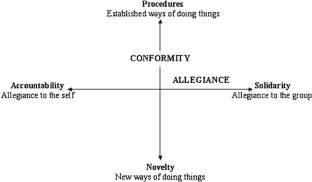 Notes
Although this paper intends to be compatible with previous treatments, and does not contradict previous uses, the natural ambiguity over terms means that it is a modified version of the theory.

For the purposes of this article I ignore the four cultural types that are the logical outcome of having a 2x2 matrix, to focus on the underlying axes.

In Douglas' initial presentation of grid-group positive group means the self is dominated by group control, whilst negative group means the individual exerts pressure over the group. In this article I follow the later versions of the theory, where strong group means strong allegiance, and weak group means weak allegiance. The midpoint remains. Hendry (1999) outlines the ambiguity with how Cultural Theory has been expressed diagrammatically. Pp.561–562

Typically this external agency is the state. To the extent that the issue of contractual consent is relevant, we are effectively viewing the corporation as the central contracting authority (see Agassi 1960:265).

See Boulding (1966). However I don't wish to assert that I am the first person to make this point. For example, Denison and Mishra (1995) provide a criticism of using a positivist methodology to study corporate culture, and call for more phenomenological work. However my claim for novelty lies in my proposed solution, which is the use of forms of analytic narratives associated with the Austrian school of economics.

"The validity [of Cultural Theory] is not to be judged by the statistician's correlation coefficients and t-tsets, but by the degree to which it accords with people'sexperience" Adams 1995.

Indeed this position mirrors Ludwig Lachmann's capital theory: if one can't measure something, we should classify it

Consequently we can reject even the most famous cultural analyses—such as Hofstede (1980)—for being unsatisfactory on the grounds that they are quantitatively driven (and therefore fail to truly capture cultural conditions); and are based on national data (towards methodological holism).
References
Adams, J. (1995). Risk Routledge Press.

Agassi, J. (1960). Methodological individualism. The British Journal of Sociology, 11(3), 244–270.

Agassi, J. (1975). Institutional individualism. The British Journal of Sociology, 26(2), 144–155.

Aligica, P. D., & Evans, A. J. (2009). Thoughts experiments, counterfactuals, and comparative analysis. Review of Austrian Economics, 22(3), 225–239.

Bloor, C., & Bloor, D. (1982). "Twenty industrial scientists: A preliminary exercise." In M. Douglas (Ed.), Essays in the sociology of perception. Routledge.

Boettke, P. J. (1998). "Rational choice and human agency in economics and sociology: Exploring the Weber-Austrian connection." In Giersch (Ed.), Merits and limits of markets. Springer.

Boettke, P. J., & Coyne, C. J. (2005). Institutional stickiness and the new development economics. Journal of Organization and Behavior, 57, 145–158.

Boulding, K. (1966). "The economics of knowledge and knowledge of economics." American Economic Review 56.

Bower, M. (1966). Will to manage. New York: McGraw Hill.

Caulkins, D. D. (1999). Is Mary Douglas's grid/group analysis useful for cross cultural research? Cross-Cultural Research, 33(1), 108–128.

Cheung, S. N. S. (1983). The contractual theory of the firm. Journal of Law and Economics, 26(1983), 1–22.

Coughlin, R. M., & Lockhart, C. (1998). "Grid-group theory and political ideology: a consideration of their relative strengths and weaknesses." Journal of Theoretical Politics.

Cowen, T., & Parker, D. (1997). Markets in the firms: a market-process approach to management. Institute of Economic Affairs.

Cummings, T. G., & Worley, C. G. (2005). Organization development and change (8th ed.). USA: Thomson South-Western.

Deal, T. E., & Kennedy, A. A. (1982). Corporate cultures: The rites and rituals of corporate life. Harmondsworth: Penguin.

Denison, D. R. (1984). Bringing corporate culture to the bottom line. Organizational Dynamics, 13, 5–22.

Denison, D. R., & Mishra, A. K. (1995). Organizational culture and effectiveness. Organizational Science, 6(2), 204–223.

Douglas, M. (1996[1970]). Natural symbols. Routledge.

Douglas, M. (1978). Cultural Bias. Royal Anthropological Institute.

Douglas, M. (1982). In the Active Voice. Routledge.

Douglas, M. (1987). How institutions think. London: Routledge.

Douglas, M. (2005). "Grid and group, new developments" workshop on complexity and cultural theory in honour of Michael Thompson.

Douglas, M., & Wildavsky, A. (1983). Risk and culture. University of California Press.

Evans, A. J. (2007a). Subjectivist social change: The influence of culture and ideas on economic policy. George Mason University Dissertation.

Evans, A. J. (2007b). "Reflections on Mary Douglas: institutions, rationality, and wisdom". ama-gi, 8(1), 61–66.

Evans, A. J. (2010). "Only individuals choose" In Boettke, P. J. (Ed.), Handbook in Austrian economics. Edward Elgar.

Evans, A. J., & Wenzel, N. W. (2013). A framework for the study of firms as constitutional orders. Constitutional Political Economy, 24(1), 2–18.

Ellis, R. J., & Thompson, M. (Eds.) (1997). Culture matters: Essays in honour of Aaron Wildavsky. Westview Press.

Foss, N. J. (1994). The theory of the firm: the Austrians as precursors and critics of contemporary theory. Review of Austrian Economics, 7(1), 31–65.

Frosdick, (2006). Risk and cultural theory

Geertz, C. (1973). "Thick description: Toward an interpretive theory of culture" In The interpretation of cultures: Selected essays. Basic Books.

Goffee, R., & Jones, G. (1998). The character of a corporation. Harper Collins.

Gross, J. L., & Rayner, S. (1985). Measuring culture: A paradigm for the analysis of social organization. Columbia University Press.

Hayek, F. A. (1973). Law legislation and liberty: Vol. 1 rules and order. University of Chicago Press.

Hayek, F. A. (1988). The fatal conceit. University of Chicago Press.

Hendry, J. (1999). Cultural theory and contemporary management organization. Human Relations, 52(5), 557–577.

Hofstede, G. (1980). Culture's consequences: International differences in work related values. Sage Publications.

Hollis, M. (1977). Models of man. Cambridge: Cambridge University Press.

Hood, C. (1998). The art of the state. Oxford: Oxford University Press.

Koch, C. G. (2007). The science of success: How market-based management built the world's largest company. Wiley and Sons.

Kotter, J. P., & Heskett, J. L. (1992). Corporate culture and performance. Maxwell Macmillan.

Maesschalck, J. (2004). Research note: a method for applying cultural theory to the study of organisations. Innovation, 17(4), 377–386.

Mamadouh, V. (1999). Grid-group cultural theory: an introduction. Geo Journal, 47(3), 395–409.

Mars, G. (1982). Cheats at work: An anthropology of workplace crime counterpoint

Moore, J. D. (1998). Visions of culture: An introduction to anthropological theories and theorists. Walnut Creek: Alta Mira Press.

Mises, L. v. (1998[1949]). Human action. Mises Institute: Alabama.

Mitleton-Kelly, E. (2004). The information systems professional as a hermit. Innovation, 17(4), 289–323.

North, D. C. (1990). Institutions, institutional change and economic performance. Cambridge University Press.

North, D. C. (2005). Understanding the process of economic change. Princeton: Princeton University Press.

Peters, & Waterman. (1982). In search of excellence. New York: Harper & Row.

Sautet, F. (2000). An entrepreneurial theory of the Firm Routledge.

Schein, E. (1992). Organisational culture and leadership (2nd ed.). San Francisco: Jossey-Bass.

Thompson, M., Ellis, R., & Wildavsky, A. (1990). Cultural theory. Westview Press.

Thompson, M., & Schwartz, M. (1990). Divided we stand: Redefining politics, technology and social choice. University of Pennsylvania Press.

Verweij, M., and Thompson, M., (eds.) (2006) Clumsy solutions for a complex world: Governance, politics and plural perceptions Palgrave Macmillan.
Additional information
Previous versions of this paper have been presented at the "Conference on Austrian Market-based Approaches to the Theory and Operation of a Business Firm", George Mason Law School (May 2007); and the "Workshop on Cultural Theory and Management: A Conference held in memory of Prof. Dame Mary Douglas", ESCP-EAP London (July 2007). The usual disclaimer applies.
About this article
Cite this article
Evans, A.J. Balancing corporate culture: Grid-group and Austrian economics. Rev Austrian Econ 26, 297–309 (2013). https://doi.org/10.1007/s11138-013-0233-9
Published:

Issue Date:

DOI: https://doi.org/10.1007/s11138-013-0233-9
Keywords
Corporate culture

Cultural theory

Institutions
JEL Codes