Abstract
While entrepreneurs benefit from unrestricted free entry into markets, they have a time-inconsistent incentive to lobby for government entry restrictions once they become successful. Bad political institutions yield to these demands, and growing barriers are placed on domestic and international competition. Good institutions do not, and this effort is instead channeled toward further wealth creation. We find that productive entrepreneurship depends on both the freedom to succeed and discipline of failure that free markets provide. Trade barriers result in fewer combinations of goods and inputs attempted, and less productive entrepreneurial resource use. We also provide evidence on the value of business failure.
Access options
Buy single article
Instant access to the full article PDF.
USD 39.95
Price includes VAT (USA)
Tax calculation will be finalised during checkout.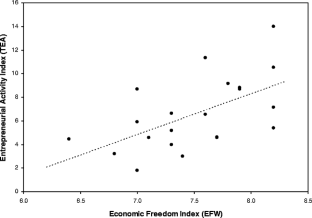 Notes
1.

For a more in depth discussion of both the entrepreneurial process (inputs–institutions–outcomes), and a review of the effectiveness of different government policies at promoting entrepreneurship, see Hall and Sobel (2006).

2.

Rent-seeking, or devoting resources toward altering outcomes in the political process, is a subject on which much literature has been written, beginning with Tullock (1967) and Krueger (1974). More recent synthesis views and discussions can be found in Tollison (1982), Laband and Sophocleus (1988), and Mixon et al. (1994). See McChesney (1987) for an interesting discussion of how the political process has an incentive to structure itself in a way to maximize the rent-seeking activity in the economy directed toward the decision-making body.

3.

Some might argue that firms would be more likely to begin lobbying for protection after the free-market leaning entrepreneurs who start the businesses are replaced by a professional CEO. While this may or may not be true, economic analysis highlights the idea that a specific individual will act differently depending on the incentive structure they face. Our insight is that this incentive structure changes once the business is established and successful.

4.

For an outstanding, recent review of the literature on the interest-group theory of government see Ekelund and Tollison (2001).

5.

We use data for 2002 whenever possible, although some of the demographic variables were only available for 2000 or 2001. The list of countries for which the full set of variables were available were: Australia, Belgium, Canada, Denmark, Finland, France, Germany, Hungary, Ireland, Italy, Japan, Mexico, Netherlands, New Zealand, Norway, Poland, South Korea, Spain, Switzerland, United Kingdom, United States.

6.

Readers familiar with the EFW index might wonder which of the five subcomponent areas of this index are most closely correlated with the TEA score. The two highest are area 1 (size of government: expenditures, taxes, and enterprises), and area 5 (regulation of credit, labor, and business). The respective correlation coefficients are 0.687 and 0.198, respectively, while the correlation coefficient with the overall EFW index is 0.234.

7.

Our discussion has assumed, with little comment, the foundation of all market economies—well-defined and enforced private property rights. Private property rights are essential to the voluntary exchanges from which market prices emerge—prices that convey the information and impose the discipline that we have argued are necessary for productive freedom. Also, without well-established and widespread private property, the capital necessary to enter into meaningful entrepreneurial activity is denied to many whose entrepreneurial talents could otherwise contribute to the economic progress of a society. For an excellent discussion of the importance of private property rights to expanding the number of potential entrepreneurs with access to productive capital, see de Soto (2000).
References
Baumol, W. J. (1990). Entrepreneurship: productive, unproductive and destructive. Journal of Political Economy, 98, 893–921.

Baumol, W. J. (1993). Entrepreneurship, management, and the structure of payoffs. Cambridge, MA: MIT Press.

Berkowitz, D., & DeJong, D. N. (2005). Entrepreneurship and post-socialist growth. Oxford Bulletin of Economics and Statistics, 67, 25–46.

Boettke, P. J. (2001). Calculation and coordination: Essays on socialism and transitional political economy. New York, NY: Routledge.

Boettke, P. J., & Coyne, C. J. (2003). Entrepreneurship and development: Cause or consequence? Advances in Austrian Economics, 6, 67–87.

Clark, J. R., & Lee, D. R. (2006). Freedom, entrepreneurship, and economic progress. Journal of Entrepreneurship, 15, 1–17.

Coyne, C. J., & Leeson, P. T. (2004). The plight of underdeveloped countries. Cato Journal, 24, 235–249.

de Soto, H. (2000). The mystery of capital: Why capitalism triumphs in the west and fails everywhere else. New York: Basic Books.

Ekelund, R. B., & Tollison, R. D. (2001). The interest-group theory of government. In W. F. Shughart II, & L. Razzolini (Eds.), The Elgar companion to public choice (pp. 357–378). Cheltenham, UK: Edward Elgar.

Farr, W. K., Lord, R. A., & Wolfenbarger, J. L. (1998). Economic freedom, political freedom, and economic well-being: A causality analysis. Cato Journal, 18, 247–262, Fall.

Gwartney, J. D., & Lawson, R. A. (2004). Economic freedom of the world: 2004 annual report. Vancouver: The Fraser Institute.

Gwartney, J. D., Lawson, R. A., & Holcombe, R. G. (1999). Economic freedom and the environment for economic growth. Journal of Institutional and Theoretical Economics, 155, 1–21, December.

Hall, J. C., & Sobel, R. S. (2006). Public policy and entrepreneurship. Kansas University Center for Applied Economics Technical Report 06-0717, July.

Henderson, J. (2002). Building the rural economy with high-growth entrepreneurs. Federal Reserve Bank of Kansas City Economic Review, 87, 45–70, Third Quarter.

Karabegovic, A., McMahon, F., & Samida, D. (2004). Economic freedom of North America: 2004 annual report. Vancouver: The Fraser Institute.

Kirzner, I. M. (1973). Competition and entrepreneurship. Chicago: University of Chicago Press.

Kirzner, I. M. (1997). Entrepreneurial discovery and the competitive market process: an Austrian approach. Journal of Economic Literature, 35, 60–85, March.

Kreft, S. F., & Sobel, R. S. (2005). Public policy, entrepreneurship, and economic freedom. Cato Journal, 25, 595–616, Fall.

Krueger, A. O. (1974). The political economy of the rent seeking society. American Economic Review, 64, 291–303, June.

Laband, D. N., & Sophocleus, J. P. (1988). The social cost of rent seeking: first estimates. Public Choice, 58, 269–275, September.

Lee, D. R. (1991). The seeds of entrepreneurship. The Journal of Private Enterprise, 7, 20–35, Fall.

McChesney, F. S. (1987). Rent extraction and rent creation in the economic theory of regulation. The Journal of Legal Studies, 16, 101–118, January.

Mixon, F. G., Jr., Laband, D. N., & Ekelund, R. B., Jr. (1994). Rent seeking and hidden in-kind resource distortion: some empirical evidence. Public Choice, 78, 171–185, February.

O'Driscoll, G. P., Jr., Feulner, E. J., & O'Grady, M. A. (2003). 2003 Index of economic freedom. Washington D.C. and New York: The Heritage Foundation and The Wall Street Journal.

Olson, M. (1982). The rise and decline of nations. New Haven, CT: Yale University Press.

Ovaska, T., & Sobel, R. S. (2005). Entrepreneurship in post-socialist economies. Journal of Private Enterprise, 21, 8–28, Fall.

Reynolds, P. D., Hay, M., & Camp, S. M. (1999). Global entrepreneurship monitor. Kansas City, Missouri: Kauffman Center for Entrepreneurial Leadership.

Schumpeter, J. A. [1934 (1911)]. The theory of economic development. Cambridge, MA: Harvard University Press.

Schumpeter, J. A. (1942). Capitalism, socialism, and democracy. New York: Harper.

Sobel, R. S. (2006). Testing Baumol: Institutional quality and the productivity of entrepreneurship. West Virginia University Working Paper 06-06.

Tollison, R. D. (1982). Rent seeking: A survey. Kyklos, 35, 575–602.

Tullock, G. (1967). The welfare cost of tariffs, monopolies, and theft. Western Economic Journal, 5, 224–232, June.

Zacharakis, A. L., Bygrave, W. D., & Shepherd, D. A. (2000). Global entrepreneurship monitor: national entrepreneurship assessment: United States of America. Kansas City, Missouri: Kauffman Center for Entrepreneurial Leadership.
Acknowledgements
The authors would like to thank Leslie Morris for providing the research assistance on this project. We would also like to thank Randy Holcombe, Chris Coyne, Peter Leeson, anonymous referees, and participants at the Association of Private Enterprise Education and Southern Economic Association meetings for the helpful comments and suggestions.
Appendix
Appendix
Index to sources:
1.

Reynolds, Paul D., Bygrave, William D., Autio, Erkko, and Hay, Michael. Global Entrepreneurship Monitor. Kansas City, Missouri: Ewing Marion Kauffman Foundation, 2002.

2.

Gwartney, James D. and Robert A. Lawson. Economic Freedom of the World: 2004 Annual Report. Vancouver: The Fraser Institute: 2004.

3.

Schwab, Klaus and Michael E. Porter. The Global Competitiveness Report: 2002–2003. World Economic Forum Geneva, Switzerland 2003. New York, NY: Oxford University Press, 2003.

4.

World Development Indicators 2003 CD-ROM. World Bank, 2003.

5.

CIA. CIA World Factbook: 2003.

6.

CIA. CIA World Factbook: 2002.

7.

World Bank Group. Governance Indicators: 1996–2002.

8.

Data from Australia: Australian Securities and Investments Commission. Canada: Office of the Superintendent of Bankruptcy Canada. Annual Statistical Report, 2002. Iceland: Statistics Iceland. Japan: Teikoku Databank, LTD. Bankruptcy Report, 2002. New Zealand: New Zealand Insolvency and Trustee Service. Corporate Report 2001/2002. The Remaining Countries: Insolvencies in Europe: 2003/04. Creditreform Economic Research Unit.
About this article
Cite this article
Sobel, R.S., Clark, J.R. & Lee, D.R. Freedom, barriers to entry, entrepreneurship, and economic progress. Rev Austrian Econ 20, 221–236 (2007). https://doi.org/10.1007/s11138-007-0023-3
Keywords
Entrepreneurship

Creative destruction

Economic freedom

Barriers to entry
JEL codes