Abstract
Background
The effect of nature-based interventions on self-reported mental well-being in patients with physical disease is gaining increasing attention. However, there is a lack of randomized controlled trials investigating this area. Due to the massive costs in health care systems, there is a need for new strategies to address these issues and an urgent need for attention to this field. Nature-based interventions are low cost, easy to implement, and should get attention within the health care field. Therefore, the objective was to find the impact of nature interventions on mental well-being in humans with a physical disease.
Methods
In four major databases (PubMed, Cinahl, PsycINFO, and Cochrane Library), a systematic review of quantitative studies of nature's impact on self-reported mental health in patients with physical disease was performed. A total of 1909 articles were retrieved but only five met the inclusion criteria and were summarized.
Results
All five studies were quantitative, with a control group and a nature-based intervention. A source of heterogeneity was identified: the patients in one of the five studies were psychosomatic. In the four studies with somatic patients, significant benefit of nature on self-reported mental health outcomes was found; the only study that failed to show a significant benefit was the one with psychosomatic patients.
Conclusion
A significant effect of nature on mental well-being of patients with somatic disease was found. The result in patients with psychosomatic disease is inconclusive, and more studies in this category are needed. Further research on the effect of nature on mental health is merited, with special attention to standardizing intervention type and dose as well as outcome measures within each medical discipline.
Access options
Buy single article
Instant access to the full article PDF.
USD 39.95
Price excludes VAT (USA)
Tax calculation will be finalised during checkout.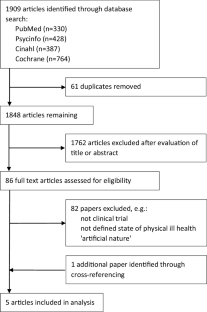 References
Kaplan, R. (1984). Wilderness perception and psychological benefits: An analysis of a continuing program. Leisure Sciences, 6(3), 271–290. https://doi.org/10.1080/01490408409513036.

Kaplan, S. (1995). The restorative benefits of nature: Toward an integrative framework. Journal of Environmental Psychology, 16, 169–182.

Bratman, G. N., Hamilton, J. P., & Daily, G. C. (2012). The impacts of nature experience on human cognitive function and mental health: Nature experience, cognitive function, and mental health. Annals of the New York Academy of Sciences, 1249(1), 118–136. https://doi.org/10.1111/j.1749-6632.2011.06400.x.

Maller, C. (2005). Healthy nature healthy people: "contact with nature" as an upstream health promotion intervention for populations. Health Promotion International, 21(1), 45–54. https://doi.org/10.1093/heapro/dai032.

Douglas, O., Lennon, M., & Scott, M. (2017). Green space benefits for health and well-being: A life-course approach for urban planning, design and management. Cities, 66, 53–62. https://doi.org/10.1016/j.cities.2017.03.011.

Nilsson, K. (Ed.). (2011). Forests, trees, and human health. New York: Springer.

Annerstedt, M., & Währborg, P. (2011). Nature-assisted therapy: Systematic review of controlled and observational studies. Scandinavian Journal of Public Health, 39(4), 371–388. https://doi.org/10.1177/1403494810396400.

Bragg, R., & Atkins, G. (2016). A review of nature-based interventions for mental health care. London: Natural England.

Clatworthy, J., Hinds, J., & Camic, M., P (2013). Gardening as a mental health intervention: A review. Mental Health Review Journal, 18(4), 214–225. https://doi.org/10.1108/MHRJ-02-2013-0007.

World Health Organization, Department of Mental Health and Substance Abuse, Victorian Health Promotion Foundation, & University of Melbourne. (2004). Promoting mental health: concepts, emerging evidence, practice: summary report. Geneva: World Health Organization.

Collins, P. Y., Patel, V., Joestl, S. S., March, D., Insel, T. R., Daar, A. S., … Walport, M. (2011). Grand challenges in global mental health. Nature, 475(7354), 27–30. https://doi.org/10.1038/475027a.

Ulrich, R. (1984). View through a window may influence recovery from surgery. Science, 224(4647), 420–421. https://doi.org/10.1126/science.6143402.

Buckley, R. C., & Brough, P. (2017). Nature, eco, and adventure therapies for mental health and chronic disease. Frontiers in Public Health. https://doi.org/10.3389/fpubh.2017.00220.

Moher, D., Liberati, A., Tetzlaff, J., & Altman, D. G. (n.d.). Preferred reporting items for systematic reviews and meta-analyses: The PRISMA Statement.

Liberati, A., Altman, D. G., Tetzlaff, J., Mulrow, C., Gøtzsche, P. C., Ioannidis, J. P. A., … Moher, D. (2009). The PRISMA statement for reporting systematic reviews and meta-analyses of studies that evaluate health care interventions: Explanation and elaboration. PLoS Medicine, 6(7), e1000100. https://doi.org/10.1371/journal.pmed.1000100.

Zakowski, L., Seibert, C., & VanEyck, S. (2004). Evidence-based medicine: Answering questions of diagnosis. Clinical Medicine & Research, 2(1), 63–69.

Schulz, K. F., Altman, D. G., & Moher, D. (2010). CONSORT 2010 statement: Updated guidelines for reporting parallel group randomised trials. BMC Medicine. https://doi.org/10.1186/1741-7015-8-18.

The Joanna Briggs Institute. (2017). Checklist for quasi-experimental studies. The Joanna Briggs Institute. Retrieved from http://joannabriggs.org/assets/docs/critical-appraisal-tools/JBI_Quasi-Experimental_Appraisal_Tool2017.pdf.

Cimprich, B., & Ronis, D. L. (2003). An environmental intervention to restore attention in women with newly diagnosed breast cancer. Cancer Nursing, 26(4), 284–292 (Quiz 293–294).

Watzek, D., Mischler, E., Sonam, D., Gubler-Blum, B., Abbatiello, C., Radlinger, L., & Verra, M. L. (2016). Effectiveness and economic evaluation of therapeutic nordic walking in patients with psychosomatic disorders: A pragmatic randomized controlled trial. Journal of Psychology Research. https://doi.org/10.17265/2159-5542/2016.11.005.

Hitzig, S. L., Alton, C., Leong, N., & Gatt, K. (2012). The Evolution and evaluation of a therapeutic recreation cottage program for persons with spinal cord injury. Therapeutic Recreation Journal, 46(3), 218–233.

Raanaas, R. K., Patil, G. G., & Hartig, T. (2012). Health benefits of a view of nature through the window: A quasi-experimental study of patients in a residential rehabilitation center. Clinical Rehabilitation, 26(1), 21–32. https://doi.org/10.1177/0269215511412800.

Rosenberg, R. S., Lange, W., Zebrack, B., Moulton, S., & Kosslyn, S. (2014). An outdoor adventure program for young adults with cancer: Positive effects on body image and psychosocial functioning. Journal of Psychosocial Oncology, 32(5), 622–636.

WHO. (2002). Mental health: new understanding, new hope (repr.). Geneva: World Health Organization.

Ahmadi, F., & Ahmadi, N. (2015). Nature as the most important coping strategy among cancer patients: A Swedish survey. Journal of Religion and Health, 54(4), 1177–1190. https://doi.org/10.1007/s10943-013-9810-2.

Blaschke, S., O'Callaghan, C. C., Schofield, P., & Salander, P. (2017). Cancer patients' experiences with nature: Normalizing dichotomous realities. Social Science & Medicine, 172, 107–114. https://doi.org/10.1016/j.socscimed.2016.10.024.

Shanahan, D. F., Bush, R., Gaston, K. J., Lin, B. B., Dean, J., Barber, E., & Fuller, R. A. (2016). Health benefits from nature experiences depend on dose. Scientific Reports. https://doi.org/10.1038/srep28551.

Barton, J., & Pretty, J. (2010). What is the best dose of nature and green exercise for improving mental health? A multi-study analysis. Environmental Science & Technology, 44(10), 3947–3955. https://doi.org/10.1021/es903183r.

Holm, L. V., Hansen, D. G., Johansen, C., Vedsted, P., Larsen, P. V., Kragstrup, J., & Søndergaard, J. (2012). Participation in cancer rehabilitation and unmet needs: a population-based cohort study. Supportive Care in Cancer, 20(11), 2913–2924. https://doi.org/10.1007/s00520-012-1420-0.

Thompson Coon, J., Boddy, K., Stein, K., Whear, R., Barton, J., & Depledge, M. H. (2011). Does participating in physical activity in outdoor natural environments have a greater effect on physical and mental wellbeing than physical activity indoors? A systematic review. Environmental Science & Technology, 45(5), 1761–1772. https://doi.org/10.1021/es102947t.

Harrison, J. D., Young, J. M., Price, M. A., Butow, P. N., & Solomon, M. J. (2009). What are the unmet supportive care needs of people with cancer? A systematic review. Supportive Care in Cancer, 17(8), 1117–1128. https://doi.org/10.1007/s00520-009-0615-5.

Mikkelsen, S., Jensen, J., A. B., & Olesen, F. (2008). Cancer rehabilitation: Psychosocial rehabilitation needs after discharge from hospital? A qualitative interview study. Scandinavian Journal of Primary Health Care, 26(4), 216–221. https://doi.org/10.1080/02813430802295610.
Ethics declarations
Conflict of interest
The authors declare that they have no conflict of interest.
Ethical approval
This article does not contain any studies with human participants or animals performed by any of the authors. The study is a literature review.
Additional information
Publisher's Note
Springer Nature remains neutral with regard to jurisdictional claims in published maps and institutional affiliations.
About this article
Cite this article
Trøstrup, C.H., Christiansen, A.B., Stølen, K.S. et al. The effect of nature exposure on the mental health of patients: a systematic review. Qual Life Res 28, 1695–1703 (2019). https://doi.org/10.1007/s11136-019-02125-9
Accepted:

Published:

Issue Date:

DOI: https://doi.org/10.1007/s11136-019-02125-9
Keywords