Abstract
Background
Parkinson's disease (PD) is a progressive neurological illness that impacts various aspects of life. Integration of medical and self-management in a collaborative approach to care is needed to enhance functioning and the quality of life of PD patients. In developing an integrated care program at a tertiary PD clinic, we used a co-design process to gather stakeholder input.
Methods
This is a cross-sectional mixed methods study using surveys and interviews. Patient and caregiver participants from the clinic completed two questionnaires to evaluate perceived receipt of self-management support (Patient Assessment of Care for Chronic Conditions) and activation for managing their health condition (Patient or Caregiver Activation Measure®). A subset of these participants and healthcare providers took part in semi-structured interviews. Survey data were described and tested for relationships between patient characteristics and questionnaire scores using Spearman's rank-order correlation. Interviews were analyzed using conventional content analysis.
Results
Fifty-seven PD patients and thirty caregivers completed the questionnaires. Thirteen patients, six caregivers, and six healthcare providers were interviewed. 58% of participants were moderately to highly activated to manage their lives with PD. Participants' perceptions of self-management support varied but was lacking in dimensions of goal-setting and follow-up support/coordination. Qualitative analysis revealed four overarching themes related to experiences of managing PD: activation, self-management support, coordinated care, and access to services.
Conclusions
This first study to explore patient activation in PD found high levels of activation but moderate to low levels of self-management support. The co-design process highlighted important aspects of a more collaborative approach to care.
Access options
Buy single article
Instant access to the full article PDF.
USD 39.95
Price includes VAT (USA)
Tax calculation will be finalised during checkout.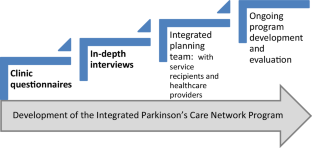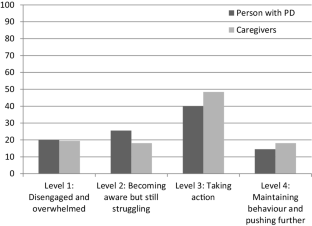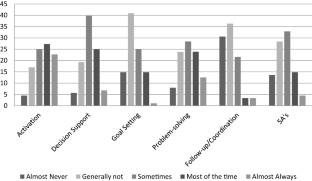 Data availability
The datasets generated and analyzed during the current study are available from the corresponding author on reasonable request.
References
1.

Wong, S. L., Gilmour, H., & Ramage-Morin, P. L. (2014). Parkinson's disease: Prevalence, diagnosis and impact. Health Reports, 25(11), 10–14.

2.

Welsh, M. (2008). Treatment challenges in Parkinson's disease. Nurse Practitioner, 33(7), 32–38.

3.

Lyons, K. D. (2003). Self-management of Parkinson's disease: Guidelines for program development and evaluation. Journal Physical & Occupational Therapy in Geriatrics, 21(3), 17–31.

4.

Lorig, K. R., & Holman, H. R. (2003). Self-management education: History, definition, outcomes, and mechanisms. Annals of Behavioral Medicine, 26(1):1–7.

5.

Greene, J., Hibbard, J. H., Sacks, R., Overton, V., & Parrotta, C. D. (2015). When patient activation levels change, health outcomes and costs change, too. Health Affairs, 34(3), 431–437.

6.

Mosen, D. M., Schmittdiel, J., Hibbard, J., Sobel, D., Remmers, C., & Bellows, J. (2007). Is patient activation associated with outcomes of care for adults with chronic conditions? Journal of Ambulatory Care Management, 30(1), 21–29.

7.

Aung, E., Donald, M., Williams, G. M., Coll, J. R., & Doi, S. A. R. (2016). Influence of patient-assessed quality of chronic illness care and patient activation on health-related quality of life. International Journal for Quality in Health Care, 28(3), 306–310.

8.

McCusker, J., Lambert, S. D., Cole, M. G., Ciampi, A., Strumpf, E., Freeman, E. E., et al. (2016). Activation and self-efficacy in a randomized trial of a depression self-care intervention. Health Education & Behavior, 43(6), 716–725.

9.

Packer, T. L., Kephart, G., Ghahari, S., Audulv, Å, Versnel, J., & Warner, G. (2015). The patient activation measure: A validation study in a neurological population. Quality of Life Research, 24(7), 1587–1596.

10.

Kessler, D., & Liddy, C. (2017). Self-management support programs for persons with Parkinson's disease: An integrative review. Patient Education and Counseling, 100(10), 1787–1795.

11.

Corrigan, J. M., & Adams, K., (Eds.), (2003). Priority areas for national action: Transforming health care quality. Washington D.C.: National Academies Press.

12.

van der Eijk, M., Faber, M. J., Post, B., Okun, M. S., Schmidt, P., Munneke, M., et al. (2015). Capturing patients' experiences to change Parkinson's disease care delivery: A multicenter study. Journal of Neurology, 262(11), 2528–2538.

13.

Ouwens, M., Wollersheim, H., Hermens, R., Hulscher, M., & Grol, R. (2005). Integrated care programmes for chronically ill patients: A review of systematic reviews. The International Society for Quality in Health Care, 17(2), 141–146.

14.

Bate, P., & Robert, G. (2006). Experience-based design: From redesigning the system around the patient to co-designing services with the patient. Quality and Safety in Health Care, 15(5), 307–310.

15.

Donetto, S., Pierri, P., Tsianakas, V., & Robert, G. (2015). Experience based co-design and healthcare improvement: Realizing participatory design in the public sector. Design Journal, 18(2), 227–248.

16.

Lam Andy, B. D. (2015). Enhancing service development and service delivery through co-design. Voluntary Sector Review, 6(1), 61–80.

17.

Dalrymple-Alford, J. C., MacAskill, M. R., Nakas, C. T., Livingston, L., Graham, C., Crucian, G. P., et al. (2010). The MoCA well-suited screen for cognitive impairment in Parkinson disease. Neurology, 75(19), 1717–1725.

18.

Hibbard, J. H., Mahoney, E. R., Stockard, J., & Tusler, M. (2005). Development and testing of a short form of the patient activation measure. Health Services Research, 40(6p1), 1918–1930.

19.

Glasgow, R. E., Wagner, E. H., Schaefer, J., Mahoney, L. D., Reid, R. J., & Greene, S. M. (2005). Development and validation of the patient assessment of chronic illness care (PACIC). Medical Care, 43(5), 436–444.

20.

Skolasky, R. L., Green, A. F., Scharfstein, D., Boult, C., Reider, L., & Wegener, S. T. (2010). Psychometric properties of the patient activation measure among multimorbid older adults. Health Services Research, 46(2), 457–478.

21.

Schmittdiel, J., Mosen, D. M., Glasgow, R. E., Hibbard, J., Remmers, C., & Bellows, J. (2008). Patient assessment of chronic illness care (PACIC) and improved patient-centered outcomes for chronic conditions. Journal of General Internal Medicine, 23(1), 77–80.

22.

Rick, J., Rowe, K., Hann, M., Sibbald, B., Reeves, D., Roland, M., et al. (2012). Psychometric properties of the patient assessment of chronic illness care measure: Acceptability, reliability and validity in United Kingdom patients with long-term conditions. BMC Health Service Research, 12, 293.

23.

Fowles, J. B., Terry, P., Xi, M., Hibbard, J., Bloom, C. T., & Harvey, L. (2009). Measuring self-management of patients' and employees' health: Further validation of the Patient Activation Measure (PAM) based on its relation to employee characteristics. Patient Education and Counseling, 77(1), 116–122.

24.

Shortell, S. M., Poon, B. Y., Ramsay, P. P., Rodriguez, H. P., Ivey, S. L., Huber, T., et al. (2017). A multilevel analysis of patient engagement and patient-reported outcomes in primary care practices of accountable care organizations. Journal of General Internal Medicine, 32(6), 640–647.

25.

Mukaka, M. M. (2012). A guide to appropriate use of correlation coefficient in medical research. Malawi Medical Journal, 24(3), 69–71.

26.

IBM, SPSS Statistics v.24, (2016).

27.

Hsieh, H. F., & Shannon, S. E. (2005). Three approaches to qualitative content analysis. Qualitative Health Research, 15(9), 1277–1288. https://doi.org/10.1177/1049732305276687.

28.

NVivo qualitative data analysis Software. Version 11. QSR International Pty Ltd. 2015.

29.

Stepleman, L., Rutter, M.-C., Hibbard, J., Johns, L., Wright, D., & Hughes, M. (2010). Validation of the patient activation measure in a multiple sclerosis clinic sample and implications for care. Disability and Rehabilitation, 32(19), 1558–1567.

30.

Merluzzi, T. V., Philip, E. J., Vachon, D. O., & Heitzmann, C. A. (2011). Assessment of self-efficacy for caregiving: The critical role of self-care in caregiver stress and burden. Palliative & Supportive Care, 9(1), 15–24.

31.

National Institue for Helath and Care Excellence. Parkinson's disease in adults. NICE guideline [NG71]. (2017). Available at: https://www.nice.org.uk/guidance/NG71. Accessed December 18, 2017.

32.

Foster, E. R., Bedekar, M., & Tickle-Degnen, L. (2014). Systematic review of the effectiveness of occupational therapy-related interventions for people with Parkinson's disease. The American Journal of Occupational Therapy, 68(1), 39–49.
Acknowledgements
This work was supported by the University of Ottawa Brain and Mind Research Institute.
Ethics declarations
Ethical approval
All procedures performed in studies involving human participants were in accordance with the ethical standards of the institutional research committee and with the 1964 Helsinki declaration and its later amendments or comparable ethical standards.
Informed consent
Informed consent was obtained from all individual participants included in the study.
Additional information
Publisher's Note
Springer Nature remains neutral with regard to jurisdictional claims in published maps and institutional affiliations.
About this article
Cite this article
Kessler, D., Hauteclocque, J., Grimes, D. et al. Development of the Integrated Parkinson's Care Network (IPCN): using co-design to plan collaborative care for people with Parkinson's disease. Qual Life Res 28, 1355–1364 (2019). https://doi.org/10.1007/s11136-018-2092-0
Accepted:

Published:

Issue Date:
Keywords
Parkinson's disease

Self-management

Collaborative care

Co-design