Abstract
Aims
A proxy is someone other than a patient who reports a patient's outcomes as if they are the patient. Due to known discordance with patient reports, proxies are often not recommended in clinical trials; however, proxies may be needed in certain research contexts. We aimed to identify and describe trials registered on the Australian New Zealand Clinical Trials Registry (ANZCTR) with proxy-reported endpoints.
Methods
ANZCTR was systematically searched from inception (2005) to 31 March 2017 for trials with proxy-reported endpoints. Primary and secondary endpoints for each trial retrieved by the search were individually coded (proxy-reported: yes/no), and trials with confirmed proxy-reported endpoints were included in the analysis.
Results
Of 13,666 registered trials, 469 (3.4%) included a proxy-reported endpoint (867 individual proxy-reported endpoints in total: 62% family member proxy, 22% health professional). Proxy endpoint inclusion did not significantly increase over time (r = 0.18, p = 0.59). Mental health (11.5%), stroke (10.3%) and neurological (8.3%) trials had the highest proportion of trials using proxies. Of the 469 trials, 123 (26.2%) studies involved paediatric patients.
Discussion
Proxy-reported endpoints are included in a small but notable number of studies, which may indicate other types of outcomes are used for patients unable to self-report, or that these patients are under-researched.
This is a preview of subscription content, log in to check access.
Access options
Buy single article
Instant access to the full article PDF.
US$ 39.95
Tax calculation will be finalised during checkout.
Subscribe to journal
Immediate online access to all issues from 2019. Subscription will auto renew annually.
US$ 199
Tax calculation will be finalised during checkout.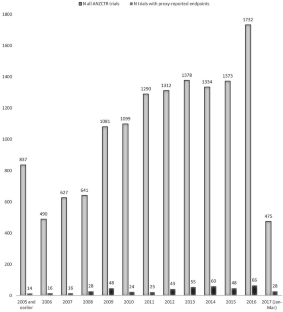 References
1.

Food and Drug Administration. (2009). Guidance for industry: Patient-reported outcome measures: use in medical product development to support labelling claims. Retrieved from http://www.fda.gov/downloads/Drugs/Guidances/UCM193282.pdf.

2.

Todorov, A., & Kirchner, C. (2000). Bias in proxies' reports of disability: Data from the National Health Interview Survey on disability. American Journal of Public Health, 90(8), 1248–1253.

3.

Lal, S. D., McDonagh, J., Baildam, E., Wedderburn, L. R., Gardner-Medwin, J., Foster, H. E., et al. (2011). Agreement between proxy and adolescent assessment of disability, pain, and well-being in juvenile idiopathic arthritis. The Journal of Pediatrics, 158(2), 307–312.

4.

European Medicines Agency. (2016). Appendix 2 to the guideline on the evaluation of anticancer medicinal products in man: The use of patient-reported outcome (PRO) measures in oncology studies. London, UK.

5.

European Medicines Agency Oncology Working Party. (2014). Draft reflection paper on the use of patient reported outcome (PRO) measures in oncology studies.

6.

Bausewein, C., Daveson, B. A., Currow, D. C., Downing, J., Deliens, L., Radbruch, L., et al. (2016). EAPC White Paper on outcome measurement in palliative care: Improving practice, attaining outcomes and delivering quality services—recommendations from the European Association for Palliative Care (EAPC) Task Force on Outcome Measurement. Palliative Medicine, 30(1), 6–22.

7.

World Health Organization. (2014). International Clinical Trials Registry Platform (ICTRP). Retrieved from http://www.who.int/ictrp/en/.

8.

Mercieca-Bebber, R., Williams, D., Tait, M. A., Roydhouse, J., Busija, L., Sundaram, C. S., et al. (2018). Trials with patient-reported outcomes registered on the Australian New Zealand Clinical Trials Registry (ANZCTR). Quality of Life Research, 27(10), 2581–2591.

9.

Australian New Zealand Clinical Trials Registry. (2017). ANZCTR data field explanation.

10.

Australian New Zealand Clinical Trials Registry. Statistics to the end of March 2017. Retrieved from http://www.anzctr.org.au/docs/Monthly%20Website%20Reporting_Statistics.pdf?t=139.

11.

Hounsome, N., Orrell, M., & Edwards, R. T. (2011). EQ-5D as a quality of life measure in people with dementia and their carers: Evidence and key issues. Value Health, 14(2), 390–399.

12.

Rand, S. E., & Caiels, J. (2015). Using proxies to assess quality of life: A review of the issues and challenges. Discussion paper. Quality and Outcomes of person-centred care policy Research Unit (QORU). University of Kent.

13.

Jones, J. M., McPherson, C. J., Zimmermann, C., Rodin, G., Le, L. W., & Cohen, S. R. (2011). Assessing agreement between terminally ill cancer patients' reports of their quality of life and family caregiver and palliative care physician proxy ratings. Journal of Pain and Symptom Management, 42(3), 354–365.

14.

Steel, J. L., Geller, D. A., & Carr, B. I. (2005). Proxy ratings of health related quality of life in patients with hepatocellular carcinoma. Quality of Life Research, 14(4), 1025–1033.

15.

Matza, L. S., Patrick, D. L., Riley, A. W., Alexander, J. J., Rajmil, L., Pleil, A. M., et al. (2013). Pediatric patient-reported outcome instruments for research to support medical product labeling: Report of the ISPOR PRO good research practices for the assessment of children and adolescents task force. Value Health, 16(4), 461–479.

16.

Varni, J. W. (2018). The PedsQL measurement model for the pediatric quality of life inventory. Retrieved from http://www.pedsql.org/about_pedsql.html.

17.

Patient Reported Outcome Measurement Information System (PROMIS). (2018). List of pediatric measures. Retrieved from http://www.healthmeasures.net/explore-measurement-systems/promis/intro-to-promis/list-of-pediatric-measures.

18.

KIDSCREEN. (2018). Questionnaires. Retrieved from https://www.kidscreen.org/english/questionnaires/.

19.

Varni, J. W., Magnus, B., Stucky, B. D., Liu, Y., Quinn, H., Thissen, D., et al. (2014). Psychometric properties of the PROMIS® pediatric scales: Precision, stability, and comparison of different scoring and administration options. Quality of Life Research, 23(4), 1233–1243.
Acknowledgements
We acknowledge ANZCTR for providing access to the study data, and thank Kylie Hunter (ANZCTR) for in-kind support, Ailsa Langford and Thuyen Vu (ANZCTR) for assistance with the search strategy and data retrieval. We also thank Elizabeth Vodicka, Beth Devine and colleagues for sharing the search terms used in the review of clinicaltrials.gov.
Ethics declarations
Conflict of interest
The authors declare no conflicts of interest.
Ethical approval
The University of Sydney Human Research Ethics Committee does not review studies that do not include human participants and therefore human research ethics approval was not required for this study.
Informed consent
We obtained permission from the ANZCTR to conduct this research. No human research participants were involved in this study, therefore informed consent was not required.
Research involving human and animal participants
In accordance with the University of Sydney's (sponsor) ethical procedures, this research did not include human research participants and therefore human research ethics approval was not required. The data included in this study are publically available on ANZCTR and concerns clinical trial information. No human data were included in this analysis.
Additional information
Publisher's Note
Springer Nature remains neutral with regard to jurisdictional claims in published maps and institutional affiliations.
This paper was reviewed and endorsed by the ISOQOL Board of Directors as an ISOQOL publication and does not reflect an endorsement of the ISOQOL membership.
Note that categories marked with* are not mutually exclusive [9].
Electronic supplementary material
Below is the link to the electronic supplementary material.
About this article
Cite this article
Mercieca-Bebber, R., Williams, D., Tait, MA. et al. Trials with proxy-reported outcomes registered on the Australian New Zealand Clinical Trials Registry (ANZCTR). Qual Life Res 28, 955–962 (2019). https://doi.org/10.1007/s11136-018-2080-4
Accepted:

Published:

Issue Date:
Keywords
Proxy-reported outcomes

Quality of life

Clinical trial registration

Clinical trial endpoint

Outcome measures