Abstract
Aims
It is important to understand the number, types and regions of trials that include patient-reported outcomes (PROs) to appreciate how patient experiences have been considered in studies of health and interventions. Twenty-seven percent of trials registered with ClinicalTrials.gov (2007–2013) included PROs; however, a regional breakdown was not provided and no reviews have been conducted of the Australia New Zealand Clinical Trials Registry (ANZCTR). We aimed to identify trials registered with ANZCTR with PRO endpoints and describe their characteristics.
Methods
ANZCTR was systematically searched from inception (2005) to 31 March 2017 for trials with PRO endpoints. Search terms included PRO measures listed in Patient-Reported Outcomes Quality of Life Instrument Database and Grid-Enabled Measures, as well as generic PRO terms (e.g. "quality of life" (QOL)). Trial endpoints were individually coded using an established framework to identify trials with PROs for the analysis.
Results
Of 13,666 registered trials, 6168 (45.1%) included a PRO. The proportion of studies including PROs increased between 2006 and 2016 (r = 0.74, p = 0.009). Among the 6168 trials, there were 17,961 individual PRO endpoints, including symptoms/functional outcomes/condition-specific QOL (65.6%), generic QOL (13.2%), patient-reported experiences (9.9%), patient-reported behaviours (7.9%). Mental health was the most common category (99.8% included PROs), followed by physical medicine/rehabilitation (65.6%), musculoskeletal (63.5%), public health (63.1%), and cancer (54.2%).
Discussion
Our findings suggest growing use of PROs in the assessment of health and interventions in ANZ. Our review identifies trial categories with limited patient-reported information and provides a basis for future work on the impact of PRO findings in clinical care.
This is a preview of subscription content, log in to check access.
Access options
Buy single article
Instant access to the full article PDF.
US$ 39.95
Price includes VAT for USA
Subscribe to journal
Immediate online access to all issues from 2019. Subscription will auto renew annually.
US$ 199
This is the net price. Taxes to be calculated in checkout.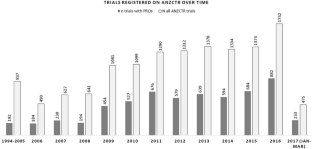 References
1.

Food and Drug Administration. (2009). Guidance for industry: Patient-reported outcome measures: Use in medical product development to support labelling claims. http://www.fda.gov/downloads/Drugs/Guidances/UCM193282.pdf.

2.

Schandelmaier, S., Conen, K., von Elm, E., You, J. J., Blumle, A., Tomonaga, Y., et al. (2015). Planning and reporting of quality-of-life outcomes in cancer trials. The Annals of Oncology, 26(9), 1966–1973.

3.

Chalmers, I., & Glasziou, P. (2009). Avoidable waste in the production and reporting of research evidence. The Lancet, 374(9683), 86–89.

4.

Glasziou, P., Altman, D. G., Bossuyt, P., Boutron, I., Clarke, M., Julious, S., et al. (2014). Reducing waste from incomplete or unusable reports of biomedical research. The Lancet, 383(9913), 267–276.

5.

Australian New Zealand Clinical Trials Registry. (2018). Statistics to the end of January 2018. http://www.anzctr.org.au/docs/Monthly%20Website%20Reporting_Statistics.pdf?t=139.

6.

Vodicka, E., Kim, K., Devine, E. B., Gnanasakthy, A., Scoggins, J. F., & Patrick, D. L. (2015). Inclusion of patient-reported outcome measures in registered clinical trials: Evidence from ClinicalTrials.gov (2007–2013). Contemporary Clinical Trials, 43, 1–9. https://doi.org/10.1016/j.cct.2015.04.004.

7.

Zarin, D. A., Tse, T., Williams, R. J., & Rajakannan, T. (2017). Update on trial registration 11 years after the ICMJE policy was established. New England Journal of Medicine, 376(4), 383–391.

8.

Hawthorne, G., Osborne, R. H., Taylor, A., & Sansoni, J. (2007). The SF36 Version 2: Critical analyses of population weights, scoring algorithms and population norms. Quality of Life Research, 16(4), 661–673. https://doi.org/10.1007/s11136-006-9154-4. Epub 2007 Feb 1.

9.

Watson, E. K., Firman, D. W., Baade, P. D., & Ring, I. (1996). Telephone administration of the SF-36 health survey: Validation studies and population norms for adults in Queensland. Australian and New Zealand Journal of Public Health, 20(4), 359–363.

10.

Australian New Zealand Clinical Trials Registry. ANZCTR data field explanation. 2017.

11.

ePROVIDE., P. R. O. Q. O. L. I. D. (2018). https://www.eprovide.mapi-trust.org/about/about-proqolid#about_part_110356. Accessed 25 Jan 2018.

12.

Grid-Enabled Measures Database. About GEM 2017 https://www.gem-beta.org/Public/About.aspx?cat=5. Accessed 25 Jan 2018.

13.

Ahmed, S., Berzon, R. A., Revicki, D. A., Lenderking, W. R., Moinpour, C. M., Basch, E., et al. (2012). The use of patient-reported outcomes (PRO) within comparative effectiveness research: Implications for clinical practice and health care policy. Medical Care, 50(12), 1060–1070.

14.

Scoggins, J. F., & Patrick, D. L. (2009). The use of patient-reported outcomes instruments in registered clinical trials: Evidence from ClinicalTrials.gov. Contemporary Clinical Trials, 30(4), 289–292.

15.

Calvert, M., Kyte, D., Mercieca-Bebber, R., et al. (2018). Guidelines for inclusion of patient-reported outcomes in clinical trial protocols: The spirit-pro extension. JAMA, 319(5), 483–494.

16.

Brundage, M., Blazeby, J., Revicki, D., Bass, B., de Vet, H., Duffy, H., et al. (2013). Patient-reported outcomes in randomized clinical trials: Development of ISOQOL reporting standards. Quality of Life Research, 22(6), 1161–1175.

17.

Calvert, M., Blazeby, J., Altman, D. G., et al. (2013). Reporting of patient-reported outcomes in randomized trials: The CONSORT-PRO extension. JAMA, 309(8), 814–822.

18.

European Medicines Agency. (2016). Appendix 2 to the guideline on the evaluation of anticancer medicinal products in man: The use of patient-reported outcome (PRO) measures in oncology studies. London: European Medicines Agency.

19.

Brodke, D. J., Saltzman, C. L., & Brodke, D. S. (2016). PROMIS for orthopaedic outcomes measurement. The Journal of the American Academy of Orthopaedic Surgeons, 24(11), 744–749.

20.

Cherny, N. I., Sullivan, R., Dafni, U., Kerst, J. M., Sobrero, A., Zielinski, C., et al. (2015). A standardised, generic, validated approach to stratify the magnitude of clinical benefit that can be anticipated from anti-cancer therapies: The European Society for Medical Oncology Magnitude of Clinical Benefit Scale (ESMO-MCBS). Annals of Oncology, 26(8), 1547–1573.

21.

Schnipper, L. E., Davidson, N. E., Wollins, D. S., Blayney, D. W., Dicker, A. P., Ganz, P. A., et al. (2016). Updating the American Society of Clinical Oncology value framework: Revisions and reflections in response to comments received. Journal of Clinical Oncology, 34(24), 2925–2934.
Acknowledgements
We acknowledge ANZCTR for providing access to the study data and in-kind support, and Thuyen Vu (ANZCTR) for assistance with the search strategy and data retrieval. This paper was reviewed and endorsed by the International Society for Quality of Life Research (ISOQOL) Board of Directors as an ISOQOL publication and does not reflect an endorsement of the ISOQOL membership.
Data availability
While we do not have permission to reproduce ANZCTR data used in this analysis, the ANZCTR database is publically and freely available at http://www.anzctr.org.au. Trials registered on the ANZCTR are invited to provide a Universal Trial Number (UTN)—a unique number which aims to facilitate the unambiguous identification of clinical trials registered in Primary Registries in the WHO Registry Network. Obtaining a UTN is not mandatory for registration in the ANZCTR. ANZCTR trials that provide a UTN are displayed on the WHO International Clinical Trials Registry Platform (ICTRP) Search Portal in addition to the ANZCTR website.
Ethics declarations
Conflict of interest
The authors declare that they have no conflict of interest.
Ethical approval
In accordance with the University of Sydney's (sponsor) ethical procedures, this research did not include human research participants and therefore human research ethics approval was not required
Informed consent
We obtained permission from the ANZCTR to conduct this research. No human research participants were involved in this study, and therefore informed consent was not required.
Research involving human participants
No human data were included in this analysis.
Electronic supplementary material
Below is the link to the electronic supplementary material.
About this article
Cite this article
Mercieca-Bebber, R., Williams, D., Tait, M. et al. Trials with patient-reported outcomes registered on the Australian New Zealand Clinical Trials Registry (ANZCTR). Qual Life Res 27, 2581–2591 (2018). https://doi.org/10.1007/s11136-018-1921-5
Accepted:

Published:

Issue Date:
Keywords
Patient-reported outcomes

Quality of life

Clinical trial registration

Clinical trial endpoint

Patient-reported outcome measures