Abstract
Purpose
Despite a growing literature on the benefits of gratitude for adjustment to chronic illness, little is known about gratitude in medical populations compared to healthy populations, or the degree to which potential deficits in gratitude might impact quality of life. The purpose of the present study was to (1) examine levels of gratitude and quality of life in fibromyalgia patients and healthy controls and (2) consider the role of gratitude in explaining quality of life differences between fibromyalgia patients and healthy controls.
Methods
Participants were 173 fibromyalgia patients and 81 healthy controls. All participants completed measures of gratitude, quality of life, and socio-demographics.
Results
Although gratitude was positively associated with quality of life, levels of gratitude and quality of life were lower in the fibromyalgia sample relative to the healthy controls. This difference in gratitude partially mediated differences in quality of life between the two groups after controlling for socio-demographic variables.
Conclusions
Our findings suggest that gratitude is a valuable positive psychological trait for quality of life in people with fibromyalgia. Interventions to improve gratitude in this patient population may also bring enhancement in quality of life.
This is a preview of subscription content, log in to check access.
Access options
Buy single article
Instant access to the full article PDF.
US$ 39.95
Price includes VAT for USA
Subscribe to journal
Immediate online access to all issues from 2019. Subscription will auto renew annually.
US$ 199
This is the net price. Taxes to be calculated in checkout.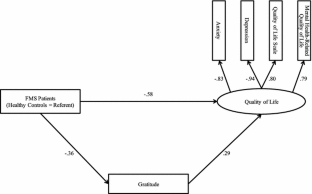 References
1.

Wolfe, F., Clauw, D. J., Fitzcharles, M.-A., Goldenberg, D. L., Katz, R. S., Mease, P., et al. (2010). The American College of Rheumatology preliminary diagnostic criteria for fibromyalgia and measurement of symptom severity. Arthritis Care & Research, 62(5), 600–610. doi:10.1002/acr.20140.

2.

Jones, J., Rutledge, D. N., Jones, K. D., Matallana, L., & Rooks, D. S. (2008). Self-assessed physical function levels of women with fibromyalgia. Women's Health Issues, 18(5), 406–412. doi:10.1016/j.whi.2008.04.005.

3.

Bernard, A. L., Prince, A., & Edsall, P. (2000). Quality of life issues for fibromyalgia patients. Arthritis Care & Research, 13(1), 42–50. doi:10.1002/1529-0131(200002)13:1<42:AID-ART7>3.0.CO;2-R.

4.

Katz, R. S., Heard, A. R., Mills, M., & Leavitt, F. (2004). The prevalence and clinical impact of reported cognitive difficulties (fibrofog) in patients with rheumatic disease with and without fibromyalgia. JCR. Journal of Clinical Rheumatology, 10(2), 53–58.

5.

Theadom, A., Cropley, M., & Humphrey, K.-L. (2007). Exploring the role of sleep and coping in quality of life in fibromyalgia. Journal of Psychosomatic Research, 62(2), 145–151. doi:10.1016/j.jpsychores.2006.09.013.

6.

Miró, E., Martínez, M. P., Sánchez, A. I., Prados, G., & Medina, A. (2011). When is pain related to emotional distress and daily functioning in fibromyalgia syndrome? The mediating roles of self-efficacy and sleep quality. British Journal of Health Psychology, 16(4), 799–814. doi:10.1111/j.2044-8287.2011.02016.x.

7.

Thieme, K., Turk, D. C., & Flor, H. (2004). Comorbid depression and anxiety in fibromyalgia syndrome: Relationship to somatic and psychosocial variables. Psychosomatic Medicine, 66(6), 837–844.

8.

Janssens, K. A. M., Zijlema, W. L., Joustra, M. L., & Rosmalen, J. G. M. (2015). Mood and anxiety disorders in chronic fatigue syndrome, fibromyalgia, and irritable bowel syndrome: Results from the lifelines cohort study. Psychosomatic Medicine, 77(4), 449–457. doi:10.1097/psy.0000000000000161.

9.

Soriano-Maldonado, A., Amris, K., Ortega, F. B., Segura-Jiménez, V., Estévez-López, F., Álvarez-Gallardo, I. C., et al. (2015). Association of different levels of depressive symptoms with symptomatology, overall disease severity, and quality of life in women with fibromyalgia. Quality of Life Research, 24(12), 2951–2957. doi:10.1007/s11136-015-1045-0.

10.

Wood, A. M., & Tarrier, N. (2010). Positive clinical psychology: A new vision and strategy for integrated research and practice. Clinical Psychology Review, 30(7), 819–829. doi:10.1016/j.cpr.2010.06.003.

11.

Velasco Furlong, L., Zautra, A., Peñacoba Puente, C., López-López, A., & Barjola Valero, P. (2010). Cognitive-affective assets and vulnerabilities: Two factors influencing adaptation to fibromyalgia. Psychology & Health, 25(2), 197–212. doi:10.1080/08870440802074656.

12.

Hirsch, J. K., & Sirois, F. M. (2016). Hope and fatigue in chronic illness: The role of perceived stress. Journal of Health Psychology, 21(4), 451–456. doi:10.1177/1359105314527142.

13.

Wood, A. M., Maltby, J., Gillett, R., Linley, P. A., & Joseph, S. (2008). The role of gratitude in the development of social support, stress, and depression: Two longitudinal studies. Journal of Research in Personality, 42(4), 854–871. doi:10.1016/j.jrp.2007.11.003.

14.

Mills, P. J., Redwine, L., Wilson, K., Pung, M. A., Chinh, K., Greenberg, B. H., et al. (2015). The role of gratitude in spiritual well-being in asymptomatic heart failure patients. Spirituality in Clinical Practice, 2(1), 5–17. doi:10.1037/scp0000050.

15.

Ruini, C., & Vescovelli, F. (2013). The role of gratitude in breast cancer: Its relationships with post-traumatic growth, psychological well-being and distress. Journal of Happiness Studies, 14(1), 263–274. doi:10.1007/s10902-012-9330-x.

16.

Sirois, F. M., & Wood, A. M. (2017). Gratitude uniquely predicts lower depression in chronic illness populations: A longitudinal study of inflammatory bowel disease and arthritis. Health Psychology, 36(2), 122.

17.

Eaton, R. J., Bradley, G., & Morrissey, S. (2014). Positive predispositions, quality of life and chronic illness. Psychology, Health & Medicine, 19(4), 473–489. doi:10.1080/13548506.2013.824593.

18.

Wood, A. M., Joseph, S., Lloyd, J., & Atkins, S. (2009). Gratitude influences sleep through the mechanism of pre-sleep cognitions. Journal of Psychosomatic Research, 66(1), 43–48.

19.

Wood, A. M., Froh, J. J., & Geraghty, A. W. A. (2010). Gratitude and well-being: A review and theoretical integration. Clinical Psychology Review, 30(7), 890–905.

20.

Disabato, D. J., Kashdan, T. B., Short, J. L., & Jarden, A. (2016). What predicts positive life events that influence the course of depression? A longitudinal examination of gratitude and meaning in life. Cognitive Therapy and Research. doi:10.1007/s10608-016-9785-x.

21.

Wood, A. M., Joseph, S., & Maltby, J. (2009). Gratitude predicts psychological well-being above the Big Five facets. Personality and Individual Differences, 46(4), 443–447. doi:10.1016/j.paid.2008.11.012.

22.

Wood, A. M., Joseph, S., & Linley, P. A. (2007). Coping style as a psychological resource of grateful people. Journal of Social and Clinical Psychology, 26(9), 1076–1093.

23.

Franks, H. M., Cronan, T. A., & Oliver, K. (2004). Social support in women with fibromyalgia: Is quality more important than quantity? Journal of Community Psychology, 32(4), 425–438. doi:10.1002/jcop.20011.

24.

Arigo, D., Suls, J. M., & Smyth, J. M. (2014). Social comparisons and chronic illness: research synthesis and clinical implications. Health Psychology Review, 8(2), 154–214. doi:10.1080/17437199.2011.634572.

25.

McCullough, M. E., Emmons, R. A., & Tsang, J.-A. (2002). The grateful disposition: A conceptual and empirical topography. Journal of Personality and Social Pyschology, 82(1), 112–127.

26.

Zigmond, A. S., & Snaith, R. P. (1983). The hospital anxiety and depression scale. Acta Psychiatrica Scandinavica, 67(6), 361–370.

27.

Hinz, A., & Schwarz, R. (2002). Hospital Anxiety and Depression Scale - Deutsche Version (HADS-D). Diagnostica, 48(2), 112–113.

28.

Burckhardt, C. S., Clark, S. R., & Bennett, R. M. (1993). Fibromyalgia and quality of life: a comparative analysis. Journal of Rheumatology, 20(3), 475–479.

29.

Offenbächer, M., Sauer, S., Kohls, N., Waltz, M., & Schoeps, P. (2012). Quality of life in patients with fibromyalgia: validation and psychometric properties of the German Quality of Life Scale (QOLS-G). Rheumatology International, 32(10), 3243–3252.

30.

Gandek, B., Ware, J. E., Aaronson, N. K., Apolone, G., Bjorner, J. B., Brazier, J. E., et al. (1998). Cross-validation of item selection and scoring for the SF-12 Health Survey in nine countries: results from the IQOLA Project. International Quality of Life Assessment. Journal of Clinical Epidemiology, 51(11), 1171–1178.

31.

Cheak-Zamora, N. C., Wyrwich, K. W., & McBride, T. D. (2009). Reliability and validity of the SF-12v2 in the medical expenditure panel survey. Quality of Life Research, 18(6), 727–735.

32.

Ware, J. E., Kosinski, M., & Keller, S. D. (1995). SF-12: How to Score the SF-12 Physical and Mental Health Summary Scales. Boston, MA: The Health Institute, New England Medical Center.

33.

Nunnally, J. C., & Bernstein, I. H. (1994). Psychometric Theory. New York: McGraw Hill.

34.

Milfont, T. L., & Fischer, R. (2015). Testing measurement invariance across groups: Applications in cross-cultural research. International Journal of Psychological Research, 3(1), 111–130. doi:10.21500/20112084.857.

35.

Browne, M. W., & Cudeck, R. (1989). Single sample cross-validation indices for covariance structures. Multivariate Behavioral Research, 24(4), 445–455. doi:10.1207/s15327906mbr2404_4.

36.

Wu, A. D., Li, Z., & Zumbo, B. D. (2007). Decoding the meaning of factorial invariance and updating the practice of multi-group confirmatory factor analysis: A demonstration with TIMSS data. Practical Assessment, Research and Evaluation, 12(3), 1–26.

37.

Chen, F., Curran, P. J., Bollen, K. A., Kirby, J., & Paxton, P. (2008). An Empirical Evaluation of the Use of Fixed Cutoff Points in RMSEA Test Statistic in Structural Equation Models. Sociological Methods & Research, 36(4), 462–494. doi:10.1177/0049124108314720.

38.

Kline, R. B. (2005). Principles and Practice of Structural Equation Modeling (2ed.). New York: The Guilford Press.

39.

Little, T. D., Card, N. A., Bovaird, J. A., Preacher, K. J., & Crandall, C. S. (2007). Structural equation modeling of mediation and moderation with contextual factors. In T. D. Little, J. A. Bovaird, & N. A. Card (Eds.), Modeling contextual effects in longitudinal studies (pp. 207–230). Mahwah, NJ: Lawrence Erlbaum Associates Publishers.

40.

Hayes, A. F. (2009). Beyond Baron and Kenny: Statistical mediation analysis in the new millennium. Communication Monographs, 76(4), 408–420.

41.

Gunzler, D., Chen, T., Wu, P., & Zhang, H. (2013). Introduction to mediation analysis with structural equation modeling. Shanghai Archives of Psychiatry, 25(6), 390–394. doi:10.3969/j.issn.1002-0829.2013.06.009.

42.

Kline, R. B. (2015). Principles and practice of structural equation modeling. New York: Guilford Publications.

43.

Schermelleh-Engel, K., Moosbrugger, H., & Müller, H. (2003). Evaluating the fit of structural equation models: Tests of significance and descriptive goodness-of-fit measures. Methods of Psychological Research Online, 8(2), 23–74.

44.

Latorre-Román, P. A., Martínez-Amat, A., Martínez-López, E., Moral, Á., Santos, M. A., & Hita-Contreras, F. (2014). Validation and psychometric properties of the Spanish version of the Quality of Life Scale (QOLS) in patients with fibromyalgia. Rheumatology International, 34(4), 543–549.

45.

Reisine, S., Fifield, J., Walsh, S., & Dauser, D. (2004). Employment and quality of life outcomes among women with fibromyalgia compared to healthy controls. Women and Health, 39(4), 1–19.

46.

Schaefer, C. P., Adams, E. H., Udall, M., Masters, E. T., Mann, R. M., Daniel, S. R., et al. (2016). Fibromyalgia outcomes over time: Results from a prospective observational study in the United States. The Open Rheumatology Journal, 10, 109–121.

47.

Luciano, J. V., Barrada, J. R., Aguado, J., Osma, J., & García-Campayo, J. (2014). Bifactor analysis and construct validity of the HADS: A cross-sectional and longitudinal study in fibromyalgia patients. Psychological Assessment, 26(2), 395–406.

48.

Hirsch, J. K., Sirois, F. M., & Lyness, J. M. (2011). Functional impairment and depressive symptoms in older adults: Mitigating effects of hope. British Journal of Health Psychology, 16(4), 744–760. doi:10.1111/j.2044-8287.2010.02012.x.

49.

Benka, J., Nagyova, I., Rosenberger, J., Calfova, A., Macejova, Z., Middel, B., et al. (2012). Social support and psychological distress in rheumatoid arthritis: a 4-year prospective study. Disability and Rehabilitation, 34(9), 754–761. doi:10.3109/09638288.2011.619618.

50.

Kool, M. B., van Middendorp, H., Lumley, M. A., Bijlsma, J. W., & Geenen, R. (2013). Social support and invalidation by others contribute uniquely to the understanding of physical and mental health of patients with rheumatic diseases. Journal of Health Psychology, 18(1), 86–95.

51.

Stanton, A. L., Revenson, T. A., & Tennen, H. (2007). Health psychology: psychological adjustment to chronic disease. Annual Review of Psychology. doi:10.1146/annurev.psych.58.110405.085615.

52.

Wood, A. M., Brown, G. D. A., & Maltby, J. (2011). Thanks, but I'm used to better: A relative rank model of gratitude. Emotion, 11, 175–180.

53.

Abeare, C. A., Cohen, J. L., Axelrod, B. N., Leisen, J. C. C., Mosley-Williams, A., & Lumley, M. A. (2010). Pain, executive functioning, and affect in patients with rheumatoid arthritis. The Clinical Journal of Pain, 26(8), 683–689.

54.

Cheng, S.-T., Tsui, P. K., & Lam, J. H. M. (2015). Improving mental health in health care practitioners: Randomized controlled trial of a gratitude intervention. Journal of Consulting and Clinical Psychology, 83, 177–186.

55.

Otto, A. K., Szczesny, E. C., Soriano, E. C., Laurenceau, J.-P., & Siegel, S. D. (2016). Effects of a randomized gratitude intervention on death-related fear of recurrence in breast cancer survivors. Health Psychology, 35(12), 1320.
Funding
This research was supported in part by a Grant from the Friedrich Baur Foundation.
Ethics declarations
Conflicts of interest
All authors declare no conflicts of interest.
Ethical approval
All procedures performed in studies involving human participants were in accordance with the ethical standards of the institutional and/or national research committee and with the 1964 Helsinki declaration and its later amendments or comparable ethical standards.
Informed consent
Informed consent was obtained from all individual participants included in the study.
About this article
Cite this article
Toussaint, L., Sirois, F., Hirsch, J. et al. Gratitude mediates quality of life differences between fibromyalgia patients and healthy controls. Qual Life Res 26, 2449–2457 (2017). https://doi.org/10.1007/s11136-017-1604-7
Accepted:

Published:

Issue Date:
Keywords
Gratitude

Fibromyalgia

Quality of life

Adjustment

Chronic illness