Abstract
Purpose
This study was to evaluate the efficacy of a complementary Chinese treatment modality Guolin-Qigong (GLQG) for patients with breast cancer on the body-mind health.
Methods
A randomized controlled clinical trial was conducted among 158 women with breast cancer. Subjects were randomized to receive GLQG (test group) versus a physical stretching program (control group) following conventional treatment for breast cancer. GLQG and stretching interventions were performed twice a week over 24 weeks. The primary outcome was the change in quality of life (QoL). Secondary outcome measures included anxiety, depression, and clinical indicators. All participants were assessed at four time-points, at the beginning of the study (T1), after 12 weeks of the intervention (T2), immediately after 24-week intervention (T3), and at 48-week follow-up visit (T4).
Results
Improvements in QoL were evident in both groups but the test group fared better than the control group at the 12th week (P < 0.01) and particularly in emotional well-being (P < 0.01) and breast cancer-specific well-being (P < 0.001). The test group showed an improvement in anxiety levels (P < 0.01), whereas the control group showed improvements in depression (P < 0.05) but there was no significant difference between groups (P > 0.05). Both groups showed improvements in immunological function and the test group fared better than the control in TNF-α levels (P < 0.05). The results in subjects who practiced more than 4 times and 6 h per week were similar to that of all subjects; however, the improvement in anxiety in the GLQG group was more obvious. There are positive correlations between QoL and anxiety and depression.
Conclusions
Both GLQG and physical stretching are beneficial during recovery following breast cancer. GLQC was more effective in terms of Qol improvements than physical stretching. Both programs brought improvements in anxiety or depression but had were comparable. GLQC group had a greater effect on immunological function than physical exercise.
This is a preview of subscription content, log in to check access.
Access options
Buy single article
Instant access to the full article PDF.
US$ 39.95
Price includes VAT for USA
Subscribe to journal
Immediate online access to all issues from 2019. Subscription will auto renew annually.
US$ 199
This is the net price. Taxes to be calculated in checkout.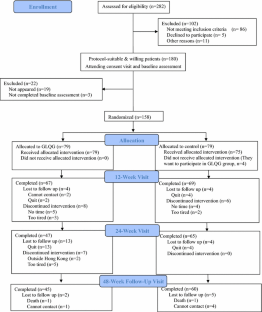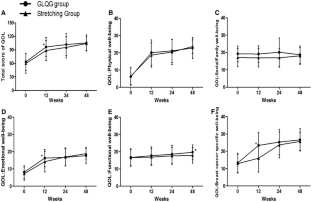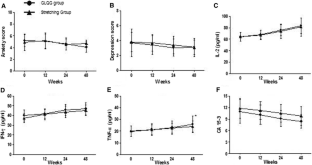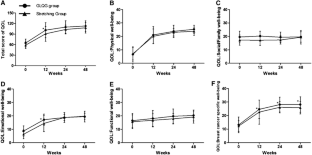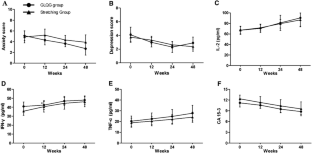 References
1.

Hong Kong Cancer Registry. Hospital Authority, Hong Kong Special Administrative Region. (2012). http://www3.ha.org.hk/cancereg/statistics.html.

2.

Bray, F., McCarron, P., & Parkin, D. M. (2004). The changing global patterns of female breast cancer incidence and mortality. Breast Cancer Research, 6(6), 229–239.

3.

Eustachi, A. (2007). Complementary therapies in breast cancer patients. Breast Care, 2(4), 209–216.

4.

Hong Kong Breast Cancer Registry Report No. 5. Hong Kong Breast Cancer Foundation. (2013). http://www.hkbcf.org/download/bcr_report5/full_report_2013.pdf. p. 31

5.

Witek-Janusek, L., Albuquerque, K., Chroniak, K. R., Chroniakc, C., Durazo-Arvizud, R., & Mathews, H. L. (2008). Effect of mindfulness based stress reduction on immune function, QoL and coping in women newly diagnosed with early stage breast cancer. Brain, Behavior, and Immunity, 22(6), 969–981.

6.

Fukui, S., Kugaya, A., Okamura, H., Kamiya, M., Koike, M., Nakanishi, T., et al. (2000). A psychosocial Group intervention for Japanese women with primary breast carcinoma. Cancer, 89(5), 1026–1036.

7.

Edelman, S., Bell, D. R., & Kidman, A. D. (1999). A group cognitive behaviour therapy programme with metastatic breast cancer patients. Psychooncology, 8(4), 295–305.

8.

Heiney, S. P., McWayne, J., Hurley, T. G., Lamb, L. S., Bryant, L. H., Bulter, W., et al. (2003). Efficacy of therapeutic group by telephone for women with breast cancer. Cancer Nursing, 26(6), 439–447.

9.

Xie, F. X., & Li, W. K. (1994). Ten years observation of Guo Lin Qi Gong treating cancers–16 cases. Qigong Journal, 9, 390–391.

10.

Huang, N. Q. (1996). Survey and enlightenment of 335 patients doing Guo Lin Qi Gong. China Qigong Science, 2, 23–25.

11.

Shen, X. D., & Hua, G. W. (2006). Guo Lin Qigong anti-cancer effects and mechanism of the review and prospects. Journal Traditional Chinese Medicine Literature, 3, 52–57.

12.

Huang, L. Q., Jin, H., Liu, C. T., & Jiang, C. (1997). The effect of Guolin Qigong on prognosis and quality of life in lung cancer patients. Chinese Journal of Pathophysiology, 5, 109.

13.

Deng, L. J. (2011). The study of the effects of aerobic exercise and psychological intervention on QoL of patients recovering from post-treatment of breast cancer. Journal of Nanchang College, 1, 168–171.

14.

Zhao, X. M., Huang, N. Q., Shan, Y., Jin, H., Long, J. J., & Wang, H. X. (1995). Effect of Guoling Qigong on Nailfold microcirculation in patients with cancer. Chinese Journal of Microcirculation, 5(3), 38–40.

15.

Jones, B. M. (2001). Changes in cytokine production in healthy subjects practicing Guolin Qigong: A pilot study. BMC Complement and Alternative Medicine, 1(1), 8.

16.

Loh, S. Y., Lee, S. Y., & Murray, L. (2014). The Kuala Lumpur Qigong trial for women in the Cancer Survivorship phase-efficacy of a three-arm RCT to improve QOL. Asian Pacific Journal of Cancer Prevention, 15(19), 8127–8134.

17.

Cheung, B. M. Y., Lo, J. L. F., Fong, D. Y. T., Chan, M. Y., Wong, S. H. T., Wong, V. C. W., et al. (2005). Randomised controlled trial of qigong in the treatment of mild essential hypertension. Journal of Human Hypertension, 19(9), 697–704.

18.

Tang, Z. L. (2012). Study of standard of collecting GLQG case records in breast cancer patients (pp. 7–10). Beijing: Beijing University of Chinese Medicine.

19.

Moadel, A. B., Shah, C., Wylie-Rosett, J., Harris, M. S., Patel, S. R., Hall, C. B., et al. (2007). Randomized controlled trial of yoga among a multiethnic sample of breast cancer patients: Effects on quality of life. Journal of Clinical Oncology, 25(28), 4387–4395.

20.

Brady, M. J., Cella, D. F., Mo, F., Tulsky, D. S., Lloyd, S. R., Deasy, S., et al. (1997). Reliability and validity of the Functional Assessment of Cancer Therapy-Breast (FACT-B) quality of life instrument. Journal of Clinical Oncology, 15, 974–986.

21.

Stafford, L., Judd, F., Gibson, P., Komiti, A., Quinn, M., & Mann, G. B. (2014). Comparison of the Hospital Anxiety and Depression Scale and the Center for Epidemiological Studies Depression Scale for detecting depression in women with breast or gynecologic cancer. General Hospital Psychiatry, 36(1), 74–80.

22.

Campbell, M. J., Scott, J., Maecker, H. T., Park, J. W., & Esserman, L. J. (2005). Immune dysfunction and micrometastases in women with breast cancer. Breast Cancer Research and Treatment, 91(2), 163–171.

23.

Molina, R., Jo, J., Filella, X., Zanón, G., Farrus, B., Muñoz, M., et al. (1998). C-erbB-2, CEA and CA 15.3 serum levels in the early diagnosis of recurrence of breast cancer patients. Anticancer Research, 19(4A), 2551–2555.

24.

He, Z. Y., Tong, Q., Wu, S. G., Li, F. Y., Lin, H. X., & Guan, X. X. (2012). A comparison of QoL and satisfaction of women with early-stage breast cancer treated with breast conserving therapy vs. mastectomy in southern China. Supportive Care Cancer, 20(10), 2441–2449.

25.

Engel, J., Schlesinger-Raab, A., Emeny, R., Hölzel, D., & Schubert-Fritschle, G. (2014). Quality of life in women with localised breast cancer or malignant melanoma 2 years after initial treatment: A comparison. International Journal Behavioural Medicine, 21(3), 478–486.

26.

Oh, B., Butow, P., Mullan, B., Clarke, S., Beale, P., Pavlakis, N., et al. (2010). Impact of medical Qigong on quality of life, fatigue, mood and inflammation in cancer patients: A randomized controlled trial. Annals of Oncology, 21(3), 608–614.

27.

Chen, Z., Meng, Z. Q., Milbury, K., Bei, W. Y., Zhang, Y., Thornton, B., et al. (2013). Qigong improves quality of life in women undergoing radiotherapy for breast cancer. Cancer, 119(9), 1690–1698.

28.

Carayol, M., Delpierre, C., Bernard, P., & Ninot, G. (2014). Population-, intervention- and methodology-related characteristics of clinical trials impact exercise efficacy during adjuvant therapy for breast cancer: a meta-regression analysis. Psychooncology. doi:10.1002/pon.3727.

29.

Wang, C. C., Schmid, C. H., Rones, R., Kalish, R., Yinh, J., Goldenberg, D. L., et al. (2010). A randomized trial of tai chi for fibromyalgia. New England Journal of Medicine, 363(8), 743–754.

30.

Buffart, L. M., Van-Uffelen, J. G. Z., Riphagen, I. I., Brug, J., Van-Mechelen, W., Brown, W. J., et al. (2012). Physical and psychosocial benefits of yoga in cancer patients and survivors, a systematic review and meta-analysis of randomized controlled trials. BMC Cancer, 12(1), 559–579.

31.

Courneya, K. S., Segal, R. J., Mackey, J. R., Gelmon, K., Reid, R. D., Friedenreich, C. M., et al. (2007). Effects of aerobic and resistance exercise in breast cancer patients receiving adjuvant chemotherapy: A multicenter randomized controlled trial. Journal of Clinical Oncology, 25(28), 4396–4404.

32.

Webster, K., Cella, D., & Yost, K. (2003). The Functional Assessment of Chronic Illness Therapy (FACIT) measurement system: Properties, applications, and interpretation. Health Quality Life Outcomes, 1, 79–85.

33.

Nes, L. S., Liu, H., Patten, C. A., Rauschd, S. M., Sloanb, J. A., Garcese, Y. I., et al. (2012). Physical activity level and quality of life in long term lung cancer survivors. Lung Cancer, 77(3), 611–616.

34.

Speck, R. M., Courneya, K. S., Mâsse, L. C., Duval, S., Schmitz, K. H., et al. (2010). An update of controlled physical activity trials in cancer survivors: A systematic review and meta-analysis. Journal of Cancer Survivorship, 4(2), 87–100.

35.

Schmitz, K. H., Holtzman, J., Courneya, K. S., Mâsse, L. C., Duval, S., & Kane, R. (2005). Controlled physical activity trials in cancer survivors: A systematic review and meta-analysis. Cancer Epidemiology, Biomarkers & Prevention, 14(7), 1588–1595.

36.

Fairey, A. S., Courneya, K. S., Field, C. J., & Mackey, J. R. (2002). Physical exercise and immune system function in cancer survivors. Cancer, 94(2), 539–551.
Acknowledgement
The authors thank the colleagues at School of Chinese Medicine, HKU for their advice, Chen Xiukun and Ken TSUN Wai-pan for excellent exercise guidance. The physical examination is supported by UNIMED Medical Institute Comprehensive Centre for Breast Diseases. We also appreciate Professor Colman McGrath from Faculty of Dentistry, the University of Hong Kong, for his English language proof-reading to improve the content of the manuscript.
Ethics declarations
Conflict of interest
The authors declare that they have no conflict of interest.
Ethical approval
The study was approved by the Institutional Review Board of the University of Hong Kong/Hospital Authority Hong Kong West Cluster (HKU/HA HKW IRB, UW 12-046). All procedures performed in the study were in accordance with the ethical standards of HKU and with the 1964 Helsinki Declaration and its later amendments or comparable ethical standards.
Additional information
Pei Liu and Jieshu You—Co-first authors.
About this article
Cite this article
Liu, P., You, J., Loo, W.T.Y. et al. The efficacy of Guolin-Qigong on the body-mind health of Chinese women with breast cancer: a randomized controlled trial. Qual Life Res 26, 2321–2331 (2017). https://doi.org/10.1007/s11136-017-1576-7
Accepted:

Published:

Issue Date:
Keywords
Guolin-Qigong

RCT

Breast cancer

Quality of life

Immune function

Tumor marker