Abstract
Introduction
Targeting resources for a designated higher-risk subgroup is a strategy for chronic care management. However, risk-designation has several limitations: it is inaccurate, seldom helpful for care guidance, and potentially misallocates care away from many patients.
Methods
To address limitations of risk designation, we tested a "what matters index" (WMI) in 19,593 adult patients with chronic conditions. The WMI contains five binary measures: insufficient confidence to manage health problems, level of pain, emotional problems, polypharmacy, and adverse medication effects. We examined its sum for association with patient-reported quality of life and prior emergency or hospital use. We compared its accuracy to a prototypic risk-designation model.
Results
The WMI was a good indicator for quality of life and in three diverse test populations it was strongly associated with the use of hospital and emergency services. For example, a sum of WMI ≥2 was associated with twice as many average uses as none; for ≥3, uses were three times higher. However, since relatively few patients use costly care, both the WMI and a prototypic risk-designation model had comparably low-positive predictive values.
Summary
The WMI uses the patient voice to identify needs strongly associated with quality of life. Akin to risk designation models, the WMI can be used to place patients into groups associated with levels of costly services, but neither is likely to forecast costly service use for individuals. However, unlike risk-designation models, the WMI is based on measures that will immediately guide care for every patient.
This is a preview of subscription content, log in to check access.
Access options
Buy single article
Instant access to the full article PDF.
US$ 39.95
Price includes VAT for USA
Subscribe to journal
Immediate online access to all issues from 2019. Subscription will auto renew annually.
US$ 199
This is the net price. Taxes to be calculated in checkout.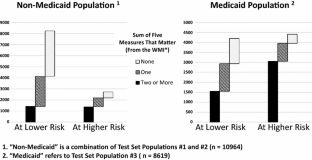 References
1.

Bodenheimer, T., Chen, E., & Bennett, H. D. (2009). Confronting the growing burden of chronic disease: can the U.S. health care workforce do the job? Health Affairs, 28(1), 64–74. doi:10.1377/hlthaff.28.1.64. (Millwood).

2.

Sinsky, C., Colligan, L., Prgomet, M., et al. (2016). Allocation of physician time in ambulatory practice: A time and motion study in 4 specialties. Annals of Internal Medicine, 165(11), 753–760.

3.

Vital Signs: Metrics for Health and Health Care Progress. (2015). In D. Blumenthal, E. Malphrus, and J. Michael McGinnis, (Eds.), Committee on Core Metrics for Better Health at Lower Cost; Institute of Medicine.

4.

Improving Chronic Illness Care. (2017). The chronic care model. Retrieved January 12, 2017, from http://www.improvingchroniccare.org/index.php?p=The_Chronic_Care_Model&s=2.

5.

Wasson, J. H., & Coleman, E. A. (2014). Health confidence: A simple, essential measure for patient engagement and better practice. Family Practice Management, 21(5), 8–12.

6.

Hippisley-Cox, J., & Coupland, C. (2013). Predicting risk of emergency admission to hospital using primary care data: Derivation and validation of QAdmissions score. British Medical Journal Open, 3, e003482. doi:10.1136/bmjopen-2013-003482.

7.

Wherry, L. R., Burns, M. E., & Leininger, L. J. (2014). Using self-reported health measures to predict high need cases among medicaid eligible adults. Health Services Research, 49, 2147–2172.

8.

Stiell, I., Wells, G., Laupacis, A., et al. (1995). Multicentre trial to introduce the Ottawa ankle rules for use of radiography in acute ankle injuries. Multicentre Ankle Rule Study Group. BMJ, 311(7005), 594–597.

9.

Stokes, J., Panagioti, M., Alam, R., Checkland, K., Cheraghi-Sohi, S., et al. (2015). Effectiveness of case management for 'At Risk' patients in primary care: A systematic review and meta-analysis. PLOS ONE, 10(7), e0132340. doi:10.1371/journal.pone.0132340.

10.

Damey, S., Flanagan, S., & Combes, G. (2016). Does integrated care reduce hospital activity for patients with chronic diseases? An umbrella review of systematic reviews. British Medical Journal Open, 6, e011952.

11.

Zulman, D. M., Chee, C. P., Ezeji-Okoye, S. C., Shaw, J. G., Homes, T. H., Kahn, J. S., et al. (2017). Effective of an intensive outpatient program to augment primary care for high-need veterans affairs patients: A randomized trial. JAMA Internal Medicine, 177(2), 166–175.

12.

Nelson, E. C., Landgraf, J. M., Hays, R. D., Wasson, J. H., & Kirk, J. W. (1990). The functional status of patients: How can it be measured in physicians' offices? Medical Care, 28(12), 1111–1126.

13.

Wasson, J. H., & Bartels, S. (2009). CARE vital signs supports patient-centered collaborative care. The Journal of Ambulatory Care Management, 32, 56–71.

14.

Wasson, J. H., Sox, H. C., Goldman, L., & Neff, R. K. (1985). Clinical Prediction Rules: Applications and methodological standards. New England Journal of Medicine, 313(13), 793–799.

15.

Wasson, J. H., & Sox, H. C. (1996). Clinical prediction rules have they come of age? JAMA, 275(8), 641–642.

16.

Miller, G. A. (1956). The magical number seven, plus or minus two: Some limits on our capacity for processing information. Psychological Review, 63(2), 81–97.

17.

Wasson, J. H. (2013). A patient-reported spectrum of adverse health care experiences: Harms, unnecessary care, medication illness, and low health confidence. The Journal of Ambulatory Care Management, 36(3), 245–2503.

18.

Hibbard, J. H., Greene, J., Sacks, R., Overton, V., & Parrotta, C. D. (2016). Adding a measure of patient self-management capability to risk assessment can improve prediction of high costs. Health Affairs, 35(3), 489–494.

19.

Wasson, J. H., Johnson, D. J., & Mackenzie, T. (2008). The impact of primary care patients' pain and emotional problems on their confidence with self-management. The Journal of Ambulatory Care Management, 31, 120–127.

20.

Ahles, T. A., Wasson, J. W., Seville, J. L., Johnson, D. J., et al. (2006). A controlled trial of methods for managing pain in primary care patients with or without co-occurring psychosocial problems. The Annals of Family Medicine, 4(3), 341–350.

21.

Budnitz, D. S., Lovegrove, M. C., & Shehab, N. (2011). Richards CL emergency hospitalizations for adverse drug events in older Americans. New England Journal of Medicine, 365, 2002–2012.

22.

Nelson, E. C., Eftimovska, E., Lind, C., Hager, A., Wasson, J. H., & Lindblad, S. (2015). Patient reported outcome measures in practice. BMJ, 350, g7818. doi:10.1136/bmj.g7818.

23.

Bierman, A. S., Bubolz, T. A., Fisher, E. S., & Wasson, J. H. (1999). How well does a single question about health predict the financial health of medicare managed care plans? Effective Clinical Practice, 2, 56–62.

24.

DeSalvo, K. B., Fan, V., McDonell, M., & Fihn, S. D. (2005). Predicting mortality and healthcare utilization with a single question. HSR, 40(4), 1234–1246.

25.

Wallace, E., Uijen, M. J., Clyne, B., Zarabzadeh, A., Keogh, C., Galvin, R., et al. (2016). Impact analysis studies of clinical prediction rules relevant to primary care: A systematic review. BMJ Open, 6, e009957. doi:10.1136/bmjopen-2015-009957.
About this article
Cite this article
Wasson, J.H., Soloway, L., Moore, L.G. et al. Development of a care guidance index based on what matters to patients. Qual Life Res 27, 51–58 (2018). https://doi.org/10.1007/s11136-017-1573-x
Accepted:

Published:

Issue Date:
Keywords
Patient-reported measures

Chronic condition management

Patient engagement

Risk models

Clinical prediction rules

Health confidence