Abstract
Purpose
The objective of this study was to evaluate the psychometric properties of the Dysmenorrhea Daily Diary (DysDD), an electronic patient-reported outcome, in a sample of 355 women with primary dysmenorrhea enrolled in a phase IIb, multicenter, randomized, partially blinded, placebo-controlled trial for treatment of dysmenorrhea.
Methods
Subjects completed the DysDD over three menstrual cycles, one pre-treatment baseline cycle and two treatment cycles. The DysDD was administered alongside the Menstrual Distress Questionnaire (MDQ), the Short-Form 36 Version 2.0 (SF-36v2), and a Global Assessment of Change (GAC). Item response distributions, test–retest reliability, concurrent and known groups validity, responsiveness, and minimally important difference (MID) were evaluated for the DysDD.
Results
As expected, item response distributions varied throughout the menstrual period for all items, with the response scales fully utilized. Within-cycle test–retest reliability was adequate (weighted kappa: 0.5–0.7), although between-cycle test–retest was poor (weighted kappa: 0.1–0.5), most likely due to the highly variable nature of dysmenorrhea between cycles rather than limitations of the measure. Correlations with the MDQ and SF-36v2 were low-moderate, but in the predicted direction, supporting concurrent validity. There were significant differences in DysDD scores across severity groups based on pain medication use. The DysDD was responsive to changes in patients' dysmenorrhea with significantly different changes in scores between change groups (p < 0.0001). MID analyses suggest changes on the DysDD 0–10 pelvic pain score of three points can be considered clinically meaningful.
Conclusions
Overall, findings indicate that the DysDD has acceptable reliability and is a valid and responsive instrument for assessing dysmenorrhea.
Access options
Buy single article
Instant access to the full article PDF.
US$ 39.95
Tax calculation will be finalised during checkout.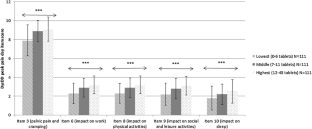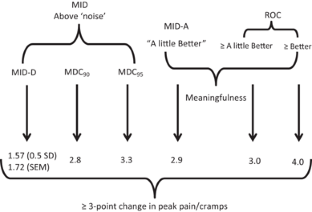 References
1.

Proctor, M., & Farquhar, C. (2006). Diagnosis and management of dysmenorrhoea. BMJ, 332(7550), 1134–1138. doi:10.1136/bmj.332.7550.1134.

2.

Ali, Z., Burnett, I., Eccles, R., North, M., Jawad, M., Jawad, S., et al. (2007). Efficacy of a paracetamol and caffeine combination in the treatment of the key symptoms of primary dysmenorrhoea. Current Medical Research and Opinion, 23(4), 841–851. doi:10.1185/030079907X182239.

3.

Harel, Z. (2006). Dysmenorrhea in adolescents and young adults: Etiology and management. Journal of Pediatric and Adolescent Gynecology, 19(6), 363–371.

4.

Harel, Z. (2002). A contemporary approach to dysmenorrhea in adolescents. Paediatric Drugs, 4(12), 797–805.

5.

Coco, A. S. (1999). Primary dysmenorrhea. American Family Physician, 60(2), 489–496.

6.

Eby, G. A. (2007). Zinc treatment prevents dysmenorrhea. Medical Hypotheses, 69(2), 297–301. doi:10.1016/j.mehy.2006.12.009.

7.

Santer, M., Wyke, S., & Warner, P. (2007). What aspects of periods are most bothersome for women reporting heavy menstrual bleeding? Community survey and qualitative study. BMC Women's Health, 7, 8. doi:10.1186/1472-6874-7-8.

8.

Unsal, A., Ayranci, U., Tozun, M., Arslan, G., & Calik, E. (2010). Prevalence of dysmenorrhea and its effect on quality of life among a group of female university students. Upsala Journal of Medical Sciences, 115(2), 138–145. doi:10.3109/03009730903457218.

9.

Food and Drug Administration (FDA) (2009). Guidance for industry: Patient-reported outcome measures—use in medical product development to support labeling claims. http://www.fda.gov/downloads/Drugs/Guidances/UCM193282.pdf.

10.

European Medicines Agency (2005). Reflection paper on the regulatory guidance for the use of health-related quality of life (HRQL) measures in the evalutation of medicinal products. http://www.ema.europa.eu/docs/en_GB/document_library/Scientific_guideline/2009/09/WC500003637.pdf.

11.

Chesney, M. A., & Tasto, D. L. (1975). The development of the menstrual symptom questionnaire. Behavioural Research and Theory, 13(4), 237–244.

12.

Moos, R. H. (1968). The development of a menstrual distress questionnaire. Psychosomatic Medicine, 30(6), 853.

13.

Andersch, B., & Milsom, I. (1982). An epidemiologic study of young women with dysmenorrhea. American Journal of Obstetrics and Gynecology, 144(6), 655–660.

14.

Melzack, R. (1975). The McGill Pain Questionnaire: Major properties and scoring methods. Pain, 1(3), 277–299.

15.

Melzack, R. (1987). The short-form McGill pain questionnaire. Pain, 30(2), 191–197.

16.

Biberoglu, K. O., & Behrman, S. J. (1981). Dosage aspects of danazol therapy in endometriosis: Short-term and long-term effectiveness. American Journal of Obstetrics and Gynecology, 139, 645–654.

17.

Nguyen, A. M., Humphrey, L., Kitchen, H., Rehman, T., & Norquist, J. M. (2014). A qualitative study to develop a patient-reported outcome for dysmenorrhea. Quality of Life Research: An International Journal of Quality of Life Aspects of Treatment, Care and Rehabilitation. doi:10.1007/s11136-014-0755-z.

18.

Wild, D., Grove, A., Martin, M., Eremenco, S., McElroy, S., Verjee-Lorenz, A., et al. (2005). Principles of good practice for the translation and cultural adaptation process for patient-reported outcomes (PRO) measures: Report of the ISPOR task force for translation and cultural adaptation. Value in Health, 8(2), 94–104.

19.

Ware, J. E., & Sherbourne, C. D. (1992). The MOS 36-ltem short-form health survey (SF-36): I. Conceptual framework and item selection. Medical Care, 30, 473–483.

20.

Nunnally, J. C., Bernstein, I. H. (1994). Psychometric theory. New York: McGraw-Hill.

21.

Sloan, J., Symonds, T., Vargas-Chanes, D., & Fridley, B. (2003). Practical guidelines for assessing the clinical significance of health-related quality of life changes within clinical trials. Drug Information Journal, 37(1), 23–31.

22.

Osoba, D., Rodrigues, G., Myles, J., Zee, B., & Pater, J. (1998). Interpreting the significance of changes in health-related quality-of-life scores. Journal of Clinical Oncology, 16(1), 139–144.

23.

Turk, D. C., Dworkin, R. H., Burke, L. B., Gershon, R., Rothman, M., Scott, J., et al. (2006). Developing patient-reported outcome measures for pain clinical trials: IMMPACT recommendations. Pain, 125(3), 208–215.

24.

Habiba, M., Julian, S., Taub, N., Clark, M., Rashid, A., Baker, R., et al. (2010). Limited role of multi-attribute utility scale and SF-36 in predicting management outcome of heavy menstrual bleeding. European Journal of Obstetrics and Gynecology and Reproductive Biology, 148(1), 81–85.

25.

Dworkin, R. H., Turk, D. C., McDermott, M. P., Peirce-Sandner, S., Burke, L. B., Cowan, P., et al. (2009). Interpreting the clinical importance of group differences in chronic pain clinical trials: IMMPACT recommendations. Pain, 146(3), 238–244.
Acknowledgements
The authors gratefully acknowledge the contribution of Louise Humphrey and Helen Kitchen for their input into the design of the study and the psychometric analysis plan.
Authors' contributions
AMN and JN contributed to the clinical trial design and wrote the psychometric analysis plan. RA provided scientific input throughout the project, helped with interpretation of the results, and was highly involved in the drafting of the manuscript. TK designed the clinical trial and provided clinical input and review. FC conducted the statistical programming and data analyses. BT and AT managed the project, interpreted the results, and drafted the manuscript. All authors contributed significantly to the interpretation of the findings, drafting the final manuscript, and approval of the final version.
Ethics declarations
Funding
This study was sponsored by Merck Sharp & Dohme Corporation.
Conflict of interest
Rob Arbuckle is an employee of Adelphi Values, a health outcomes agency that provides consulting services for various pharmaceutical companies, including Merck Sharp & Dohme Corp, and was contracted by Merck for involvement in this psychometric validation study. Alice Turnbull and Beverley Taylor were employees of Adelphi Values at the time of this study and analysis. Allison Martin Nguyen, Josephine Norquist, Tjeerd Korver, and Fang Chen were all employees of Merck Sharp & Dohme Corp. at the time of this study and analysis. Tjeerd Korver provides consulting services to Merck Sharp & Dohme Corp and was compensated financially for her involvement.
Ethical approval
All procedures performed in studies involving human participants were in accordance with the ethical standards of the institutional and/or national research committee and with the 1964 Helsinki declaration and its later amendments or comparable ethical standards.
Informed consent
Informed consent was obtained from all individual participants included in the study.
About this article
Cite this article
Nguyen, A.M., Arbuckle, R., Korver, T. et al. Psychometric validation of the dysmenorrhea daily diary (DysDD): a patient-reported outcome for dysmenorrhea. Qual Life Res 26, 2041–2055 (2017). https://doi.org/10.1007/s11136-017-1562-0
Accepted:

Published:

Issue Date:
Keywords
Patient-reported outcome

Electronic diary

Symptom assessment

Psychometric evaluation