Abstract
Objective
To comprehensively identify components of the physical limitation concept in knee osteoarthritis (OA) and to rate the clinical importance of these using perspectives of both patients and health professionals.
Design
Concept mapping, a structured group process, was used to identify and organize data in focus groups (patients) and via a global web-based survey (professionals). Ideas were elicited through a nominal group technique and then organized using multidimensional scaling, cluster analysis, participant validation, rating of clinical importance, and thematic analyses to generate a conceptual model of physical limitations in knee OA.
Results
Fifteen Danish patients and 200 international professionals contributed to generating the conceptual model. Five clusters emerged: 'Limitations/physical deficits'; 'Everyday hurdles'; 'You're not the person you used to be'; 'Need to adjust way of living'; and 'External limitations,' each with sub-clusters. Patients generally found their limitations more important than the professionals did.
Conclusion
Patients and professionals agreed largely on the physical limitation concept in knee OA. Some limitations of high importance to patients were lower rated by the professionals, highlighting the importance of including patients when conceptualizing patient outcomes. These data offer new knowledge to guide selection of clinically relevant outcomes and development of outcome measures in knee OA.
This is a preview of subscription content, log in to check access.
Access options
Buy single article
Instant access to the full article PDF.
US$ 39.95
Price includes VAT for USA
Subscribe to journal
Immediate online access to all issues from 2019. Subscription will auto renew annually.
US$ 199
This is the net price. Taxes to be calculated in checkout.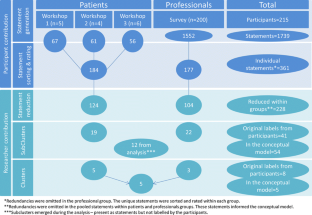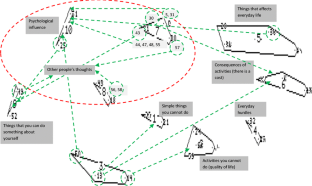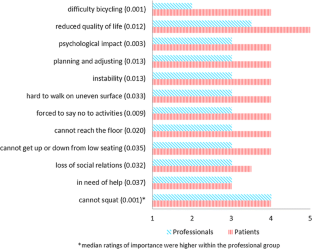 References
1.

Bellamy, N., Kirwan, J., Boers, M., Brooks, P., Strand, V., Tugwell, P., et al. (1997). Recommendations for a core set of outcome measures for future phase III clinical trials in knee, hip, and hand osteoarthritis. Consensus development at OMERACT III. Journal of Rheumatology, 24(4), 799–802.

2.

Dreinhofer, K., Stucki, G., Ewert, T., Huber, E., Ebenbichler, G., Gutenbrunner, C., et al. (2004). ICF core sets for osteoarthritis. Journal of Rehabilitation Medicine, 44(Suppl), 75–80.

3.

Dworkin, R. H., Turk, D. C., Farrar, J. T., Haythornthwaite, J. A., Jensen, M. P., Katz, N. P., et al. (2005). Core outcome measures for chronic pain clinical trials: IMMPACT recommendations. Pain, 113(1–2), 9–19.

4.

Pollard, B., Johnston, M., & Dieppe, P. (2006). What do osteoarthritis health outcome instruments measure? Impairment, activity limitation, or participation restriction? Journal of Rheumatology, 33(4), 757–763.

5.

Buchbinder, R., Batterham, R., Elsworth, G., Dionne, C. E., Irvin, E., & Osborne, R. H. (2011). A validity-driven approach to the understanding of the personal and societal burden of low back pain: Development of a conceptual and measurement model. Arthritis Res Ther, 13(5), R152.

6.

Merskey, H., Bonica, J. J., Carmon, A., Dubner, R., Kerr, F. W. L., Lindblom, U., et al. (1979). Pain terms: A list with definitions and notes on usage. Recommended by the IASP subcommittee on Taxonomy. Pain, 6(3), 249.

7.

Osborne, R. H., Batterham, R. W., Elsworth, G. R., Hawkins, M., & Buchbinder, R. (2013). The grounded psychometric development and initial validation of the Health Literacy Questionnaire (HLQ). BMC Public Health, 13, 658.

8.

Turk, D. C., Dworkin, R. H., Revicki, D., Harding, G., Burke, L. B., Cella, D., et al. (2008). Identifying important outcome domains for chronic pain clinical trials: An IMMPACT survey of people with pain. Pain, 137(2), 276–285.

9.

Hawker, G. A., Davis, A. M., French, M. R., Cibere, J., Jordan, J. M., March, L., et al. (2008). Development and preliminary psychometric testing of a new OA pain measure—An OARSI/OMERACT initiative. Osteoarthritis Cartilage, 16(4), 409–414.

10.

Busija, L., Buchbinder, R., & Osborne, R. H. (2013). A grounded patient-centered approach generated the personal and societal burden of osteoarthritis model. Journal of Clinical Epidemiology, 66(9), 994–1005.

11.

Boers, M., Kirwan, J. R., Wells, G., Beaton, D., Gossec, L., d'Agostino, M. A., et al. (2014). Developing core outcome measurement sets for clinical trials: OMERACT filter 2.0. Journal of Clinical Epidemiology, 67(7), 745–753.

12.

Trochim, W., & Kane, M. (2005). Concept Mapping: An introduction to structured conceptualization in health care. International Journal for Quality in Health Care, 17(3), 187–191.

13.

Trochim, W. M., Cook, J. A., & Setze, R. J. (1994). Using concept mapping to develop a conceptual framework of staff's views of a supported employment program for individuals with severe mental illness. Journal of Consulting and Clinical Psychology, 62(4), 766–775.

14.

Trochim, W. M., & Linton, R. (1986). Conceptualization for planning and evaluation. Evolution Program of Planning, 9(4), 289–308.

15.

Crabtree, B. F., & Miller, W. L. (1999). Using codes and code manuals—a template organizing style of interpretation. In B. F. Crabtree & W. L. Miller (Eds.), Doing qualitative research (2nd ed., pp. 163–177). Thousand Oaks: Sage.

16.

Beale, M., Cella, M., & Williams, A. C. C. (2011). Comparing patients' and clinician-researchers' outcome choice for psychological treatment of chronic pain. Pain, 152(10), 2283–2286.

17.

Bellamy, N., Buchanan, W. W., Goldsmith, C. H., Campbell, J., & Stitt, L. W. (1988). Validation study of WOMAC: A health status instrument for measuring clinically important patient relevant outcomes to antirheumatic drug therapy in patients with osteoarthritis of the hip or knee. Journal of Rheumatology, 15(12), 1833–1840.

18.

Roos, E. M., Roos, H. P., Lohmander, L. S., Ekdahl, C., & Beynnon, B. D. (1998). Knee Injury and Osteoarthritis Outcome Score (KOOS)—Development of a self-administered outcome measure. Journal of Orthopaedic and Sports Physical Therapy, 28(2), 88–96.

19.

Hawker, G. A., Croxford, R., Bierman, A. S., Harvey, P. J., Ravi, B., Stanaitis, I., et al. (2014). All-cause mortality and serious cardiovascular events in people with hip and knee osteoarthritis: A population based cohort study. PLoS ONE, 9(3), e91286.

20.

Osborne, R. H., Elsworth, G. R., & Whitfield, K. (2007). The Health Education Impact Questionnaire (heiQ): An outcomes and evaluation measure for patient education and self-management interventions for people with chronic conditions. Patient Education and Counseling, 66(2), 192–201.

21.

Osborne, R. H., Norquist, J. M., Elsworth, G. R., Busija, L., Mehta, V., Herring, T., et al. (2011). Development and validation of the Influenza Intensity and Impact Questionnaire (FluiiQ). Value Health, 14(5), 687–699.

22.

Hawker, G. A., & Gignac, M. A. (2006). How meaningful is our evaluation of meaningful change in osteoarthritis? Journal of Rheumatology, 33(4), 639–641.
Acknowledgments
We would like to thank the patients and health professionals who participated in this study. This study was supported by grants from The Oak Foundation, The Danish Physiotherapy Association, and The Danish Rheumatism Association. Financial support was provided from The Parker Institute and Deakin University.
Conflict of interest
The authors declare that they have no conflict of interests that could influence their work and conclusions in relation to this manuscript.
Informed consent
Informed consent was obtained from all individual patients included in the study.
About this article
Cite this article
Klokker, L., Osborne, R., Wæhrens, E.E. et al. The concept of physical limitations in knee osteoarthritis: as viewed by patients and health professionals. Qual Life Res 24, 2423–2432 (2015). https://doi.org/10.1007/s11136-015-0976-9
Accepted:

Published:

Issue Date:
Keywords
Knee OA

Physical limitations

Patient perspective

Concept mapping