Abstract
Background
In the UK, demonstration of patient and public involvement (PPI) is now a funding requirement. Despite advice being available to researchers regarding PPI, levels of engagement are variable. Patient involvement has been at the core of the Leeds Psychosocial Oncology and Clinical Practice Research Group since 2007 when a local Research Advisory Group (RAG) was established. In addition, we work with experienced patient advocates from national groups.
Methods
The RAG is led by designated researchers who manage and communicate with members. The RAG is invited to twice yearly meetings with the full research team when study findings are disseminated and advice sought. The meetings are also an opportunity to socialise and thank members. Effective partnerships and engagement require good communication, building relationships over time and tailoring involvement to individuals' skills and experience.
Results
Patients have been involved in design, planning new projects and assisting with grant proposals; development, pilot testing of interview strategies and question generation, project steering groups and management teams, development of self-management advice for online patient portals; implementation, extensive beta testing of new questionnaire builder software to enable collection of online patient-reported outcomes (PRO) and study websites, cognitive interviews to develop PRO items; dissemination, co-authorship of papers and presentations, attendance/representation of the group at conferences.
Conclusion
The involvement of patient advocates is integral to ensuring PRO development remains patient-centred. Having a co-operative, well-established local PPI group and nationally active patient collaborators has had a rewarding and significant impact on our research programmes.
Access options
Buy single article
Instant access to the full article PDF.
USD 39.95
Price includes VAT (USA)
Tax calculation will be finalised during checkout.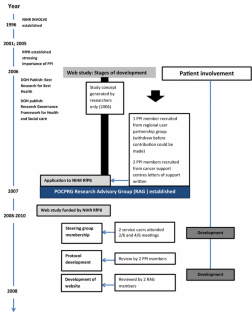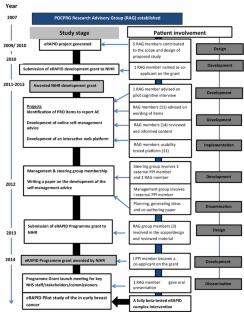 References
1.

Velikova, G., et al. (2004). Measuring quality of life in routine oncology practice improves communication and patient well-being: A randomized controlled trial. Journal of Clinical Oncology, 22(4), 714–724.

2.

Velikova, G., et al. (2002). Computer-based quality of life questionnaires may contribute to doctor–patient interactions in oncology. British Journal of Cancer, 86(1), 51–59.

3.

Takeuchi, E. E., et al. (2011). Impact of patient-reported outcomes in oncology: A longitudinal analysis of patient–physician communication. Journal of Clinical Oncology Official Journal of the American Society of Clinical Oncology, 29(21), 2910–2917.

4.

Bennett, A. V., Jensen, R. E., & Basch, E. (2012). Electronic patient-reported outcome systems in oncology clinical practice. CA: A Cancer Journal for Clinicians, 62(5), 336–347.

5.

Snyder, C., et al. (2012). Implementing patient-reported outcomes assessment in clinical practice: A review of the options and considerations. Quality of Life Research, 21(8), 1305–1314.

6.

Ashley, L., et al. (2011). Feasibility test of a UK-scalable electronic system for regular collection of patient-reported outcome measures and linkage with clinical cancer registry data: the electronic patient-reported outcomes from cancer survivors (ePOCS) system. BMC Medical Informatics and Decision Making, 11, 66.

7.

Ashley, L., et al. (2013). Integrating patient reported outcomes with clinical cancer registry data: a feasibility study of the electronic patient-reported outcomes from cancer survivors (ePOCS) system. Journal of Medical Internet Research, 15(10), e230.

8.

Holch, P., et al. (2013), Electronic patient self-reporting of adverse-events: Patient information and aDvice (eRAPID): Development of a flexible electronic reporting platform and algorithms for severity dependent alerts., In National Cancer Research Institute Conference. Liverpool.

9.

Ziegler, L., et al. (2012). Towards safer delivery and monitoring of cancer treatments. Electronic patient self-reporting of adverse-events: Patient information and a aDvice (eRAPID). Psycho-Oncology, 21, 15.

10.

Department of Health. (2006). Best research for best health: A new national health research strategy. London: Department of Health.

11.

INVOLVE. (2014). The involve register. http://www.invo.org.uk/. Accessed 7 May 2014.

12.

Inns, K. (2014). Patient and public involvement (PPI) in cancer research: Information for NCRI clinical studies groups. National Cancer Research Institute.

13.

INVOLVE. (2007). Public information pack (PIP) promoting public involvement in NHS, public health and social care research: Getting started 2007.

14.

Bartlett, Y. K., et al. (2012). Developing a useful, user-friendly website for cancer patient follow-up: Users' perspectives on ease of access and usefulness. European Journal of Cancer Care, 21(6), 747–757.

15.

Turner-Bowker, D. M., et al. (2011). Heuristic evaluation and usability testing of a computerized patient-reported outcomes survey for headache sufferers. Telemedicine and Journal of E Health, 17(1), 40–45.

16.

Venkatesh, V., et al. (2003). User acceptance of information technology: Toward a unified view. Management Information Systems Quarterly, 27(3), 425–478.

17.

Hector, C., Holch, P., Warrington, L., Morris, C., Ziegler, L., Absolom, K., Keding, A., Bamforth, L., Harley, C., & Velikova, G. (2013). Development of online patient-advice for the self-management of low-level chemotherapy related toxicities: Involvement of patients and staff. British Psychosocial Oncology Society, 22(Suppl. s2), 11.
Acknowledgments
We would like to thank all past and current RAG members who have shared ideas and given up their time to support our research. Thanks also to Clare Harley, Alan Liu, Emma Ingleson, Helen Jones, Simon Pini, Fiona Kennedy and Beverly Horne for their involvement in establishing and maintaining the RAG since 2007 and Maureen Twiddy for her advice on the history of PPI in the UK. This article presents independent research funded by the National Institute for Health Research (NIHR) under its Programme Grants for Applied Research Programme (RP-PG-0611-20008). The views expressed are those of the author(s) and not necessarily those of the NHS, the NIHR or the Department of Health.
About this article
Cite this article
Absolom, K., Holch, P., Woroncow, B. et al. Beyond lip service and box ticking: how effective patient engagement is integral to the development and delivery of patient-reported outcomes. Qual Life Res 24, 1077–1085 (2015). https://doi.org/10.1007/s11136-014-0909-z
Accepted:

Published:

Issue Date:
Keywords
Patient public involvement

PRO

Cancer

Quality of life