Abstract
Purpose
The development of patient-centred approaches and of reduction in consumption strategies in alcohol use disorder requires giving a larger place to qualitative assessments that are closer to patients' concerns and more clinically relevant than drinking outcomes and generic health-related quality of life instrument. Our purpose was to develop from patients input the Alcohol Quality of Life Scale (AQoLS), a disease-specific measure for alcohol use disorder (AUD).
Methods
Concept elicitation focus groups were conducted with AUD patients in the UK and France. Thematic analysis was used to identify key areas of impact of AUD, and draft items were developed to capture these issues. The draft items underwent expert review to ensure clinical and cross-cultural applicability. Two iterative rounds of cognitive debriefing interviews were conducted with AUD patients in both countries, to assess face and content validity.
Results
From focus groups conducted with 38 AUD patients, seven areas of impact emerged, forming the basis for the AQoLS: relationships, activities, looking after self, emotional impact, control, living conditions, and sleep. An initial pool of 90 items was reduced to 50 following the review process. In cognitive interviews, the measure took less than 10 min to complete, and patients reported that items were relevant to their experience. Following Round 1 interviews (n = 16), 14 items were removed because patients felt they were unclear or uneasy to respond to, 2 were combined, 7 were revised, and 4 new items were added. The recall period of 2 weeks was changed to 4 weeks, based on patient comments. Following Round 2 interviews (n = 15), 5 items were removed and 3 were modified to produce the 34-item AQoLS.
Conclusion
As the only de novo measure of health-related quality of life developed specifically for AUD, the AQoLS offers the potential of increased sensitivity to show the effectiveness of therapeutic interventions from the patient's perspective.
Access options
Buy single article
Instant access to the full article PDF.
USD 39.95
Price excludes VAT (USA)
Tax calculation will be finalised during checkout.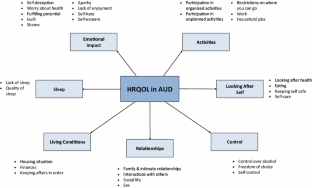 References
World Health Organization. (2004). WHO global status report on alcohol. http://www.who.int/substance_abuse/publications/en/france.pdf.

World Health Organization. (2011). World Health Organization. Alcohol fact sheet. http://www.who.int/mediacentre/factsheets/fs349/en/.

EMA. (2010). Guideline on the development of medicinal products for the treatment of alcohol dependence. EMA/CHMP/EWP/20097/2008, European Medicines Agency.

Allen, J. P., & Wilson, V. B. (2003). Assessment of alcohol problems: An overview. In Assessing alcohol problems: A guide for clinicians and researchers. U.S. Department of Health and Human Services, Public Health Service, National Institutes of Health, National Institute on Alcohol Abuse and Alcoholism. http://pubs.niaaa.nih.gov/publications/AssessingAlcohol/.

Luquiens, A., Reynaud, M., & Aubin, H. J. (2011). Is controlled drinking an acceptable goal in the treatment of alcohol dependence? A survey of French alcohol specialists. Alcohol and Alcoholism, 46(5), 586–591.

Zywiak, W. H., Kenna, G. A., & Westerberg, V. S. (2011). Beyond the ubiquitous relapse curve: a data-informed approach. Front Psychiatry, 2, 12.

Levola, J., Aalto, M., Holopainen, A., Cieza, A., & Pitkanen, T. (2014). Health-related quality of life in alcohol dependence: A systematic literature review with a specific focus on the role of depression and other psychopathology. Nordic Journal of Psychiatry, 68(6), 369–384.

Donovan, D., Mattson, M. E., Cisler, R. A., Longabaugh, R., & Zweben, A. (2005). Quality of life as an outcome measure in alcoholism treatment research. Journal of Studies on Alcohol and Drugs, 15, 119–139. discussion 192–113.

Laudet, A. B. (2011). The case for considering quality of life in addiction research and clinical practice. Addiction Science & Clinical Practice, 6(1), 44–55.

Luquiens, A., Reynaud, M., Falissard, B., & Aubin, H. J. (2012). Quality of life among alcohol-dependent patients: how satisfactory are the available instruments? A systematic review. Drug and Alcohol Dependence, 125(3), 192–202.

Ugochukwu, C., Bagot, K. S., Delaloye, S., Pi, S., Vien, L., Garvey, T., et al. (2013). The importance of quality of life in patients with alcohol abuse and dependence. Harvard Review of Psychiatry, 21(1), 1–17.

Leplege, A. (2011). Measurements of quality of life, construction and validation of an instrument. Soins, 759, 35–37.

Terwee, C. B., Dekker, F. W., Wiersinga, W. M., Prummel, M. F., & Bossuyt, P. M. (2003). On assessing responsiveness of health-related quality of life instruments: guidelines for instrument evaluation. Quality of Life Research, 12(4), 349–362.

Carr, A. J., Gibson, B., & Robinson, P. G. (2001). Measuring quality of life: Is quality of life determined by expectations or experience? BMJ, 322(7296), 1240–1243.

Malet, L., Llorca, P. M., Beringuier, B., Lehert, P., & Falissard, B. (2006). AlQoL 9 for measuring quality of life in alcohol dependence. Alcohol and Alcoholism, 41(2), 181–187.

EMA. (2005). Reflection paper on the regulatory guidance for the use of health-related quality of life (hrql) measures in the evaluation of medicinal products. London: Committee for Medicinal Products for Human Use.

Tong, A., Sainsbury, P., & Craig, J. (2007). Consolidated criteria for reporting qualitative research (COREQ): A 32-item checklist for interviews and focus groups. International Journal for Quality in Health Care, 19(6), 349–357.

Sheehan, D. V., Lecrubier, Y., Sheehan, K. H., Amorim, P., Janavs, J., Weiller, E., et al. (1998). The Mini-International Neuropsychiatric Interview (M.I.N.I.): the development and validation of a structured diagnostic psychiatric interview for DSM-IV and ICD-10. The Journal of Clinical Psychiatry, 59(Suppl 20), 22–33. quiz 34–57.

Babor, T. F., Hofmann, M., DelBoca, F. K., Hesselbrock, V., Meyer, R. E., Dolinsky, Z. S., & Rounsaville, B. (1992). Types of alcoholics, I. Evidence for an empirically derived typology based on indicators of vulnerability and severity. Archives of General Psychiatry, 49(8), 599–608.

FDA. (2009). Guidance for industry. Patient-reported outcome measures: Use in medical product development to support labeling claims. http://www.fda.gov/downloads/Drugs/Guidances/UCM193282.pdf.

American Psychiatric Association, DSM5 organisation. (2013). Substance related and addictive disorders fact sheet. http://www.dsm5.org/Documents/Substance%20Use%20Disorder%20Fact%20Sheet.pdf.

Heather, N., Adamson, S. J., Raistrick, D., & Slegg, G. P. (2010). Initial preference for drinking goal in the treatment of alcohol problems: I. Baseline differences between abstinence and non-abstinence groups. Alcohol and Alcoholism, 45(2), 128–135.

Hodgins, D. C., Leigh, G., Milne, R., & Gerrish, R. (1997). Drinking goal selection in behavioral self-management treatment of chronic alcoholics. Addictive Behaviors, 22(2), 247–255.

Noel, X., Brevers, D., & Bechara, A. (2013). A triadic neurocognitive approach to addiction for clinical interventions. Frontiers in Psychiatry, 4, 179.

Everitt, B. J., Belin, D., Economidou, D., Pelloux, Y., Dalley, J. W., & Robbins, T. W. (2008). Neural mechanisms underlying the vulnerability to develop compulsive drug-seeking habits and addiction. Philosophical Transactions: Biological Sciences, 1507, 3125.

Connolly, C. G., Foxe, J. J., Nierenberg, J., Shpaner, M., & Garavan, H. (2012). The neurobiology of cognitive control in successful cocaine abstinence. Drug and Alcohol Dependence, 121(1–2), 45–53.
Acknowledgments
Lundbeck SAS founded this study. RTI Health Solutions (RTI-HS) has been commissioned by Lundbeck SAS (France) to undertake this study in the UK and France.
Conflicts of interest
AL has received sponsorship to attend scientific meetings from Lundbeck. PL is an employee of Lundbeck. DW, SC, LD, and MP are employees of RTI Health Solutions. NH and JD are employees of Creativ-Ceutical. RTI Health Solutions and Creativ-Ceutical received funding from Lundbeck for the conduct of this study. PML has received the following: Educational grants for research, honoraria, and travel support for activities as a consultant/advisor and lecturer/faculty member for the following pharmaceutical companies: Astra-Zeneca, Bristol Myers Squibb, Eli Lilly, Janssen, Lundbeck, Roche, Sanofi, and Servier. Consultant/scientific advisor/speaking engagements and has served on advisory boards for Astra-Zeneca, Janssen, Lundbeck, Otsuka, Roche, and Takeda. Consultant in clinical trials for Amgen, Astra-Zeneca, Lundbeck, Roche, and Sunovion. HJA has received sponsorship to attend scientific meetings, speaker honoraria, and consultancy fees from Bioprojet, D&A Pharma, Ethypharm, Lundbeck, Merck-Serono, Novartis, and Pfizer. LO received an educational grant for attendance at a scientific meeting from Lundbeck for participation in the study. In addition, LO reports the following: Personal pecuniary interest: LO has provided clinical expertise to a number of organizations, including independent research, management, and industry companies. Most recently, LO has performed the following work: Was a member of a medical expert steering group sponsored by Lundbeck for the development of a local integrated care pathway for the prevention and management of alcohol use disorders in adults. This work has been accredited by the Royal College of General Practitioners (RCGP), Alcohol Concern, and Substance Misuse Management in General Practice (SMMGP). This work was supported by travel expenses and honoraria to attend meetings. Received sponsorship from Lundbeck to attend scientific meetings (ESBRA, and EPA), including travel, accommodation, and subsistence. Received sponsorship from Lundbeck to present at scientific meetings, including travel and honoraria to cover reasonable expenses. Personal family interest: None. Non-personal pecuniary interest: Lundbeck has provided a research grant to a clinical supervisor to investigate predictive factors leading to alcohol-related health care utilization. Personal non-pecuniary interest: None.
Ethical standard
Prior to initiation of the study, the study protocol was subjected to human ethics and research review by the relevant authorities in the UK and France. In the UK, NHS ethics approval was granted by the National Research Ethics Service Committee North West—Liverpool East (REC Ref. 12/NW/0322). Local research and development (R&D) approval also was granted from the Royal Liverpool and Broadgreen University Hospital NHS Trust (R&D No. 4328). In France, approval for the study was obtained from the Committee for the Protection of Persons (Comité de Protection des Personnes [CPP]) and the competent authority, the French Agency for the Medical Safety of Health Products (Agence Française de Sécurité Sanitaire des Produits de Santé [AFSSAPS]). Review and approval of contracting documents for use with physicians were obtained from the National Council of Physicians (Conseil National de l'Ordre [CNO]), and hospital agreements were obtained. The study was also reviewed and granted approval from one of the institutional review boards (IRBs) of RTI International (IRB No. 13074). Each patient signed a consent form to enter the study, after having been given an information notice on the study protocol.
Electronic supplementary material
Below is the link to the electronic supplementary material.
About this article
Cite this article
Luquiens, A., Whalley, D., Crawford, S.R. et al. Development of the Alcohol Quality of Life Scale (AQoLS): a new patient-reported outcome measure to assess health-related quality of life in alcohol use disorder. Qual Life Res 24, 1471–1481 (2015). https://doi.org/10.1007/s11136-014-0865-7
Accepted:

Published:

Issue Date:

DOI: https://doi.org/10.1007/s11136-014-0865-7
Keywords
Quality of life

Alcohol use disorder

Patient-reported outcome

Focus groups

Health-related quality of life