Abstract
Background
The Simple Shoulder Test (SST-Sp) is a widely used outcome measure.
Objective
The purpose of this study was to develop and validate a Spanish-version SST (SST-Sp).
Methods
A two-stage observational study was conducted. The SST was initially cross-culturally adapted to Spanish through double forward and backward translation and then validated for its psychometric characteristics. Participants (n = 66) with several shoulder disorders completed the SST-Sp, DASH, VAS and SF-12. The full sample was employed to determine factor structure, internal consistency and concurrent criterion validity. Reliability was determined in the first 24–48 h in a subsample of 21 patients.
Results
The SST-Sp showed three factors that explained the 56.1 % of variance, and the internal consistency for each factor was α = 0.738, 0.723 and 0.667, and reliability was ICC = 0.687–0.944. The factor structure was three-dimensional and supported construct validity. Criterion validity determined from the relationship between the SST-Sp and DASH was strong (r = −0.73; p < 0.001) and fair for VAS (r = −0.537; p < 0.001). Relationships between SST-Sp and SF-12 were weak for both physical (r = −0.47; p < 0.001) and mental (r = −0.43; p < 0.001) dimensions.
Conclusions
The SST-Sp supports the findings of the original English version as being a valid shoulder outcome measure with similar psychometric properties to the original English version.
Access options
Buy single article
Instant access to the full article PDF.
USD 39.95
Price excludes VAT (USA)
Tax calculation will be finalised during checkout.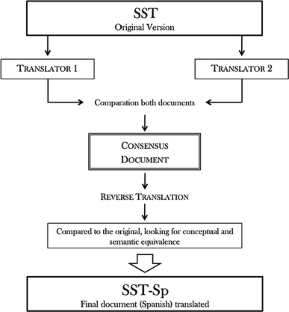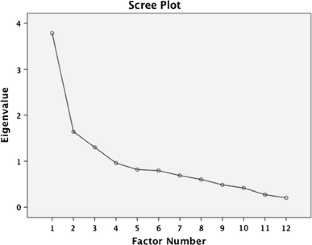 References
Green, S., Buchbinder, R., & Hetrick, S. (2003). Physiotherapy interventions for shoulder pain. Cochrane Database Systematic Review, 2, CD004258.

Guerra de Hoyos, J. A., del Martín, M. C. A., Bassas y Baena de Leon, E., Vigára Lopez, M., Molina López, T., Verdugo Morilla, F. A., et al. (2004). Randomised trial of long term effect of acupuncture for shoulder pain. Pain, 112(3), 289–298.

Green, S., Buchbinder, R., & Forbes, A. (2003). Interventions for shoulder pain. Cochrane Database Systematic Review, 4, CD001156.

van der Windt, D., & Bouter, L. (2003). Physiotherapy or corticosteroid injection for shoulder pain? Annals of the Rheumatic Diseases, 62(5), 385–387.

Beaton, D. E., & Richards, R. R. (1996). Measuring function of the shoulder. A cross-sectional comparison of five questionnaires. The Journal of Bone and Joint Surgery (American volume), 78(6), 882–890.

Gartsman, G. M., Brinker, M. R., Khan, M., & Karahan, M. (1998). Self-assessment of general health status in patients with five common shoulder conditions. Journal of Shoulder and Elbow Surgery, 7(6), 228–237.

Paananen, M., Taimela, S., Auvinen, J., Tammelin, T., Zitting, P., & Karppinen, J. (2011). Impact of self-reported musculoskeletal pain on health-related quality of life among young adults. Pain Medicine, 12(1), 9–17.

Schmidt, S., Ferrer, M., González, M., González, N., Valderas, J. M., Alonso, J., et al. (2014). Evaluation of shoulder-specific patient-reported outcome measures: A systematic and standardized comparison of available evidence. Journal of Shoulder and Elbow Surgery, 23(3), 434–444.

Streiner, D. L., & Norma, G. R. (Eds.). (2008). Health measurement scales. A practical guide to their development and use (4th ed.). Oxford: Oxford University Press.

Angst, F, Schwyzer, H. K., Aeschlimann, A., Simmen, B. R., & Goldhahn, J. (2011). Measures of adult shoulder function: Disabilities of the Arm, Shoulder, and Hand Questionnaire (DASH) and its Short Version (QuickDASH), Shoulder Pain and Disability Index (SPADI),American Shoulder and Elbow Surgeons (ASES) Society Standardized Shoulder Assessment Form, Constant (Murley) Score (CS), Simple Shoulder Test (SST), Oxford Shoulder Score (OSS), Shoulder Disability Questionnaire (SDQ), and Western Ontario Shoulder Instability Index (WOSI). In: P. P. Katz (Ed.), Patient outcomes in rheumatology, 2011. A review of measures. Arthritis Care Research (Hoboken), 63(Suppl 11), S174–S188.

Lippitt, S. B., Harryman, D. T., & Matsen, F. A. (1993). A practical tool for evaluation of function: The simple shoulder test. In F. A. Matsen, F. H. Fu, & R. J. Hawkins (Eds.), The shoulder: A balance of mobility and stability (pp. 501–559). Rosemont, IL: The American Academy of Orthopedic Surgeons.

Roy, J. S., MacDermid, J. C., & Woodhouse, L. J. (2009). Measuring shoulder function: A systematic review of four questionnaires. Arthritis and Rheumatism, 61(5), 623–632.

Marchese, C., Cristalli, G., Pichi, B., Manciocco, V., Mercante, G., Pellini, R., et al. (2012). Italian cross-cultural adaptation and validation of three different scales for the evaluation of shoulder pain and dysfunction after neck dissection: University of California—Los Angeles (UCLA) Shoulder Scale, Shoulder Pain and Disability Index (SPADI) and Simple Shoulder Test (SST). Acta Otorhinolaryngologica Italica, 32(1), 12–17.

Neto, J. O., Gesser, R. L., Steglich, V., Bonilauri Ferreira, A. P., Gandhi, M., Vissoci, J. R., et al. (2013). Validation of the simple shoulder test in a Portuguese-Brazilian population. Is the latent variable structure and validation of the simple shoulder test stable across cultures? PLoS ONE, 8(5), e62890.

ONU. Países de habla hispana promueven uso del español en la ONU. http://www.un.org/spanish/News/fullstorynews.asp?newsID=6370&criteria1=cultura.

Beaton, D. E., Bombardier, C., Guillemin, F., & Bosi Ferraz, M. (2000). Guidelines for the process of cross-cultural adaptation of self-report measures. Spine, 25, 3186–3191.

Terwee, C. B., Mokkink, L. B., Knol, D. L., Ostelo, R. W. J. G., Bouter, L. M., & de Vet, H. C. W. (2012). Rating the methodological quality in systematic reviews of studies on measurement properties: A scoring system for the COSMIN checklist. Quality of Life Research, 21(4), 651–657.

Cuesta-Vargas, A., Bennett, P., Jimenez-Cebrian, A. M., & Labajos-Manzanares, M. T. (2013). The psychometric properties of the Spanish version of the Foot Health Status Questionnaire. Quality Life Research, 22(7), 1739–1743.

Cantarero-Villanueva Fernández-Lao, C., Díaz-Rodríguez, L., Cuesta-Vargas, A. I., Fernández-de-las-Peñas, C., Piper, B. F., & Arroyo-Morales, M. (2014). The piper fatigue scale-revised: Translation and psychometric evaluation in Spanish-speaking breast cancer survivors. Quality of Life Research, 23, 271–276.

Gandek, B., Ware, J. E., Aaronson, N. K., Apolone, G., Bjorner, J. B., Brazier, J. E., et al. (1998). Cross-validation of item selection and scoring for the SF-12 health survey in nine countries: Results from the IQOLA Project. International Quality of Life Assessment. Journal of Clinical Epidemiology, 51, 1171–1178.

Hervás, M. T., Navarro Collado, M. J., Peiró, S., Rodrigo Pérez, J. L., López Matéu, P., & Martínez, Tello I. (2006). Spanish version of the DASH questionnaire. Cross-cultural adaptation, reliability, validity and responsiveness. Medicina Clínica, 127(12), 441–447.

Cuesta-Vargas, A., Gonzalez-Sanchez, M., & Farasyn, A. (2010). Development of a Spanish version of the "Backache Index" Cross cultural linguistic adaptation and reliability. Journal of Back Musculoskeletal Rehabilitation, 23, 105–110.

Muñiz, J., Elosua, P., & Hambleton, R. K. (2013). International test commission guidelines for test translation and adaptation. Psicothema, 25, 151–157.

Cuesta-Vargas, A. I., & Gabel, P. C. (2013). Cross-cultural adaptation, reliability and validity of the Spanish version of the upper limb functional index. Health and Quality of Life Outcomes, 11(1), 126.

Costello, A. B., & Osborne, J. (2005). Best practices in exploratory factor analysis: Four recommendations for getting the most from your analysis. Practical Assessment, Research & Evaluation, 10(7), 1–9.

Kass, R. A., & Tinsley, H. E. A. (1979). Factor analysis. Journal of Leisure Research, 11, 120–138.

Cronbach, L. J. (1951). Coefficient alpha and the internal structure of tests. Psychometrika, 16, 297–334.

Stratford, P. W. (2004). Getting more from the literature: Estimating the standard error of measurement from reliability studies. Physiotherapy Canada, 56, 27–30.

Terwee, C. B., Bot, S. D., de Boer, M. R., van der Windt, D. A., Knol, D. L., Dekker, J., et al. (2007). Quality criteria were proposed for measurement properties of health status questionnaires. Journal of Clinical Epidemiology, 60, 34–42.
Acknowledgments
The authors are grateful to the volunteers for their participation.
Conflict of interest
No competing financial interests exist.
Appendix 1: The Spanish version of the SST
Appendix 1: The Spanish version of the SST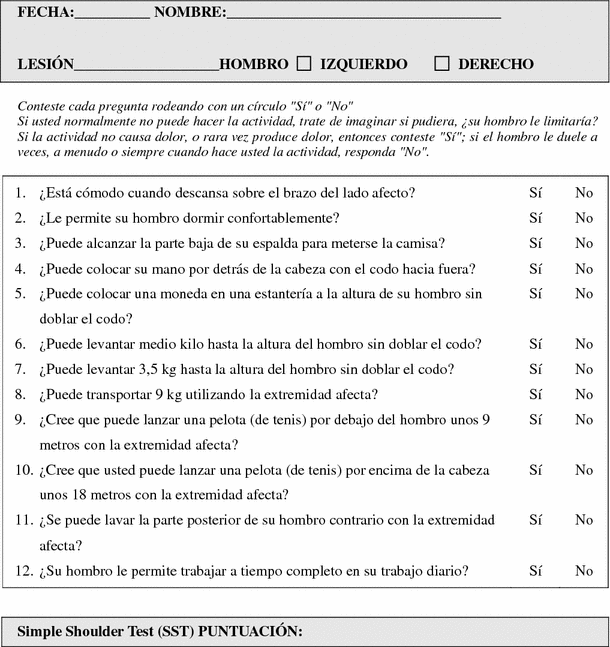 About this article
Cite this article
Membrilla-Mesa, M.D., Tejero-Fernández, V., Cuesta-Vargas, A.I. et al. Validation and reliability of a Spanish version of Simple Shoulder Test (SST-Sp). Qual Life Res 24, 411–416 (2015). https://doi.org/10.1007/s11136-014-0760-2
Accepted:

Published:

Issue Date:

DOI: https://doi.org/10.1007/s11136-014-0760-2
Keywords