Abstract
Purpose
The symptom burden of heart failure is significant and impacts upon health-related quality of life. The Minnesota Living with Heart Failure Questionnaire (MLHFQ) is widely used in clinical practice to measure self-reported health-related quality of life, but the psychometric properties of the instrument are not fully elucidated. To address this gap, we investigated item and person fit, differential item functioning, item thresholds ordering, targeting and dimensionality of the MLHFQ.
Methods
Three approaches were used, exploratory factor analysis, Mokken analysis and Rasch analysis, on a convenience sample of 109 participants with a diagnosis of HF from the UK. Participants were typically male (67 %) with a mean age of 68 years (range 41–88).
Results
Findings from the exploratory factor analysis of the MLHFQ revealed three factors (physical, emotional and social) that explained 72 % of the total variance. Mokken analysis confirmed the MLHFQ total scale, and the three subscales, as valid ordinal scales: the total MLHFQ scale [overall Loevinger coefficient (H) = 0.61], physical scale (H = 0.75), emotional scale (H = 0.79) and social scale (H = 0.552). Rasch analysis confirmed the physical scale as a unidimensional scale, but this was not consistent for the total MLHFQ scale which showed poor fit to the Rasch model (χ 2 = 162), df = 42, p < 0.0001). Six items of the total scale were misfitting (7, 8, 10, 14–16) and removing them improved the fit of the total scale. The physical subscale showed fit to the Rasch model (χ 2 = 20.24, df = 16, p = 0.21), and there was evidence of unidimensionality (t tests = 0.09, lower bound 95 % CI 0.04). There was evidence of disordered thresholds for the MLHFQ total and physical scale, and targeting was poor for both the total scale and its subscales.
Conclusion
We confirmed the MLHFQ subscales to be valid ordinal scales supporting the use of sum scores to assess quality of life in people diagnosed with HF. Floor effects were evident indicating that the ability of the instrument to identify differences across populations with mild HF may be suboptimal. The psychometric properties of the MLHFQ total scale may be improved by excluding problematic items from the total scale. Further research is warranted to verify findings from this study.
Access options
Buy single article
Instant access to the full article PDF.
USD 39.95
Price includes VAT (USA)
Tax calculation will be finalised during checkout.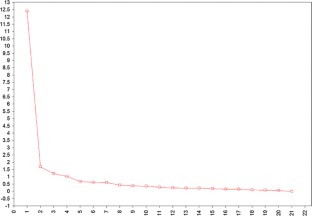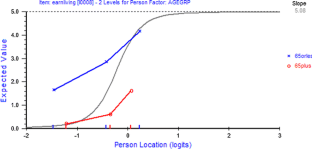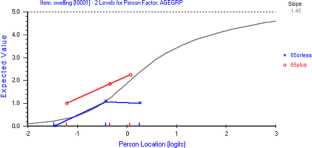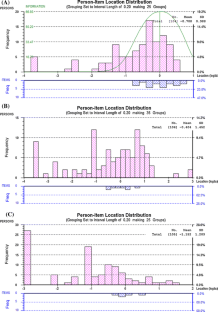 Abbreviations
DIF:

Differential item functioning

MLHFQ:

Minnesota Living with Heart Failure Questionnaire

HRQoL:

Heart failure-specific measure of health-related quality of life

CHFQ:

Chronic Heart Failure Questionnaire

QLQ-SHF:

Questionnaire for severe heart failure

KCCQ:

Kansas City Cardiomyopathy Questionnaire

LVD-36:

Left Ventricular Dysfunction Questionnaire 36

NYHA:

New York Heart Association

QoL:

Quality of life

IHD:

Ischaemic heart disease

IRT:

Item response theory

PSI:

Person separation index

ANOVA:

Analysis of variance

SD:

Standard deviation

EFA:

Exploratory factor analysis

RMSEA:

Root mean square errors of approximation

MHM:

Mokken model of monotone homogeneity

CFI:

Comparative fit index

IRT:

Item response theory
References
1.

Rector, T. S., Kubo, S. H., & Cohn, J. N. (1993). Patients' self-assessment of their congestive heart failure. Part 2: Content, reliability and validity of a new measure, the Minnesota Living with Heart Failure Questionnaire. Heart Failure, 3, 198–209.

2.

Asadi-Lari, M., Rao, A., & Gray, D. (2005). Health-related quality-of-life tools in heart failure. Expert Review of Pharmacoeconomics and Outcomes Research, 5(3), 267–270.

3.

Morgan, K., McGee, H., & Shelley, E. (2007). Quality of life assessment in heart failure interventions: A 10-year (1996–2005) review. European Journal of Cardiovascular Prevention and Rehabilitation, 14(5), 589–607.

4.

Mackintosh, A., Gibbons, E., & Fitzpatrick, R. A. (2009). Structured review of patient-reported outcome measures for people with heart failure. Report to the Department of Health. University of Oxford. http://phi.uhce.ox.ac.uk/pdf/PROMs_Oxford_Heart Failure_17092010.pdf.

5.

Garin, O., Ferrer, M., Pont, A., Rue, M., Kotzeva, A., Wiklund, I., et al. (2009). Disease-specific health-related quality of life questionnaires for heart failure: A systematic review with meta-analyses. Quality of Life Research, 18(1), 71–85.

6.

Witham, M. D., Crighton, L. J., & McMurdo, M. E. (2007). Using an individualised quality of life measure in older heart failure patients. International Journal of Cardiology, 116(1), 40–57.

7.

Paul, S., & Sneed, N. V. (2002). Patient perceptions of quality of life and treatment in an outpatient congestive heart failure clinic. Congestive Heart Failure, 8(2), 74–79.

8.

De Jong, M., Moser, D. K., & Chung, M. L. (2005). Predictors of health status for heart failure patients. Progress in Cardiovascular Nursing, 20(4), 155–162.

9.

Tate, C. W. I., Robertson, A. D., Zolty, R., Shakar, S. F., Lindenfeld, J., Wolfel, E. F., et al. (2007). Quality of life and prognosis in heart failure: Results of the beta-blocker evaluation of survival trial (BEST). Journal of Cardiac Failure, 13(9), 732–737.

10.

Rodriguez-Artalejo, F., Guallar, P., Rodriguez, C., Monototo, C., et al. (2005). Health-related quality of life as a predictor of hospital readmission and death among persons with heart failure. Archives of Internal Medicine, 165(11), 1274–1279.

11.

Riegel, B., Moser, D. K., Glaser, D., Carlson, B., Deaton, C., Armola, R., et al. (2002). The Minnesota Living With Heart Failure Questionnaire: Sensitivity to differences and responsiveness to intervention intensity in a clinical population. Nursing Research, 51(4), 209–218.

12.

http://my.clevelandclinic.org/heart/disorders/heartfailure/ejectionfraction.aspx. Accessed 27 Sept 2013.

13.

Bennett, S. J., Oldridge, N. B., Eckert, G. J., Embree, J. L., et al. (2003). Comparison of quality of life measures in heart failure. Nursing Research, 52(4), 207–216.

14.

Heo, S., Moser, D. K., Riegel, B., Hall, L. A., & Christman, N. (2005). Testing the psychometric properties of the Minnesota Living with Heart Failure Questionnaire. Nursing Research, 54(4), 265–272.

15.

Van der Linden, W. J., & Hambleton, R. K. (1997). Handbook of modern item response theory. New York: Springer.

16.

Reise, S. P., & Waller, N. G. (2009). Item response theory and clinical measurement. Annual Review of Clinical Psychology, 5, 27–48.

17.

Pallant, J. F., & Tennant, A. (2007). An introduction to the Rasch measurement model: An example using the hospital anxiety and depression scale (HADS). The British Journal of Clinical Psychology, 46(Pt 1), 1–18.

18.

Cheng, K. K., Lee, J., Leung, S. F., Liang, R. H., Tai, J. W., Yeung, R. M., et al. (2011). Use of Rasch analysis in the evaluation of the Oropharyngeal Mucositis. Nurse Research, 60(4), 256–263.

19.

Hagquist, C., Bruce, M., & Gustavsson, J. P. (2009). Using the Rasch model in nursing research: An introduction and illustrative example. International Journal of Nursing Studies, 46(3), 380–393.

20.

Fries, J. F., Bruce, B., & Cella, D. (2005). The promise of PROMIS: Using item response theory to improve assessment of patient-reported outcomes. Clinical and Experimental Rheumatology, 23(5 Suppl 39), S53–S57.

21.

Waugh, R. F., & Chapman, E. S. (2005). An analysis of dimensionality using factor analysis (true-score theory) and Rasch measurement: What is the difference? Which method is better? Journal of Applied Measurement, 6(1), 80–99.

22.

Oldridge, N., Höfer, S., McGee, H., Conroy, R., Doyle, F., & Saner, H. (2012). The HeartQoL: Part II. Validation of a new core health-related quality of life questionnaire for patients with ischemic heart disease. European Journal of Preventive Cardiology, pp. 1–9.

23.

Norris, M., & Lecavalier, L. (2009). Evaluating the use of exploratory factor analysis in developmental disability psychological research. Journal of Autism and Developmental Disorders, 40(1), 8–20. doi:10.1007/s10803-009-0816-2.

24.

Muthèn, L. K., & Muthèn, B. O. (2011). MPlus user's guide (6th ed.). Los Angeles, CA: Muthèn Muthèn.

25.

Tabachnick, G., & Fidell, L. S. (2006). Using multivariate statistics (5th ed.). Needham Heights, MA, USA: Allyn and Bacon, Inc. ISBN 0205459382.

26.

Hu, L., & Bentler, P. M. (1999). Cut off criteria for fit indexes in covariance structure analysis: Conventional criteria versus new alternatives. Structural Equation Modeling, 6, 1–55.

27.

Curran, P. J., Bollen, K. A., Chen, F., Paxton, P., & Kirby, J. B. (2003). Finite sampling properties of the point estimates and confidence intervals of the RMSEA. Sociological Methods and Research, 32, 208–252.

28.

Rasch, G. (1960). Probabilistic models for some intelligence and attainment tests. Chicago: University of Chicago Press.

29.

Tennant, A., & Conaghan, P. (2007). The Rasch measurement model in rheumatology; what is it and why use it. When should it be applied, and what should one look for in a Rasch paper? Arthritis and Rheumatism, 57(8), 1358.

30.

Andrich, D., Lyne, A., & Sheridon, B. (2003). RUMM 2020. Perth: RUMM Laboratory.

31.

Ramp, M., Khan, F., Misajon, R. A., & Pallant, J. F. (2009). Rasch analysis of the multiple sclerosis impact scale (MSIS-29. Health Quality of Life Outcomes, 7, 58.

32.

Smith, E. V, Jr. (2002). Detecting and evaluating the impact of multidimensionality using item fit statistics and principal components analysis of residuals. Journal of Applied Measurement, 3(2), 205–231.

33.

Sijtsma, K., & Molenaar, I. W. (2002). Introduction to nonparametric item response theory (Vol. 5). Thousand Oaks, Calif, USA: Sage.

34.

Paap, M. C., Meijer, R. R., Cohen-Kettenis, P. T., Richter-Appelt, H., et al. (2012). Why the factorial structure of the SCL-90-R is unstable: Comparing patient groups with different levels of psychological distress using Mokken Scale Analysis. Psychiatry Res. 2012 Dec 30, 200(2–3), pp. 819-826.

35.

Roorda, L. D., Green, J. R., Houwink, A., Bagley, P. J., et al. (2012). Item hierarchy-based analysis of the Rivermead mobility index resulted in improved interpretation and enabled faster scoring in patients undergoing rehabilitation after stroke. Archives of Physical Medicine and Rehabilitation, 93(6), 1091–1096.

36.

Meijer, R., & Baneke, J. (2004). Analyzing psychopathology items: A case for nonparametric item response theory modeling. Psychological Methods, 9, 354–368.

37.

Meijer, R. R., Sijtsma, K., & Smid, N. G. (1990). Theoretical and empirical comparison of the Mokken and the Rasch approach to IRT. Applied Psychological Measurement, 14(3), 283–298.

38.

Van der Ark, L. A. (2011). Mokken (version 2.5.1): An R package for Mokken scale analysis [computer software], 2011.

39.

StataCorp. Stata Statistical Software: Release 12.1. College Station, TX: StataCorp LP.

40.

Stochl, J., Jones, P. B., & Croudace, T. J. (2012). Mokken scale analysis of mental health and well-being questionnaire item responses: A non-parametric IRT method in empirical research for applied health researchers. BMC Medical Research Methodology, 12, 74.

41.

Linacre, J. M. (1994). Sample size and item calibration stability. Rasch Measurement Transaction, 7, 328.

42.

Garin, O., Ferrer, M., Pont, A., Wiklund, I., Van Ganse, E., Vilagut, G., et al. (2013). Evidence on the global measurement model of the Minnesota Living with Heart Failure Questionnaire. Qual Life Res, May 16 [pub ahead of print].

43.

Moon, R. J., Jung, Y. Y., Jeon, E., Choi, J., Hwang, J. M., & Lee, S. (2011). Reliability and validity of the Korean version of the Minnesota Living with Heart Failure Questionnaire. Heart and Lung, 41(1), 57–66.

44.

Hak, T., Willems, D., van der Wal, G., & Visser, F. A. (2004). Qualitative validation of the Minnesota Living with Heart Failure Questionnaire. Quality of Life Research, 13(2), 417–426.

45.

Ni, H., Toy, W., Burgess, D., Wise, K., Nauman, D. J., Crispell, K., et al. (2000). Comparative responsiveness of short-form 12 and Minnesota Living with Heart Failure Questionnaire in patients with heart failure. Journal of Cardiac Failure, 6(2), 83–91.

46.

O'Leary, C. J., & Jones, P. W. (2000). The Left Ventricular Dysfunction Questionnaire (LVD-36): Reliability, validity, and responsiveness. Heart, 83(6), 634–640.

47.

de Cock, E. S., Emons, W. H., Nefs, G., Pop, V. J., & Pouwer, F. (2011). Dimensionality and scale properties of the Edinburgh depression scale (EDS) in patients with type 2 diabetes mellitus: The DiaDDzoB study. BMC Psychiatry, 11, 141.
Acknowledgments
The authors wish to acknowledge the study participants and thank the EuroQoL Steering Committee for giving access to the UK MLHF data set.
About this article
Cite this article
Munyombwe, T., Höfer, S., Fitzsimons, D. et al. An evaluation of the Minnesota Living with Heart Failure Questionnaire using Rasch analysis. Qual Life Res 23, 1753–1765 (2014). https://doi.org/10.1007/s11136-013-0617-0
Accepted:

Published:

Issue Date:
Keywords
Minnesota Living with Heart Failure Questionnaire

Heart failure

Quality of life

Mokken analysis

Rasch analysis