Abstract
Objectives
To determine the self-reported quality of life of male-to-female (MTF) transgendered individuals and how this quality of life is influenced by facial feminization and gender reassignment surgery.
Methods
Facial Feminization Surgery outcomes evaluation survey and the SF-36v2 quality of life survey were administered to male-to-female transgender individuals via the Internet and on paper. A total of 247 MTF participants were enrolled in the study.
Results
Mental health-related quality of life was statistically diminished (P < 0.05) in transgendered women without surgical intervention compared to the general female population and transwomen who had gender reassignment surgery (GRS), facial feminization surgery (FFS), or both. There was no statistically significant difference in the mental health-related quality of life among transgendered women who had GRS, FFS, or both. Participants who had FFS scored statistically higher (P < 0.01) than those who did not in the FFS outcomes evaluation.
Conclusions
Transwomen have diminished mental health-related quality of life compared with the general female population. However, surgical treatments (e.g. FFS, GRS, or both) are associated with improved mental health-related quality of life.
Access options
Buy single article
Instant access to the full article PDF.
USD 39.95
Price includes VAT (USA)
Tax calculation will be finalised during checkout.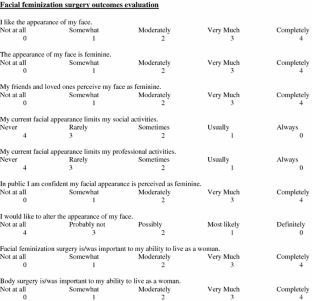 References
1.

Alsarraf, R. (2002). Outcomes instruments in facial plastic surgery. Facial Plastic Surgery, 18(2), 77–86.

2.

American Psychiatric Association. (2000). Diagnostic and statistical manual of mental disorders (4th ed., Text Revision (DSM-IV-TR)). Washington, DC: American Psychiatric Association.

3.

Becking, A. G., Tuinzing, B., Hage, J. J., & Gooren, L. J. G. (2006). Facial corrections in male to female transsexuals: A preliminary report on 16 patients. Journal of Oral and Maxillofacial Surgery, 54, 413–418.

4.

Kuhn, A., Bodmer, C., Stadlmayr, W., Kuhn, P., Mueller, M. D., & Birkhäuser, M. (2009). Quality of life 15 years after sex reassignment surgery for transsexualism. Fertility and Sterility, 92(5), 1685–1689.e3.

5.

Lawrence, A. A. (2003). Factors associated with satisfaction or regret following male-to-female sex reassignment surgery. Archives of Sexual Behavior, 32(4), 299–315.

6.

Newfield, E., Hart, S., Dibble, S., & Kohler, L. (2006). Female-to-male transgender quality of life. Quality of Life Research, 15, 1447–1457.

7.

Rakic, Z., Starcevic, V., Maric, J., & Kelin, K. (1996). The outcome of sex reassignment surgery in Belgrade: 32 patients of both sexes. Archives of Sexual Behavior, 25(5), 515–525.

8.

Rehman, J., Lazer, S., Benet, A. E., Schaefer, L. C., & Melman, A. (1999). The reported sex and surgery satisfactions of 28 postoperative male-to-female transsexual patients. Archives of Sexual Behavior, 28(1), 71–89.

9.

Spiegel, J. H. (2008). Challenges in care of the transgender patient seeking facial feminization surgery. Facial Plastic Surgery Clinics of North America, 16, 233–238.

10.

Ware, J. E., Kosinski, M., Bjorner, J. B., Turner-Bowker, D. M., Gandek, B., & Maruish, M. E. (2007). User's manual for the SF-36v2™ health survey (2nd ed.). Lincoln, RI: QualityMetric Incorporated.
About this article
Cite this article
Ainsworth, T.A., Spiegel, J.H. Quality of life of individuals with and without facial feminization surgery or gender reassignment surgery. Qual Life Res 19, 1019–1024 (2010). https://doi.org/10.1007/s11136-010-9668-7
Accepted:

Published:

Issue Date:
Keywords
Facial feminization surgery

MTF transgender

Quality of life

Gender reassignment surgery