Abstract
This study has investigated the connection between peace and performance of Pakistan's export sector. The interstates conflicts, terrorist activities and war elements disturb the industry supply chain, damage the means of transportation, and increase the security measures and regulations, which make trade more expensive. On the other hand, encouragement of the peace process lowers military conflicts, promotes diplomatic cooperation, and hence trade among the nations. The purpose of the study is to test whether domestic peace in Pakistan relative to its trading partners promotes its exports. For empirical analysis, we use panel data for Pakistan and its 26 trading partners in export over the period 2007–2018. After controlling the impacts of economic size, market size, infrastructure, and exchange rate, we found that peace in Pakistan relative to its trading partners is important to promote its export sector, which is directly linked with local industries and the wellbeing of individuals. The economic size and market size of the exporting nations relative to Pakistan also positively contributed towards the exports. The depreciation of Pakistan's exporting countries' currencies relative to its currency lowers the volume of exports. Besides, it is also observed that a major portion of Pakistan's exports is routed in a specific region or few countries. Therefore, it is suggested that the government should take active measures to reduce the internal as well as external conflicts, terrorists' attacks, and war elements to promote the volume of exports.
Access options
Buy single article
Instant access to the full article PDF.
USD 39.95
Price includes VAT (USA)
Tax calculation will be finalised during checkout.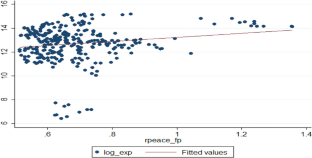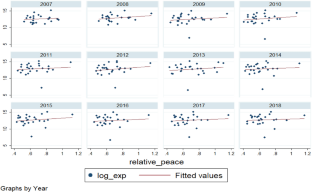 References
Abbas, S., Waheed, A.: Pakistan's potential export flow: the gravity model approach. The J. Dev. Areas 49(4), 367–378 (2015)

Achakzai, J.K.: Intra-ECO trade: a potential region for Pakistan's future trade. Pak. Dev. Rev. 45(3), 425–437 (2006)

Anderson, J.E.: A theoretical foundation for the gravity equation. Am. Econ. Rev. 69(1), 106–116 (1979)

Anderson, J. E., & van Wincoop, E.: Gravity with Gravitas: A Solution to the Cross-Border Puzzle. NBER working paper (8079), (2001)

Anderton, C.H., Carter, J.R.: The impact of war on trade: An interrupted times-series study. J. Peace Res. 38(4), 445–457 (2001)

Baier, S.L., Bergstrand, J.H.: The growth of world trade: tariffs, transport costs, and income similarity. J. Int. Econ. 53(1), 1–27 (2001)

Bandyopadhyay, S., Sandler, T.: The effects of terrorism on trade: a factor supply approach. Fed. Reserv. Bank St. Louis Rev. 96(3), 229–241 (2014)

Barbieri, K.: Economic interdependence: A path to peace or a source of interstate conflict? J. Peace Res. 33(1), 29–49 (1996)

Barbieri, K.: The liberal illusion: Does trade promote peace? University of Michigan Press (2002)

Barbieri, K., Levy, J.S.: Sleeping with the enemy: the impact of war on trade. J. Peace Res. 36(4), 463–479 (1999)

Batra, A.: India's global trade potential: the gravity model approach. Glob. Econ. Rev. 35(3), 327–361 (2006)

Beckerman, W.: Distance and the pattern of intra-European trade. Rev. Econ. Stat. 38(1), 31–40 (1956)

Bensassi, S., Márquez-Ramos, L., Martínez-Zarzoso, I., Suárez-Burguet, C.: Relationship between logistics infrastructure and trade: evidence from Spanish regional exports. Transp. Res. Part a Pol. Pract. 72, 47–61 (2015)

Bergstrand, J.H.: The gravity equation in international trade: some microeconomic foundations and empirical evidence. Rev. Econ. Stat. 67(3), 474–481 (1985)

Bergstrand, J.H.: The generalized gravity equation, monopolistic competition, and the factor-proportions theory in international trade. Rev. Econ. Stat. 71(1), 143–153 (1989)

Blundell, R., Bond, S.: Initial conditions and moment restrictions in dynamic panel data models. J. Economet. 87(1), 115–143 (1998)

Bougheas, S., Demetriades, P.O., Morgenroth, E.L.: Infrastructure, transport costs and trade. J. Int. Econ. 47(1), 169–189 (1999)

Brada, J.C., Mendez, J.A.: Regional economic integration and the volume of intra-regional trade: a comparison of developed and developing country experience. Kyklos 36(4), 589–603 (1983)

Bun, M.J., Windmeijer, F.: The weak instrument problem of the system GMM estimator in dynamic panel data models. Economet. J. 13(1), 95–126 (2010)

Butt, W. A.: Pakistan's export potential: a gravity model analysis (No. 23). State Bank of Pakistan, Research Department (2008)

Chaudhary, M. A., Naveed, A.: Export earnings, capital instability and economic growth in South Asia. Lahore J. Econ. 8(1), 66 (2003)

Chen, F.R.: Extended dependence: trade, alliances, and peace. The J. Polit. 83(1), 246–259 (2021)

Chen, F. R., Pevehouse, J. C. W., & Powers, R. M.: Great expectations: the democratic advantage in trade attitudes. International Political Economy Society (2019)

Cobden, R.: Speeches on questions of public policy, Volumes. 1–2, ed. John Bright and James E. Thorold Rogers (1870)

Cragg, J.G.: More efficient estimation in the presence of heteroscedasticity of unknown form. Econometrica 51(3), 751–763 (1983)

Domke, W.K.: War and the changing global system. Yale University Press, New Haven, CT (1988)

Dornbusch, R.: Devaluation, money, and nontraded goods. Am. Econ. Rev. 63(5), 871–880 (1973)

Endoh, M.: The transition of post-war Asia-Pacific trade relations. J. Asian Econ. 10(4), 571–589 (2000)

Frenkel, J.A., Rodriguez, C.A.: Portfolio equilibrium and the balance of payments: a monetary approach. Am. Econ. Rev. 65(4), 674–688 (1975)

Gartzke, E., Li, Q., Boehmer, C.: Investing in the peace: economic interdependence and international conflict. Int. Organ. 55(2), 391–438 (2001)

Geraci, V.J., Prewo, W.: Bilateral trade flows and transport costs. Rev. Econ. Stat. 59(1), 67–74 (1977)

Gleditsch, N.P.: The liberal moment fifteen years on. Int. Stud. Quart. 52(4), 691–712 (2008)

Global Competitiveness Report.: World Economic Forum, Geneva (2017). Available at: http://www.weforum.org.

Greenland, S., Maclure, M., Schlesselman, J.J., Poole, C., Morgenstern, H.: Standardized regression coefficients: a further critique and review of some alternatives. Epidemiology 2(5), 387–392 (1991)

Gul, N., Yasin, H.M.: The trade potential of Pakistan: an application of the gravity model. The Lahore J. Econ. 16(1), 23–62 (2011)

Hatab, A.A., Romstad, E., Huo, X.: Determinants of Egyptian agricultural exports: a gravity model approach. Mod. Econ. 1(03), 134 (2010)

Hilali, A.Z.: The costs and benefits of the Afghan War for Pakistan. Contemp. South Asia 11(3), 291–310 (2002)

Hussain, K., Xue, J.: What causes low intra-regional trade in ECO? A panel data gravity model analysis. Metalurgia Int. 18(11), 75–78 (2013)

Hussain, K., Xue, J.: Does regionalism promote intra-regional trade? The case of ECO. İktisat İşletme Ve Finans 29(343), 39–70 (2014)

Isard, W., Peck, M.J.: Location theory and international and interregional trade theory. Q. J. Econ. 68(1), 97–114 (1954)

Jervis, R.: Theories of war in an era of leading power peace. Am. Polit. Sci. Rev. 96(1), 1–14 (2002)

Kastner, S.L.: When do conflicting political relations affect international trade? J. Conflict Resolut. 51(4), 664–688 (2007)

Kemal, M.A., Qadir, U.: Real exchange rate, exports, and imports movements: a trivariate analysis. Pak. Dev. Rev. 44(2), 177–195 (2005)

Ketokivi, M., McIntosh, C.N.: Addressing the endogeneity dilemma in operations management research: theoretical, empirical, and pragmatic considerations. J. Oper. Manag. 52, 1–14 (2017)

Khan, A. H., & Mahmood, Z.: Pakistan and emerging global trading environment: challenges and opportunities. Vanguard. Lahore-Pakistan (2000)

Kim, J.O., Mueller, C.W.: Standardized and unstandardized coefficients in causal analysis: an expository note. Sociol. Methods Res. 4(4), 423–438 (1976)

Leamer, E.E.: The commodity composition of international trade in manufactures: an empirical analysis. Oxf. Econ. Pap. 26(3), 350–374 (1974)

Leitão, N. C.: Does trade help to explain tourism demand? The case of Portugal. Theor. Appl. Econ., 63–74(2010)

Linnemann, H.: An econometric study of international trade flows (No. 42). Amsterdam, North-Holland (1966)

Lu, C., Wooldridge, J.M.: A GMM estimator asymptotically more efficient than OLS and WLS in the presence of heteroskedasticity of unknown form. Appl. Econ. Lett. 27(12), 997–1001 (2020)

Mamoon, D. & Mansoob, M.: India and Pakistan: trading for peace. MPRA Paper 10432, University Library of Munich, Germany (2008)

Mansfield, E.D.: Power, trade, and war. Princeton University Press (1995)

Martínez-Zarzoso, I., Nowak-Lehmann, F.: Augmented gravity model: An empirical application to Mercosur-European Union trade flows. J. Appl. Econ. 6(2), 291–316 (2003)

McDonald, P.J.: Peace through trade or free trade? J. Conflict Resolut. 48(4), 547–572 (2004)

Mollaian, S.L.: Does trade equal peace? The role of the WTO in international peace. Legal Issues Econ. Integr. 46(1), 77–99 (2019)

Morrow, J.D.: How could trade affect conflict? J. Peace Res. 36(4), 481–489 (1999)

Mundell, R. A.: Monetary theory. Goodyear Publishing, Pacific Palisades, (CA) (1971)

Nguyen, B.X.: The determinants of Vietnamese export flows: static and dynamic panel gravity approaches. Int. J. Econ. Financ. 2(4), 122–129 (2010)

Nitsch, V., Schumacher, D.: Terrorism and international trade: an empirical investigation. Eur. J. Polit. Econ. 20(2), 423–433 (2004)

Oneal, J.R., Russett, B.: Assessing the liberal peace with alternative specifications: trade still reduces conflict. J. Peace Res. 36(4), 423–442 (1999)

Oneal, J.R., Russett, B.: Trade does promote peace: new simultaneous estimates of the reciprocal. J. Peace Res. 47(6), 763–774 (2010)

Pakistan Economic Survey: Issue Pakistan economic survey (2014–15) published by Ministry of Finance, Government of Pakistan(2015)

Park, S.: Quality of transport infrastructure and logistics as source of comparative advantage. Transp. Pol. 99, 54–62 (2020)

Polachek, S.W.: Conflict and trade. J. Conflict Resolut. 24(1), 55–78 (1980)

Pollins, B. M.: Conflict, cooperation, and commerce: The effect of international political interactions on bilateral trade flows. Am. J. Politic. Sci. 737–761 (1989)

Pöyhönen, P.: A tentative model for the volume of trade between countries. Weltwirtschaftliches Archiv., 93–100 (1963)

Rahman, M.M.: The factors affecting Bangladesh's exports: evidence from the gravity model analysis. The J. Dev. Areas 44(10), 229–244 (2010)

Ravenstein, E.G.: The laws of migration. J. Stat. Soc. Lond. 48(2), 167–235 (1885)

Russett, B. M., & Oneal, J. R.: Triangulating peace: democracy, interdependence, and international organizations. WW Norton & Company Incorporated (2001)

Schumpeter, J. A.: Zur Soziologie der Imperialismen (Vol. 46, No. 1). Mohr (1919)

Selim, M., Farooq, M. O., & Abdalla, M. A.: Engaging parties in dialogues and trade for conflict management and its effect on peace, security and development. In: 2020 second international sustainability and resilience conference: technology and innovation in building designs (51154) (pp. 1–4). IEEE (2020)

Shang, B.: Impact of terrorism on bilateral trade between china and five central Asian countries: based on an expended gravity model. Transf. Bus. Econ., 19 (2020)

Tinbergen, J.: Shaping the world economy; suggestions for an international economic policy. The Twentieth Century Fund, New York (1962)

Upadhyaya, K.P., Mixon, F.G., Dhakal, D.: Do devaluations improve trade balances? Evidence from four South Asian countries. Indian Econ. J. 46(3), 91–97 (1999)

Wintoki, M.B., Linck, J.S., Netter, J.M.: Endogeneity and the dynamics of internal corporate governance. J. Financ. Econ. 105(3), 581–606 (2012)

World Bank Report: Boosting Pakistan's Export Competitiveness: Private Sector Perspectives (English). World Bank Group, Washington, D.C. (2017)
Additional information
Publisher's Note
Springer Nature remains neutral with regard to jurisdictional claims in published maps and institutional affiliations.
About this article
Cite this article
Naveed, A., Shabbir, G., Syed, S.H. et al. Can a path to peace promote export growth? Evidence from Pakistan and its trading partners. Qual Quant (2021). https://doi.org/10.1007/s11135-021-01272-x
Keywords
Peace

Interstate conflicts

Exports

Economic size

Infrastructure

Panel data
JEL Classification