Abstract
The study aims to find the quality of research papers published in the domain of entrepreneurship in India. This study covers 100 research papers. A standardized measurement tool developed by the earlier researchers was used to evaluate the research quality. The data compiled using the measurement tool were analyzed with the support of the SPSS. The statistical tools such as descriptive statistics, Friedman's test, factor analysis, two-sample 't' test, and ANOVA are applied to analyze the data. The study findings reported that the quality of research papers published in the field of entrepreneurship is not up to the quality standards. The quality of multiple-author papers is better than single-author papers. Similarly, the quality of papers published by foreign authors is comparatively better than Indian authors. Further, the quality of papers published with the combination of foreign and Indian authors is substantially good. The quality of papers published in foreign journals is higher as compared with Indian journals. Further, the standard of papers published under the qualitative approach was comparatively better than the quantitative approach. The authors developed a Conceptual Model of Process and Product of Research (YOVA model). This model clearly shows that the whole research process yields six levels of research products. The study recommended that the researchers need to go for international collaborations to improve the quality of the publication. The funding agencies, higher learning institutions and research institutions should focus on enhancing research infrastructure. The study examined the validity of research articles searched by novice researchers in India in Google by using keywords related to entrepreneurship and, as such this non-focused approach is a big impediment to quality research.
Access options
Buy single article
Instant access to the full article PDF.
USD 39.95
Price includes VAT (USA)
Tax calculation will be finalised during checkout.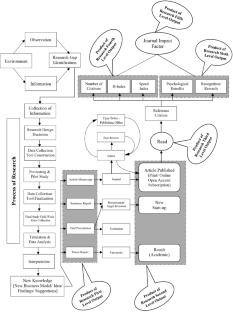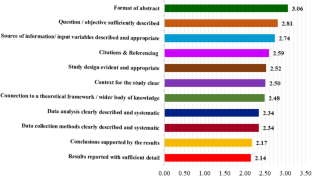 References
Abdel Moneim Aly: Quality of medical journals with special reference to the Eastern Mediterranean health journal. Saudi Med. J. 25(1), 18–20 (2004)

Adams, J.: The fourth age of research. Nature 497, 557–560 (2013)

Akkerman, S., Admiraal, W., Brekelmans, M., Oost, H.: Auditing quality of research in social sciences. Qual. Quant. 42(2), 257–274 (2006)

Aphinyanaphongs, Y., Tsamardinos, I., Statnikov, A., Hardin, D., Aliferis, C.F.: Text categorization models for high-quality article retrieval in internal medicine. J. Am. Med. Inform. Assoc. 12(2), 207–217 (2005)

Bonaccorsi, A., Cicero, T., Ferrara, A., Malgarini. M., (2015). Journal Ratings as Predictors of Articles Quality in Arts, Humanities and Social Sciences: An Analysis based on the Italian Research Evaluation Exercise. F1000Research, 4, 196.

Bornmann, L., Schier, H., Marx, W., Daniel, H.-D.: Does the h index for assessing single publications really work? a case study on papers published in chemistry". Scientometrics 89, 835–843 (2011)

Bornmann, L., Schier, H., Marx, W., Daniel, H.-D.: What factors determine citation counts of publications in chemistry besides their quality? J. Informet. 6, 11–18 (2012)

Bornmanna, L., Daniel, H.-D.: The Citation speed index: a useful bibliometric indicator to add to the h index. J. Informet. 4, 444–446 (2010)

Chawla, R., Gupta, M., Anand, N.: Ranking of Indian journals with popular international journals: a comparative study. Int. J. Sci. Technol. Res. 9(3), 72–81 (2020)

Cho, M.K., Bero, L.A.: Instruments for assessing the quality of drug studies published in the medical literature. J. Am. Med. Assoc. 272, 101–104 (1994)

Djulbegovic, B., Lacevic, M., Cantor, A.: The uncertainty principle and industry-sponsored research. Lancet 356, 635–638 (2000)

Durieux, V., Gevenois, P.A.: Bibliometric indicators: quality measurements of scientific publication. Radiology 255(2), 342–351 (2010)

Ghazavi, R., Taheri, B., Ashrafi-rizi, H.: Article quality indicator: proposing a new indicator for measuring article quality in scopus and web of science. J. Sci. Res. 8(1), 9–17 (2019)

Gupta, P., Kaur, G., Sharma, B., Shah, D., Choudhury, P.: What is submitted and what gets accepted in Indian Pediatrics: analysis of submissions, review process, decision making, and criteria for rejection. Indian Pediatr. 43(6), 479–489 (2006)

Gupta, R., Tiwari, R., Mueen Ammed, K.K.: Dengue research in India: a scientometric analysis of publications - 2003–12. Int. J. Med. Public Health 4(1), 1–9 (2014)

Hair, J.F., Black, W.C., Babin, B.J., Anderson, R.E.: Multivariate Data Analysis, 7th edn. Pearson Education, U.K (2010)

Hair, H.H., Jr, Black, W.C., Babin, B.J., Anderson, R.E., & Tatham, R.L., (2009). Multivariate Data Analysis. London, U.K: Pearson Education.

Hudson, J.: Trends in multi-authored papers in economics. J. Econom. Perspect. 10(3), 153–158 (1996)

Inayatullah, S., Fitzgerald, J.: Gene Discourses: politics, culture, law, and futures. Technol. Forecast. Soc. Chang. 52(2–3), 161–183 (1996)

James, J.B., Vincent, C.B.: Perception of journal quality. Account. Rev. 49(2), 360–362 (1974)

Lawani, S.M.: Some bibliometric correlates of quality in scientific research. Scientometrics 9, 13–25 (1986)

Li, E.Y., Liao, C.H., Yen, H.R.: Co-authorship networks and research impact: a social capital perspective. Res. Policy 42(9), 1515–1530 (2013)

Low, W.Y., Ng, K.H., Kabir, M.A., et al.: Trend and impact of international collaboration in clinical medicine papers published in Malaysia. Scientometrics 98, 1521–1533 (2014)

Mårtensson, P., Fors, U., Wallin, S.-B., Zander, U., Nilsson, G.H.: Evaluating research: a multidisciplinary approach to assessing research practice and quality. Res. Policy 45, 593–603 (2015)

Mattsson, P., Laget, P., Nilsson, A., & Sundberg, C.J. (2008). Intra-EU Vs. Extra-EU Scientific Co-publication Patterns in EU. Scientometrics, 75(3), 555–574.

Mays, N., & Pope, C. (2000). Quality in Qualitative Health Research. In: Mays, N., and Pope, C. Qualitative Research in Health Care. 2nd ed. London: BMJ Books.

Michael, J. Cuellar, Duane, P. Truex, & Hirotoshi Takeda. (2016). Can we trust journal ranking to assess article quality? Proceedings of the Twenty-second Americas Conference on Information Systems, San Diego. 1–11.

Nanjundaiah & Dinesh, K.S. : Ranking and comparison of journals published in india with special reference to humanities and social sciences. Int. J. Inf. Dissem. Technol. 6(4), 251–257 (2016)

National Center for the Dissemination of Disability Research - NCDDR. (2002). A Technical Brief: What Are the Standards for Quality Research? Southwest Educational Development Laboratory.

Popay, R., Rogers, A., Williams, G.: Rationale and standards for the systematic review of qualitative literature in health services research. Qual Health Research 8, 341–351 (1998)

Ram, S.: A quantitative assessment of "chikungunya" research publications, 2004–2013. Trop. J. Med. Res. 19, 52–60 (2016)

RAND. (2010). Technical Report: Standards for High-Quality Research and Analysis. RAND Corporation.

Salimi, N.: Quality assessment of scientific outputs using the BWM. Scientometrics 112, 195–213 (2017)

Seglen, P.O.: Why the impact factor of journals should not be used for evaluating research? BMJ 314(7079), 497 (1997)

Sendhilkumar, S., Elakkiya, E., Mahalakshmi, G.S.: Citation semantic based approaches to identify article quality. Comp Sci Inform Technol 1, 411–420 (2013)

Sheikh Tariq Mahmood: Factors affecting the quality of research in education: student's perceptions. J. Educ. Pract. 2(11 & 12), 34–39 (2011)

Shewfelt, R.L.: What is quality? Postharvest Biol. Technol. 15, 197–200 (1999)

Stokols, D., Harvey, R., Gress, J., Fuqua, J., Phillips, K.: In vivo studies of transdisciplinary scientific collaboration: lessons learned and implications for active living research. Am. J. Prev. Med. 28(2), 202–213 (2005)

Moyses Szklo. (2006). Quality of Scientific Articles. Rev Saúde Pública, 40 (N Esp), 30–35.

Timmer, A., Sutherland, L.R., Hilsden, R.J.: Development and evaluation of a quality score for abstracts. BMC Med Res Methodol 3, 2 (2003)

Victor, B.G., Hodge, D.R., Perron, B.E., Vaughn, M.G., Salas-Wright, C.P.: The rise of co-authorship in social work scholarship: a longitudinal study of collaboration and article quality, 1989–2013. Br. J. Soc. Work. 47(8), 1–16 (2016)

Walter, J., Lechner, C., Kellermanns, F.W.: Knowledge transfer between and within alliance partners: private versus collective benefits of social capital. J. Bus. Res. 60(7), 698–710 (2007)

Wasko, M.M., Faraj, S.: Why should I share? examining social capital and knowledge contribution in electronic networks of practice. MIS Q. 29(1), 35–57 (2005)

Welch, C., Piekkari, R.: How should we (not) judge the 'quality' of qualitative research? a re-assessment of current evaluative criteria in international business. J. World Bus. 52(5), 714–725 (2017)

Yokuş, G., Akdaği, H.: Identifying quality criteria of a scientific research adopted by academic community: a case study. Int. J. Eurasia Soc. Sci. 10(36), 516–527 (2019)

Zuber-Skerritt, O., Fletcher, M.: The quality of an action research thesis in the social sciences. Qual. Assur. Educ. 15(4), 413–436 (2007)
Ethics declarations
Conflict of interest
The authors declare that there is no conflict of interest.
Additional information
Publisher's Note
Springer Nature remains neutral with regard to jurisdictional claims in published maps and institutional affiliations.
About this article
Cite this article
Yoganandan, G., Vasan, M. Evaluating the quality of scientific research papers in entrepreneurship. Qual Quant (2021). https://doi.org/10.1007/s11135-021-01254-z
Keywords
Entrepreneurship

Quality criteria

Research collaboration

Research quality

YOVA model