Abstract
This paper aims to measure the terminal's performance in the cruise sea–land logistics using the methodology of stochastic frontier analysis. A 10-year study has been conducted on a sample of five relevant Italian cruise terminals. The first results highlight that high performance might be associated with cooperation strategies by the cruise companies in cruise infrastructure management. However, analysis of performance through the "time segments" would seem to show that these cooperation strategies are addressed to improve the facilities in terms of services and the cruiser's logistics between sea and land in the port destinations. Interesting academic and managerial implications have been provided and discussed.
Access options
Buy single article
Instant access to the full article PDF.
USD 39.95
Price includes VAT (USA)
Tax calculation will be finalised during checkout.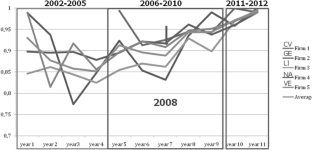 References
Battese, G.E., Coelli, T.J.: Prediction of firm-level technical efficiencies with a generalized frontier production function and panel data. J. Econom. 38(3), 387–399 (1988)

Bergantino, A.S., Musso, E.: A multi-step approach to model European ports' relative efficiency. In: Borruso, G., Danielis, R., Musso, E. (eds.) Trasporti, Logistica e reti di imprese. Competitività del sistema e ricadute sul territorio, pp. 83–90. FrancoAngeli, Milano (2009)

Boccia, F., Sarnacchiaro, P.: The impact of corporate social responsibility on consumer preference: a structural equation analysis. Corp. Soc. Responsib. Environ. Manag. 25(2), 151–163 (2018)

Brooks, M.R., McCalla, R., Pallis, A.A., van der Lugt L.M.: Coordination and cooperation in strategic port management: the case of Atlantic Canada's ports, Atlantic. Gateway Initiative Working Paper (2009)

Clancy, M.: Cruisin'to exclusion: commodity chains, the cruise industry, and development in the Caribbean. Globalizations 5(3), 405–418 (2008)

CLIA.: Cruise trends & industry outlook. https://cruising.org/news-and-research/-/media/CLIA/Research/CLIA%202019%20State%20of%20the%20Industry.pdf. (2019). Accessed 22 Apr 2019

CLIA: 2015–2016 State of the Industry Annual Report. Cruise Industry News, New York (2017a)

CLIA: Year in Review. Cruise Lines Industry Association, Brussels (2017b)

Cuesta, R.A., Orea, L.: Mergers and technical efficiency in Spanish savings banks: A stochastic distance function approach. J. Bank. Financ. 26(12), 2231–2247 (2002)

De Langen, P.W., van der Horst, M.R., Konings, R.: Cooperation and coordination in container barging. Marit. Transp. 3, 91–107 (2006)

De Lombaerde, P., Verbeke, A.: Assessing international seaport competition: a tool for strategic decision making. Int. J. Transp. Econ. 16(2), 175–192 (1989)

Di Vaio, A., Lepore, L., Varriale, L.: Self-organised cruiser's expenditures in a port of call: the interaction effect between city interface satisfaction and super-sized ships. Int. J. Cult. Tour. Hosp. Res. 12(4), 385–406 (2018)

Di Vaio, A., Medda, F.R., Trujillo, L.: An analysis of the efficiency of Italian cruise terminals. Int. J. Transp. Econ. 18, 29–46 (2011)

Donselaar, P.W.V., Kolkman, J.: Societal costs and benefits of cooperation between port authorities. Marit. Policy Manag. 37(3), 271–284 (2010)

Estache, A., González, M., Trujillo, L.: Efficiency gains from port reform and the potential for yardstick competition: lessons from Mexico. World Dev. 30(4), 545–560 (2002)

Esteve-Perez, J., Garcia-Sanchez, A.: Characteristics and consequences of the cruise traffic seasonality on ports: the Spanish Mediterranean case. Marit. Policy Manag. 44(3), 358–372 (2017)

González, M.M., Trujillo, L.: Reforms and infrastructure efficiency in Spain's container ports. Transp. Res. Part A Policy Pract. 42(1), 243–257 (2008)

González, M.M., Trujillo, L.: Efficiency measurement in the port industry: a survey of the empirical evidence. J. Transp. Econ. Policy 43(2), 157–192 (2009)

Gui, L., Russo, A.P.: Cruise ports: a strategic nexus between regions and global lines-evidence from the Mediterranean. Marit. Policy Manag. 38(2), 129–150 (2011)

Haralambides, H.E.: Competition, excess capacity, and the pricing of port infrastructure. Int. J. Marit. Econ. 4(4), 323–347 (2002)

Hsu, W.-K.K.: Improving the service operations of container terminals. Int. J. Logist. Manag. 24(1), 101–116 (2013)

Kent, P.E., Ashar, A.: Port competition regulation: a tool for monitoring for anti-competitive behaviour. Int. J. Marit. Econ. 3(1), 27–51 (2001)

Lee, G., Lee, M.K.: Estimation of the shore excursion expenditure function during cruise tourism in Korea. Marit. Policy Manag. 44(4), 524–535 (2017)

MedCruise.: MedCruise Statistics 2013. MedCruise (2014)

MedCruise.: MedCruise Statistics 2016. MedCruise, Piraeus (2017).

Nooteboom, B.: Inter-Firm Alliances: Analysis and Design. Routledge, London (1999)

Notteboom, T.E., Winkelmans, W.: Structural changes in logistics: how will port authorities face the challenge? Marit. Policy Manag. 28(1), 71–89 (2001)

Notteboom, T.E., Pallis, A.A., De Langen, P.W., Papachristou, A.: Advances in port studies: the contribution of 40 years. Marit. Policy Manag. 40(7), 636–653 (2013)

Pallis, A.A., Verhoeven, P.: Does the EU port policy strategy encompass "proximity"?. In: Notteboom T.E., de Langen P.W., Ducruet C.B. (eds.) Ports in Proximity: Essays on Competition and Coordination Among Adjacent Seaports, pp. 99–112. Ashgate, Aldershot (2009)

Pallis, A.A., Parola, F., Satta, G., Notteboom, T.E.: Private entry in cruise terminal operations in the Mediterranean Sea. In: IAME Conference, Kyoto (2017)

Ritter, C., Simar, L.: Pitfalls of normal-gamma stochastic frontier models. J. Prod. Anal. 8(2), 167–182 (1997)

Shinohara, M., Saika, T.: Port governance and cooperation: the case of Japan. Res. Transp. Bus. Manag. 26, 56–66 (2018)

Soriani, S., Bertazzon, S., Cesare, F.D., Rech, G.: Cruising in the Mediterranean: structural aspects and evolutionary trends. Marit. Policy Manag. 36(3), 235–251 (2009)

STATISTA.: Number of cruise passengers carried worldwide from 2007 to 2019 (in millions). https://www.statista.com/statistics/270605/cruise-passengers-worldwide/. (2019). Accessed 22 Apr 2019

UNCTAD: Potentialities for Regional Port Co-Operation. UNCTAD/SDD/PORT/5, Geneva (1996)

Van Klink, H.A.: Creating Port Networks. Int. J. Transp. Econ. 24(3), 393–408 (1997)

Véronneau, S., Roy, J.: Global service supply chains: an empirical study of current practices and challenges of a cruise line corporation. Tour. Manag. 30(1), 128–139 (2009)

Van de Voorde, E., Vanelslander, T.: Market power and vertical and horizontal integration in the maritime shipping and port industry, OECD/ITF joint transport research centre discussion paper, No. 2009-2, Joint Transport Research Centre, Paris. Available at http://hdl.handle.net/10419/68788 (2008).

Yuen, A.C.L., Zhang, A., Cheung, W.: Foreign participation and competition: a way to improve the container port efficiency in China? Transp. Res. A-Pol. 49, 220–231 (2013)
Additional information
Publisher's Note
Springer Nature remains neutral with regard to jurisdictional claims in published maps and institutional affiliations.
About this article
Cite this article
Di Vaio, A., Boccia, F. & Trujillo, L. The cooperation strategies for the performance improvement in the cruise sea–land logistics: evidence from Italy. Qual Quant 54, 1479–1490 (2020). https://doi.org/10.1007/s11135-019-00900-x
Keywords
Cruise

Performance

Technical efficiency

Cruise terminal

Cooperation strategies