Abstract
Adjusted net saving (ANS) has emerged as a leading indicator of sustainability. In addition, changes in ANS translate into changes in welfare (Hamilton in World Bank Econ Rev 13(2):333–356, 1999). This document uses a new data envelopment analysis model to assess efficiency of countries taking into account not only GDP creation but also sustainability and welfare by adding ANS in the set of desirable outcomes. Given that ANS can be negative a new anti-efficiency DEA model allowing for negative data recently proposed by DiMaria (2018) is used. Combining efficiency and anti-efficiency greatly increases discrimination of countries and proposes a more accurate ranking of countries.
This is a preview of subscription content, log in to check access.
Access options
Buy single article
Instant access to the full article PDF.
US$ 39.95
Price includes VAT for USA
Subscribe to journal
Immediate online access to all issues from 2019. Subscription will auto renew annually.
US$ 99
This is the net price. Taxes to be calculated in checkout.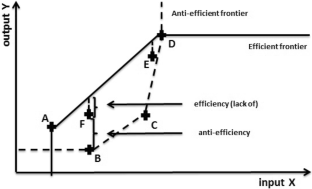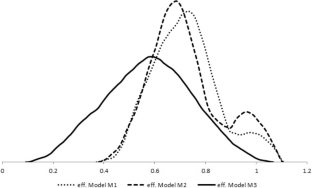 Notes
1.

See Liu et al. (2017) for a presentation of other indicators commonly used to assess sustainability.

2.

Rent = World price-mining cost-milling and beneficiation costs-smelting costs-transport to port-'normal' return to capital.

3.

The consumption of fixed capital results from the application of the perpetual inventory method and depends on assumptions made on survival function of capital and hypothetical average lifetime of capital goods.

4.

Energy inputs could be added, at the cost of reducing the number of countries under investigation, and production should be used instead of GDP that is output minus intermediate consumption that includes energy inputs.

5.

Linear programs were solved using the R package lpSolve version 5.6.13.

6.

The distribution of efficiencies resulting from model 3 being symmetric, the sample is ranked by increasing efficiencies and divided in four groups of similar size (17 countries, 15 for the high efficiency group) defining the low efficiency, lower-middle, upper middle and high efficiency groups. It would be similar to chose quartiles to split the sample.

7.

Lets take the hypothetical example of a country that would have achieved 0 GDP and 0 ANS it wont be argued to decommission all capital stocks and to fire all workers. Rather than reducing inputs and keeping level of GDP constant (then gaining in efficiency), countries should be more efficient in combining inputs to increase GDP.

8.
References
Aida, K., Cooper, W.W., Pastor, J.T., Sueyoshi, T.: Evaluating water supply services in Japan with RAM: a range-adjusted measure of inefficiency. Omega 26(2), 207–232 (1998)

Akerlof, G.A.: An Economic Theorist's Book of Tales. Cambridge University Press, Cambridge (1984)

Arestis, P., Chortareas, G., Desli, E.: Financial development and productive efficiency in OECD countries: an exploratory analysis. Manch. Sch. 74(4), 417–440 (2006)

Bekker, S.: Flexicurity in the European semester: still a relevant policy concept? J. Eur. Public Policy 25(2), 175–192 (2018)

Börsch-Supan, A., Bucher-Koenen, T., Kutlu-Koc, V., Goll, N.: Dangerous flexibility retirement reforms reconsidered. Econ. Policy 33(94), 315–355 (2018)

Brundtland, G.H.: Our Common Future. Technical report, World Commission on Environment and Development, United Nations (1987)

Ceccobelli, M., Gitto, S., Mancuso, P.: ICT capital and labour productivity growth: a non-parametric analysis of 14 OECD countries. Telecommun. Policy 36(4), 282–292 (2012)

Charnes, A., Cooper, W., Rhodes, E.: Measuring the efficiency of decision making units. Eur. J. Oper. Res. 2(6), 429–444 (1978)

Charnes, A., of Texas at Austin. Center for Cybernetic Studies, U., Cooper, W., Rousseau, J., (U.S.), N.S.F., Semple, J.: Data Envelopment Analysis and Axiomatic Notions of Efficiency and Reference Sets. Research report (University of Texas at Austin. Center for Cybernetic Studies). Center for Cybernetic Studies, University of Texas at Austin (1987)

Chen, L., Wang, Y., Lai, F., Feng, F.: An investment analysis for China's sustainable development based on inverse data envelopment analysis. J. Clean. Prod. 142, 1638–1649 (2017)

Clinch, J.P., Dunne, L., Dresner, S.: Environmental and wider implications of political impediments to environmental tax reform. Energy Policy 34(8), 960–970 (2006). Social and political responses to ecological tax reform in Europe

Cooper, W.W., Pastor, J.T., Borras, F., Aparicio, J., Pastor, D.: BAM: a bounded adjusted measure of efficiency for use with bounded additive models. J. Prod. Anal. 35(2), 85–94 (2011)

Dasgupta, P., Maler, K.-G.: Net national product, wealth, and social well-being. Environ. Dev. Econ. 5(1), 69–93 (2000)

DiMaria, C.-H.: Sustainability matters. Qual. Quantity 48(3), 1257–1269 (2014)

DiMaria, C.-H.: An indicator for the economic performance and ecological sustainability of nations. Environ. Model. Assess. (2018). https://doi.org/10.1007/s10666-018-9626-2

Dong, B., Wei, W., Ma, X., Li, P.: On the impacts of carbon tax and technological progress on China. Appl. Econ. 50(4), 389–406 (2017)

Dyckhoff, H., Allen, K.: Measuring ecological efficiency with data envelopment analysis. Eur. J. Oper. Res. 132(2), 312–325 (2001). Data envelopment analysis

Emrouznejad, A., Yang, G.: A survey and analysis of the first 40 years of scholarly literature in DEA: 1978–2016. Socio-Econ. Plan. Sci. 61, 4–8 (2018)

Gavin, M.K.: Labor Market Rigidities and Unemployment: The Case of Severance Costs. Technical report (1986)

Goulder, L.H., Parry, I.W.H.: Instrument choice in environmental policy. Rev. Environ. Econ. Policy 2(2), 152–174 (2008)

Grzebyk, M., Stec, M.: Sustainable development in EU countries: concept and rating of levels of development. Sustain. Dev. 23(2), 110–123 (2015). SD-15-0022

Guan, J., Zuo, K.: A cross-country comparison of innovation efficiency. Scientometrics 100(2), 541–575 (2014)

Hamilton, K.: Genuine savings rates in developing countries. World Bank Econ. Rev. 13(2), 333–356 (1999)

Hanley, N., Dupuy, L., McLaughlin, E.: Genuine savings and sustainability. J. Econ. Surv. 29(4), 779–806 (2015)

Hediger, W.: Sustainable development and social welfare. Ecol. Econ. 32(3), 481–492 (2000)

Henderson, D.J., Russell, R.R.: Human capital and convergence: a production-frontier approach. Int. Econ. Rev. 46(4), 1167–1205 (2005)

Lepinteur, A.: The shorter workweek and worker wellbeing: evidence from Portugal and France. Labour Econ. (2018). https://doi.org/10.1016/j.labeco.2018.05.010

Lewis, J., Giullari, S.: The adult worker model family, gender equality and care: the search for new policy principles and the possibilities and problems of a capabilities approach. Econ. Soc. 34(1), 76–104 (2005)

Liu, G., Brown, M.T., Casazza, M.: Enhancing the sustainability narrative through a deeper understanding of sustainable development indicators. Sustainability 9(6), 1078 (2017)

Loayza, N., Schmidt-Hebbel, K., Servn, L.: What drives private saving across the world? Rev. Econ. Stat. 82(2), 165–181 (2000)

Lopez, J.H., Schmidt-Hebbel, K., Servn, L.: How effective is fiscal policy in raising national saving? Rev. Econ. Stat. 82(2), 226–238 (2000)

Lovell, C.K., Pastor, J.T.: Units invariant and translation invariant DEA models. Oper. Res. Lett. 18(3), 147–151 (1995)

Morse, S.: Developing sustainability indicators and indices. Sustain. Dev. 23(2), 84–95 (2015). SD-14-0072.R3

Pillarisetti, J.: The World Bank's genuine savings measure and sustainability. Ecol. Econ. 55(4), 599–609 (2005)

Premik, F., Stanisawska, E.: The impact of inflation expectations on polish consumers spending and saving. East. Eur. Econ. 55(1), 3–28 (2017)

Pullinger, M.: Working time reduction policy in a sustainable economy: criteria and options for its design. Ecol. Econ. 103, 11–19 (2014)

Ray, S.C., Desli, E.: Productivity growth, technical progress, and efficiency change in industrialized countries: comment. Am. Econ. Rev. 87(5), 1033–1039 (1997)

Ray, S.C., Kim, H.J.: Cost efficiency in the US steel industry: a nonparametric analysis using data envelopment analysis. Eur. J. Oper. Res. 80(3), 654–671 (1995). Productivity analysis: parametric and non-parametric applications

Shen, W., Zhang, D., Liu, W., Yang, G.: Increasing discrimination of dea evaluation by utilizing distances to anti-efficient frontiers. Comput. Oper. Res. 75, 163–173 (2016)

Song, M., An, Q., Zhang, W., Wang, Z., Wu, J.: Environmental efficiency evaluation based on data envelopment analysis: a review. Renew. Sustain. Energy Rev. 16(7), 4465–4469 (2012)

Swan, T.W.: Economic growth and capital accumulation. Econ. Rec. 32(2), 334–361 (1956)

van der Horst, D.: NIMBY or not? Exploring the relevance of location and the politics of voiced opinions in renewable energy siting controversies. Energy Policy 35(5), 2705–2714 (2007)

Victor, P.A.: Indicators of sustainable development: some lessons from capital theory. Ecol. Econ. 4(3), 191–213 (1991)

Wei, C., Ni, J., Sheng, M.: China's energy inefficiency: a cross-country comparison. Soc. Sci. J. 48(3), 478–488 (2011). Chinese economy: issues and challenges

Yamada, Y., Matsui, T., Sugiyama, M.: An inefficiency measurement method for management systems. J. Oper. Res. Soc. Jpn. 37(2), 158–168 (1994)

Zhou, H., Yang, Y., Chen, Y., Zhu, J.: Data envelopment analysis application in sustainability: the origins, development and future directions. Eur. J. Oper. Res. 264(1), 1–16 (2018)
Acknowledgements
The author gratefully acknowledge the support of the Observatoire de la Compétitivité, Ministère de l'Economie, DG Compétitivité, Luxembourg and STATEC.
Additional information
Views and opinions expressed in this article are those of the author and do not reflect those of STATEC and funding partners.
About this article
Cite this article
DiMaria, C. Sustainability, welfare and efficiency of nations. Qual Quant 53, 1141–1163 (2019). https://doi.org/10.1007/s11135-018-0809-3
Keywords
Data envelopment analysis

Negative output

Anti efficient frontier

Weak sustainability

Welfare