Abstract
Internet research on search engine quality and validity of results demand much concern. Thus, the focus in our study has been to measure the impact of quotation marks usage on the internet search outputs in terms of Google search outcomes' distributions, through Benford Law. The current paper is focused on applying a Benford Law analysis on two related types of internet searches distinguished by the usage or absence of quotation marks. Both search results values are assumed as variables. We found that the first digit of outcomes does not follow the Benford Law first digit of numbers in the case of searching text without quotation marks. Unexpectedly, the Benford Law is obeyed when quotation marks are used, even if the variability of search outcomes is considerably reduced. By studying outputs demonstrating influences of (apparently at first) "details", in using a search engine, the authors are able to further warn the users concerning the validity of such outputs.
Access options
Buy single article
Instant access to the full article PDF.
USD 39.95
Price includes VAT (USA)
Tax calculation will be finalised during checkout.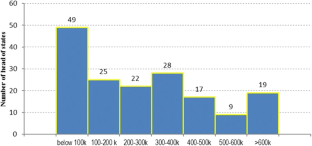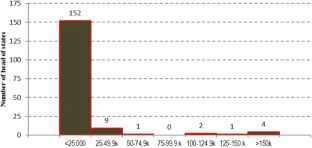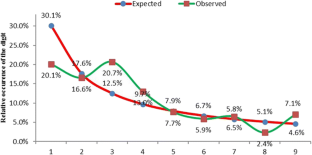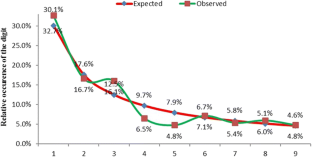 References
Arshadi, L., Jahangir, A.H.: Benford's law behavior of internet traffic. J. Netw. Comput. Appl. 40, 194–205 (2014)

Ausloos, M., Herteliu, C., Ileanu, B.: Breakdown of Benford's law for birth data. Phys. A 419, 736–745 (2015)

Ausloos, M., Castellano, R., Cerqueti, R.: Regularities and discrepancies of credit default swaps: a data science approach through Benford's law. Chaos Solitons Fractals 90, 8–17 (2016)

Ausloos, M., Cerqueti, R., Lupi, C.: Long-range properties and data validity for hydrogeological time series: the case of the Paglia river. Physica A 470, 39–50 (2017a)

Ausloos, M., Cerqueti, R., Mir, T.A.: Data science for assessing possible tax income manipulation: the case of Italy. Chaos Solitons Fractals 104, 238–256 (2017b)

Beebe, N.H.F.: A Bibliography of Publications about Benford's Law, Heaps' Law, and Zipf's Law. Retrieved October 15, 2016, from http://www.netlib.org/tex/bib/benfords-law.pdf (2016)

Benford, F.: The law of anomalous numbers. In: Proceedings of the American Philosophical Society, pp. 551–572 (1938)

Benford Online Bibliography. Retrieved November 20, 2016, from http://www.benfordonline.net

Berger, A., Hill, T.P.: A basic theory of Benford's Law. Probab. Surv. 8, 1–126 (2011)

Bo, P., Chunming, Y.: An approach based on the induced uncertain pure linguistic hybrid harmonic averaging operator to group decision making. Econ. Comput. Econ. Cybern. Stud. Res. 47(4), 275–296 (2013)

Campanario, J.M., Coslado, M.A.: Benford's law and citations, articles and impact factors of scientific journals. Scientometrics 88(2), 421–432 (2011)

Chau, M., Lu, Y., Fang, X., Yang, C.C.: Characteristics of character usage in Chinese Web searching. Inf. Process. Manag. 45, 115–130 (2009)

Clippe, P., Ausloos, M.: Benford's law and Theil transform of financial data. Phys. A 391(24), 6556–6567 (2012)

Depken, C.A.: Benford, Zipf and the blogosphere. Appl. Econ. Lett. 15(9), 689–692 (2008)

Evans, M.P.: Analysing Google rankings through search engine optimization data. Internet Res. 17(1), 21–37 (2007)

Forbes: http://www.forbes.com/companies/google/. Last accessed October 2016

Forman, A.K.: The Newcomb–Benford Law in its relation to some common distributions. PLoS ONE 5(5), e10541 (2010)

Fox, R.F., Hill, T.P.: Hubble's Law Implies Benford's Law for Distances to Galaxies. arXiv (2014). Retrieved from arXiv:1412.1536 [physics.data-an]

Gauvrit, N., Delahaye, J.-P.: Loi de Benford Generale. Math. Soc. Sci. 47(186), 5–15 (2009)

Huberman, B.A., Pirolli, P.T.L., Pitkow, J.E., Lukose, R.M.: Strong regularities in world wide web surfing. Science 280(5360), 95–97 (1998)

Judge, G., Schechter, L.: Detecting problems in survey data using Benford's Law. J. Human Resour. 44(1), 1–24 (2009)

Kossovsky, A.E.: Benford's Law: Theory, the General Law of Relative Quantities, and Forensic Fraud Detection Applications. World Scientific Publishing Co., Singapore (2014)

Lansey, J.C., Bukiet, B.: Internet search result probabilities: Heaps' Law and word associativity. J. Quant. Linguist. 16(1), 40–66 (2009)

Lemis, L.M., Schmeiser, B.W., Evans, D.L.: Survival distribution satisfying Benford's Law. Am. Stat. 54(4), 236–241 (2000)

Li, L., Shang, Y.: Precision evaluation of search engines. WWW 5(2), 159–173 (2002)

Mebane Jr., W.B.: The wrong man is president! Overvotes in the 2000 presidential election in Florida. Perspect. Politics 2(3), 525–535 (2004)

Mir, T.A.: The law of the leading digits and the world religions. Phys. A 391(3), 792–798 (2012)

Mir, T.A.: The leading digit distribution of the worldwide illicit financial flows. Qual. Quant. (2016). https://doi.org/10.1007/s11135-014-0147-z

Mir, T.A., Ausloos, M.: Benford's law: a "sleeping beauty" sleeping in the dirty pages of logarithmic tables. J. Assoc. Inf. Sci. Technol. (2017). https://doi.org/10.1002/asi.23845

Mir, T.A., Ausloos, M., Cerqueti, R.: Benford's law predicted digit distribution of aggregated income taxes: the surprising conformity of Italian cities and regions. Eur. Phys. J. B 87(11), art261 (2014)

Newcomb, S.: Note on the frequency of use of the different digits in natural numbers. Am. J. Math. 4(1), 39–40 (1881)

Nielsen: http://www.nielsen.com/us/en/insights/news/2014/clicks-and-balances-top-government-websites-and-us-web-brands-in-february-2014.html. Last accessed January 2017

Nigrini, M.J.: A taxpayer compliance application of Benford's Law. J. Am. Tax. Assoc. 18(1), 72–91 (1996)

Nigrini, M.J.: Digital analysis and the reduction of auditor litigation risk. In: Ettredge, M. (ed.) Proceedings of the 1996 Deloitte & Touche/University of Kansas Symposium on Auditing Problems, pp. 69–81. University of Kansas, Lawrence, KS (1996b)

Nigrini, M.J.: Persistent patterns in stock returns, stock volumes, and accounting data in the US capital markets, journal of accounting. Audit. Finance (2015). https://doi.org/10.1177/0148558X15584051

Nigrini, M.J., Miller, S.J.: Benford's Law applied to hydrology data—results and relevance to other geophysical data. Math. Geol. 39(5), 469–490 (2007)

Nigrini, M.J., Mittermaier, L.J.: The use of Benford's Law as an aid in analytical procedures. Audit. J. Pract. Theory 16(2), 52–67 (1997)

Paulheim, H.: Improving the quality of linked data using statistical distributions. Semant. Web Inf. Syst. 10(2), 63–86 (2014)

Pimenov, E.N.: Information searches on the internet: targeted searches. Autom. Doc. Math. Linguist. 42(3), 143–150 (2008)

Pimenov, E.N., Ilyin, A.N.: Information searches on the internet: conducting thematic searches. Autom. Doc. Math. Linguist. 44(5), 255–261 (2010)

Pinkham, R.S.: On the distribution of first significant digits. Ann. Math. Stat. 32(4), 1223–1230 (1961)

Raimi, R.A.: The first digit problem. Am. Math. Mon. 83(7), 521–538 (1976)

Riccioni, J., Cerqueti, R.: Regular paths in financial markets: investigating the Benford's law. Chaos Solitons Fractals 107, 186–194 (2018)

Roukema, B.F.: A first-digit anomaly in the 2009 Iranian presidential election. J. Appl. Stat. (2014). https://doi.org/10.1080/02664763.2013.838664

RTBF: Retrieved November 15, 2016, from http://www.rtbf.be/info/dossier/quinzaine-d-education-aux-medias/detail_six-conseils-pour-demasquer-les-fausses-informations-sur-internet?id=9426879 (2016)

Sabha, A., Sumeer, G.: Search engine effectiveness using query classification: a study. Online Inf. Rev. 40(4), 515–528 (2016)

Sambridge, M., Tkalcic, H., Jackson, A.: Benford's law in the natural sciences. Geophys. Res. Lett. 37(22), L22301 (2010)

Slijepčević, S., Blašković, B.: Statistical detection of fraud in the reporting of Croatian public companies. Financial Theory Pract. 38(1), 81–96 (2014)

Wang, L.P., Wang, J., Wang, M., Li, Y., Liang, Y., Xu, D.: Using internet search engines to obtain medical information: a comparative study. J. Med. Internet Res. 14(3), e74 (2012)

Wilkinson, D., Thelwall, M.: Search markets and search results: the case of Bing. Libr. Inf. Sci. Res. 35(4), 318–325 (2013)

Wouk, A.: On digit distributions of random variables. J. Soc. Ind. Appl. Math. 9(4), 597–603 (1961)

Wouters, P., Hellsten, I., Leydesdorff, L.: Internet time and the reliability of search engines. First Monday, 9 (10) (2004)

Zipf, G.K.: Human Behavior and the Principle of Least Effort: An Introduction to Human Ecology. Addison Wesley, Cambridge (1949)
Acknowledgements
Many thanks to Roxana Herteliu-Iftode and Gurjeet Dhesi who gave us many useful suggestions regarding the grammar and language style used in the paper.
Funding
This work has been performed in the framework of COST Action IS1104 'The EU in the new economic complex geography: models, tools and policy evaluation'. Moreover, this paper is part of scientific activities in COST Action TD1210'Analyzing the dynamics of information and knowledge landscapes (KNOWeSCAPE)' and COST Action TD1306 "New Frontiers of Peer Review (PEERE)".
Ethics declarations
Conflict of interest
The authors declare that they have no conflict of interest.
About this article
Cite this article
Ileanu, B.V., Ausloos, M., Herteliu, C. et al. Intriguing behavior when testing the impact of quotation marks usage in Google search results. Qual Quant 53, 2507–2519 (2019). https://doi.org/10.1007/s11135-018-0771-0
Keywords
Benford law

Google search

Head of the world states

Quotation marks