Abstract
Social network sites (SNSs) have become so popular that the number of people joining and actively participating on such sites is increasing on a daily basis. Although there are several SNSs, Facebook is currently the most popular and most commonly used. SNSs have primarily been developed with able-bodied people in mind and as a result of this, people with disabilities find it difficult to join and participate on these sites. Furthermore, this topic has received little attention by researchers around the world. Facebook pages usually consist of text, graphics, and sound where the users navigate through the pages using a mouse. As a step towards addressing this need and finding a possible elegant solution, the authors have developed a voice-activated PC-based system (called NEU-FACE) in the form of an interface to Facebook. With the aid of this system, a person with a physical disability can join and participate in Facebook by giving voice commands to manage the typical Facebook activities.
Access options
Buy single article
Instant access to the full article PDF.
USD 39.95
Price excludes VAT (USA)
Tax calculation will be finalised during checkout.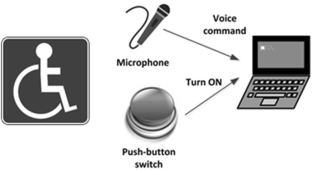 Similar content being viewed by others
References
Acquisti, A., Gross, R.: Imagined communities: awareness, information sharing, and privacy on the facebook. In: Danezis, G., Golle, P. (eds.) Privacy Enhancing Technologies. PET 2006. Lecture Notes in Computer Science, vol. 4258. Springer, Berlin (2006)

Albert, B.: In or Out of the Mainstream? Lesson from Research on Disability and Development Cooperation. The Disability Press, Leeds (2006)

Americans with Disabilities Act.: Title 42—The public health and welfare. http://www.ada.gov/pubs/adastatute08.htm#12102 (1990). Accessed 27 December 2017

Bicen, H., Cavus, N.: The most preferred social network sites by students. Procedia Soc. Behav. Sci. 2(2), 5864–5869 (2010)

Caton, S., Chapman, M.: The use of social media and people with intellectual disability: a systematic review and thematic analysis. J. Intellect. Dev. Disabil. 41(2), 125–139 (2016)

Cavus, N., Varoglu, D.E., Serdaroglu, R.: Segmenting student profiles on the usage of social networking media: a case study on Facebook. In: Proceedings of the 4th International Future-Learning Conference on Innovations in Learning for the Future 2012: e-Learning, pp 648–663. Istanbul, Turkey (EBSCO ACCESSION# 84685288) 2012

Cheung, C.M.K., Chiu, P.Y., Lee, M.K.O.: Online social networks: why do students use Facebook? Comput. Hum. Behav. 27(4), 1337–1342 (2011)

ComScore Data Mine.: Facebook shows strong growth over past five years. www.comscoredatamine.com/2012/facebook-shows-strong-growth-over-past-five-years (2012). Accessed 11 March 2016

Dickey, M.R.: Facebook's tool to help the blind "see" images just launched for iOS. https://techcrunch.com/2016/04/04/facebooks-tool-to-help-the-blind-see-images-just-launched-for-ios/ (2016). Accessed 27 December 2017

Ellison, N.B., Steinfield, C., Lampe, C.: The benefits of Facebook "Friends": social capital and college students' use of online social networks sites. J. Comput. Mediat. Commun. 15, 83–108 (2007)

Halimah, B.Z., Azlina, A., Behrang, P., Choo, W.O.: Voice recognition system for the visually impaired: virtual cognitive approach. In: International Symposium on Information Technology, Kuala Lumpur, Malaysia. http://ieeexplore.ieee.org/document/4631738/ (2008). Accessed 27 December 2017

Haller, B.A.: Representing Disability in an Ableist World: Essays on Mass Media. The Advocado Press, Louisville (2010)

Hampton, K.N., Goulet, L.S., Rainie, L. Purcell, K.: Social networking sites and our lives: How people's trust, personal relationships, and civic and political involvement are connected to their use of social networking sites and other technologies. The Pew Research Center's Internet and American Life Project. http://www.pewinternet.org/Reports/2011/Technology-and-social-networks.aspx (2011). Accessed 17 March 2017

Hollier, S.: Sociability: Social Media for People with a Disability. Media Access, Australia (2012)

Kampert, L.A., Goreczny, J.A.: Community involvement and socialization among individuals with mental retardation. Res. Dev. Disabil. 28, 278–286 (2007)

Kaur, S.: Mouse movement using speech and non-speech characteristics of human voice. Int. J. Eng. Adv. Technol. 1(5), 368–374 (2012)

Kostanjsek, N., Good, A., Madden, R.H., Ustun, T.B., Chatterji, S., Mathers, C.D., Office, A.: Counting disability: global and national estimation. J. Disabil. Rehabil. 35(13), 1065–1069 (2013)

Kross, E., Verduyn, P., Emre Demiralp, E., Park, J., Lee, D.S., Lin, N., Shablack, H., Jonides, J., Ybarra, O.: Facebook use predicts declines in subjective well-being in young adults. PLoS ONE 8(8) e69841. https://doi.org/10.1371/journal.pone.0069841 (2012). Accessed 26 December 2017

Lee, K., Hon, H., Reddy, R.: An overview of the SPHINX speech recognition system. IEEE Trans. Acoust. Speech Signal Process. 38(1), 1–23 (1990)

Lenhart, A., Madden, M.: Teens, privacy, and online social networks. In: The Pew Research Center's Internet and American Life Project. www.pewinternet.org/Reports/2007/Teens-Privacy-and-Online-Social-Networks.aspx (2007). Accessed 12 March 2016

Longmore, P.: Why I Burned My Book and Other Essays on Disability. Temple University Press, Philadelphia (2003)

Miyashita, H., Sato, S., Takagi, H., & Asakawa, C.: Making multimedia content accessible for screen reader users. In: Proceedings of the International Cross-Disciplinary Conference on Web Accessibility (W4A). pp. 126–127. ACM, New York (2007)

Morris, J.: That Kind of Life? Social Exclusion and Young Disabled People with High Levels of support needs. Scope, London (2001)

Nakajima, S., Okochi, N., Mitobe, K., Yamagami, T.: Gaps between the expectations of people with hearing impairment toward subtitles and the current conditions for subtitle creation in Japan. In: Miesenberger, K., Fels, D., Archambault, D., Peňáz, P., Zagler, W. (Eds). International Conference on Computers for Handicapped Persons: Computers Helping People with Special Needs. Lecture Notes in Computer Science, vol 8547. Springer, Cham (2014)

Parent-Johnson, W., Owens, L.: Supported and Customized Employment. In: Shogren, K., Wehmeyer, M., Singh, N. (eds.) Handbook of Positive Psychology in Intellectual and Developmental Disabilities. Springer, Cham (2017)

Rice, R.E., Katz, J.E.: The Internet and Health Communication: Experiences and Expectations. Sage, Thousand Oaks (2001)

Shih, C.H.: Assisting people with multiple disabilities to improve computer typing efficiency through a mouse wheel and on-screen keyboard software. Res. Dev. Disabil. 35(9), 2129–2136 (2014)

Shpigelman, C., Gill, C.J.: Facebook use by persons with disabilities. J. Comput. Mediat. Commun. 19, 610–624 (2014)

Simsik, D., Galajdova, A., Onofrejova, D. Some aspects in e-learning for persons with disabilities. In: Proceedings of 15th International Conference on Emerging eLearning Technologies and Applications, pp. 1–7, Slovakia (2017). doi: https://doi.org/10.1109/iceta.2017.8102527

Sporka A.J., Felzer, T., Kurniawan, S.H., Polacek, O., Haiduk, P., MacKenzie, I.S.: CHANTI: predictive text entry using non-verbal vocal input. Proceedings of the SIGCHI Conference on Human Factors in Computing Systems, pp. 2463–2472. ACM, New York, (2011)

Steinfield, C., Ellison, N.B., Lampe, C.: Social capital, self-esteem, and use of online social network sites: a longitudinal analysis. J. Appl. Dev. Psychol. 29, 434–445 (2008)

Zafar, K., Baig, A.R., Khan, A.: Voice controlled cellular communication (V3C) system for special citizens. Int. J. Comput. Appl. 25(3), 42–48 (2011)
Ethics declarations
Conflict of interests
The authors declare that they have no conflict of interests.
About this article
Cite this article
Enajeh, S.M.A., Cavus, N. & Ibrahim, D. Development of a voice recognition based system to help physically disabled people use the facebook. Qual Quant 52 (Suppl 2), 1343–1352 (2018). https://doi.org/10.1007/s11135-018-0709-6
Published:

Issue Date:

DOI: https://doi.org/10.1007/s11135-018-0709-6
Keywords